Looking for some of the best waterfalls in Colombia to visit? Or perhaps some hidden waterfalls where you'll be all alone? Luckily, Colombia has both!
And, a lot of the time the best waterfalls are also pretty free of visitors. Perhaps it's because Colombia isn't known for its waterfalls. Or maybe the short journeys from the main cities and towns put people off. Either way, you can enjoy the best Colombia waterfalls with the help of this handy guide.
From an almost 600-metre-tall waterfall to nameless falls deep in the jungle. Find your next adventure today…
Some of the links below are affiliate links, meaning, at no additional cost to you, I may earn a small commission if you click through and make a qualifying purchase.
Are there waterfalls in Colombia?
Yes, there are lots of waterfalls located all across Colombia. The country is full of diverse landscapes from desert to snowy mountains. But, the combination of rainforests, lush green countryside and mountainous landscapes is the perfect combination for incredible Colombia waterfalls.
The 11 waterfalls in Colombia worth visiting…
Colombia has countless waterfalls – quite literally too, with many hidden deep in the rainforest, jungles and thick forests that make up 54% of land in the country. Yet despite Colombia being home to some incredibly diverse landscapes including sand dunes, mangroves, volcanos and dry plains, there are plenty of waterfalls located in or near places most visited by travellers.
I visited a lot of waterfalls during my 3 months in Colombia – it's one of my favourite things to do. But, even on such a relatively long time scale, I couldn't visit everywhere.
Instead, I've created this guide to 11 beautiful waterfalls in Colombia based on my travels and those of some fellow travel bloggers. So, whether you're in Bogota, the coffee region, on the Colombian coast or somewhere else entirely, there'll be a nearby waterfall waiting for you to visit. These natural gems make for the perfect standalone day trip or add-on to an existing adventure in Colombia.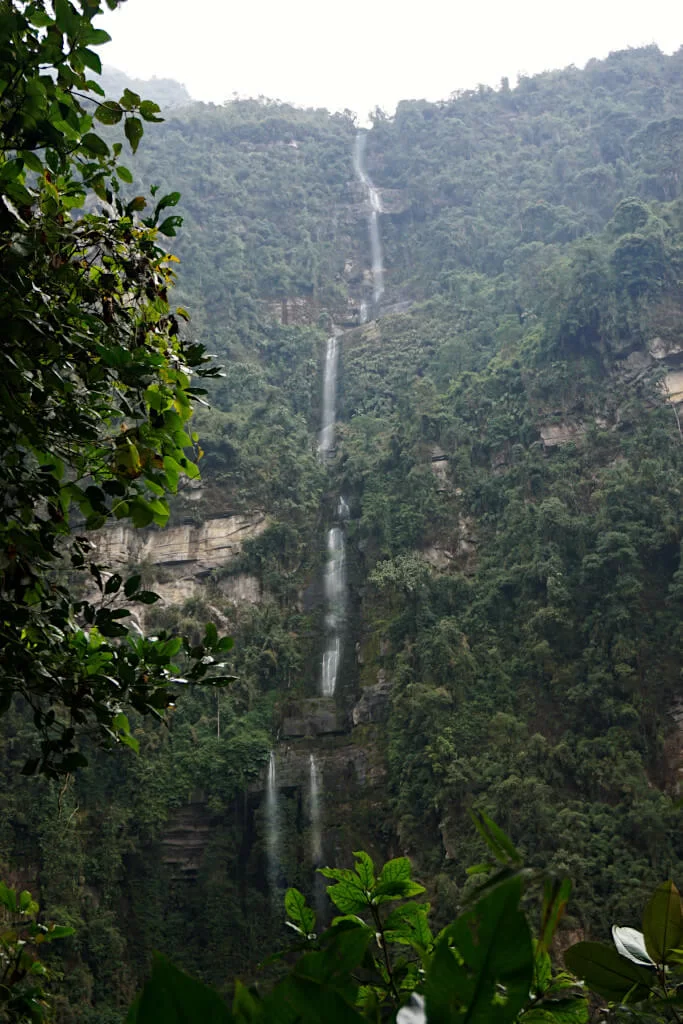 Cascada La Chorrera (The tallest waterfall in Colombia)
Standing at an awe-inspiring 590 metres tall, La Chorrera is the tallest waterfall in Colombia. That alone makes it well worth visiting from nearby Bogota.
The downside of being almost 600 metres tall is that it's almost impossible to see the whole waterfall at once. And, although you can't swim here, you can stand under one of the smaller steps of the waterfall and feel the water rain down on you.
Located within the Parque Aventura La Chorrera Ecopark, the waterfall is at the end of a 2.5-km trail through woodland and cow pastures. The cheapest entrance fee is 35,000 COP per person. But, this does include a personal hygiene kit, drawstring bag, drink and snacks. Other packages including lunch and more extras are also available.
You'll need to take a bus from Bogota towards Choachi, asking to be dropped off at La Chorrera along the way. From there, you can order a taxi or walk 5 km to the park entrance, luckily the route is mostly downhill. Once at the park, the trail is easy to follow although slippery and muddy in places. Try to visit on a dry day but when there has been recent rain to ensure there's water flowing aplenty.
Despite the impressive stats of Cascada La Chorrera, few visitors make the trip just 13 km outside of Bogota. On weekends, the park is popular with locals as camping and adventure activities like abseiling are on offer. For a quieter, more tranquil experience, visit on a weekday.
Cascada El Chiflon
Located in the same ecopark as La Chorrera, Cascada El Chiflon isn't quite as tall as its neighbour. Nevertheless, it is still well worth seeing, providing a whole different experience than La Chorrera.
Firstly, it's possible to walk behind the El Chiflon waterfall. Simply follow the path from the main trail and soon you'll be in a narrow 3-sided cave with the water pouring down the other side.
Additionally, you can get to the very bottom of the waterfall where you'll be able to look up and see the whole thing. Although you can't get in the water, you'll get to appreciate the sheer scale and noise from this point.
Compared with La Chorrera, there are also a lot more photo spots of this waterfall. Perfect for practising photography, getting a selfie or a self-timer photoshoot!
And, for those not wanting a long walk to La Chorrera, you'll be pleased to know this waterfall is located just a couple of hundred metres inside the park. What's more, El Chiflon Waterfall is also next to the park's bar and restaurant where you can sit, relax and rest.
Taparto Waterfalls near Jardín
Tucked away in the coffee region of the Andes is Jardín – quite possibly the cutest pueblo in all of Colombia. Jardín is a quiet colonial town known for coffee, chocolate, cool waterfalls and hikes to explore.
While this town is no longer a secret, it's still not well known, and you'll surely get lost in its charm. While Jardín, Colombia offers a lot itself, there's even more if you venture just outside. This is where the beautiful and not yet wildly visited Taparto Waterfalls (Chorros de Tapartó) come in. The waterfalls have 3 tiers, and they are 35 metres, 60 metres and 100 metres tall. The tallest and the most impressive is the last waterfall.
These falls aren't easy to get to. It's going to take most of your day to complete as well. The trailhead to the waterfalls is nearly an hour's drive out of Jardín, followed by a 13.5 km (8 miles) round trip hike.
The hike is relatively easy and mostly flat. The only real thing you have to worry about is that you're fully exposed. So bring lots of water, sunscreen and a hat. Plus, you can take a dip at the end once you reach the falls!
The hardest part is optional but worth it. You can scramble some rocks to enjoy the first two levels of the falls but if you want to reach the last one, you'll have to scramble rocks, free-hand rock climb a bit and really trudge through the forest! It's a bit crazy (especially when coming back down) but totally worth it!
Tours to the waterfall are available. These provide a good mode of transportation, someone to explain things about the area and then some help finding that last epic waterfall.
By Nina Ragusa | Where in the World is Nina
La Ventiadora Waterfall in the San Cipriano Natural Reserve
When on the lookout for the best waterfalls in Colombia you may be spoiled for choice. But, if you're in the Valle del Cauca region, one natural waterfall you can not afford to miss out on is La Ventiadora.
Located in the San Cipriano Natural Reserve, La Ventiadora is one of the most hidden beauty spots in the region. It is best to arrive here with a local guide from the small village inside the park.
The easiest and simplest way to get to San Cipriano is from Cali by heading to the bus terminal. From there, catch the bus to Buenaventura and get dropped off close to the village of Zaragoza. From Zaragoza jump on the brujitas. These are basically motorbikes equipped with a make-shift wooden carriage that cruise along an abandoned train track through the jungle.
The waterfall is approximately 10 metres tall and features a pool area. In which, you can swim and experience the freshwater as it showers over your body. The walk is around 45 minutes from the river and expect to pay around 30,000 COP for a local to take you. Be sure to thank your local guide because this waterfall is almost impossible to find without somebody that already knows its location. 
By Daniel from Layer Culture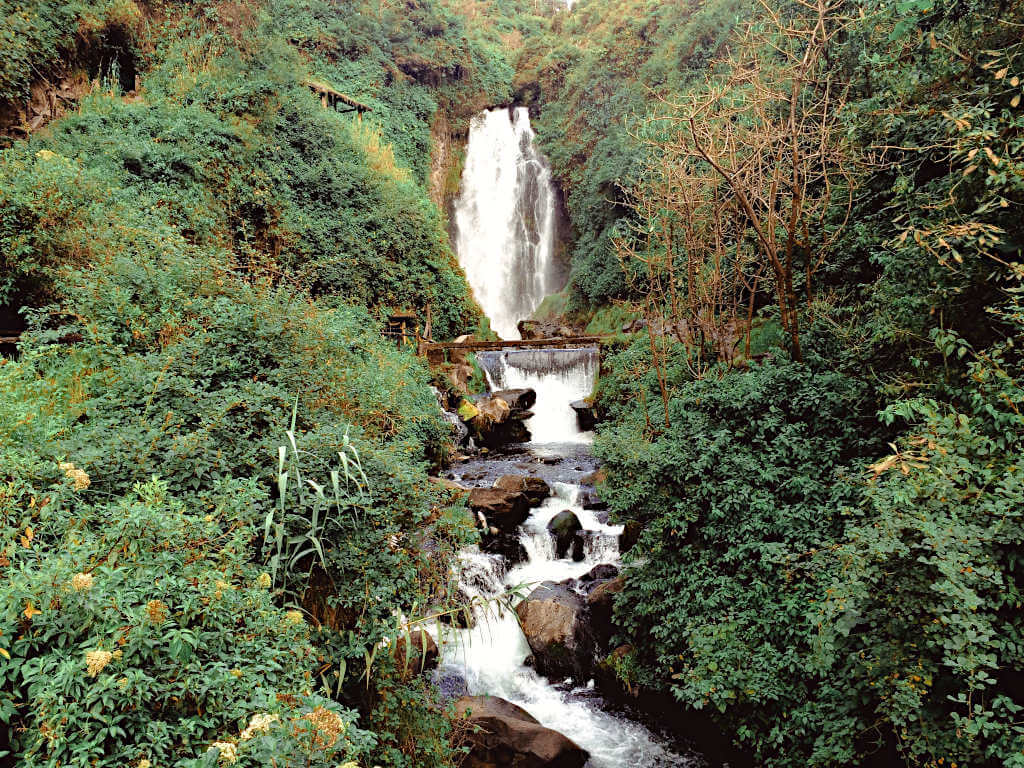 Lost City Trek Trail in the Sierra Nevada National Park
Looking to experience some incredible waterfalls while travelling in Colombia? Then sign up for the multi-day Ciudad Perdida trek through the Sierra Nevada de Santa Marta mountains along the Caribbean coast for an unforgettable experience.
The Ciudad Perdida trek is usually completed over four days. The route winds through the jungle along the Buritaca River and takes trekkers to the famed Ciudad Perdida, or, Lost City.
Rediscovered for the first time by outsiders in the 1970s, this incredible city is over 650 years older than Machu Picchu. And only about a third is currently open to visitors. With archaeological discoveries continuing to recover the city from the jungle.
The archaeological site at the end of the trek is just one highlight. The multiple river crossings, excellent swimming holes and beautiful waterfalls along the way are another memorable part of the journey for every traveller. Expect to cross the river over 20 times in the journey.
While the waterfalls are mostly without a name so deep in the jungle, you'll be delighted to discover countless falls – big and small – as you complete your trek. Most of which provide a cooling shower and swimming hole to unwind. Perfect after a day of hiking along the path of one of the world's most well-known treks. 
By Carley from Home to Havana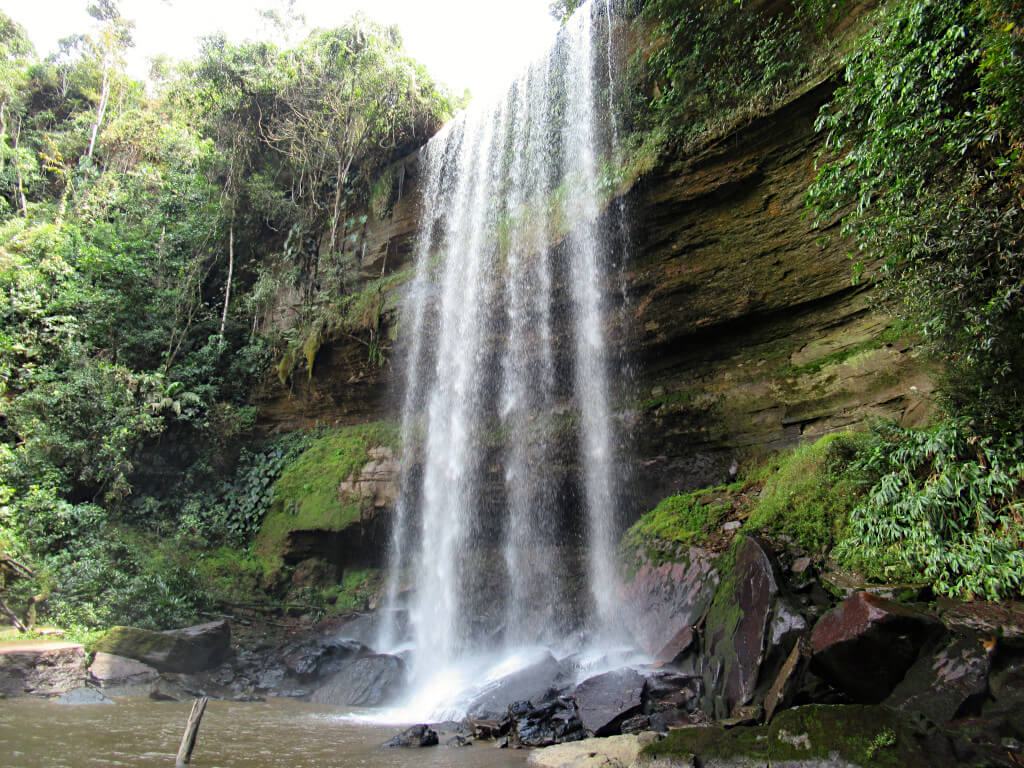 Cascada El Perico in Guadalupe, Santander
Located near the small town of Guadalupe – that few international visitors have ever heard of – is Cascada El Perico. It is perhaps one of the least known Colombia waterfalls of those located near towns and transport links.
Tucked away in the hills of the Santander countryside, the waterfall isn't really signposted anywhere. But, if you download and follow the Maps.me app, it isn't too difficult to get to. In fact, the walk is not challenging at all (unless it's quite hot that day), as it's mostly flat and straight.
After following a seldom-driven road and a small walk across a field or two, you'll need to climb down to reach the base of El Perico. Here, you can swim, sunbathe (depending on the time of day) or walk behind the powerful waterfall – all for free!
You'll likely have the place to yourself or with just a couple of others around. Even visiting on a weekend, I only saw two other groups the whole time!
With no facilities, make sure you bring all the water, meals and snacks you'll need. Be sure to take your trash home with you too to preserve the beauty for others.
Tres Cascadas in Guadalupe, Santander
Not far from El Perico is another little-known waterfall, Tres Cascadas. Tucked away amongst the trees and at the base of the valley the river has created you'll find this oasis-like gem.
Following the same path from Guadalupe as with Cascada El Perico, this waterfall is slightly further from the road. Keep heading along following the sounds of the river until you find the path. You'll need to cross over a shallow stream, where someone has hung a rope to help you before climbing up some rocks.
For your effort, you'll be rewarded with three stunning waterfalls. The water isn't very deep, so it's more suited to toe-dipping than swimming. But, there are also lots of large rocks you sit on and enjoy the view from. Or, navigate across the rocks to get as close to the waterfall as possible… Watch out for those less stable stones!
The Marinka Waterfalls in Minca
The town of Minca is located just outside of Santa Marta and not far from the famous Tayrona National Park. It is a charming little town with some nice cafes and restaurants, and several nearby coffee and cacao farms. The lush forests of the mountains also provide respite from the heat of the Caribbean Coast.
Minca has several great waterfalls nearby to cool off in. Pozo Azul Falls are the more well-known and are located only a short walk out of town. However, the Marinka Waterfalls are much more impressive and well worth the extra effort to get there.
You'll find the Marinka Waterfalls about a 90-minute hike from town. It's also possible to catch moto-taxis from town if you are pressed for time. The hike itself is nice and with some luck, you'll get to see some pretty birds and butterflies along the way. There is a small entrance fee to the falls, but they've done a good job building a bathroom and changing area, plus a small restaurant and café on site too. The big hammocks overlooking the falls from the café make for a wonderful photo.
It's easy to miss that there is an upper section to the falls, so be sure to walk up the path on the right side of the café to check it out. The lower falls are larger, probably around 15-metres high, and you can go for a dip in the chilly but refreshing waters. It's a great way to spend the morning before exploring the rest of Minca and is definitely one of the top must-dos in this pretty little town.
By Adam from CartagenaExplorer.com
Salto del Tequendama falls near bogota
Just a bus ride away from Bogota are the impressive, 132-metre-tall Salto del Tequendama waterfalls. Unlike most of the other falls on this list, no walking is required to reach here. Instead, you'll be able to get the best view right from the roadside where the bus drops you off!
Some level of planning is required to visit this waterfall, however. You need to be sure to visit on a relatively clear day otherwise you might only see cloud! And, Bogota is not exactly known for having good – or predictable – weather.
With no access to the base of the waterfall, you definitely can't swim here. In addition, the water is also pretty contaminated and polluted, so it's best viewed from slightly afar.
Situated over a large cliff edge, you'll also enjoy views of the near-vertical valley and vividly green trees and moss. On the roadside, a few restaurants serve food grilled on the open fire as well as snacks and drinks.
If you visit at the weekend, you'll also be able to take a tour of the once-abandoned Tequendama Hotel (Hotel del Salto). Now restored with some exhibits, the building was once a station on the Colombian railroad back in the early 20th century.
This waterfall might not be the most spectacular in Colombia, but it certainly has one of the most unique histories…
Cascada Bosque de Niebla in the Cocora Valley near Salento
The Cascada Bosque de Niebla is a mystical, partially hidden waterfall that can be seen on the Cocora Valley hike trail. It's located near Salento, in the coffee triangle of west-central Colombia. 
As you hike the Cocora Valley, you will be hiking along the Quindío River for about one-quarter of the hike. This waterfall is part of the Quindío River adding a cool ambience to the jungle. There is a way to get down to the base of the falls, but the path is not exactly in great shape. Additionally, there is no swimming in the water. I'd recommend just enjoying the view from the path as you hike by!
This waterfall is fairly tall and has several different cascading moments. It's nestled in the thick foliage of the rainforest, so parts of it are partially obscured by the trees at times. Your view shifts dramatically as you keep walking along the trail.
You can hike the Cocora Valley trail clockwise or anticlockwise – this waterfall is closer to the anticlockwise entrance – about 2 km in. It does cost money to enter the Cocora Valley – 10,000 COP to enter/exit the clockwise entrance and then 5000 COP to enter/exit the counterclockwise one.  
By Stephanie of The Unknown Enthusiast
Santa Rita Waterfall in Salento
The famous Colombia coffee region is home to lush landscapes where visitors will find incredible waterfalls. One of the best ones is Santa Rita Waterfall. Located a little over 6.5 km away from the touristic town of Salento, visitors can get there with a 1.5-hour hike. On the way, you'll pass through the gorgeous Colombia coffee triangle region, plus traditional fincas (farms) that many locals still live in.
Santa Rita isn't a waterfall that will leave you in awe the moment you look at it. In fact, it is quite small, so small that no one even bothered with measuring how tall it is. If I have to guess, it is no more than 5 to 10 metres tall!
But the size doesn't stop plenty of local Colombians and tourists from visiting daily. The waterfall empties into a big pool where visitors can swim and cool down from the heat, especially in the summer. Combined with the dense forest that surrounds the waterfall, it is an experience that you shouldn't miss in Colombia.
By Sean from LivingOutLau.com
---
If you have any questions or want any more information drop a comment below and I'll get back to you!
Prices and offerings mentioned are correct as of August 2022 but are subject to change in future.
---
More Colombia Travel Inspiration…
PALOMINO: Santa Marta's More Trendy Neighbour (A Complete Guide)
SAN GIL: A Complete Guide to Colombia's Adventure Capital in Santander
VILLA DE LEYVA: Pozos Azules Villa de Leyva (Complete Guide to the Blue Wells)
COLOMBIA: 15 Unforgettable & Awesome Hikes in Colombia (Complete Guide)
---
PIN IT FOR LATER!