An island paradise. White sand, clear seas, blue skies, unrelenting sunshine, and a remote location. Punta Mosquito Holbox is as dreamy as they come.
You might expect this in the Maldives or Seychelles. But this isolated sandbank is just a couple of hours from Cancun, Mexico.
People on the island talk about visiting Mosquito Beach Holbox all the time. However, many people never make the journey as they don't know where to go or are put off by having to walk through the sea to get there.
This is because accurate information is hard to come by. Especially since the conservation area was set up a couple of years ago changing where you can and can't access it.
So, if you want to make the journey to paradise, you've come to the right place. This comprehensive guide explains all you need to know. From what wildlife you might encounter, how to actually get there and what you need to bring with you.
Some of the links below are affiliate links, meaning, at no additional cost to you, I may earn a small commission if you click through and make a qualifying purchase.
Why you HAVE to visit Punta Mosquito Mexico
Punta Mosquito Holbox is paradise in paradise. It's a long sandbank just off of the island with just sand and sea.
Although Holbox is well known for its beautiful beaches and calm seas, relatively few people make the trip to Mosquito Point Holbox. If you want to relax on a white sand beach away from the island, see wildlife and enjoy a unique experience – this is for you!
Only a few years ago, you used to be able to walk to the very top of the island. All the way along the sandbars and through tropical island vegetation. But now, the area is a protected conservation area.
However, you can still walk out to the sandbank for a true deserted island experience! If you're on the lookout for information, make sure you use sources such as blogs and reviews from people who have visited since the protected area was established.
Wildlife
As a conservation area, there's no shortage of wildlife to see. However, be sure to respect the signs and don't enter the protected area. This is for your safety and the animals and ecosystems there.
Flamingos are perhaps the most sought-after animal on Isla Holbox. And, they happen to live in the nature reserve.
But, I won't lie to you, there's no guarantee of seeing them from Mosquito Beach Holbox. Keep an eye out though – including in the skies above you – and you might get lucky!
While you're looking up, don't forget to look down. You wouldn't want to stand on a stingray now, would you?
I saw at least 7 when walking along the Holbox sandbars and they are quite hard to spot. Generally, a thin layer of sand covers the stingrays. But they'll definitely hear and feel you coming first and move.
The signs do warn of crocodiles but you're unlikely to see these from Punta Mosquito Holbox. Generally, the Holbox crocodiles can be found much closer to the northwest tip of the island.
But, you'll pretty much be guaranteed to see lots of small fish in the water. As well as a variety of birds on the shore and overhead.
The White Sand of Mosquito Beach and the Clear Blue Seas around Punta Mosquito Isla Holbox
The combination of white sand beaches and crystal clear waters is what gives that paradise look. Particularly, under the cover of beautiful blue skies and 86-degree temperatures (Fahrenheit) to boot. Oh, and the fact that it feels so remote given that water surrounds you on at least 3 sides!
Most of the time, the Mosquito Point Holbox sandbar is visible above sea level. The white sand beach is a welcome prize after a long walk along the coast.
But, there are times – at high tide or after particularly heavy rain – that the sea completely submerges the sandbank. Nevertheless, you can still enjoy the calm seas and remote location in the water…
Sargassum and Seaweed
Anyone who has been to Mexico's Yucatan Peninsula before knows how bad this can get. Sargassum is a particularly thick and free-floating type of seaweed that covers the coast every year.
The Caribbean coast from Cancun to Tulum is usually the worst affected. Here, dark and smelly seaweed gathers along the beach, both on the sand in the water. This makes it somewhat unpleasant to sit on the beach and almost impossible to swim in.
Located on the northern rather than eastern side of the Yucatan Peninsula, Holbox is not usually too badly affected. But there can be build-up, especially in the shallowest parts of the water. Plus, levels of normal seaweed can build up too.
The sargassum descends on Mexico between April and August, typically. With the most amount seen in July and August. However, as a natural phenomenon, it can be earlier or later.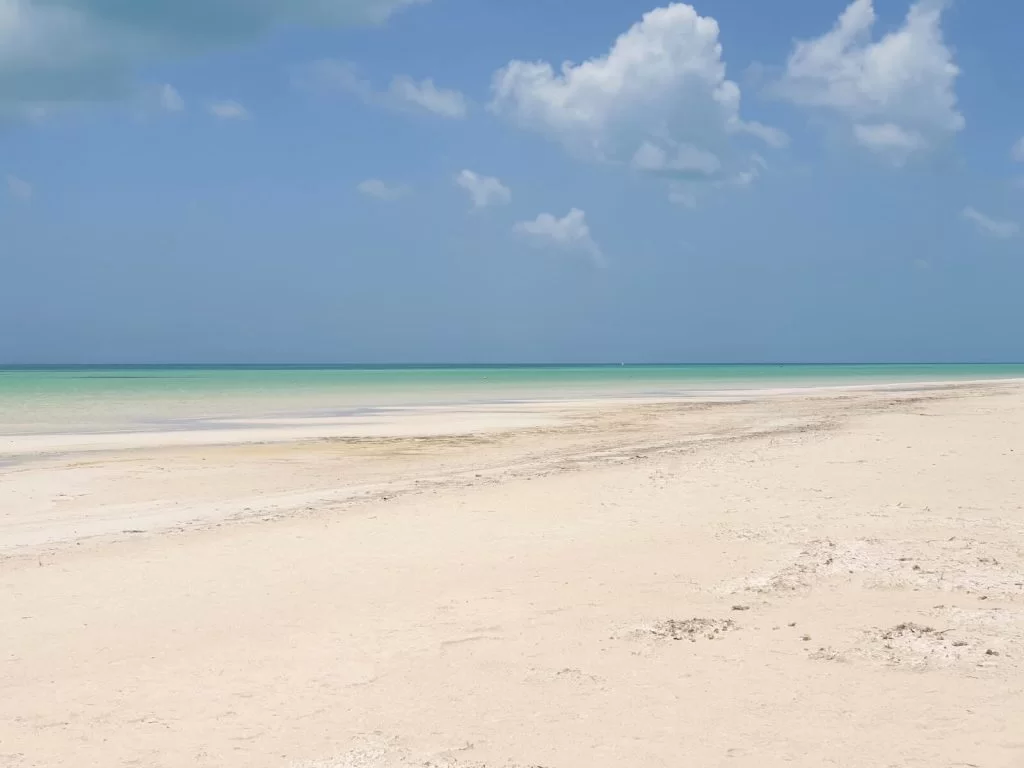 Where is Punta Mosquito Mexico?
The island of Holbox is located just off the northern coast of the Mexican state of Quintana Roo. The Punta Mosquito Isla Holbox nature reserve is located on the northwest part of Holbox.
The sandbank you can reach on foot – which is what people call Punta Mosquito Beach Holbox – is approximately 2.5 km southwest of the northern tip. See the location of Playa Mosquito Holbox on Google Maps here.
How to get to Punta Mosquito Holbox
In short, you can walk, cycle or taxi to the northernmost hotel on Isla Holbox or slightly beyond. But, no matter how you get there, the final stage includes walking through the sea. Walk out to the sandbank and along to Mosquito Point Holbox.
First, you have to get to Holbox
Holbox can be easily reached by car or public transport from Merida, Valladolid, Cancun, Playa del Carmen and Tulum. First, travel to Chiquilá and then you can take the ferry across for 220 pesos each way.
If you're coming from Cancun, check out this complete guide to getting to Holbox from Cancun.
Then, here's how you get to Punta Mosquito Beach Holbox
Once you're on the island, follow the steps below to reach Mosquito Point Holbox:
First, get to Hotel Las Nubes de Holbox. If you're walking or cycling, I'd recommend sticking to the path. Going on the beach will only slow you down.
Here, you need to walk out into the sea until you reach the shallow sandbars. The tide will determine the depth of the water before the sandbank, but I found it to be no more than 1 metre deep. Totally fine to walk through with a backpack on.
Once you're on the sandbar, continue walking north towards Punta Mosquito Holbox. The sandbar might still be a foot or two underwater.
IMPORTANT: You'll first reach a sign with flamingos on it that says in 2 km you'll reach the conservation area and there you can't pass any further.

Unfortunately, many people think this sign means you can't go further and turn around. But, you have to keep going here!
Depending on the tide, the walk on the sandbank will take 45 to 60 minutes. You'll know you've reached it when you see a narrow strip of beach, small boats anchored and ultimately, the 'Danger' sign pictured below.
Another option is to join a boat tour to Playa Mosquito Holbox. Most will also take you to the northern tip of the island to view the nature reserve from the sea.
How long is the walk to Punta Mosquito Isla Holbox?
In total, the walk to Punta Mosquito is 4 km each way. From the centre of Holbox (main square) to Las Nubes Hotel is 2.2 km. From there, it's a further 1.8 km through the sea to Playa Mosquito Holbox.
The first half of the walk will be quicker as you're on the path (around 25 to 30 minutes). But, you'll find it much slower going once you're wading through the water. Depending on the depth and strength of the tide, the second part of the walk could take 45 to 60 minutes.
If you want a shorter walk through the sea, you can continue past the hotel on foot until you reach the river mouth. Here, you'll need to walk just 400 metres out towards the sandbank through fairly shallow water. The walk to the river mouth is 3.9 km from the main square in Holbox.
Can you cycle to Punta Mosquito Beach Holbox?
Not all the way, but you can cycle to where you need to walk out to the sandbank.
If you cycle to the hotel, you'll find somewhere to lock your bikes up (e.g. a fence or lamppost). However, if you cycle further, you might have to leave them unattended as there is much less around.
Can you get a taxi to Punta Mosquito Mexico?
The road goes as far as Las Nubes hotel and is a path/beach beyond this. As such, most taxi drivers will only go as far as the hotel (remember these are large golf carts in Holbox). You'll then have to continue on foot.
A taxi from the centre of Holbox to the hotel will cost around 100 pesos one way. But, you might have a harder time finding one to give you a lift back, so be prepared to walk.
What to bring to Mosquito Point Holbox
Sun cream. Apply before walking in the sea, apply once you get to the sandbank and apply again before heading back to Holbox town!
I got so burnt doing this walk – even with two applications of sun cream! The water magnifies and reflects the sun making it even more intense than normal for Caribbean Mexico. Don't forget the backs of your hands – I speak from experience!
Water, enough for a 30-minute walk to the hotel, at least 2 hours walking on the shallow sand bars and then another 30-minute walk back to town. In 30-degree Celsius heat… In the Caribbean…
Camera. This place is too good not to capture! If you have a GoPro or drone, then these would definitely be good too.
Swimwear, t-shirt, shorts. You need to walk in clothes you don't mind getting wet, but that will also protect you from the sun. Sunglasses are another essential, a hat is good if you have one. You don't really need a towel as you'll dry quick enough.
Water shoes. You need to walk on land and along the Holbox sandbars. Water shoes are a good option as they'll protect your feet from stones and sea creatures but are also lightweight.
Alternatively, strap-on Teva-like sandals or walking sandals would be ideal too. You don't want to be carrying your shoes in your hands as you walk. Flip flops won't stay on your feet and trainers will be heavy.
Drybag. Ideally. If not, a backpack will suffice. Just be careful how low the bottom of your backpack is with the waves and in deeper parts of the sandbanks/walk to the sandbanks.
As Punta Mosquito Mexico is a remote, natural attraction, make sure that you leave nothing behind – including rubbish and belongings.
---
If you have any questions or want any more information, drop a comment below and I'll get back to you!
Information is correct as of January 2023 but is subject to change in future.
---
More Travel Guides on the Best of Mexico
QUINTANA ROO: Getting from Cancun to Tulum and Tulum to Cancun (Transport Guide)
QUINTANA ROO: Travelling from Cancun to Holbox: All Transport Options
OAXACA: 25 Oaxaca Beaches You HAVE to Visit
OAXACA: Playa Bacocho, Puerto Escondido (Oaxaca Beach Guide)
QUINTANA ROO: Playa del Carmen to Tulum: Transport Options & Travel Guide
QUINTANA ROO: How to get from Cancun to Playa del Carmen (Transport Guide)
CHIAPAS: Visit El Arcotete Eco Park in San Cristobal, Chiapas [Complete Guide]
And much more, check out all Mexico Travel Guides here!
---
PIN IT FOR LATER!