The city of Pula is located on Croatia's northwest Adriatic coast. It's a small but thriving city full of ancient history and great eateries. But what makes Pula special is how you can have a trip that is both a city break and a beach holiday!
Pula beaches are special: they're beautiful, have a relaxing vibe and come with crystal clear seas. And, there's plenty to choose from. With miles and miles of incredible coastline, it can be hard to know where to even start.
Luckily, this complete travel guide details the 11 best beaches in Pula Croatia including how to get to them and what facilities they have. You'll be itching to apply sun cream and jump in the sea by the time you've finished reading…
Some of the links below are affiliate links, meaning, at no additional cost to you, I may earn a small commission if you click through and make a qualifying purchase.
Last updated: March 2022. First published: January 2021.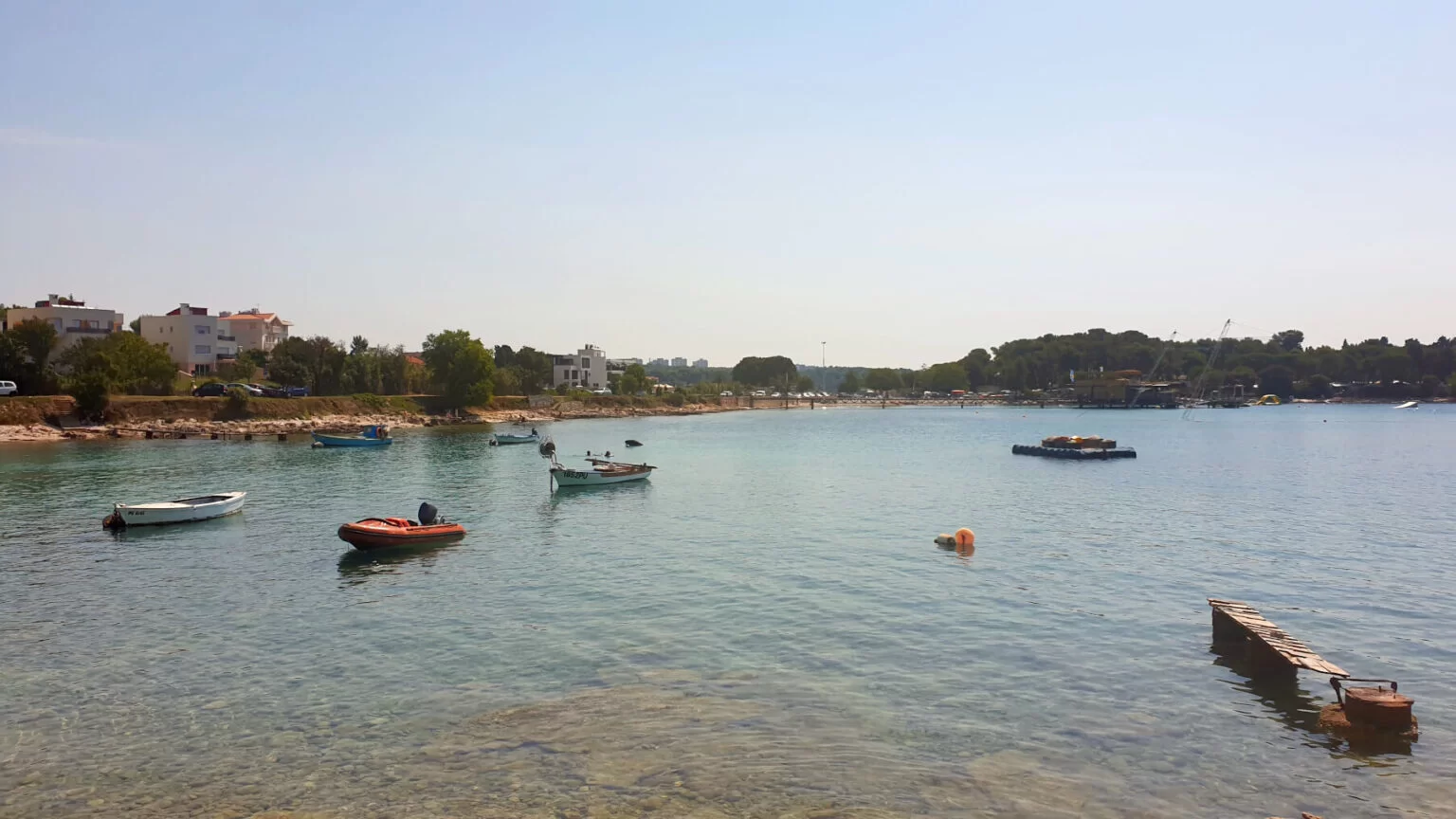 This post features the best beaches in Pula or very near to it. Unfortunately, it does not include beaches in Medulin, Cape Kamenjak, Banjole or any further afield.
For clarity, I have also only included beaches that have a beachy shoreline and gradual decline into the sea. Pula does have some concrete and rocky 'beaches' and I have included the best of these in a separate section at the bottom.
Blue = Stoja, Orange = Verudela, Green = Štinjan, Red = concrete/rockface beaches
Best Beaches in Pula: Stoja
Cyclone Beach and Valovine Beach can be reached by taking the Number 1 bus from Pula Bus Station or the centre of Pula. For Gortan's Cove, you'll need to take the Number 4 or 6 bus from central Pula to Valkane Beach. From there, you'll need to walk 10 mins along the seafront to reach Gortan's Cove.
One-way bus tickets cost 11 Kuna (£1.20) per person and can be purchased from the driver. Check the latest timetable on the Bus Croatia website.
Alternatively, take a taxi (such as Uber or the local equivalent – Cammeo) for around 40 Kuna (£5) each way. This is particularly a cost-efficient option if you are travelling with at least one other person. Or, if your destination is not close to the bus stops or bus station in central Pula.
Cyclone Beach
A short walk from the road through a campsite and woodland brings you to Cyclone Beach Pula. Accessible by stairs only, Cyclone Beach has a small pebble beach area as well as a large rocky area.
You can enter the sea quite easily from the pebble beach, but from the rocks, it'll require a bit of climbing or jumping straight in. However, some rock pools form when the tide is further out for those who want to test the waters before diving into the deep end!
Just along the coastline from Cyclone Beach Pula is Seagull's Rocks (Galebove Stijene on Google Maps). This secluded rocky bay is popular for cliff jumping and sea caves, with many kayak tours heading here. But, it's also a beautiful spot and a great spot for photos from land.
Unfortunately, there aren't any facilities such as shops, toilets, changing areas or showers at Cyclone Beach. Make sure you come prepared with drinks, snacks and your swimwear on.
Valovine Beach
Valovine Beach (pictured top above) stretches along the top of Valovine Cove and is located right next to the final stop for the Number 1 bus! As such, this pebble beach is much more easily accessible than Cyclone Beach.
The water at Valovine Beach is so clear and warm! It is definitely a strong contender for being the best beach in Pula. I would highly recommend it! If you can't fit a snorkel in your luggage then definitely bring goggles because it's a great place to see lots of little fish.
Additionally, the beach is home to a couple of bars including the Lounge Bar Mares that is located 50 metres off the shore over the water! However, there aren't any showers or changing facilities here.
Gortan's Cove
This popular beach is a little way from the other beaches in Stoja but is still worth a visit. Gortan's Cove beach has toilets and a small bar, but not much else facility-wise.
In addition to being home to some of the clearest water in Pula, the cliffs sprawl the length of the cove. And, as a result, there is plenty of room for sunbathing and cliff jumping, as well as being a great swimming spot.
Plus, to truly accommodate all types of beachgoers, there are also shaded areas to avoid the heat and sun. A Pula beach that has something for everyone!
RELATED POST: Still wondering whether Pula is worth visiting? Check out this post on 9 reasons to visit Pula and Istria.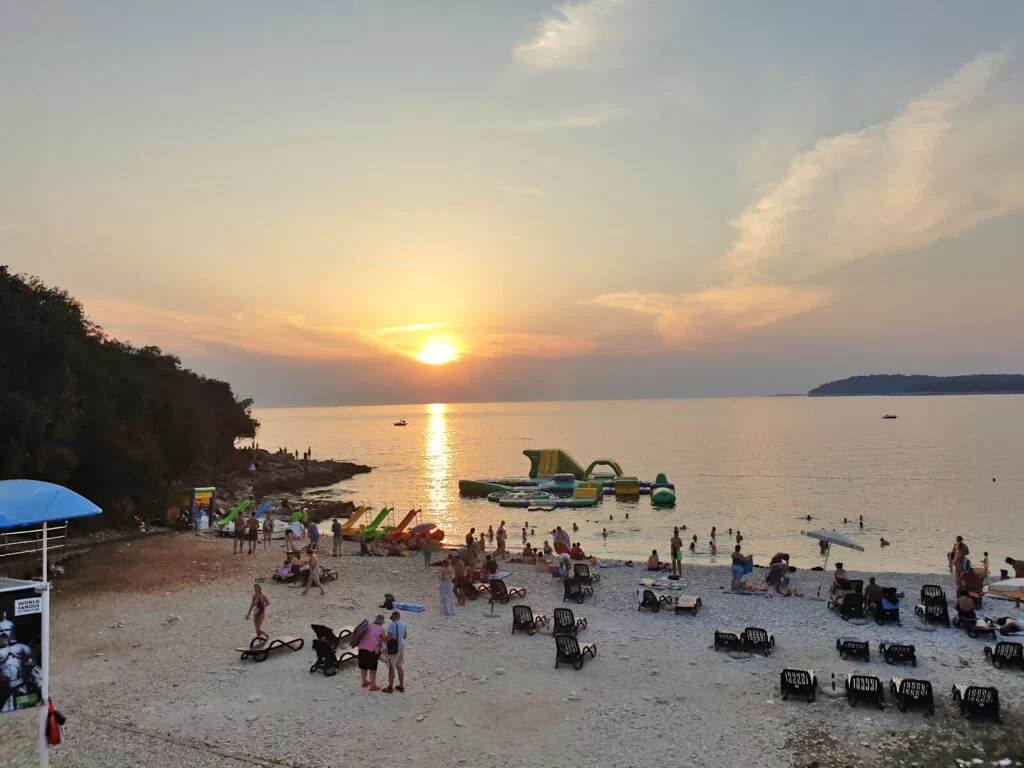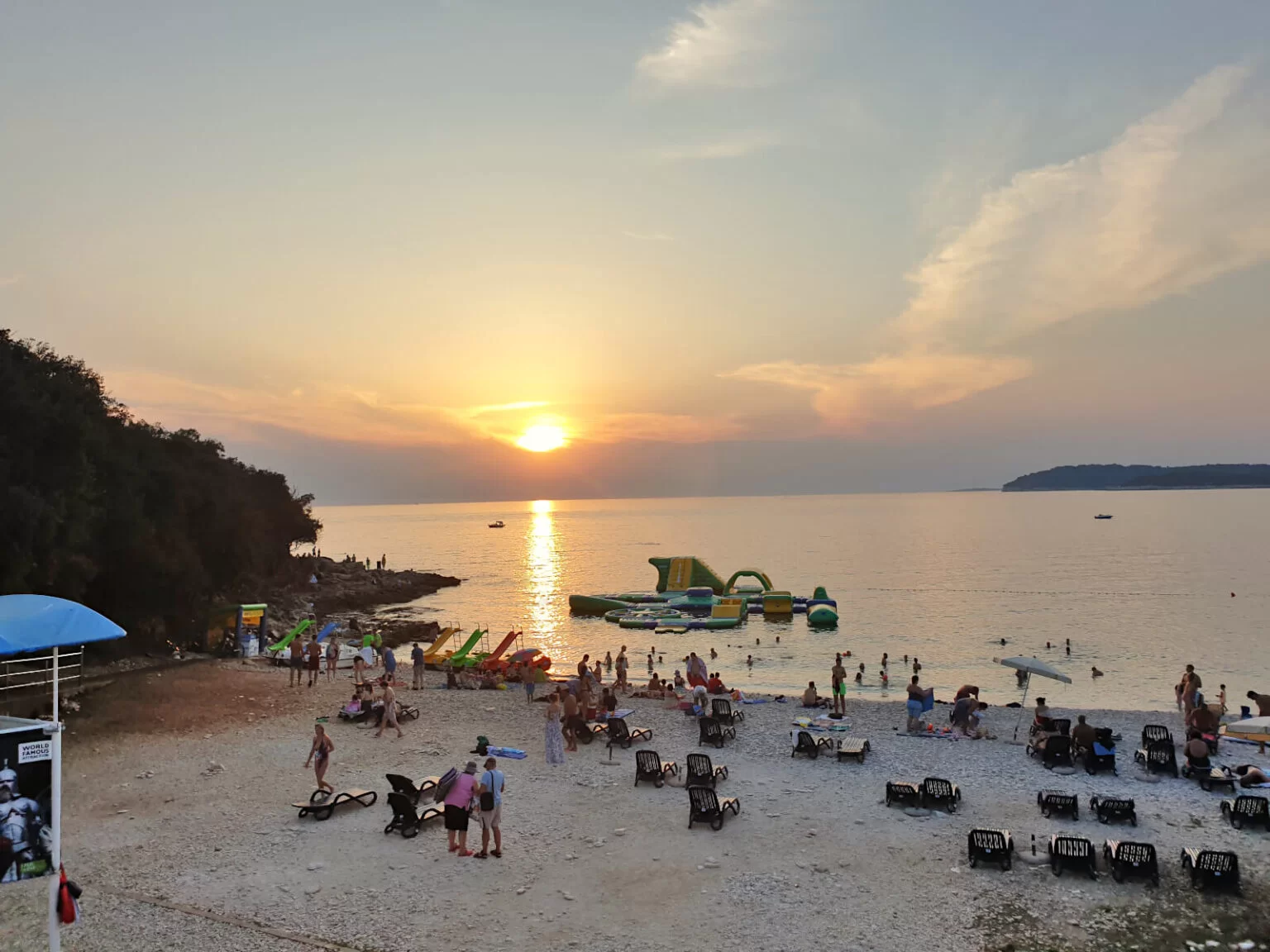 Best Beaches in Pula: Verudela
All 5 of the beaches below are located on the Verudela peninsula to the south of Pula. The Number 2a and 3a buses run from Pula Bus Station to the centre of the peninsula (Verudela Bus Stop on Google Maps), costing 11 Kuna (£1.20) one-way.
Check the latest timetable on the Bus Croatia website. Alternatively, an Uber or Cammeo taxi from central Pula costs approximately 30-35 Kuna (£3.30-£3.90) one-way.
The beaches in Verudela are conveniently located next to a host of accommodation options. There are no fewer than 3 Park Plaza hotels within a few 100 metres (Park Plaza Arena Pula, Park Plaza Verudela, Park Plaza Histria Pula). And, the peninsula has plenty of restaurants and leisure activities available.
Valsaline Beach
Located on the north of the Verudela peninsula, Valsaline Beach is approximately a 20-minute walk from the Verudela Bus Stop. Consider, getting off a stop early to avoid walking in the peak summer, midday sun.
Facilities-wise, there are toilets and changing areas here, as well as La Playa Beach Bar just a short walk away. But otherwise, this is a quieter and less popular beach than the others on the Peninsula. It's ideal for a relaxing day in the sun and sea.
Like most of the beaches in Pula, the water is clear, warm and calm. Valsaline Beach is an excellent place to cool off from the heat of the day. And, it has a slow, gradual decline into the sea from the pebble beach, perfect for just dipping your toes.
Croatia Beach
Located on the western Verudela peninsula, Croatia Beach is a great little beach! Personally, I think this is one of the best beaches near Pula because it really has so much on offer!
The beach itself is a small pebble recess amongst some more rocky areas that offer a lot of space for sunbathing. Just above the beach is Zeppelin Beach Bar, where you can get a refreshing drink late into the evening.
Additionally, the bar has an artificial football pitch that is available to hire. To note, the bar is cash only and whilst there is an ATM onsite it does charge for withdrawals.
What's more, on Croatia Beach there are lots of water activities available. For example, jet skis, banana boats, kayaks, as well as an inflatable over-water obstacle course! You can hire sunbeds and parasols on the beach. Plus, there are also lots of trees providing shade for those who don't want to be in the sun all day.
Ambrela Beach
Ambrela Beach (pictured above) is one of Pula's best beaches for a couple of reasons. Firstly, it has some of the best beach facilities including changing areas and showers. And secondly, the sunset views are incredible here. As such, Ambrela Beach Pula is also one of the more popular beaches in Pula
The beach is made of fairly large pebbles and eases gently into the shallow crystal clear water. The western-facing location of Ambrela Beach Pula also makes it perfect for watching the sunset at the end of a hard day sunbathing!
Additionally, Ambrela Bistro and Beach Bar, located just above the beach, has an outside terrace where you can watch the sunset with a drink in hand.
And, to really round out your day, right behind Ambrela beach is the Verudela Art Park. This quirky spot has a variety of interesting sculptures, such as a brain on legs spread out over 5000 square metres. The sculptures are also lit up at night if you want to venture there after sunset.
Histria Beach
On the opposite side of the peninsula to Ambrela Beach, is the slightly larger Histria Beach. This pebble beach slopes gently into the clear, warm sea and also stretches out to the rocky sides of the bay.
This is another great beach to bring your snorkel and goggles to so you can see the fish! And, for the more adventurous, there is an inflatable over-water obstacle course as well as kayaks and stand-up paddleboards for hire.
In peak times, there is a pop-up bar on the beach and you can hire sunbeds and parasols, also. And although the beach doesn't have many other facilities, it is surrounded by hotels and bars that do.
Hawaii Beach
Written in Croatian as Havajska Plaža, this small but popular beach cuts into the cliff edge and is accessible by steps only. However, because of this, it is one of the best beaches in Pula for cliff jumping into the clear seas below! Verudela Canyon, which is about 50 metres from Hawaii Beach, is also another great spot for cliff jumping (but has no beach).
There isn't much available facility-wise and Hawaii Beach Pula is entirely in the shade by late afternoon. As such, this is a good beach to spend a few hours at but perhaps not all day. But given how close all the beaches are in Verudela, you can easily move between them all in one day.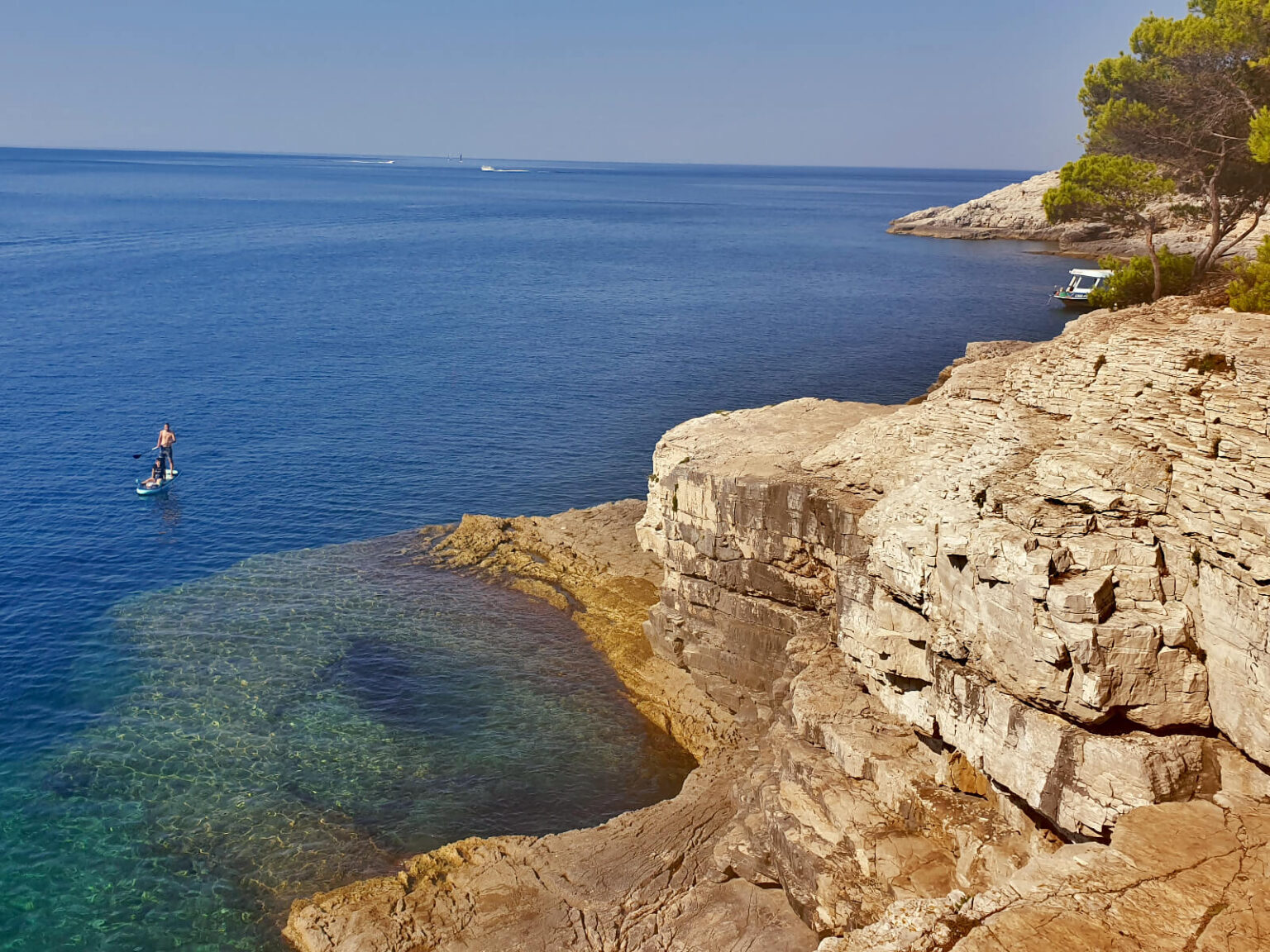 Best Beaches in Pula: Štinjan
The area of Štinjan is just northwest of Pula city centre. The Number 5 bus runs from outside of Pula Area to Štinjan, costing 11 Kuna per person, one-way. The buses run regularly throughout the day, but check the latest timetable on the Bus Croatia website before your journey.
The beaches in Štinjan are less popular and visited than those in Stoja or Verudela due to being slightly further from central Pula. And while there are fewer beaches here, all in all, you can still spend a day here moving from beach to beach.
Lost Beach
Like all of the best beaches in Pula, Lost Beach has the characteristic clear waters lapping the pebble shoreline. And as stunning as it is, as one of the more remote beaches near Pula, there isn't much (well, anything) in terms of facilities at Lost Beach.
However, this remoteness does mean that the beach is very close to a few of Pula's hidden gems. The abandoned Punta Christo Fort is a cool place to explore and has a few walking trails around it.
Also, on the western tip of the Štinjan peninsula is the Punta Christo Lighthouse. This rocky area is home to a few Instagram-worthy (and famous) bridges connecting the various cliffs. There were rumours that the bridges had been removed but recent pictures seem to indicate they are still there.
For a place off the beaten path, make sure you visit Lost Beach Pula and explore the area around!
Hidrobaza Beach
In contrast to Lost Beach, Hidrobaza Beach is one of the few beaches in Pula that has everything you could need or want! But, that's not surprising since the beach was converted from a hydroplane station just a few years ago.
Firstly, there are showers, changing areas, toilets and lifeguards. Then, there are beach bars, snack bars and terraces. Not to mention, the sunbeds, parasols, pedalos and overwater obstacle course!
But, it doesn't stop there… A children's playground, a volleyball court and accessible-friendly ramps into the sea. Plus the paths to the beach are totally flat and accessible-friendly too! And to top it all off, behind the beach is a grassy area for those who don't want to lay on the small pebble beach!
Hidrobaza Beach may be man-made but with all the facilities it is possibly the best beach in Pula. A must-visit during your time in the city.
RELATED POST: Looking for things to do in Pula other than laying on the beach and swimming in the sea? Read this guide on the 49 best things to do in Pula.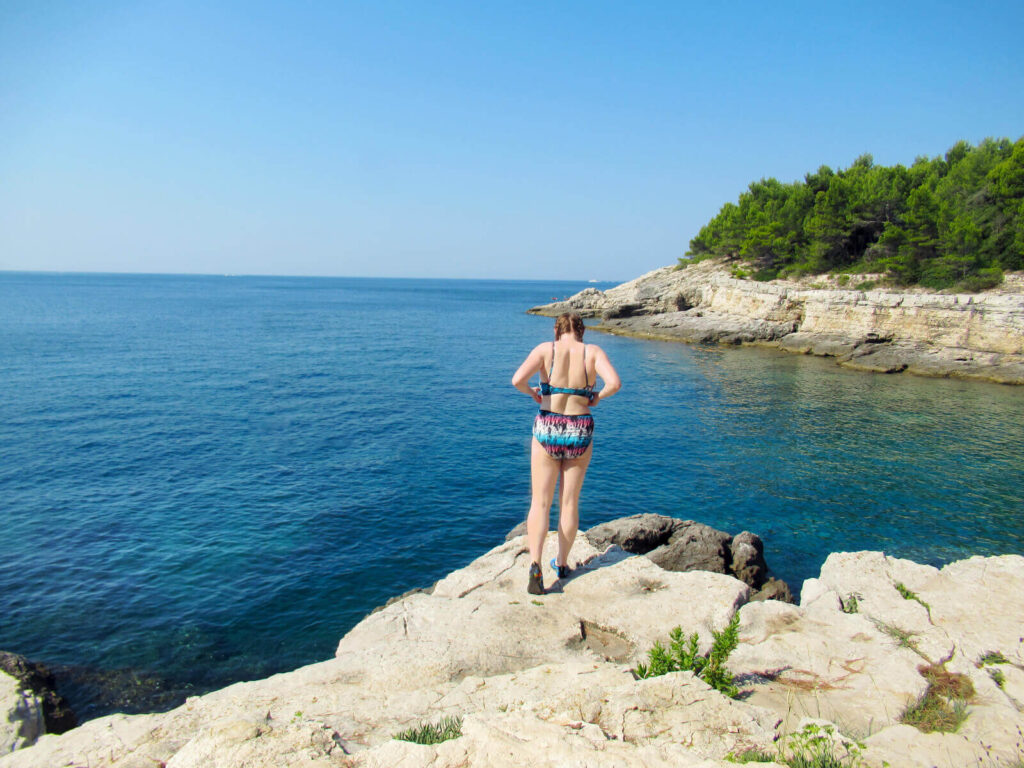 Did you know? The historic town of Rovinj also has beaches just a stone's throw away from the narrow streets of the old town? It's the perfect day trip combination of sightseeing + sand. All the information you need is in this Rovinj day trip travel guide!
Best Beaches in Pula that aren't Beaches!
Stoja Beach
Stoja Beach is just a stone's throw from Cyclone Beach and Seagull's Rocks. This area has many cliffs dropping into the sea and creating narrow passages. As a result, Stoja Beach is popular with cliff jumpers and kayakers. There isn't much of a beach here and it's more picturesque to be on top of the cliffs/rocks.
Mornar Beach
Just along the bay from Valsaline Beach is this man-made, concrete jetty beach. There is about 2 metres of beach, but, unsurprisingly, this tiny corner of pebbles didn't make the cut into my 11 best beaches in Pula! Although the jetty is more commonly used by the sailing club, when not in use it still makes a nice spot for swimming.
Brioni Beach
This rocky area is located on the western side of the Verudela peninsula – it's a great place for sunset. The beach is mostly large rocks combined with long stretches of concrete added with gradual stepped increases. As the shoreline is all large, rugged rocks, concrete steps and handrails have been added for easier access into the sea.
Frequently Asked Questions
Are There Any sandy beaches in Pula?
No, all the beaches in Pula are made up of pebbles or rocks. Some additional man-made beaches have concrete blocks or jetties. But, the fact that the beaches are made of pebble rather than sand is what makes the water so clear!
On normal beaches, the sea picks up the loose sand and moves it about. And this causes the water to look foggy. However, with pebble beaches, this doesn't happen. Plus, in Pula, the sand-free water is combined with calm seas to be incredibly clear!
But, aren't the pebbles and rocks painful to walk on?
Unfortunately, the pebbles and, subsequent, clear seas come at a cost to comfort. The pebbles on the beach aren't usually too uncomfortable on your feet. However, the larger rocks and cliffs are rugged and not bare-foot friendly. Particularly under the water, the rocks can also become a bit mossy making you prone to slipping.
To combat this, you'll want to go prepared and I couldn't recommend anything more for Pula than a pair of water shoes. The ones in the link are the pair I bought (pictured above) and they were one of my best 2020 purchases!
I would recommend getting a pair of water shoes that have a good grip and good thickness to the sole. Water shoes are also great for wearing when moving between beaches through wooded areas.
And what about sunbathing on the pebble beaches in Pula? Isn't that uncomfortable?
It certainly can be… Fortunately, there are a few options to overcome this!
Firstly, you could hire a sunbed on the beaches where this is available. Secondly, many of the beaches in Pula have grassy areas behind them. And, as most of the beaches are quite short, you can lay on the grass just a few metres away from the sea.
Finally, and this is what I did, was use an inflatable lilo on top of the pebbles to lie on. I then coupled this with my travel-friendly micro-fibre towel to stop me from sticking to the plastic. The combination of sweat, sun cream and seawater is like adhesive, I swear! But, it worked a treat and I was taking both the towel and lilo to the beach anyway!
Is it safe to leave things on the beach in Pula whilst swimming in the sea?
Within reason, yes! Every time I went into the sea I left my belongings insight on the shore. Then I would just look up for them regularly and check no one was suspiciously lingering.
However, I was always selective in what I bought with me and hid things such as my phone and camera in my bag under a towel. Not that I'd leave them out anyway, as they'd be fried in the sun!
But, to be honest, Pula always felt like a very safe place, especially at the beaches.
---
So, have you packed your swimsuit and goggles and booked a ticket to Pula yet? The beaches in Pula are some of the best in Croatia. And, there are a lot of them! Hopefully, this guide has provided you with lots of travel inspiration for Pula. Let me know if you visit any of these Pula best beaches in the comments below!
If you have any questions or want any more information drop a comment below and I'll get back to you!
Prices and offerings mentioned are correct as of March 2022 but are subject to change in future.
---
PIN IT FOR LATER!