Cabañas La Cumbre, San José del Pacifico is an accommodation of two parts: a hostel in the town and off-grid domes and cabins in the surrounding forest. San José del Pacifico cabanas are highly sought after and La Cumbre had been highly recommended to me by travellers across Mexico, I had to visit and check it out for myself. I needed to know if this budget option was too good to be true (spoiler: it isn't, keep reading to find out why though).
So, if you're thinking about or planning to stay at La Cumbre in San José, you need to keep reading to find out all you need to know. From how to find it, room options, facilities and lots of helpful tips to ensure you have a fantastic time, this guide has it all!
This post is not sponsored in any way and does not contain affiliate links. All views are my honest experiences and are provided for information purposes.
Cabañas La Cumbre, San José del Pacifico: Overview
By definition, a cabana is a cabin, hut or shelter. While La Cumbre translates to 'the peak.' So, it is unsurprising to know that Cabañas La Cumbre is accommodation on the top of the mountainside in San José del Pacifico.
However, accommodation is actually available at two places in San José. Firstly, at the hostel at the top of the town. And then secondly in the forest a short distance away.
The rooms in the hostel cater to individual travellers, couples and small groups at low prices. Additionally, here there are social areas, a restaurant on-site, there's WiFi and the town is just a few minutes walk away. This is the place to be to meet people, socialise and have some more of life's luxuries on the doorstep.
While the forest accommodation suits couples as well as small and large groups. However, there is no WiFi or phone signal, no additional facilities like the restaurant and reception, and the town is a longer walk away. If you're wanting to get off-grid or spend some time alone for a few days, this is the place for you.
All in all, I would say that Cabañas La Cumbre is a great budget-friendly accommodation option in San Jose del Pacifico. The forest cabanas add a unique twist to a stay in an already unique town and are perfect for those really wanting to escape the world for a while.
How to Get to Cabañas La Cumbre, San José del Pacifico
First of all, you need to get to San José del Pacifico. Minibuses run from Oaxaca City, Pochutla, Puerto Angel and Zipolite throughout the day, with a journey time of around 3 hours. If you're coming from Puerto Escondido, you'll need to get to Pochutla first – the minibus companies are located right next door to the main bus station there.
All of the buses will drop you off on the main road of San José. From here, you'll need to continue on foot to get to Cabañas La Cumbre. To note, no matter whether you're staying in the town or in the forest, you still need to go to the reception in the town first.
From the main road, take the road heading uphill between the convenience stores. The road first curves round to the left before forking in two – at this point, take the road on the left and continue uphill. This road heads steeply uphill and then bends round to the right. Keep going until the road flattens out and you see some stairs on the left-hand side.
Tuk-tuks do operate in San José and will only cost you a few pesos. But, if you're not travelling alone, they're unlikely to fit more than one person plus luggage at a time. The walk is steep, at altitude and will leave you out of breath. But, the walk takes less than 10 minutes. And, after 3+ hours in a minibus (on very windy roads), you'll likely be glad to have your feet on solid ground!
Need to know how to get to San José del Pacifico? Don't worry, I've got you covered with this helpful guide including which bus companies operate the route, where to find the bus stops, and costs.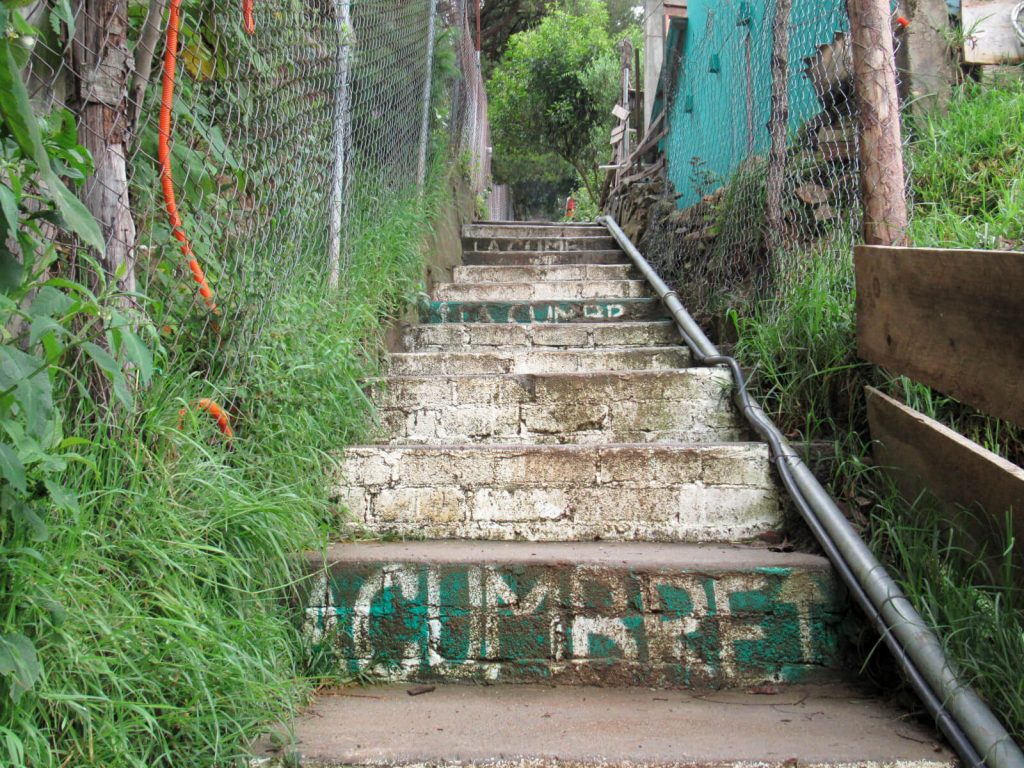 Arriving at La Cumbre
The stairs leading to Cabañas La Cumbre in San José del Pacifico are not-so-clearly painted with 'La Cumbre' on the steps. And you'll have to be keeping an eye out as they are just a few feet wide between other properties. Head up the stairs and to the right the welcome sign (not underneath it), then you'll be able to follow the signs down to reception.
The check-in process was easy and only took a couple of minutes as I just had to provide photo ID. I had booked online directly through the La Cumbre website meaning I didn't need to spend any of my cash supplies. If you are paying or booking on arrival make sure you have cash – card payments incur a 5% fee.
If you're staying in the hostel in the town, you'll be shown to your room. Whereas, if you're staying in the accommodation in the forest you'll need to use local transport for the 10-minute drive to the cabanas. La Cumbre recommends you arrive before 6pm, unless you have your own transport, as public transport in the town stops in the early evening.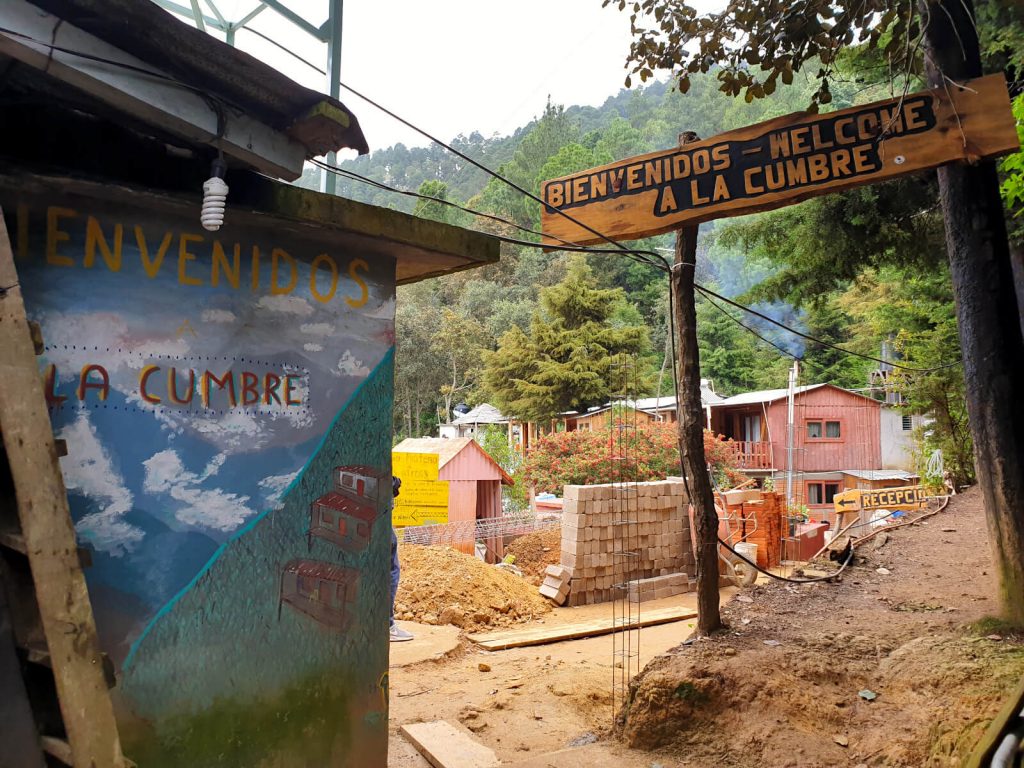 Accommodation & facilities in the town of San José del Pacifico
Rooms
The rooms in the town can be divided into two halves, those with private bathrooms and those without. All rooms come with bed sheets – including three layers of blankets. In the rainy season, it is cold at night – like 6 Celsius cold. WiFi is also available throughout the accommodation in the town.
With private bathrooms (shower, toilet, sink and towels provided), there is the option of rooms with:
One double bed (for up to 2 people)
Two double beds (for up to 4 people)
Two double beds plus one single bed (for up to 5 people)
Alternatively, there are some rooms available with access to shared bathrooms (outside the rooms), these have:
A single bed (for 1 person)
One double bed (for up to 2 people)
Two double beds (for up to 4 people)
Three double beds (for up to 6 people)
Unfortunately, toilet paper isn't provided for free in the shared bathrooms. Rather, it can be purchased from the hostel or the shop along the road. I'm not sure what the reason for this is and I haven't seen it in any other hotels/hostels in Mexico. Towels also aren't provided in the rooms without private bathrooms.
However… all of the rooms come with a view over the Oaxacan mountains looking west(ish) in the direction of the Pacific coast. And, the views of the clouds, mountains and sunset are simply divine. Plus, you can enjoy all of them from bed. That being said, some of the rooms do seem to have more obstructed views than others. This is due to the plants, trees, water tanks, etc. So I think it's luck of the draw as to how good the view is from inside your room.
For prices, availability and to book, head over to the La Cumbre website.
Common spaces at Cabañas La Cumbre, San José del Pacifico
One of the main perks of staying in hostels is meeting people, right? So, it's a good thing La Cumbre has ample common spaces.
As the rooms are split over several storeys on the mountainside, there are lots of terraces with seats. Some of the terraces are covered and some are not. Additionally, there's also a covered hammock area, which is great to chill out in and enjoy the sunsets.
Finally, at the top of the complex, there's a small canopy where people gather and have a fire to keep warm during chilly evenings and nights.
Restaurante La Cumbre
This on-site restaurant is a godsend for when you're done with the altitude, uphill walking and humidity/dampness from the clouds all day! Serving from breakfast until dinner, the restaurant has a variety of Mexican cuisine options. Plus, they also sell bottled water, mezcal, biscuits, snacks and fruit. So, if you're after a meal with a view, this is the place to come.
Review
Would I recommend La Cumbre? Absolutely! But, it's not going to be to everyone's tastes or liking. But, for backpackers, budget travellers, people who don't mind going back to basics and those just wanting to visit San José – this is the place to be.
Yeah, there wasn't hot water and the WiFi barely works. But, it's at the top of a mountain, 2500 metres above sea level. And, I've been to plenty of places in Mexico that weren't so remote and also had cold showers and/or no WiFi (Merida, Holbox, Isla Mujeres, Puerto Escondido). But, the bed was comfortable and the layers of blankets really kept me warm and toasty at night.
Just, don't be put off my first appearances. La Cumbre is certainly rough around the edges, as is San José. And, your room may smell damp. But, that is because the town is literally in the clouds so the air is damp all the time.
That being said, when I stayed in August 2021 I paid 420 pesos a night for a private room with a double bed for two people and a private bathroom. Single rooms were 160 pesos. For budget accommodation in San José, this is the best option. Many of the other cabanas and accommodations in the town (you can check them out on Airbnb) are at least 1000 pesos a night.
Personally, I didn't rate the restaurant but for the price and convenience, I really shouldn't complain. Plus, it's good to be able to get drinks and snacks without leaving the site.
Overall, if your key considerations are budget, social atmosphere and incredible views, I highly, highly recommend Cabañas La Cumbre!
BOOK HERE > > > Cabañas La Cumbre
Accommodation & facilities in the forest of San José
A 10-minute drive outside of San José are the cabanas in the forest. Without WiFi, and presumably phone signal, this is an off-the-grid option for people wanting to get away from everything.
The following accommodation options are available in the forest, each with a private bathroom:
Dome with one double bed (for up to 2 people)
Two-storey dome, each floor has a double bed (for up to 4 people)
Two-bedroom cabin, one room has one double bed and one room has four double beds (for up to 10 people)
Two-storey cabin (for up to 10 adults and 2 children)
Additionally, there is a 3-storey cabin where each floor is rented out individually but all three floors share the same bathroom. The room on each floor has a double bed allowing up to 2 people to stay, as well as a terrace.
BOOK HERE > > > Cabañas La Cumbre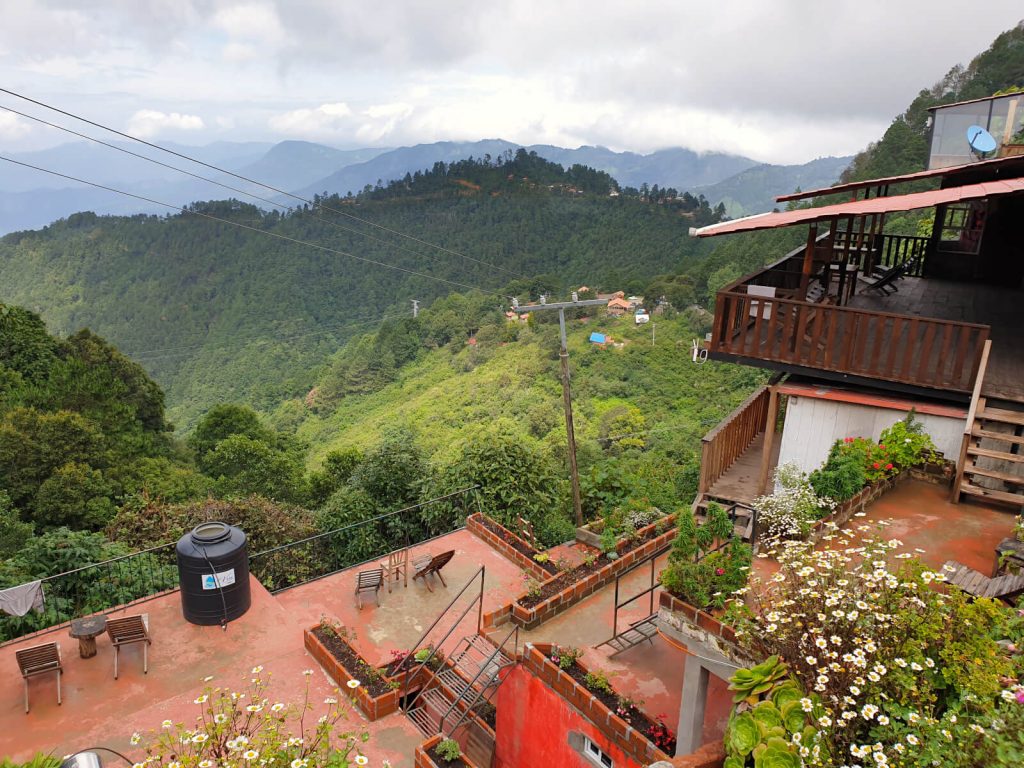 Things to know before you go
WiFi – or the lack thereof. Unsurprising really, given that there's no phone signal in most of San Jose. But, the WiFi in the town accommodation is unreliable. And, when it is working the speed varies substantially. I did two speed tests whilst in San Jose and got 380 Kbps and 1.7 Mbps. If you're reliant on a WiFi connection for any reason, I'd recommend saving San Jose until you can be offline for a few days.
Hot Water – or the lack thereof. Cabañas La Cumbre advertises hot water as available in all private and shared bathrooms. However, when I was there, we did not have hot (or even warm) water in our room for the entire 3.5 days. Given the air temperature of around 6 to 15 Celsius, I didn't shower until I was back in Oaxaca! If you come with no expectations, you won't be disappointed!
Power cuts. During two of the days I was in San Jose, there was no power for a couple of hours in the afternoon. This meant a slight panic when I first arrived as all my planned chill activities relied on using electronics. Which, I couldn't charge and were somewhat depleted after the 3-hour journey to San Jose. Plus, it also meant having to go to the toilet with the door open as the bathroom had no windows! Bring a battery pack if you have one and maybe a book if you have space. A head torch may help you keep some dignity but I think would qualify as overpacking!
Magic Mushrooms are legal here. Well technically decriminalised, but it's certainly not taboo nor a secret of the town. Mushrooms are sold everywhere, including at the reception of Cabañas La Cumbre. And, there's psychedelic street art all across the town. Magic mushroom season runs from July to October. Outside of this time, they are not so readily available and you may be sold fakes.
Bring cash – and more than you think you need. A lack of phone signal and WiFi means that most places in San Jose only accept cash. Some places do accept card payments but charge an additional 5% fee. Additionally, there are no cash machines/ATMs in San Jose. Withdraw cash on the coast or in Oaxaca and keep it safe.
Restaurants and shops. There are quite a few restaurants in the town, including Mexican, Thai and Italian, as well as cafes, coffee shops and more. So, if you're only staying for a few days, there's enough variety. There are also enough convenience stores across the town for snacks, drinks, ingredients, etc. This includes one right near Cabañas La Cumbre, which isn't on Google Maps but is to the right as you come down the main stairs towards the road. I didn't find that the shops in San Jose were particularly any more expensive than elsewhere in Oaxaca state.
Things to do in San José del Pacifico
Go hiking. There are lots of trails leading out of the town, including one out the back of Cabañas La Cumbre. Hikes into the forest, to nearby towns or just along the winding roads are all popular options.
Visit one of the viewpoints or lookouts. There's a mirador in the trees to the east of San Jose as well as the famous mirador sign (like the Hollywood one). These both cost just 30 pesos per person and the views are incredible. But, if you're feeling lazy you can just lay on the terraces of Cabañas La Cumbre and enjoy the view.
Magic mushrooms. San José del Pacifico is the magic mushroom capital of Mexico thanks to the decriminalised status for use by indigenous groups. Buy your mushrooms from local shops or La Cumbre and enjoy a psychedelic experience.
Temazcal in San José del Pacifico. This low-heat sweat lodge experience can be booked through the reception at La Cumbre. Guided by a local Shaman, the ceremony will help with spiritual and bodily healing and enrichment.
Nothing! Unwind, relax, read a book, watch the clouds, journal, listen to a podcast, nap. San José is the place to go off-grid, disconnect from the outside world and just enjoy leisurely activity.
For a full and complete guide to San José del Pacifico, you'll want to read my travel guide to this unique town! Packed full of things to do, helpful tips, travel options and more…
---
Do you have any questions or want any more information? If so, drop a comment below and I'll get back to you!
Information is correct as of September 2021 but is subject to change in future.
---
Related Mexico Articles…
Central Oaxaca: San José del Pacifico, Oaxaca (Complete Travel Guide)
Oaxaca Coast: Lagunas de Chacahua, Oaxaca (Ultimate Travel Guide)
Chiapas: Incredible Waterfalls at Cascadas El Chiflón, Chiapas (Travel Guide)
Chiapas: Visit El Arcotete Eco Park in San Cristobal, Chiapas [Complete Guide]
Guerrero: Pozas Azules de Atzala, Taxco (Visitor's Guide)
Oaxaca Coast: Playa Bacocho, Puerto Escondido (Oaxaca Beach Guide)
Quintana Roo: Punta Mosquito, Holbox: Ultimate Visitor's Guide
And much more, check out all Mexico Travel Guides here!
---
PIN IT FOR LATER!