On the tropical shores where the Pacific Ocean meets the Mexican state of Oaxaca is Playa Bacocho, Puerto Escondido. Unlike many beaches in the world today, this one is not lined with resorts, hotels, bars and restaurants. Instead, you'll find palm tree after palm tree at this edge-of-town rustic beach.
With the white sand beach stretching for as far as the eye can see, Bacocho Beach is popular with those looking for somewhere to relax. But, it does also have a handful of cool places to offer. These include a turtle release sanctuary and a couple of small beach clubs.
So, if you want to visit a beach with tropical island vibes, Bacocho is the place for you! This complete travel guide has all the information you need to plan and have a great day out.
Where is Playa Bacocho Puerto Escondido?
Playa Bacocho is located on the west side of Puerto Escondido, near the neighbourhoods of Bacocho and Rinconada. Other nearby landmarks include Puerto Escondido International Airport and Playa Coral. Find it on Google Maps here.
Puerto Escondido is a town popular with surfers, backpackers and digital nomads on the southern coast of Oaxaca in Mexico.
Getting to Bacocho Beach
Puerto Escondido, Oaxaca is made up of several neighbourhoods stretching along its coastline. Bacocho is the most west of these and La Punta is the most east.
From the neighbourhoods of Bacocho and Rinconada, the beach is a 15- to 25-minute walk away. Alternatively, you can take a taxi for around 30 pesos. For those staying in the Centro district, a taxi will be a good option to cover the 3 km distance compared with a 45-minute walk.
From the eastern side of Puerto Escondido, you'll need to take a taxi or a colectivo from Zicatela, Los Tamarindos or La Punta to Bacocho.
Alternatively, there is parking available at the beach for those with their own scooter or car.
> > > RELATED POST: Getting from Oaxaca to Puerto Escondido (All Transport Options)
What to do at Playa Bacocho
Playa Bacocho Oaxaca is the perfect place to relax. Sunbathe, swim, build sandcastles – the choice is yours.
With temperatures typically between 20 and 30 Celsius throughout day and night, year-round, Puerto Escondido is the perfect place to relax on the beach, although it doesn't offer much in the way of shade, bars or shops.
Do watch out for afternoon downpours during the rainy season months of June to October. But, don't worry, these are often over within an hour.
Although Bacocho is not particularly popular with surfers – Playa Zicatela is the more preferred spot – the current and waves are still pretty fierce. Even standing at the water line you can still get wiped out by a big wave (I speak from experience)! Some areas are better for swimming than others though. So, make sure to have a walk along the beach first to scout out the calmest spot. And, lifeguards do work at the beach during the day and would be happy to answer questions or give advice.
Many people visit the beach just to enjoy the beach itself. But, if you're looking for some fun activities or different ways to just do nothing, check out the best of what Bacocho Beach has to offer…
Looking for the best beaches in Oaxaca? This guide to the 17 Oaxaca beaches you have to visit on your next trip is perfect for you!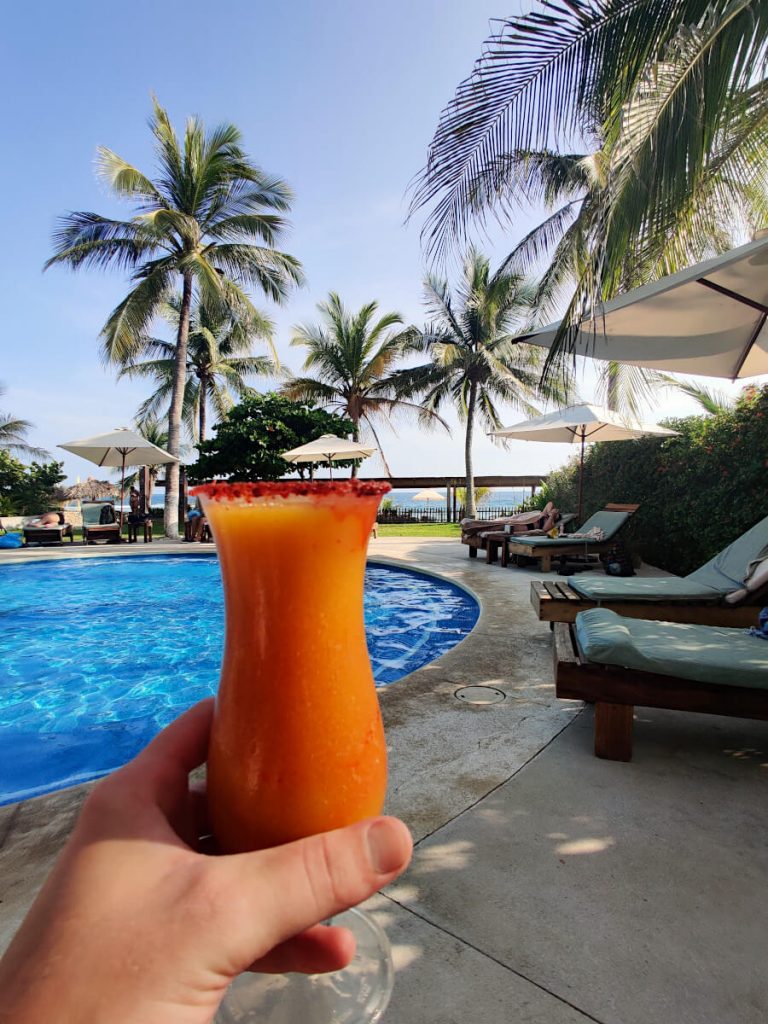 Beach Clubs on Bacocho
With just two, relatively small beach clubs at Bacocho, you certainly don't need to worry about this being a very touristy place. In fact, the beach is still very rustic and is lined with trees for as far as the eye can see.
Beach Club Cocos and Beach Club Villasol are both located at the eastern end of Bacocho Beach. Both require a minimum spend to visit, this varies by weekday or weekend and by high and low season. Prices tend to range from 300 to 850 pesos per person.
Additionally, from November to May, Beach Club Villasol hosts a free open-air cinema night every Wednesday at 7pm. With snacks and drinks available for purchase. You can check the film in advance on their Facebook page.
I only visited Beach Club Villasol, once as a day guest and then again during a two-night stay at their hotel just a 5-minute drive away. As a hotel guest, there is no minimum spend and you can also use the complimentary transport to and from the hotel and beach. Plus, there's an additional swimming pool and gym in the hotel.
Villa Sol Beach Club features two pools, tennis courts, a bar (for drinks and snacks), a restaurant, sun loungers, tables on the beach and provides towels. Prices were very reasonable for the location and exclusivity. Arrive early in the day for the best choice of sun loungers.
Given how rough the ocean can be, having a beach club swimming pool is a great way to keep cool. Highly recommend!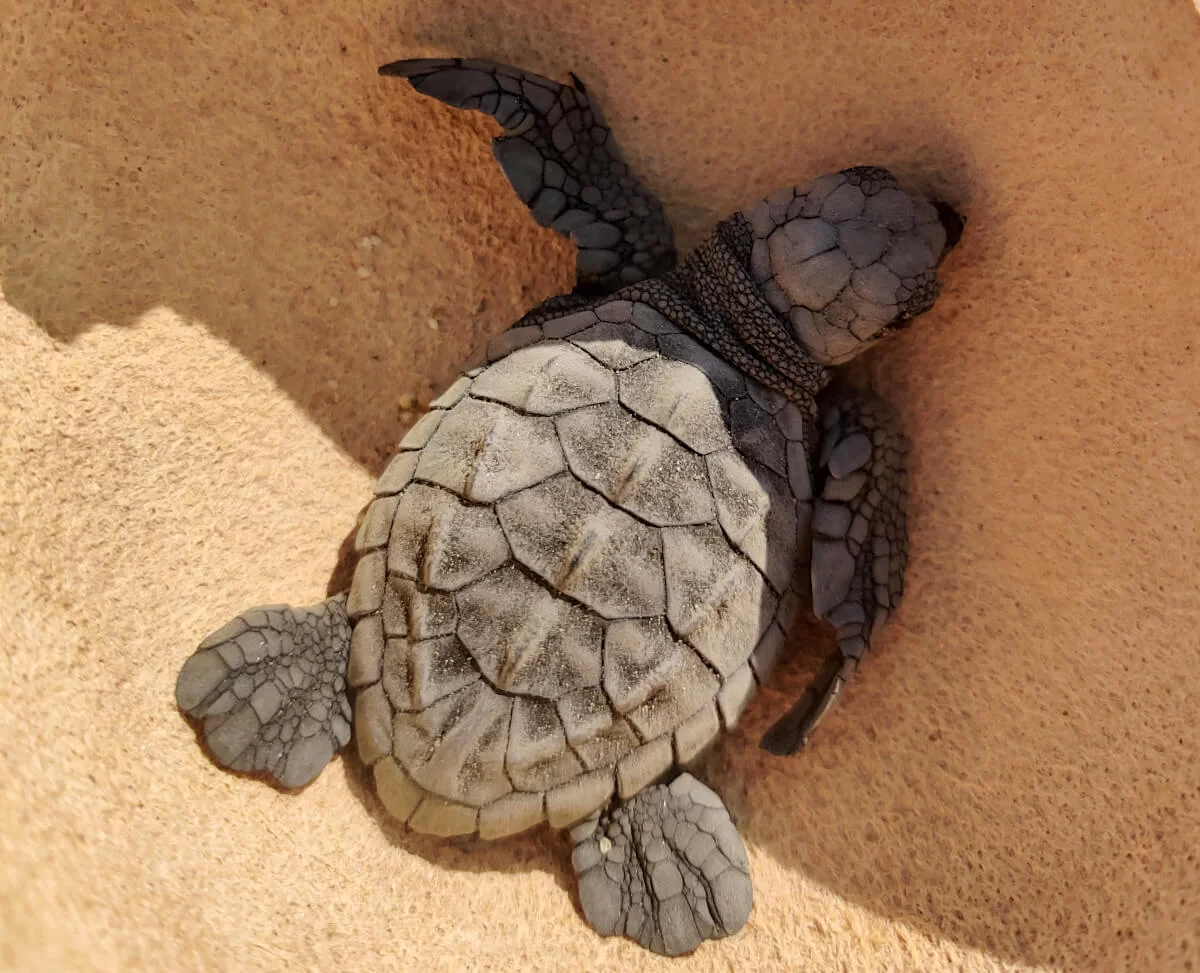 Playa Bacocho Turtle Release
Releasing baby turtles into the wild is the best thing ever! I don't think I can recommend visiting a turtle sanctuary enough, you have to visit!
Every day at 5pm, newly hatched baby turtles are released at Vivemar Sanctuary on Bacocho Beach, Puerto Escondido. The staff and volunteers first explain a little about the turtles, the difficulties they will face in the ocean and the important work of the sanctuary.
Next, you get given a baby turtle in a coconut shell and carry them towards the shore. Then, finally, you set your baby turtle off in the direction of the Pacific Ocean passing on encouragement, good wishes and good energy! You'll feel like a proud parent as they swim into their first wave.
The price of this incredible activity is just 100 pesos per person (around £3/$5) when paid directly to the sanctuary. You will see tours offered for around 20 to 30 US Dollars but these will take you to the same place and pay the 100 pesos for you. Effectively, you're just paying for a very expensive ride to the beach! Save your money and take your own transport to Bacocho Beach, then stay for sunset…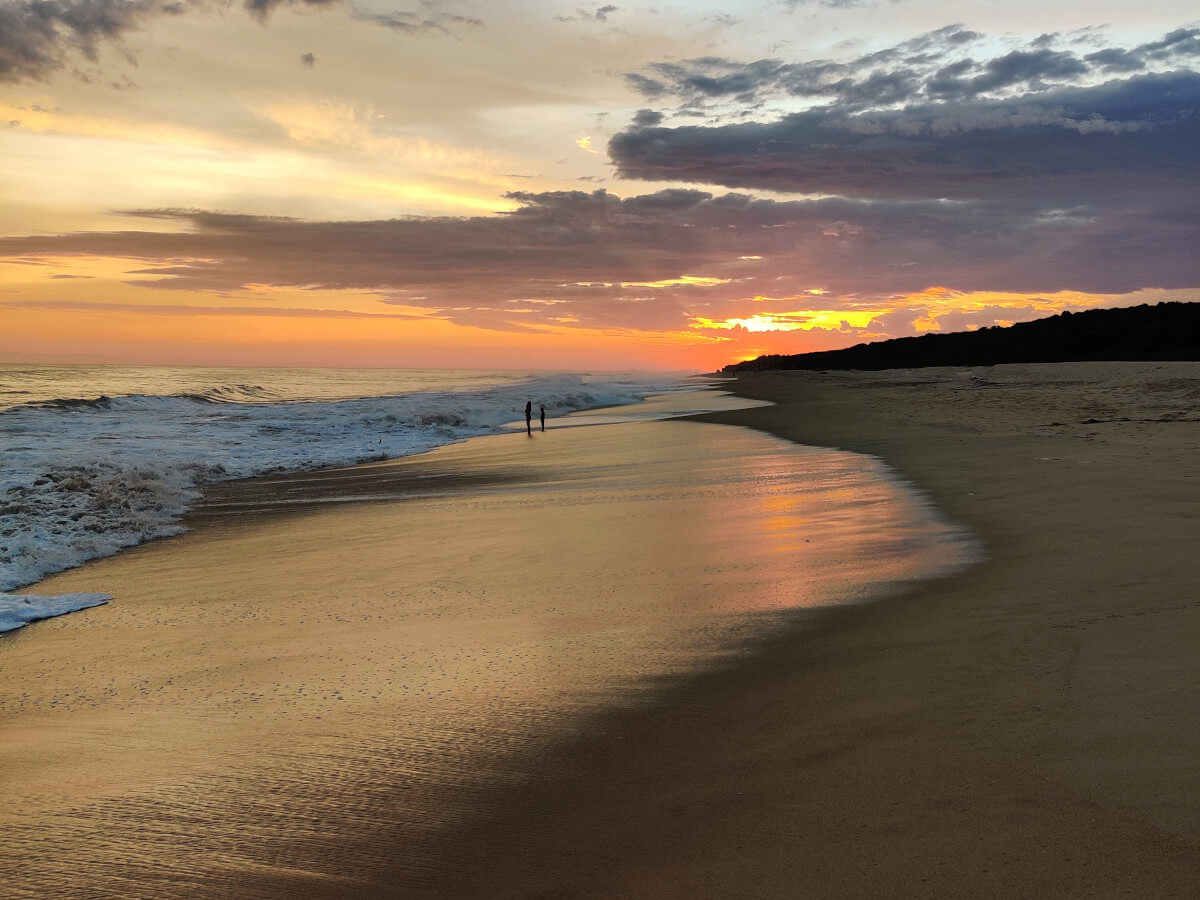 Sunset over the Pacific Ocean
Watching the sunset from the shores of Puerto Escondido's beaches is a real day-to-day community event. Coming from always living in big cities, it's not something I'd experienced before. But, on beaches across Mexico and the world, people schedule watching sunset into their days. And, if there's anything I've learned, it's that Pacific sunsets are some of the absolute best!
Bring a beer or two, a towel and plenty of bug spray then sit and watch the colours of the sky come alive. The best part is always after the sun has crossed the horizon too. Even better if there are some clouds around as they really hold the vivid colours.
In Puerto Escondido, sunset is around 8pm in the summer months of June to August. Slowly changing to around 6pm during the winter months of November to January.
Walk to Playa Coral
Although not a secret beach, Playa Coral is perhaps Puerto Escondido's least visited beach. This is partly due to how hidden it is but also that there are only two ways to access the beach.
Playa Coral is only accessible by walking over the rocks on the eastern side of Bacocho Beach. Or, by entering through one of two hotels located on the cliff above the Coral Beach – Villa Mexicana and La Coral Beach House.
Entry via Bacocho Beach is free. Or you can pay a small fee for entering through the hotels, in exchange you'll receive a voucher for a burger and a beer.
The beach is most popular at sunset. But, Playa Coral can also be visited throughout the day as the sea is generally much calmer – great for swimming and snorkelling.
---
If you have any questions or want any more information, drop a comment below and I'll get back to you!
Information is correct as of December 2021 but is subject to change in future.
---
More Mexico Travel Guides…
Coastal Oaxaca: Lagunas de Chacahua, Oaxaca (Ultimate Travel Guide)
Central Oaxaca: San José del Pacifico, Oaxaca (Complete Travel Guide)
Central Oaxaca: Cabañas La Cumbre, San José del Pacifico (Review + Complete Guide)
Quintana Roo: Punta Mosquito, Holbox: Ultimate Visitor's Guide
Chiapas: Incredible Waterfalls at Cascadas El Chiflón, Chiapas (Travel Guide)
Chiapas: Visit El Arcotete Eco Park in San Cristobal, Chiapas [Complete Guide]
And much more, check out all Mexico Travel Guides here!
---