Central America is full of waterfalls. There's no shortage of them and no getting away from them if you travel this region for any real length of time. And at times, it can feel like you're just ticking off another waterfall, another photo location, another popular tourist spot. But, Salto de Malacatiupan, El Salvador is different. You see, the water in this river and waterfalls is around 36 Celsius/97 Fahrenheit!
A visit to nature's own jacuzzi makes for a unique, special and cheap day out. Located around an hour from Santa Ana, this is the perfect place to rest your tired muscles after climbing the nearby volcano.
This complete guide contains everything you need to know to plan your day out. From entrance fees, opening times, public transport options and where to find the best hidden swimming spots! This isn't a waterfall you want to miss out on.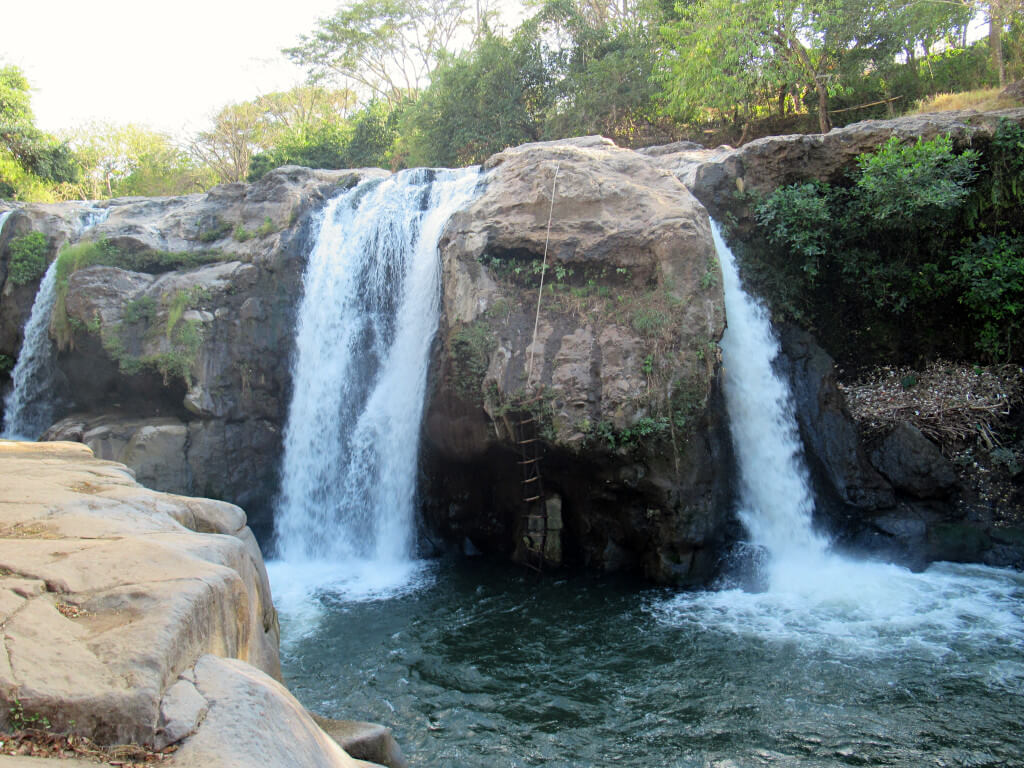 About the Malacatiupan hot spring waterfalls and river
Salto means jump or fall in Spanish and is commonly used in the name of waterfalls. Malacatiupan is the name of the site, so together the name translates as the fall of Malacatiupan.
With little development or infrastructure at the site, it is very much still how nature created it. The main attraction is the three waterfalls but the most appealing aspect is the hot spring water, around 35 to 37 Celsius (approximately 95 to 100 Fahrenheit). The water is heated naturally by the tectonic activity in the region, which is unsurprising given that El Salvador has 20 volcanos!
Unfortunately, a noticeable amount of rubbish has ended up in the river. It's not that the whole river is contaminated with trash, but it certainly accumulates in certain areas. Most of this garbage is likely washed along the river to the waterfalls, being thrown in or blown in from the large amounts of rubbish on the sides of the roads, in bushes and in other undeveloped areas. However, to not add to the problem in any way, visitors to the waterfalls and river should take all their waste home with them. Part of the issue is that people think they are helping by putting rubbish in bags alongside the river. But, as there is no trash collection, this ultimately ends up in the river.
Best Time to Visit
Despite various campaigns by tourism boards, including with slogan 'don't skip El Salvador' many visitors to Central America still choose to skip this country. Perhaps due to safety concerns or thinking there isn't much to do in such a small country, either way, those people are missing out. But, it does mean that there are fewer international tourists than in neighbouring Guatemala, for example.
As such, tourist attractions such as Salto de Malacatiupan Atiquizaya and the nearby Santa Ana volcano are rarely super busy. Of course, footfall is still high on weekends and national holidays when locals and domestic tourists visit. But, you shouldn't expect to see crowds.
For the best experience, aim to visit on a weekday during the dry season (December to April). Visiting in the dry season means you're very unlikely to visit on a rainy day. However, the temperatures can reach the high 30s – almost as hot as the water! As such, you need to take care to stay hydrated if bathing in the hot springs on a hot day. In the rainy season, temperatures are a little lower but afternoon downpours and overcast days are almost a given.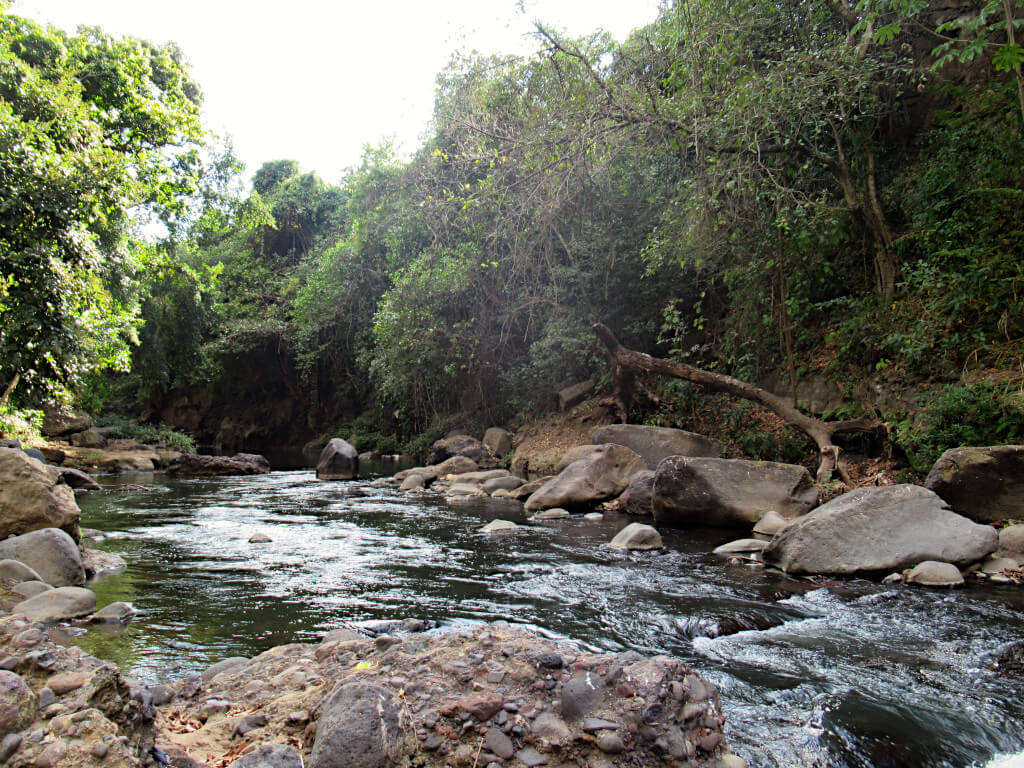 Where is Salto de Malacatiupan El Salvador?
Around 6 km west of the small Salvadorian town of Atiquizaya is where you'll find these hot spring waterfalls. See the exact location on Google Maps here.
Atiquizaya is located in the west of El Salvador, just 5 km or so from the Guatemala border. The town is within good distance of Santa Ana (25 km), Juayua (18 km) and Ahuachapan (12 km). The capital city of San Salvador is a 90-minute, 100-km drive away.
How to get to Salto de Malacatiupan Atiquizaya
If travelling by public transport, you'll first need to travel to the town of Atiquizaya to reach the waterfalls. In Atiquizaya, buses stop on the western side of the main square – Parque San Juan. From here, you'll be able to take a tuk-tuk or taxi to the entrance of the hot springs. Don't believe everything you read online, this journey is cheap, quick and easy by public transport.
Alternatively, if you have your own car or have already hired one, then it's simple to drive to the hot springs. The roads closest to the entrance are not in great condition, but should not pose any real problem to cars. Parking is available on-site for 2 USD.
By Public Transport from Santa Ana
From Santa Ana, take the 210 or 214 bus from the Francisco Lara Pineda Bus Terminal near the market. Buses leave regularly throughout the day, although you may have to wait until there are enough people on board to leave. The drive to Atiquizaya should take around 40 minutes. But it can often take another 20 to 30 minutes to leave the bus station as the market traders set up on the road! Be sure to remember where you got dropped off in Atiquizaya as this is where you'll get the bus back to Santa Ana.
When you arrive at the square, they'll likely be plenty of taxis and tuk-tuks – if not, you'll likely only have to wait a couple of minutes for one to arrive. You'll need to agree on your price to the hot springs before starting your journey. If you speak basic Spanish, it's also a good idea to get your taxi or tuk-tuk driver's phone number. This way, you'll be able to request a pick-up once you're done at the waterfalls. Otherwise, you'll just have to stand on the street and wait for one to pass – like I did, for at least 15 minutes. The alternative is hitchhiking back to Atiquizaya. Or a 1-hour walk…
Pricewise, I paid 0.80 USD for two people for the outward bus journey and 0.95 USD for two on the way back. Yeah, go figure. For the tuk-tuk, I was definitely overcharged at 5 USD for the trip to the waterfalls. Knowing this, on the way back I just asked to pay 2 USD for two people and the driver agreed. A much more appropriate price for the 15-minute journey. Although we did run out of fuel twice and had to 'borrow' fuel from another tuk-tuk's petrol tank!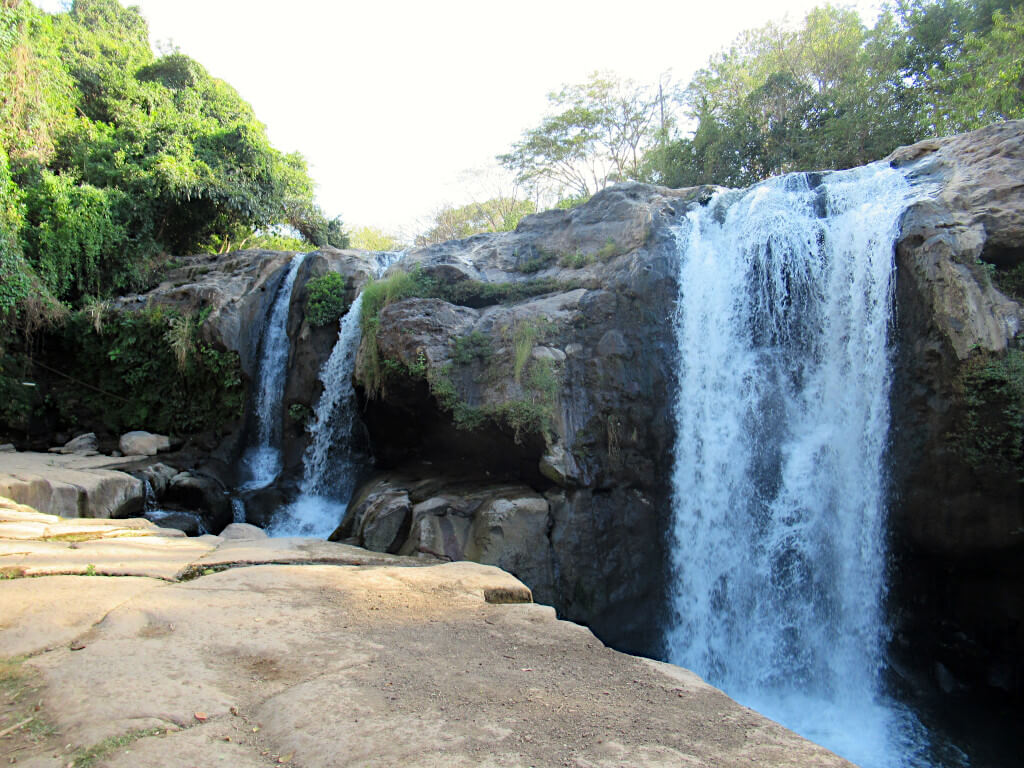 How to reach the best swimming spots at the river
Along the river at Salto de Malacatiupan, there are three main spots where you can enjoy a dip in the hot spring water. From worst to best, here they are…
Spot 1: Narrow Part of the River Closest to the Entrance
The most convenient and easiest to access, you'll see the river after just a 50-metre or so walk from the car park. It's along this part of the river that you're most likely to see locals having a party, picnic or gathering as it's where most of the shelters and seating areas are.
Here, the river is not very deep and is divided by the rock formation. It doesn't look appealing and I wouldn't recommend spending much time in this area. However, if you have mobility issues, this will be the best option for you as accessing the other two requires you to climb down some wet and slippery stairs. Unfortunately, the site is not wheelchair accessible and wheelchair users will struggle to access the river at all.
Spot 2: In the Pools under the 3 Main Waterfalls
The most popular area for swimming, jumping and bathing is the plunge pools and the head of the river just after the main waterfalls. To reach this spot, turn left once you reach the river from the entrance. Next, cross over the river using the small wooden bridges as necessary to head to the far top-left-hand corner. Here, you'll find some stairs built into the rock taking you down to in front of the waterfalls.
Take your pick from either the plunge pool in front of the waterfall, holding on to the rope to get in easier. Or, there's a larger area of more free-flowing water as the river starts to form again. Additionally, after another small waterfall, there's a third area you can swim in here.
It's important to note that in this area, the sides of the river can be steep or almost vertical. If you get in here, make sure you know where you'll need to get out. This is extra important as the current is surprisingly strong, carrying even the most advanced swimmers away from where they want to be. As such, you should avoid swimming directly under or down the waterfalls.
This area around the waterfalls is also where people like to jump off of the rocks. With experience and a guide to show you the safe (ie deep) areas, this can be done with relative safety. However, it can also be exceptionally dangerous, especially with jumps of around 10 metres possible. Quite simply, if you don't know how deep the water is or if there are any large rocks below, do not jump into the water.
Spot 3: Downstream along the river (Insider's Tip)
Even though when I visited I saw barely a handful of other people, this place is almost guaranteed to get you away from everyone else. Here, you can relax in the hot water, admire nature and ponder life in a unique setting.
Once you've walked down the steps to be in front of the waterfalls, continue along the dusty path as it heads into the trees. As it emerges into a field of sorts, turn left and continue along the trodden path. Follow the path, keep the trees and river to your left-hand side and continue for around 500 metres until the path starts to head into the trees. Make your way downhill to river level taking care on the wet leaves and muddy parts.
At river level, there are lots of big rocks to sit on and enjoy the peaceful, natural surroundings. Access to the hot spring river is much easier here, with no steep sides or rope ladders required. However, the current is still very strong and the rocks in the riverbed are quite loose. Even walking through the water can be difficult, so this is where water shoes are absolutely worth their weight in gold. Another plus point is that the water isn't very deep in this part of the river, so it's perfect for just sitting against a rock and enjoying a jacuzzi-like experience.
Need to Know Information & Top Tips
Salto de Malacatiupan Opening times
The waterfalls and river are accessible 24 hours a day, 7 days a week. In fact, you can even camp overnight by the river or in your vehicle in the car park.
Entrance Fees
The hot springs are free to visit.
However, sometimes there might be a person standing in the car park asking for a 1 USD entrance fee. I had been warned about this by other travellers in the hostel and I did experience this. My advice would be to just keep walking as they're just trying their luck. I wasn't asked a second time as I walked away to suggest I was avoiding any official entrance fee.
Facilities
A new toilet block has recently opened but otherwise, there really isn't much else. Aside from a few shelters and makeshift benches around the entrance, you won't find anything else. There are no dedicated changing rooms or areas and no food or drink available to purchase.
What to bring with you
Sun protection: lotion, hat, sunglasses, clothes to cover-up
Food & drink: plenty of water and soft drinks, snacks and/or beers, as you won't be able to buy any after Atiquizaya. Don't forget a bag to take home your bottles, wrappers and waste in too
Swimwear & water shoes. Come wearing your best swim gear as there's nowhere to get changed. Additionally, water shoes are good if you have them as the ground can get hot from the sun and the stones in the riverbed are quite sharp to stand on. Don't forget a towel too!
Everything else: insect repellent, cash for the bus and tuk-tuk, camera, battery pack
Are These Hot Spring Waterfalls in El Salvador Worth Visiting?
Absolutely!
Sure, these aren't the only hot spring waterfalls and pools in the world. But, unlike the ones in Costa Rica, for example, you don't need to pay to visit! Additionally, unlike the more commercialised and popular hot springs, far fewer people visit and you could even end up being the only people there! Plus, the falls of Malacatiupan are easy and safe to reach by public transport. What more could you want?
---
If you have any questions or want any more information drop a comment below and I'll get back to you!
Prices and offerings mentioned are correct as of May 2022 but are subject to change in future.
---
More Central America Travel Inspiration…
El SALVADOR: Hiking Santa Ana Volcano (Complete Guide)
EL SALVADOR: El Tunco: Ultimate Visitor's Guide
HONDURAS: Pulhapanzak Waterfalls: Complete Guide To Visiting
GUATEMALA: El Paredon: Ultimate Travel Guide
GUATEMALA: Acatenango Hike: Complete Guide to this Volcano Trek
NICARAGUA: How To Get From Ometepe to Granada | No Stress, No Scams
NICARAGUA: San Ramón Waterfall, Ometepe: Complete Guide (100% Worth The Hike)
---
PIN IT FOR LATER!