On the steep slopes of Ometepe's Maderas Volcano, you'll find the breathtaking San Ramón Waterfall. Reaching the stunning waterfall requires a hard climb in tropical climates. But for those who make it, the reward is great.
The waterfall is a slice of paradise in the thick jungle and humid conditions. And, a refreshing swim in the waterfall's pool is almost obligatory after the tough hike. The area is some of the most scenic and biodiverse around, expect to see all sorts of creatures and plants.
Intrigued and want to know more? This post contains all the information you need to know to get to and hike one of the best waterfalls in Nicaragua successfully.
Some of the links below are affiliate links, meaning, at no additional cost to you, I may earn a small commission if you click through and make a qualifying purchase.
About San Ramón Waterfall Nicaragua
San Ramón is a stunning waterfall – or cascada in Spanish – on the island of Ometepe in Nicaragua. Ometepe is an island in the land-locked Lake Nicaragua, formed by two volcanos. The waterfall itself is located on the southwestern side of Volcano Maderas – the smaller of the two Ometepe volcanos.
The waterfall is absolutely huge. How huge? That I can't tell you. A search on the internet brings results of anywhere between 30 and 145 metres! And to be honest, it's quite hard to know as you're stood at the bottom looking almost vertically up. If I was to guess, I would say the waterfall is around 60 to 75 metres tall. But, quite simply, it's stunning and that's all that matters!
The pool at the bottom of the waterfall is not very deep, maybe only a metre at most. So, it's not the best for swimming. But it is great for cooling off, standing underneath the waterfall and getting awesome pictures.
Another cool fact to know about the San Ramón Waterfall Ometepe is that it is the water source for the whole island. If you run a tap anywhere on the island, you'll be getting volcanic spring water – which is safe to drink. And, as such, the water is completely safe to drink from the waterfall or stream running downhill. In fact, you'll even see the water pipes running along the hiking trail, carrying the water down the volcano. I would still recommend using a water filter bottle and only collecting water from a fast-flowing section of the stream. Avoid scooping water from more stagnant areas where insects or moss may have collected.
Best time to Visit
Like much of Central America, Nicaragua only has two distinct seasons: the rainy season and the dry season. The rainy season runs from May to October and typically means afternoon downpours rather than complete wash-out days. The dry season runs from November to April and brings scorching temperatures and very few days of rain.
As the island's water source, the waterfall rarely runs dry. But, with climate change and ever-unpredictable weather, the end of the dry season (March and April) is when there's most likely to be very little water. Visit anytime between May and February to experience the full force of nature at the waterfall.
The waterfall is mostly visited by backpackers and international tourists and as such visitor numbers don't fluctuate much across the week. For the best chance of seeing this waterfall alone or with few other visitors around, visit early in the day during the week.
The Hike to Cascada San Ramón
Finding the Entrance to the Waterfall
The entrance to the waterfall – well to the hiking trail – is located at the Ometepe Biological Field Station. See the location on Google Maps here.
The field station is located on the NN-226 road. More simply it's the circular road around Volcano Maderas on the eastern side of the island.
Entrance Fee
100 Cordobas per person. This is payable at the entrance from the roadside where there is a manned booth.
Parking
Free parking for cars, motorbikes, scooters and bicycles is available at the field station. The area is gated and staff who man the entrance supervise the area.
Additional free parking for all-terrain vehicles (ATVs) only is located around 2 km along the hiking trail. To get here, you'll need to drive along the trail that is well paved at first but soon becomes rocky and rough. This is why driving along the route is only suitable for ATVs or quad bikes. This area is not supervised but is very safe and most people leave their helmets on their vehicles rather than carrying them up the volcano. Try and park in the shade or you'll have a really hot seat to come back to!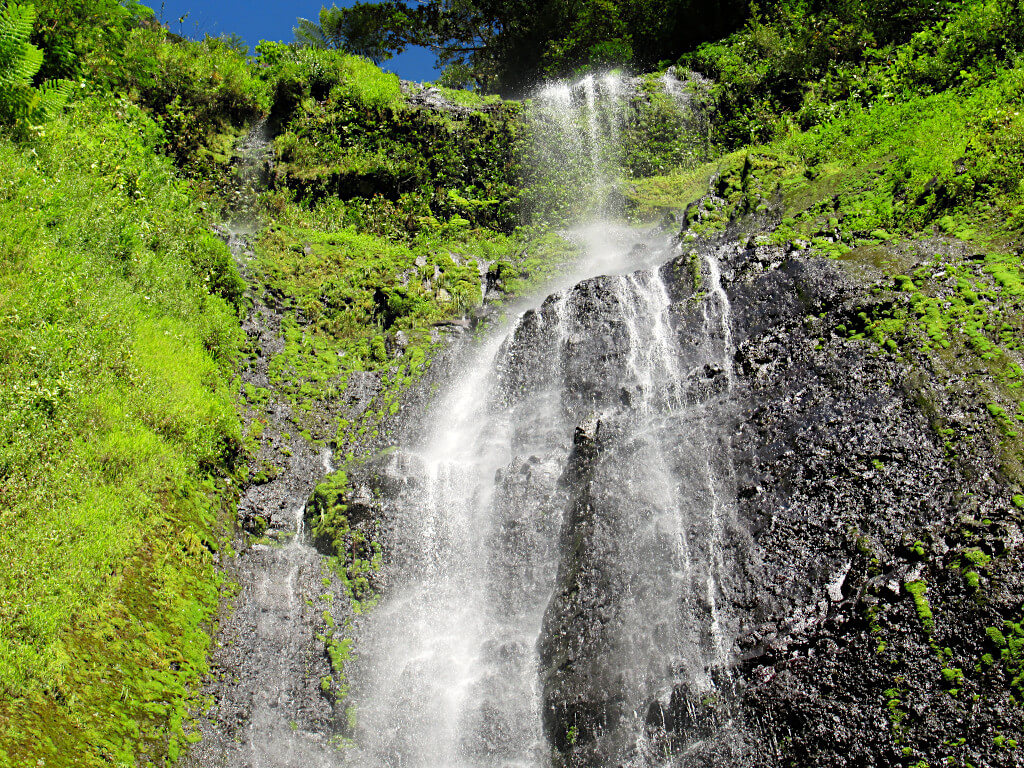 Hiking to San Ramón Waterfall
Unless you arrive on an ATV, then you'll need to start your hike to the waterfall from the field station. From here, the hike is 4.5 km each way – although the signs say 3 km, it's definitely longer! The walk is entirely uphill on the way to San Ramón and entirely downhill on the way back.
The first 3 kilometres are a combination of a paved road and rocky, uneven paths. I'm not gonna lie, it's a long slog in a hot climate.
If you have an ATV then you can drive up the first 3 kilometres of the trail. This will require lots of concentration and firm steering though. Plus, for the person on the back, it can be a very uncomfortable journey. But, it is definitely the better alternative to walking from the field station.
From the ATV parking point, it's another 1.5 km or so to reach San Ramón Waterfall Ometepe. This part of the trail is through denser areas of jungle and alongside a stream for the most part.
The path is easy to follow and for the most part, you'll be walking on dirt paths. However, there is one section where you need to walk alongside the stream over large rocks. It's definitely a tough walk but you'll certainly be rewarded with a slice of paradise once you reach one of the coolest waterfalls in Nicaragua.
It'll be a magical moment when you first set eyes on the stunning San Ramón Waterfall Nicaragua. Suddenly, the long and sweaty walk is forgotten and you're itching to take a plunge in the pool. While the water is refreshing, the stones can be sharp and uncomfortable to walk on, so tread carefully! Or, pack water shoes, they're one of my favourite travel accessories as they're so lightweight and useful.
Walking time is really dependent on your fitness and how much you stop. Hiking the 4.5 km up will likely take you anywhere from 1.5 to 3 hours, and slightly quicker down. For the shorter route from the ATV parking area, expect to take 30 minutes to 1 hour walking up and around the same down. Remember, the sun sets around 6pm all year in Nicaragua. So, you need to make sure you start your hike in plenty of time to reach the waterfall and return before it gets dark.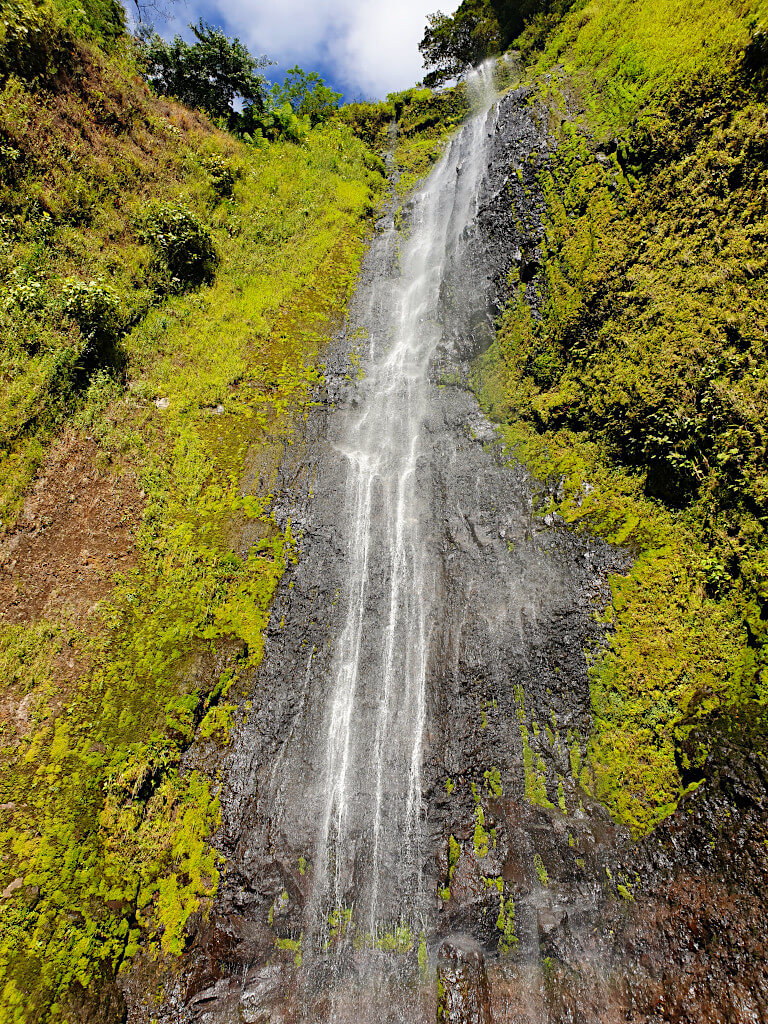 Facilities
There are no facilities of any kind at the waterfall, it is very much an unspoiled natural attraction.
At the trailhead by the Ometepe Biological Field Station, there is a restaurant and toilets but little else. Make sure you bring everything you need for the hike with you as you won't be able to buy anything at the waterfall.
What to Bring With You to Hike The Waterfall
Trainers or strap-on walking sandals, you aren't going to manage in flip flops or sliders
Plenty of water (although if you have a Lifestraw or Grayl water filter bottle bring that too and fill it up from the stream)
Snacks to keep you going
Suncream, sunglasses and a hat (if you have one)
Swimwear (come wearing it as there are no changing facilities), a towel and water shoes.

These are the water shoes

I use and swear by, they've lasted me two years so far and still going strong!
Cash for paying your entrance fee
Camera, phone and/or GoPro to get the best shots of this huge waterfall!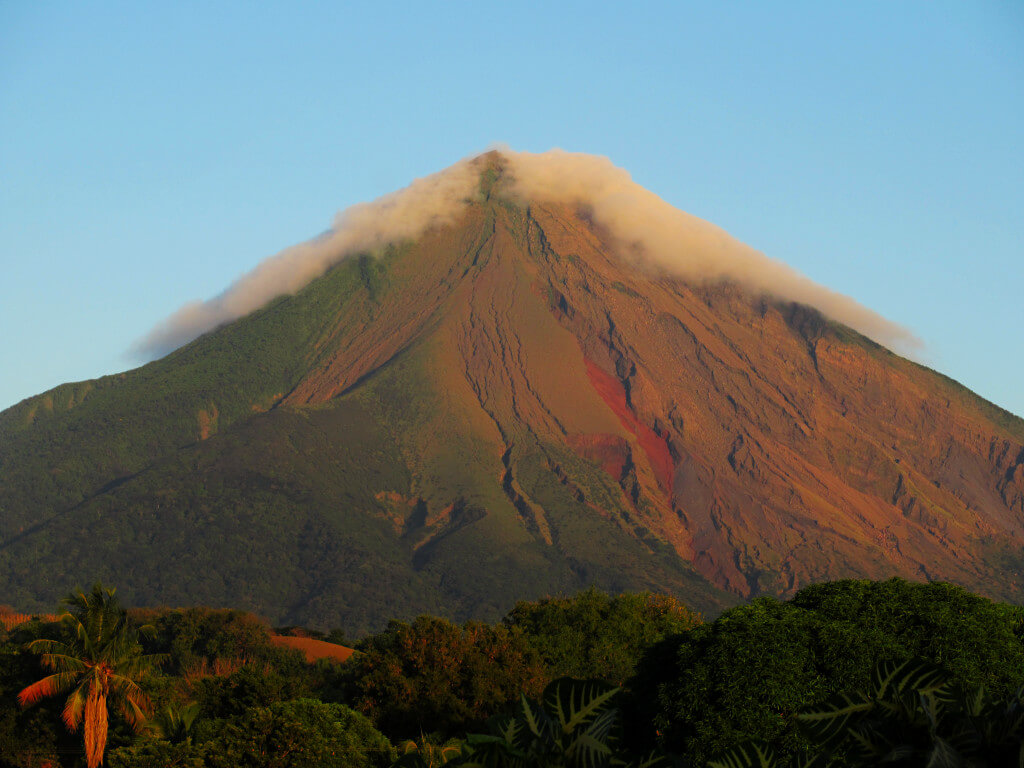 How to get to San Ramón Waterfall Ometepe
From On Isla Ometepe
The best way to get around on Isla Ometepe is to rent a scooter or ATV. Although there is a public bus system, it is – at best – sporadic and slow. Vehicle rental is an affordable option, particularly when split between two people. Expect to pay around 20 USD a day for a scooter and 50 USD for an ATV. If you're staying in Moyogalpa, I recommend using Dinarte's – try and book at least a day or two in advance to avoid missing out.
The entrance to the waterfall can be easily reached by road from anywhere on the island. The roads on the western part of Ometepe are in excellent condition and although the eastern part still has dirt roads, these are still pretty smooth.
Just don't underestimate the size of Ometepe. Driving time from Moyogalpa is a little over 1 hour while other popular spots such as Balgue and Altagracia are 30- and 45-minute drives, respectively.
Still looking for accommodation on Isla Ometepe? Check availability and book online with…
How to Get to Ometepe
While direct ferries do operate between Granada and Ometepe a couple of times a week, the easiest and most convenient option is usually via Rivas.
From the Costa Rica border (Penas Blancas), San Juan del Sur, Popoyo, Granada and Managua you can take a bus to the town of Rivas. From here, you need to take a private taxi, collective taxi, bus or rickshaw bicycle ride to San Jorge, where the ferry port is.
You'll then need to pay 36 Cordobas to enter the ferry port at the ticket booth at the entrance (foreigners only). And then a further 50 Cordobas for the ferry ride – payable when you're on the boat.
The first ferry leaves San Jorge at 7am and the last one at 5.45pm. Going the other way, the first ferry leaves Ometepe Island at 5.30am and the last one leaves at 5.30pm. You can see the latest ferry schedule here.
The ferry crossing takes around an hour and most ferries arrive in Moyogalpa. Here, you'll be able to find taxis to transport you to anywhere else you need to go on the island.
There is also a cheaper option to take a Lancha (35 or 45 Cordobas), which is more like a speedboat than a ferry. I'd only recommend taking this option if you have a strong stomach and a strong commitment to being bounced around for an hour!
---
If you have any questions or want any more information drop a comment below and I'll get back to you!
Prices and offerings mentioned are correct as of April 2022 but are subject to change in future.
---
More Central America Travel Inspiration…
NICARAGUA: How To Get From Ometepe to Granada | No Stress, No Scams
EL SALVADOR: Hiking Santa Ana Volcano (Complete Guide)
EL SALVADOR: El Tunco El Salvador: Ultimate Visitor's Guide
GUATEMALA: El Paredon: Ultimate Travel Guide
GUATEMALA: Acatenango Hike: Complete Guide to this Volcano Trek
HONDURAS: Pulhapanzak Waterfalls: Complete Guide To Visiting
GUATEMALA: Hobbitenango (Antigua): Worth Every Penny! [Complete Guide]
---
PIN IT FOR LATER!