Amongst the beaches, watersports and Roman ruins, there is another must-do activity in Pula: wine tasting! You might not have guessed it by the lack of presence on supermarket shelves around the world. But, Istria (the region Pula is in), is one of the world's best wine producers!
Almost all of the wine produced from the Istria vineyards is consumed domestically. This makes wine tasting in Pula a low-cost activity that supports the local economy and businesses.
This complete guide has been written to provide you with everything you could need to know. From information on the wine itself to the best wineries in or near Pula, you'll be booking a tasting experience before you've read the whole thing! Plus, there's a bonus section on how to save money by avoiding Istria wine tours and visiting yourself.
Some of the links below are affiliate links, meaning, at no additional cost to you, I may earn a small commission if you click through and make a qualifying purchase.
Last updated: April 2022. First published: August 2021.
A Brief Introduction to Istrian Wine
Most people haven't heard of Istria before visiting Pula or Rovinj. But, that's not surprising given most people haven't heard of Pula or Rovinj either before finding their way there either through cheap flights on low-cost airlines or within Croatia itself.
Istria – the peninsula on Croatia's northwest coast – is one of the top wine-producing regions in the world. Perhaps the best wine producers you've never heard of. However, you won't find Istrian wine on the shelves of supermarkets or on the menu at wine bars across Europe.
The region only produces a relatively small amount of wine each year compared with the larger regions across the world. As a result, almost all the wine is sold domestically either directly to consumers from the wineries' cellars or to hotels and restaurants across the country.
But, as the saying goes, it's quality and not quantity that counts. And, what Istrian wine lacks in quantity, it more than makes up for in quality.
The Istrian region has a unique mix of four soils. Which combined with the mild Mediterranean climate and sea breeze make for very fertile land. White wine is the most commonly produced in Istria. But, most wine tasting experiences will offer at least one white, red and rose wine from their vineyards. In addition, most Istria wineries also produce olive oil and tend to include at least one on their tasting menu.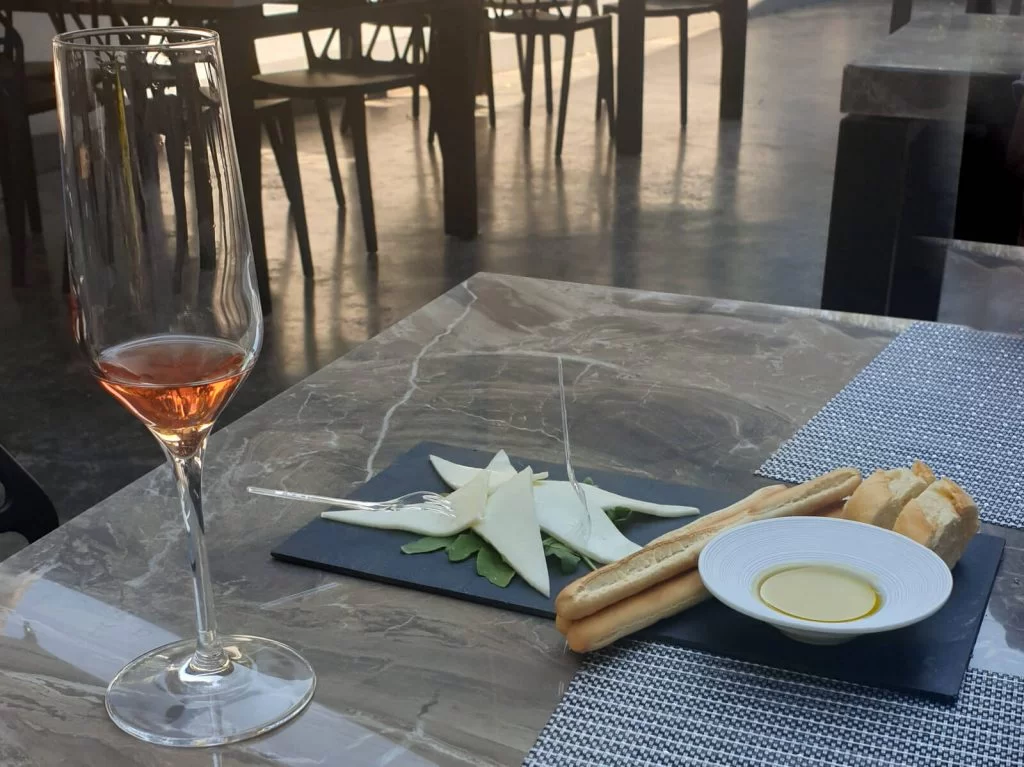 Why You
Have

to Go on a Pula Wine Tasting Experience

Pula is a great place to go wine tasting for those who love wine, like wine, tolerate wine, those who are still on the fence and those travelling with someone who falls into the 4 previous categories!
1. Wine tasting in Pula is CHEAP!
Typically, the most basic tasting menu will include 5 wines and at least some form of snack. Snacks include meats, cheeses and/or bread(sticks).
Tastings typically cost less than 100 Kuna (11 GBP) for the most basic options. Prices do rise with the addition of extra wines, olive oils and food but these are typically still of great value.
2. The wine tastes amazing!
I always drink white or rose wine, and typically, I find that these have a slightly harsh aftertaste – particularly, on the first few sips. But, none of the wines I tasted in Pula had this, they were very smooth.
Plus, even as someone who normally turns their nose up at red wine because it always seems vinegary, I even managed to drink the reds in Pula!
3. Wine tasting is the perfect afternoon activity in sunny Pula!
Beach in the morning, wine tasting in the afternoon, pizza for dinner and ice cream for dessert – could there be a better day? Pula's beaches and pizza (a local speciality from the time the region was part of the Venetian empire) are pretty incredible and combined with the amazing Istrian wines, Pula truly is a foodie's paradise.
Where to go Wine Tasting in Pula
Vina Benazić (Pula Suburbs)
Vina Benazić is a family-owned winery offering tastings and workshops in the eastern Pula suburbs. Their current tasting experience includes 8 wines paired with finger food for 250 Kuna per person.
Additional 100 mL glasses of each wine are available from 15 Kuna and they have an additional food menu too. For something different, Benazic Winery also offer a brandy tasting experience!
The winery caters to small groups, big groups and individuals. Booking is currently required but there may be more flexibility in the high season.
How to get there:

Walk from central Pula (30 minutes)

Taxi or Uber (7 to 10 minutes, approx 25-30 Kuna)

Opening hours:

Monday to Saturday, 1pm, 3pm and 5pm10pm (Booking required)
Wine Station Trapan (Sisan)
Located to the east of Pula, Trapan Winery is more suited to those with their own transportation (bicycles or designated drivers – no drink driving please!) or those basing themselves in Medulin. Although, with Uber and Cammeo in Pula – anyone can reach Sisan. For 100 Kuna you can enjoy 5 wines and a small snack plate.
Wine tasting is by appointment only with space for up to 30 people. Booking details are on the website linked above.
You can also extend your time in Sisan by checking out the small handful of local restaurants.
How to get there:

8-kilometre cycle or drive from central Pula

Taxi or Uber (15 minutes, approx 60 Kuna)

Opening hours:

Tuesday to Saturday, 1pm to 11pm (booking required, staff speak English)
Medea Winery (Vodnjan)
To the north of Pula is the small town of Vodnjan, home to the Medea Winery. There are a few tasting menus on offer ranging from 55 Kuna for 3 wines, 1 olive oil and breadsticks to 150 Kuna for 1 sparkling wine, 4 Medea wines, 2 premium wines, 4 olive oils, cheese, bread, sausages, and ice cream!
Although, the two most expensive options do require a minimum group size of 5. And, booking is required for all tasting experiences, regardless of group size.
I opted for the 100 Kuna tasting menu, which includes 6 Medea Istrian wines, 1 olive oil and a platter of cheese, sausages and bread. The tasting has a duration of 1 hour, but of course, you can stay for longer enjoying more wine if you wish.
How to get there:

Train from Pula Station to Vodnjan Station (15 minutes, 11 Kuna – Check Train Times Beforehand!)

Taxi or Uber (20 minutes, approx 80 Kuna)

Opening hours:

Monday to Friday, 8am to 4pm and Saturdays 8am to 1pm (booking required, staff speak English)
Boca Wine Bar (Pula Old Town)
Although not a winery, Boca Wine Bar is a great choice for those wanting a Pula wine tasting experience in the very centre of the city.
Conveniently located in the pedestrian streets of the Old Town, the bar has a tasting menu, but you could also create a DIY tasting from their extensive local and national wine menu. Cash only and no booking required.
If you visit, consider having lunch or dinner at Pizzeria Jupiter just around the corner. It's THE place for pizza in Pula and I can't rate it highly enough!
How to get there:

Located in Pula's Old Town and within a short walking distance of most accommodation in Pula

Opening hours:

Monday to Sunday, 10am to late
Why you don't need a Wine Tasting tour
Some travellers love tours and some do not. And, while I certainly believe there is a place for well-run, good-value tours in the world, I really think you do not need one to go wine tasting in Pula!
First of all, it's cheap and easy to go yourself to any of these wineries. With most tastings less than 100 Kuna per person and transport a lot less than this, for a couple, you'd only be spending around 250 to 350 Kuna total. Yet, most tours – which, still only offer one tasting, start at around 650 Kuna, EACH!
Second, most people in Istria – particularly those in the wine industry, speak English. As well as in some cases a third language too such as Italian or German. So again, the tour is not providing anything you wouldn't ordinarily get with an English-speaking guide.
And finally, with a tour, you're on a set schedule – someone else's schedule. By going to the wineries by yourself, you can stay for longer if you want to get another glass of wine or stay for some food. To me, it's a no-brainer!
However… I should weigh up both sides of the argument for fairness. If you want to visit multiple Istria wineries or vineyards, or if you particularly want to get to the more remote wineries outside of Pula (in the north of Istria), then a day trip tour is probably more suitable. Especially, if you don't have your own transport.
If you want to book a Pula wine tour, be sure to shop around. Prices from tour operators on the ground in Pula are almost always going to be cheaper than through third-party sites such as TripAdvisor or Viator. Consider things such as free cancellation and bike tours or walking tours in the current climate.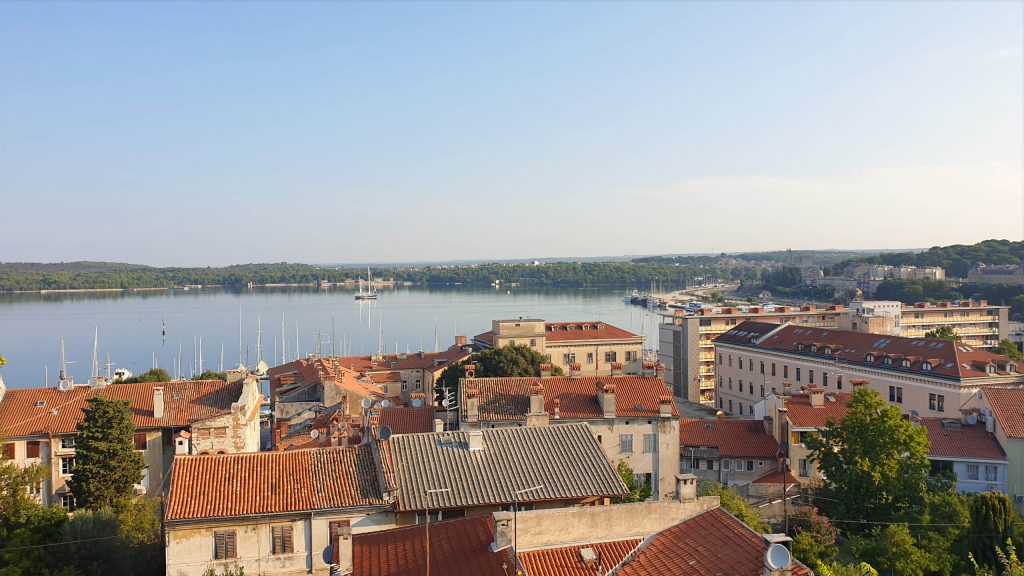 Where to Stay in Pula
Most accommodation in central Pula is apartments, there are very few hotels around the Old Town. Rather, these are mostly located in the areas surrounding Pula. Additionally, there aren't many super-low budget options but accommodation costs are reasonable for the proximity to the city centre and airport.
Perfect for Couples
Perfect for families or small groups
---
Do you have any questions or want any more information? If so, drop a comment below and I'll get back to you!
Information is correct as of April 2022 but is subject to change in future. Please check each establishment's website for the most up-to-date information.
---
Looking For More Ideas of What to do in Pula…
Pula to Rovinj: The Ultimate Guide to a Day Trip from Pula
49 Best Things To Do in Pula: Croatia's Hidden Gem
Is Pula Worth Visiting? (9 Reasons to Visit Istria this Summer)
11 Best Beaches in Pula (Croatia's Coastal Jewels)
---
PIN IT FOR LATER!