Stanage Edge is one of the most popular visitor spots in the Peak District National Park. And, for good reason. This stunning ridgeline, which runs for as far as the eye can see, is great for climbing, walking, running and photography.
Located just a short distance from Hathersage, you can make the most of short or circular walking routes, plenty of car parking and public transport links. Plus, from the top, you'll get excellent views of some of the best Peak District gems like Mam Tor and Win Hill.
Whatever your reason for visiting Stanage, find out all the need-to-know information in this complete guide…
Key Information
Stanage Edge is a 3.5-mile-long rocky edge in England's Peak District popular with climbers. The highest point sits at 458 metres above sea level – roughly 1500 feet.
The technical term for the edge is a gritstone escarpment. More simply, gritstone is a type of sandstone rock commonly used in building materials. An escarpment is a long cliff caused by rock erosion or movement of the earth's crust, separating two areas that are both relatively flat but on different elevations.
This natural attraction marks the boundary between Derbyshire and South Yorkshire. The Stanage Pole marks the divide, which can be easily seen from across the moorland.
Here, you'll also find Robin Hood's Cave – though not so easily. This hidden cave is tucked away in the rockface, the treasure at the end of the hunt however is a stunning view out over the national park (weather permitting!).
Does the rock edge look familiar? It was a filming location for Pride and Prejudice featuring Kiera Knightly back in 2005.
Where is It?
Stanage Edge is located on the eastern fringes of the Peak District National Park, approximately 8 miles from the centre of Sheffield. Other nearby towns include Hathersage, Bamford and Grindleford.
Padley Gorge and Millstone Edge are located to the south, while Bamford Edge is just to the west overlooking Ladybower Reservoir. The famous Mam Tor with its iconic collapsed side is also easily seen from the Stanage ridgeline.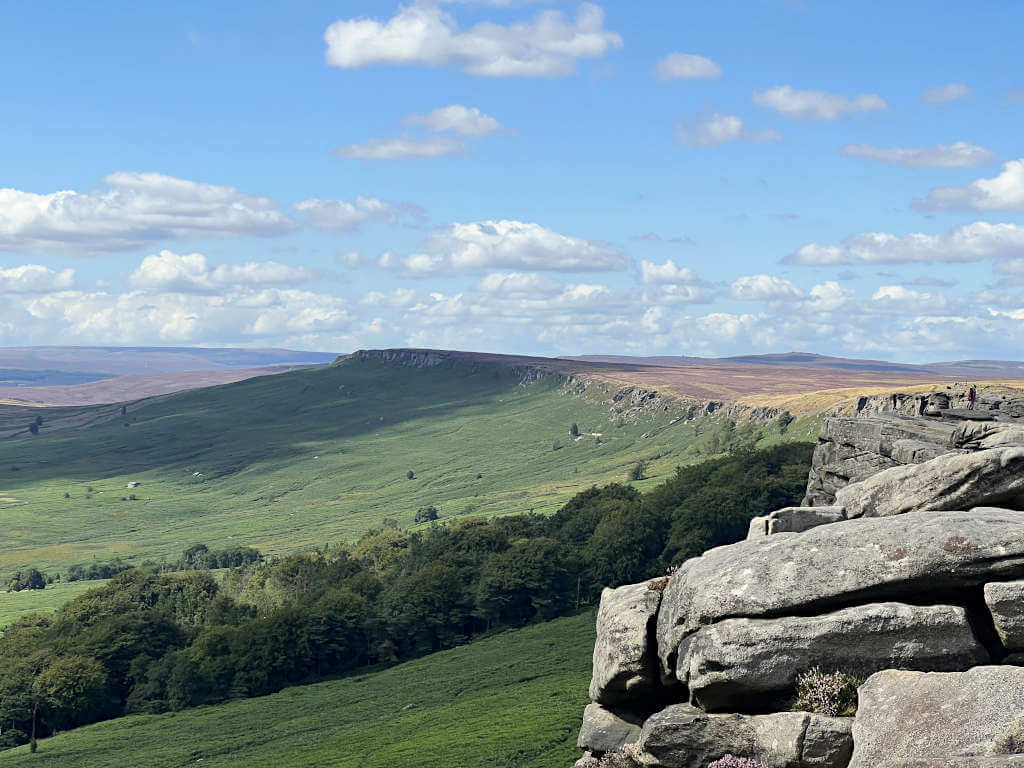 Where does Stanage Edge Start?
Stretching from the A57 in the north to just past Hooks Carr Car Park, it stretches on for 3.5 miles through the Peak District countryside.
The southern section is most popular with visitors and many walks along the ridgeline start from the southern tip. Which, is marked by the Cowper Stone northeast of Hathersage.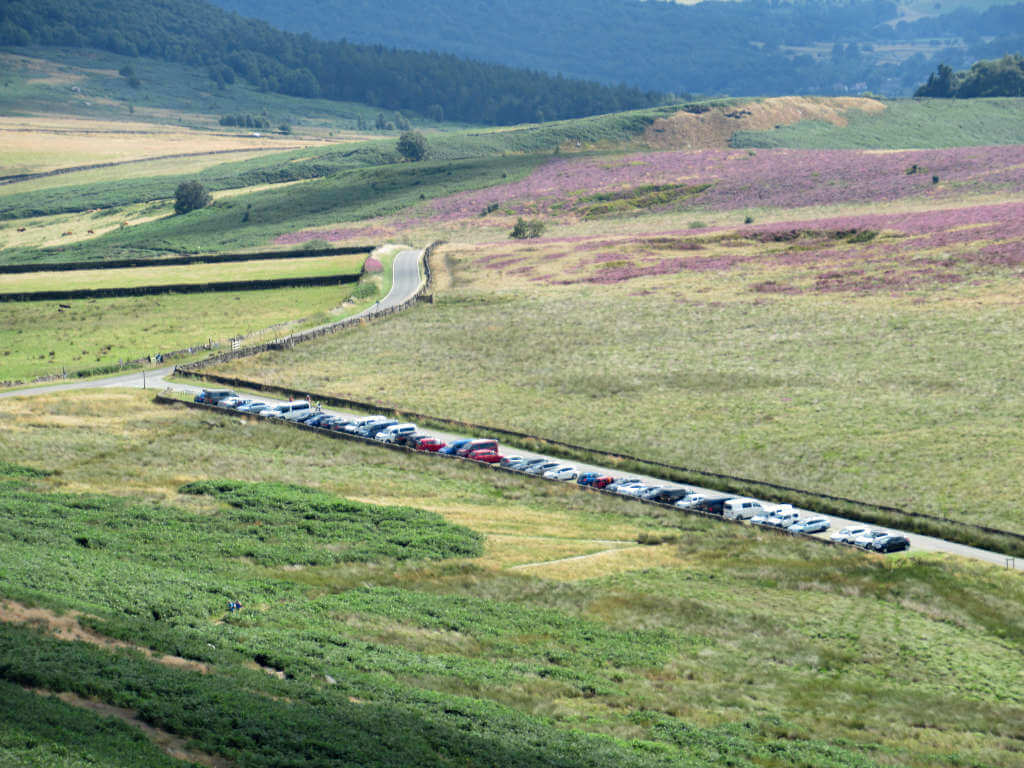 How do you get to Stanage Edge?
By Car
The easiest, cheapest and most convenient way to get here is by car. Depending on what part you want to visit, parking is available on the A57 Snake Road as well as in and around Hathersage and close to the A6187 Sheffield-Castleton road.
By Train
The nearest train station to Stanage Edge is Hathersage, which is mainly served by the Northern Rail Manchester Piccadilly-Sheffield line. On this route, trains run in either direction approximately every hour.
The station is located on the southern side of the town, approximately 2.5 miles and 45 minutes walk from the nearest point of the Edge.
By Bus
The 256 and 257 are buses that run variations of the same route between Castleton and Bakewell to Sheffield Interchange, respectively. Additionally, on Sundays, the Bakewell-Sheffield bus operates with the number 258 instead. These buses stop in Hathersage, with three stops along the main road.
Another option is the 271 and 272 buses, which run from Castleton to Sheffield via Hathersage.
A final option is the Monday to Friday only, 772 bus that runs once or twice a day during term time only from Castleton to Sheffield via Hathersage.
Walking routes
Short Walks
For shorter walks along Stanage, park at one of the nearby car parks and take the short paths to the top of the rocky edge. You can walk as far along the edge as you want, admiring the view and snapping some photos before returning back to where you started.
It's pretty hard to get lost here as the paths pretty much only run along the edge – both above and below it. Plus, once you're at the top it's pretty flat the whole way along.
The Hathersage to Stanage Edge walking route is 2.5 miles each way, so if you're wanting to walk from here you need to be prepared to cover a bit more distance. The round trip is 5 miles, and that's without any walking along the edge!
Circular Walks
Since the moorland is access land and the paths mainly just run along the edge, circular routes aren't instantly recognisable. Instead, you'll have to be a bit more creative in making your route if you want to avoid walking back on yourself.
One option is to walk from Hathersage along The Dale, along the edge and then back via the path down to Hollin Bank Car Park. From there, you can return to Hathersage via Birley Lane or the path alongside Hood Brook.
Another option is a semi-circular walk along the edge and to Stanage Pole. Although, you still be walking back on yourself along the Stanage rock edge.
> > > RELATED POST: Discover 5 incredible Stanage Edge walks in this dedicated guide – short, long, circular routes including from/to Hathersage and Bamford Edge!
Where do you park to walk on Stanage Edge?
Six car parks are located within easy walking distance of Stanage Edge:
Upper Burbage Bridge Car Park (free of charge)
Roadside parking on the road between Upper Burbage and Hooks Carr (free of charge)
Hooks Carr Car Park (free of charge)
Hollins Bank Car Park (charges apply)
Dennis Knoll Car Park (free of charge)
A57 roadside/layby parking by the Heathy Lane junction/Derbyshire sign (free of charge)
How long is Stanage Edge walk?
With so many different routes and starting points, the walks can be as long or short as you want! The shortest route to the top is from Hooks Carr Car Park – just 500 metres each way.
Additionally, with the number of nearby attractions, you can easily combine a walk to Stanage Edge with another famous landmark. Millstone Edge and Bamford Edge are two possibilities, as are the towns and villages of Hathersage, Bamford and Hope Valley.
Stanage Edge Climbing
The Edge is one of the most popular rock climbing spots in the Peak District. And, on weekends, you can expect to see plenty of climbers along the rocky edge.
With over 2000 routes along the 3.5-mile-long and 25-metre-tall cliff, the popularity among climbers is easy to see. Although it perhaps isn't as photogenic as nearby Bamford Edge.
Experienced climbers with their own kit can visit independently. But, for beginners and learners, you'll need to contact a local club or qualified guide and organise an outing.
Camping on Stanage Edge
If you're considering camping here, you probably already know that wild camping – when you stay on land outside of established campsites – is illegal in England and Wales without the landowner's permission.
While there are more popular wild camping spots in the Peak District, people have camped at and on Stanage Edge before. Given its exposed position, you definitely need to make sure you have the right kit and pitch in a sensible place, out of the wind. Do expect your tent to blow in the wind and sunrise hikers to arrive early.
Also, be sure to follow the two golden rules of wild camping: arrive late, leave early and leave no trace.
A better alternative might be staying at the nearby North Lees Campsite, located less than a mile from Stanage. The site has tent pitches and wooden pods as well as free wifi, showers and plenty of parking spaces.
facilities
As a natural landmark in the fairly remote countryside, limited visitor facilities exist.
Public toilets are located about a 3-minute walk along the road from Hollin Bank Car Park. Alternatively, there are public toilets in Hathersage opposite the petrol station. Similarly, it's in Hathersage where you'll find the nearest pubs, restaurants, cafes and shops.
Is Stanage Edge Dog Friendly?
Dogs are permitted only on the southern section of Stanage Edge, as far as the Stanage Pole and the small wooded section past Robin Hood's Cave. Any areas north and west of here are privately-owned, restricted open access land with ongoing dog bans. These bans have been implemented to protect the moorland birds.
The current ban runs until November 2024 but is likely to be renewed for many years to come. The only exception to this is for assistance dogs and dogs on leads on public rights of way. The only public right of way on Stanage Moor runs under the rock edge and not on top. For more information on the restrictions, check out the documentation here.
---
If you have any questions or want any more information drop a comment below and I'll get back to you!
Prices and offerings mentioned are correct as of October 2022 but are subject to change in future.
---
Plan Your Peak District Visit with these guides…
LADYBOWER RESERVOIR: 6-Mile Circular Route including Derwent Dam Viewpoint
CHROME HILL: 3 Routes to the Spectacular Summit View
THREE SHIRES HEAD: 4 Walking Route Options from Gradbach and Wildboarclough
LATHKILL DALE: 6-Mile Waterfall Walk
BAMFORD EDGE: 3 Easy to Follow Short & Circular Routes
THOR'S CAVE: 4 Circular Walking Route Options From Wetton
---
PIN IT FOR LATER!