Visitors come to El Tunco El Salvador for just a few simple reasons. To relax, to surf, to party or to relax, surf and party!
This small beachfront town of just a couple of streets is the most popular place for Salvadorians to visit on weekends. As well as attracting holidaymakers, backpackers and long-stay travellers.
Whatever your reason for visiting Playa El Tunco, this complete guide has all the information you need to fully enjoy your stay.
From hotel recommendations and transport options to the best things to do and all the other essentials, you'll be ready to book your trip in no time at all.
Some of the links below are affiliate links, meaning, at no additional cost to you, I may earn a small commission if you click through and make a qualifying purchase.
Where is El Tunco?
This small beach town is located on El Salvador's southern Pacific coast, southwest of the capital San Salvador.
The nearest town is La Libertad, just a few kilometres down the road along Highway 2. And, along the whole coastline are many other very small beach towns such as nearby El Sunzal, El Zonte and Playa San Blas.
What is El Tunco known for?
El Tunco isn't really known for any single attraction. Instead, this small coastal town is known for being a great place to surf, relax at the beach and party.
How to Get to El Tunco El Salvador
El Salvador is a small country and it's pretty easy to get almost anywhere in the country with just a connection or two.
With the Panamerican Highway running through the centre of the country, journey times are usually pretty reasonable, especially with a direct bus.
To & From San Salvador
San Salvador is the transport hub of the country, here you'll find public transport connections with Honduras, Guatemala and Nicaragua. As well as domestic connections across the country.
From San Salvador to El Tunco, you need to take the 102A bus.
The A is very important, as the 102 only goes as far as La Libertad. The 102A costs $1.50 per person and runs approximately every 20 minutes for the hour-or-so journey.
There are two places in San Salvador where you can easily catch the 102A. Just pick whichever one is more convenient for you.
The first place is from the Terminal de Buses de Occidente in central San Salvador. This will probably be the best option if you're staying in or travelling from the north or east of San Salvador.
Alternatively, catch the 102A from Estacion Ceiba de Guadalupe. This is a roadside stop outside the Ceiba de Guadalupe church where most of the buses leaving San Salvador for the south or west pass.
Trust me, it's really obvious when you're there as buses pass and stop constantly Plus, there are lots of street sellers.
Make sure you're on the southbound side of the road (the opposite side to the church) and then flag down the bus when it arrives.
You can pay on the bus, tell the driver that you want to go to El Tunco and they'll drop you off right at the top of the main street to the town.
To go from El Tunco to San Salvador, simply head to the main road in El Tunco and wait for the 102A.
Then you can get off at La Ceiba de Guadalupe, Terminal Occidente or anywhere else you need in San Salvador on the route.
To & From Santa Ana
To travel from Santa Ana to El Tunco, you first need to take the 201 bus to San Salvador.
You'll need to catch this from the Metrocentre, which is just outside the city centre. Here's the exact location on Google Maps.
The bus to San Salvador costs $1.35 per person and takes around an hour. Plus, you can take an Uber to the Metrocentre bus stop from Central Santa Ana for around $2.50.
Pay on the bus and ask the driver to drop you off at La Ceiba de Guadalupe.
This is an interchange for buses outside a church of the same name on the outskirts of San Salvador. It's a great option as it means you don't have to go all the way to the centre of the city – saving you time in traffic.
Once you arrive at La Ceiba de Guadalupe, you need to cross over to the southbound carriageway using the pedestrian bridge over the road. Here, you need to catch the 102A bus to El Tunco.
Make sure it's the 102A and not just the 102, otherwise, you won't reach your destination. The 102A costs $1.50 per person and takes around an hour to reach El Tunco.
To travel from El Tunco to Santa Ana, simply take this journey in reverse.
Flag down the first passing 102A on the main road and get off at Estacion Ceiba de Guadalupe. Then cross over the road and take the 201 to Santa Ana.
In Santa Ana, you'll want to get off opposite the Metrocentre, next to McDonald's. From here, you can take an Uber or local bus to your final destination.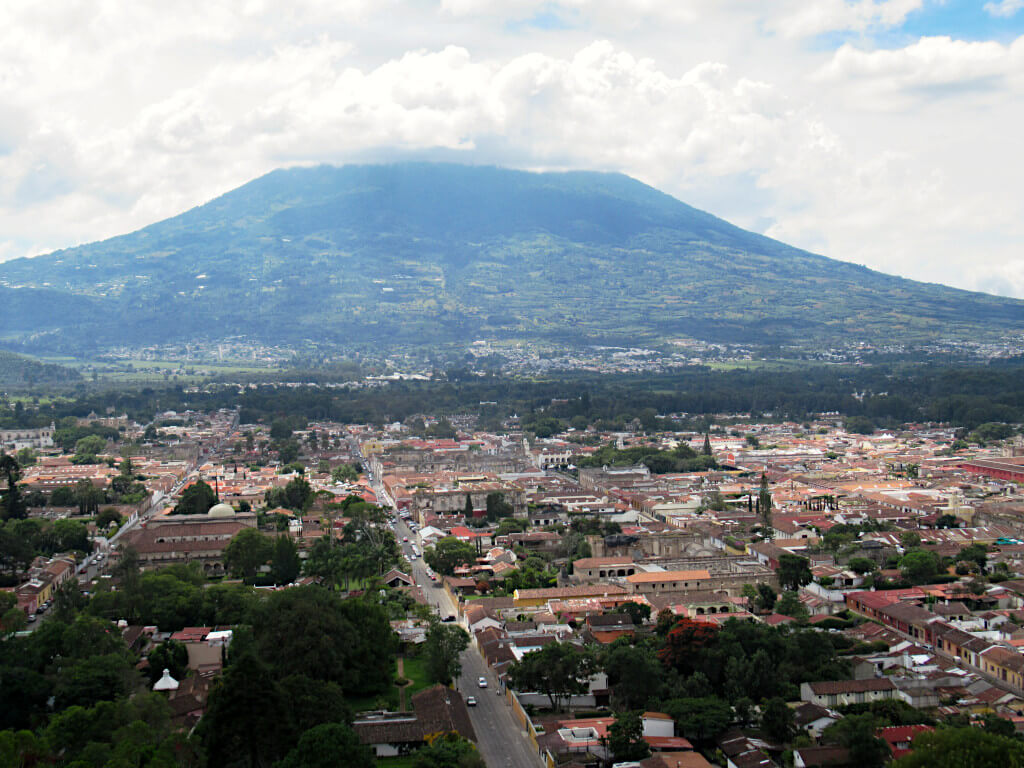 To & From Antigua Guatemala
Private shuttles are available between Antigua Guatemala and El Tunco El Salvador daily.
From Antigua, most shuttles leave at 3.30 am and arrive in El Tunco around 8 am. Alternatively, a later departure at 10 am may run if there is demand, taking 7 hours.
The shuttles cost around $45 per person.
Iximche Tour Operators and Gekko Explorers run the shuttles 7 days a week. If leaving El Salvador you'll need $3 in cash for the border exit fee.
TO & From Leon, Nicaragua
Private shuttles also run from El Tunco to Leon in Nicaragua every day of the week. In fact, these are the same shuttles as the full journey is from Antigua to Leon.
These shuttles leave El Tunco around 8am and arrive in Leon around 9 pm.
Although, this can change depending on how long is spent at the border. Expect to spend around 2 hours at the Honduras-Nicaragua border waiting around!
For this trip from El Tunco to Leon, you'll need $3 for the El Salvador exit fee, $3 for the Honduras entry fee and $12 for the Nicaragua entry fee.
If you're doing the Leon to El Tunco journey, the departure time is at 3 am and you should be in El Tunco by late afternoon. For this journey, you'll need $3 for the Nicaragua exit fee and $3 for the Honduras entry fee.
Border fees are payable in cash only and in US dollars only (not even in local currency).
Although, there are always people working around the border who will exchange money for you. However, this is far from an official currency exchange – count the money carefully.
Where to get a PCR Test in El Tunco
As of March 2023, Nicaragua still requires a negative PCR test from unvaccinated travellers only to enter the country.
Unfortunately, it is not possible to get a PCR test in El Tunco, or on the coast at all. Instead, you'll need to travel to San Salvador and use a clinic there.
I used Analiza Labs at their Jerusalen location in San Salvador. The cost is $95 and results are sent by email and/or WhatsApp within 6 hours. Although some times they have offers for 80 USD.
To get here, I took the 102A bus to San Salvador and then took an Uber from La Ceiba de Guadalupe to the clinic.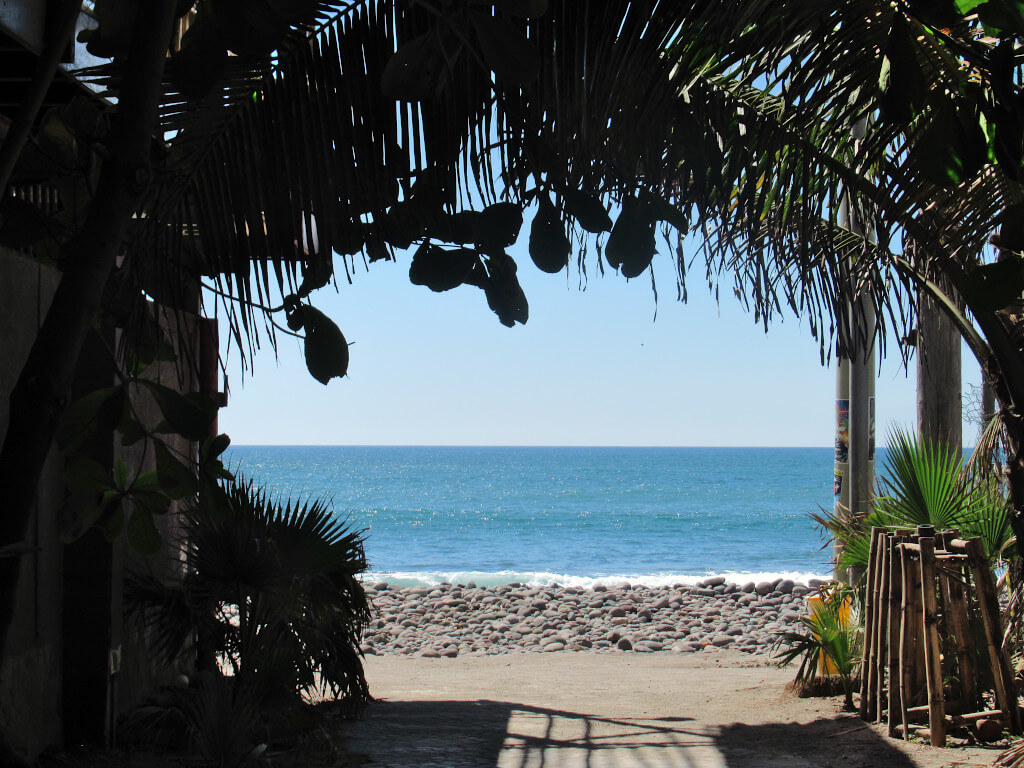 Things to Do in El Tunco
Most people come to the town for one of 4 reasons: to surf, to relax, to party or to surf, relax and party!
There's a reason tourists flock to El Tunco Beach, and it's because it's a great place for all of those.
Surf those Pacific Waves
The Pacific coast is known for being rough and rugged, oftentimes with waves suitable for only the most advanced surfers. Yet, along Playa El Tunco, you'll find a haven for beginner and intermediate surfers.
Surf lessons and board hire are available from the handful of surf camps and surfing lodges located in the town. Alternatively, you can always take lessons with locals.
The best thing to do is ask your hotel or hostel for recommendations. Everyone in El Tunco knows someone who will teach you!
Relax on Playa El Tunco or By the Pool
Chilling out is an integral part of any time spent in El Tunco. The beach is a great place to watch the surfers or experience the spectacular Pacific sunsets.
But the large pebbles don't make for comfortable sitting. Instead, for sunbathing or reading a book, find a sun lounger near a pool and bring your sun lotion.
At high tide, only the pebble part of the beach is visible. There's a fun noise as the waves crash and the water cascades through the gaps in the rocks, almost like a rain stick. It kept me amused for 5 minutes at least!
However, at low tide, the sandy beach is visible. Though, this is very damp and isn't suitable for laying on as your towel will get soaked. Instead, you can walk through the shallow, warm waves with the sand between your toes.
Also at low tide, you can walk slightly down the coast to visit some caves.
Head east along the beach until you reach them. It should take about 10 minutes. I'd recommend wearing walking shoes, strap-on sandals or trainers that you don't mind getting wet so you can walk on the rocks.
For sunset, you'll want to BYOB to the beach. That's bring your own booze for those not familiar with early noughties text speak.
Grab a couple of beers and find a comfortable (flat) looking rock ready to experience the light show from the Sun.
Every night I was in El Tunco, the sunsets were magical. The sky illuminated in various different colours as the evening went on. It's not something to be missed!
Can you swim in El Tunco?
El Tunco Beach isn't the best place to swim. The strong waves that make it great for surfing, generally make it less ideal for swimming.
Importantly, at high tide, the waves crash into the large pebbles on the beach. They're somewhat painful to walk on, let alone if your whole body was pushed into them!
Then, at low tide, the water stays shallow a long way from the shore. This is great for paddling around, dipping your toes and walking through. But isn't great for swimming, as you'd have to go so far out.
That said, conditions do change and some days are going to be better for swimming on Playa El Tunco than others.
Party in El Salvador's Most Popular Weekend Getaway Destination
El Tunco is the place where rich Salvadorians come to party on the weekends. Expect a Latin American party like you've not experienced before.
And, El Tunco is small, so it won't take much to follow the music and see where the party is happening on any given night.
Or, if you prefer a more direct option. Ask the staff at your hotel or hostel what the best bars to visit that day are. Chances are they'll be heading there after their shift finishes too.
But, as popular as the town is on weekends when the streets are alive, the drinks are flowing and the music is pumping. During the week, you'll see a different side of this beach town.
A quiet place to relax and reflect, a place to enjoy simple things and a slow way of life. The two couldn't be more different, so I would definitely recommend staying at least a day extra before or after the weekend.
Or, if partying isn't your thing, just make sure to visit during the week.
Weather
El Salvador has two seasons.
The rainy season corresponds to the northern hemisphere summer months (May to October). And the dry season corresponds to the typical winter months (November to April).
During the dry season, temperatures are likely to reach 86 Fahrenheit (30 degrees Celsius) most days. Nighttime temperatures aren't much cooler. So you'll want to make sure you have a room with a fan and good ventilation.
Temperatures aren't much lower in the rainy season, with daily highs around 82 to 84 F (28 to 29 Celsius).
But, you can expect rain at least 50 to 60% of the days each month. Most commonly in the form of short, sharp afternoon downpours.
As such, surfing in the early morning cooler temperatures is still totally possible without it being rained off. But, the dry season months are the best time to visit El Salvador.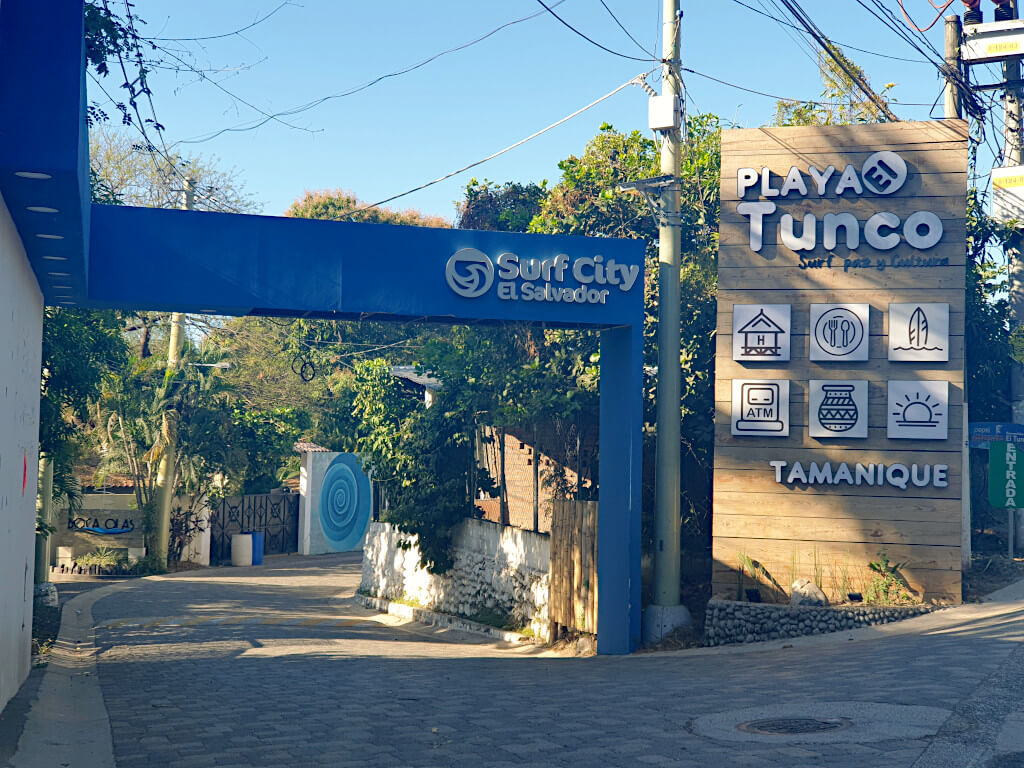 Where to Stay in El Tunco
Every traveller I met during my time in Central America that had been to El Tunco, I had the same conversation with…
'Did you have a really hard time finding accommodation in El Tunco?' they'd ask, 'Yes!' I'd respond 'literally everyone I know has said that too!'
For some reason, finding reasonably priced available accommodation can be difficult here.
My guess would be that many backpackers only book their hotels or hostels a few days in advance – if they book in advance at all.
But, many of the people who visit here are Salvadorians. And, I know that when I'm planning a weekend break at home, I book accommodation well in advance.
Plus, the next biggest demographic after domestic tourists is holidaying North Americans, who also will likely have booked accommodation much more in advance.
Also, El Tunco is really small. And, despite having a lot of options for its small size, sometimes demand just outstrips supply. Especially at weekends.
El Tunco Hostels
The first thing to say is that if you type El Tunco into Hostelword, it won't know where you mean.
Instead, you'll need to search for La Libertad and/or El Sunzal and then browse the results on a map to see the hostels in El Tunco.
The two most popular El Tunco hostels are Papaya Lodge (book through Hostelworld) and Monkey Lala El Tunco Suites (book by contacting them on Facebook, plus check their page for any current offers).
Papaya Lodge is located one block back from the beach – but don't worry, you can walk there in less than 30 seconds! And as such, is right next door to small grocery stores, restaurants, souvenir shops and bars.
Monkey Lala is on the beachfront overlooking the sea. Here, you'll be a stone's throw from other bars and will be able to watch the sunset without even leaving the place.
Hotels
There are plenty of hotel options, many of which don't have an online presence.
So, it is possible to just turn up to El Tunco El Salvador and book something on the day. These are often some of the lower-budget options too.
But, if you're like me and prefer not to have the hassle of walking around a new town with your bags as soon as you're off the bus, here are some top-rated places you can book in advance online.
Tunco Lodge

is in the heart of the town, surrounded by the town's shops, bars and restaurants. With the beach just a couple of minutes walk away, you can relax there. Or, if you don't want to venture far, check out the hotel's terrace, hammock area or pool.
Boca Olas Resort Villas

is the hotel furthest from the beach, which in El Tunco terms, means a 5-minute walk! The hotel boasts a pool, restaurant and bar and a bonus extra over the others is that each room has coffee-making facilities.
Roca Sunzal Hotel

, with its beachfront location, has incredible sea-view rooms if you're looking for something extra special. The sunsets here are magical, after all. The hotel also has a bar and pool and is conveniently located near the centre of the town.
Best Places to Eat & Drink
For a small place, El Tunco El Salvador has a lot of variety for food and drink! And, with only two main streets, it's easy to find a place that is open and has a table.
For brunch, my favourite place was Point Break Cafe – $4.50 Nutella crepes, yes, please!
Another place I really wanted to visit, but it was closed when I was there, was Bao House El Tunco. Asian food isn't all that common in Central America, so when there's somewhere highly rated, I have to try it. And you should too!
For dinner, there are many options. Pizza, BBQ, burgers, Salvadorian cuisines, western cuisines, street food stalls and beachfront restaurants with incredible views. Just go with what you fancy!
If this is the only place in El Salvador you're visiting, you'll want to try Pupusas – a Salvadorian classic.
Think of them as thicker and fluffier tortillas served with beans and cheese as a staple as well as meat and/or vegetables and then topped with salsa. Pupusas are typically sold from street food stalls in El Salvador, and you can find them easily in the centre of the town.
Shops, ATMs and Other Facilities
With only a couple of streets, it's easy to find what you're looking for if it exists in El Tunco. And if it doesn't have what you're after, at least you won't have spent hours wandering around.
There are a couple of small grocery shops selling the usual array of snacks, drinks and basics including some fresh produce and cupboard goods.
For a larger shop with more options, you'll need to travel to La Libertad. Or, bring anything specific you need from Santa Ana or San Salvador where you'll find large supermarkets.
There are a couple of ATMs in the town, both located on the western end near most of the shops.
The two options are Banco Proamerica and Cajero Banco Agricola. However, I found that the only bank that would give me cash from their ATMs in El Salvador was BAC (with UK debit cards and it was free).
I remember frustratingly walking around a very large shopping centre in Santa Ana trying every cash machine and none would work! I'd even tried to withdraw at an ATM with high charges of around $5 per transaction with no luck.
As such, I would highly recommend bringing plenty of cash with you to Playa El Tunco.
Also in the town, you'll find a shop that does printing (useful for PCR test results and copies of your passport for onward travel), a tour agency, souvenir shops, surf lodges, surfing gear shops, clothes shops and more. It really is jam-packed and has everything for tourists, especially for such a small place.
Is El Tunco worth visiting?
If you're looking to surf, relax at the beach or pool in the sunshine and/or party, then El Tunco is well worth visiting.
The town attracts visitors from around the world to its beautiful black sand beach, surf schools and laidback culture. Whether you're visiting whilst backpacking, vacationing or just for the weekend, it's hard not to enjoy El Tunco.
Is El Tunco expensive?
El Tunco is one of the most expensive places to stay and visit in El Salvador. Accommodation, food and activities are likely to eat up more of your budget than in other Salvadorian cities like San Salvador and Santa Ana.
But, for most international visitors, the town will still seem cheap compared to prices at home. Especially the US, Canada, Australia and western Europe.
Book in advance, stay in hostels and eat local food to save money. Beachfront restaurants, western cuisines and fancy hotels are going to be more costly, but are great if they're within your budget.
Is El Tunco Safe?
I know El Salvador has a reputation for being one of the most dangerous countries in the world. But I never felt unsafe there on the tourist trail of El Tunco, Suchitoto, San Salvador and Santa Ana.
El Tunco in particular felt very safe. Perhaps due to having only a couple of roads.
The town is set up a bit like a resort, as with the one-way roads, there's only one entrance from the main road and one exit. But also due to the small-town vibe, close-knit community and laidback vibe.
Of course, you should always take the usual safety precautions when visiting here. Like not carrying more cash than you need, locking your valuables away in your room and not leaving things on show.
That said, plenty of people leave their items on the beach whilst in the sea. But, I would only recommend this for clothes, shoes, etc and not any high-value items.
---
If you have any questions or want any more information drop a comment below and I'll get back to you!
Prices and offerings mentioned are correct as of March 2023 but are subject to change in future.
---
More Central America Travel Inspiration…
El SALVADOR: Hiking Santa Ana Volcano (Complete Guide)
EL SALVADOR: Salto de Malacatiupan (Hot Spring Waterfalls & River)
GUATEMALA: El Paredon: Ultimate Travel Guide
GUATEMALA: Acatenango Hike: Complete Guide to this Volcano Trek
NICARAGUA: How To Get From Ometepe to Granada | No Stress, No Scams
BELIZE: Caye Caulker Snorkeling: An Underwater Paradise (Need to Know)
HONDURAS: Pulhapanzak Waterfalls: Complete Guide To Visiting
---
PIN IT FOR LATER!