Opened in 2001, the Guanajuato Funicular provides a cheap and scenic way to climb up the hillside to the Monumento Al Pipila. Which, is one of the best viewpoints in the entire city. The monument offers panoramic views of the bright buildings and rolling hills in and around the city.
If you're in Guanajuato, this is a must-do activity! This handy guide – with up-to-date 2022 information – has all the information you need to plan your trip.
Last updated: January 2022. First published: November 2021.
About the Guanajuato Funicular
The Guanajuato Funicular operates along a short but steep 102-metre stretch of the city's valley side. Necessary, to save the legs of unsuspecting tourists who want to reach the viewpoint but without a 30-degree ascent climb.
The funicular connects the heart of the city to the Pipila Monument in just a couple of minutes. With the slow-moving cars perfect for photo- and video-taking. Two cars operate – one goes up as the other goes down, acting as counterweights to each other. Each car fits an operator and around 5 people. Although, for the best view you'll want to be at the window.
You can find the lower station just behind the Juarez Theatre in central Guanajuato. While the upper station is just metres from the Pipila Monument.
The upper station is located underneath Hotel Balcón Del Cielo. And guests of the hotel receive a pass to use the funicular. This also allows them to skip to the front of the queue. Quite the perk if you're looking for somewhere to stay!
Additionally, the upper station is also full of independent shops selling crafts, souvenirs and gifts. A perfect place to treat yourself or someone else.
And, while the funicular may seem like an easy option, it isn't entirely step-free. You'll need to climb stairs in both the lower and upper stations to access the funicular car as well as to exit to the Pipila Monument. Unfortunately, this does mean that the funicular is not access-friendly.
Further, pets and bicycles are also not permitted onboard.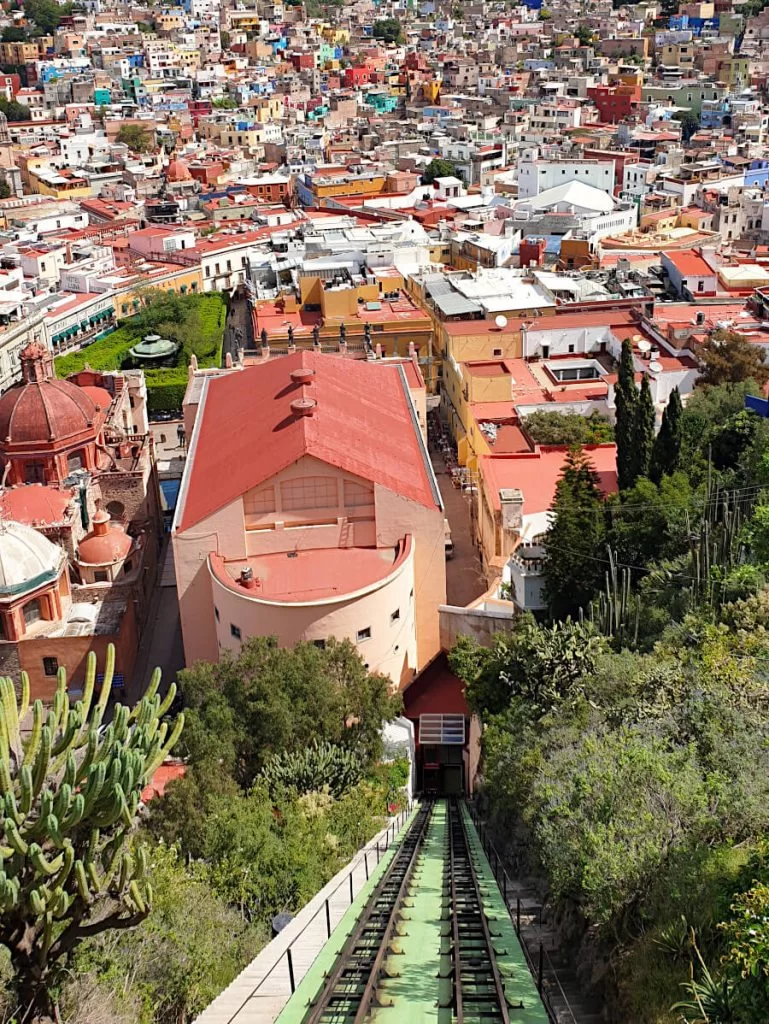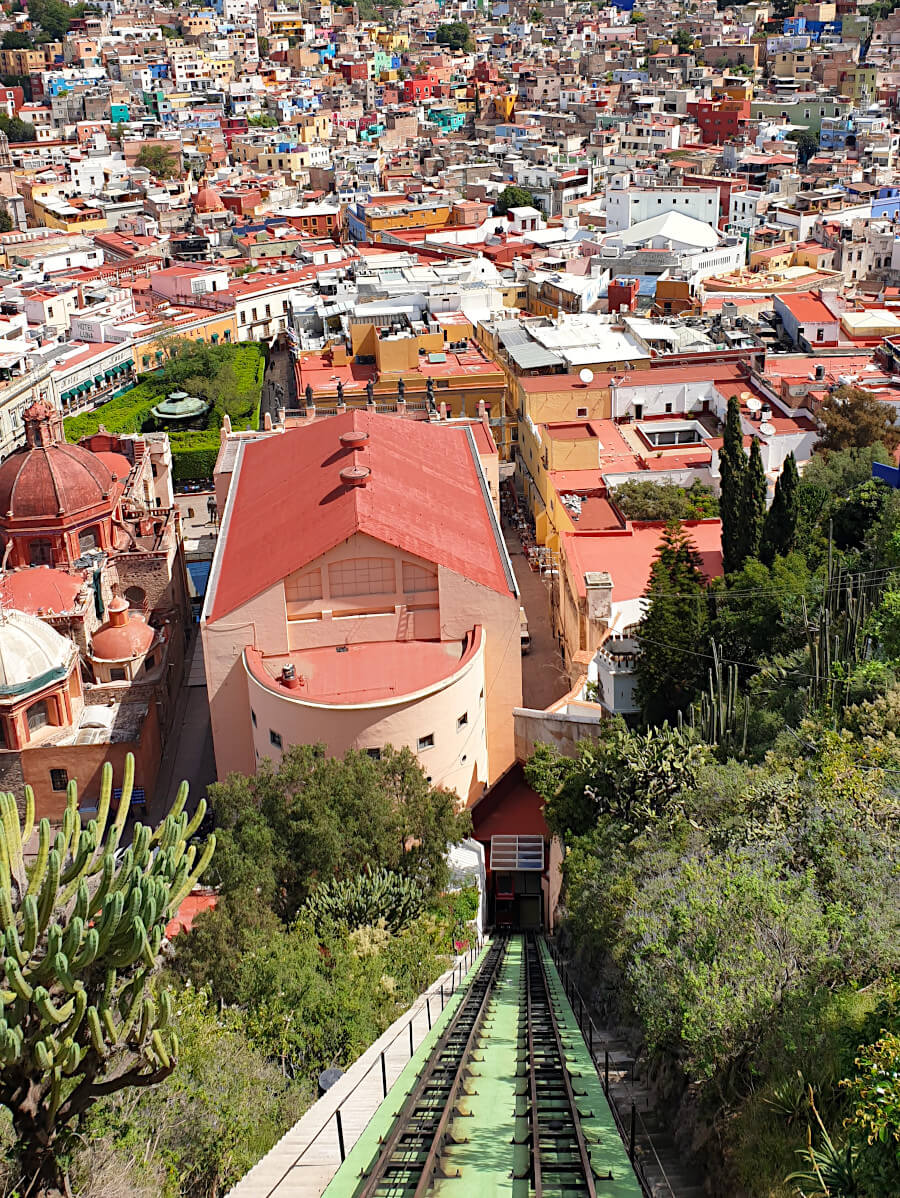 Guanajuato Funicular Opening Times and Ticket Prices
Mondays to Fridays: 8:00 to 21:50
Saturdays: 9:00 to 21:50
Sundays: 10:00 to 20:50
Tickets are only valid on the day of purchase. And, although you can buy a return ticket, there is no saving (other than in time) in doing so.
Adults
30 pesos one way
60 pesos return
Children (aged 4 to 11) and Older Adults (with INAPAM ID – no other documents accepted)
11 pesos one way
22 pesos return
Children (aged 3 and under)
Adult residents of Guanajuato City also receive a discount to ride the funicular. Resident discount tickets cost just 11 pesos one way. Photo ID showing an address in the city is needed. Examples include the credencial de elector, licencia de conducir or credencial de estudiante.
Additionally, adult residents can also purchase a block of 7 tickets to be used over time for 70 pesos. Child residents receive no further discount with tickets still priced at 11 pesos.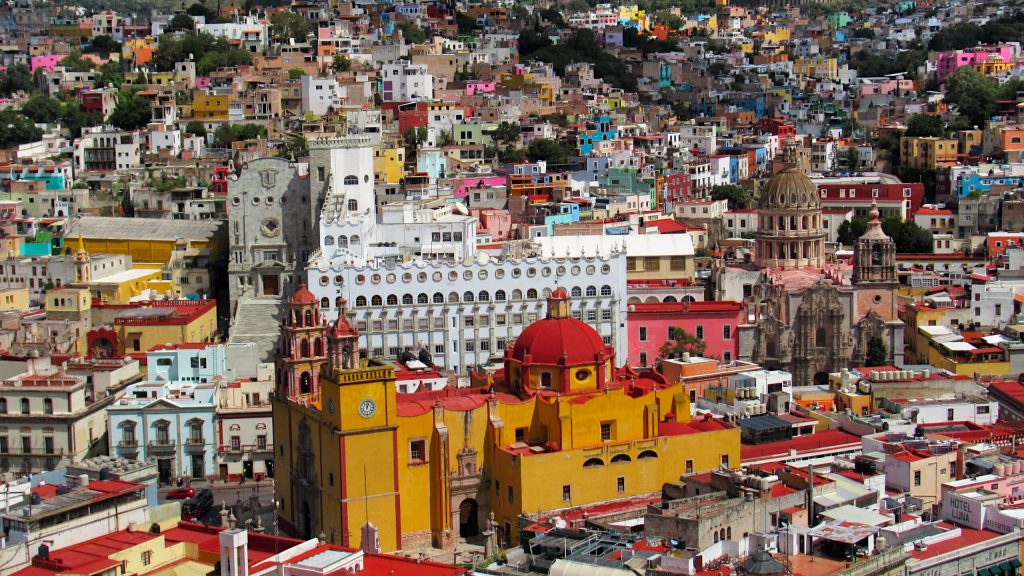 Where is the Guanajuato Funicular?
The lower funicular station is located just behind Teatro Juarez in the centre of Guanajuato City.
The entrance is in a small, discrete, red and white building on Calle Constancia. Recognisable by the simple 'FUNICULAR' sign on the front. This station is just 130 metres from Jardín de la Unión. As well as just 270 metres from Plaza de La Paz (in front of the iconic yellow church in the city centre).
The upper funicular station is next to the Pipila Monument, on Cerro de San Miguel.
You can find the upper station in a building under the Hotel Balcón Del Cielo alongside a handful of shops. The upper station is also within short walking distance of Mirador Panoramica – another viewpoint along the same road.
Guanajuato is a city in northern Mexico, not far from Guadalajara and San Miguel de Allende.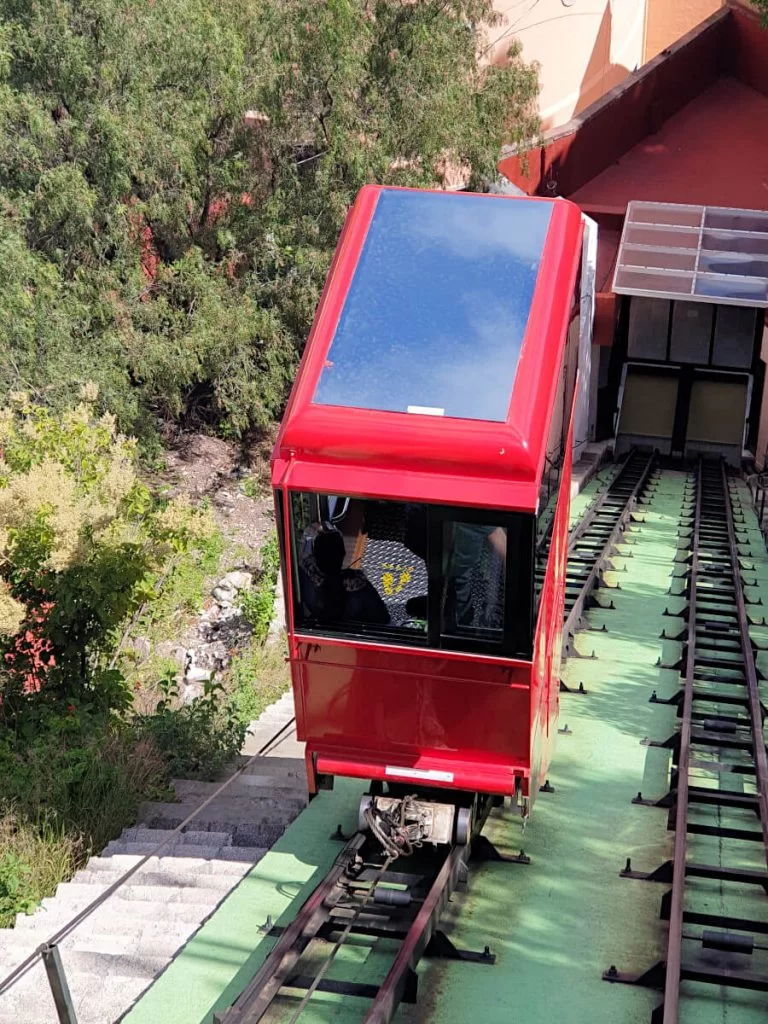 How to get to the Funicular
The easiest and cheapest way to reach the funicular is to walk. The lower station is within a 5-minute walk of most attractions in the city centre. While even the further reaches of the city are still within easy walking distance.
Alternatively, Uber operates in Guanajuato and you can order a ride on your phone. Local taxis can also be flagged down on the street.
When is the best time to visit?
Expect the funicular to be busiest at weekends and on weekday evenings. Visit on a weekday if you can for the best chance to avoid queues and ride alone.
Many people visit the monument for sunset. Although, it does face northeast so is not going to be the place to watch the sun dip below the horizon. But, it will bless you with that golden hour glow. Sunset is usually around 6pm between November and March, while from April to October it varies between 7pm to 8.30pm.
Luckily, Guanajuato is blessed with good weather year-round. On average, daily temperature highs are at least 20 degrees Celsius every month. As such, there's no bad time to visit.
---
If you have any questions or want any more information, drop a comment below and I'll get back to you! And, if you visited, leave your review below – I'd love to know what you thought!
Information is correct as of January 2022 but is subject to change in future.
---
More Mexico Travel Guides…
Guanajuato: Hiking Cerro de la Bufa Guanajuato: Route + Directions
Guanajuato: Mirador de San Miguel de Allende: The City's Best Viewpoint [Travel Guide]
Puebla: Ride the Teleférico Puebla for Panoramic City Views [Cable Car Guide]
Guerrero: Pozas Azules de Atzala, Taxco (Visitor's Guide)
Central Oaxaca: San José del Pacifico, Oaxaca (Complete Travel Guide)
Coastal Oaxaca: Playa Bacocho, Puerto Escondido (Oaxaca Beach Guide)
Coastal Oaxaca: Lagunas de Chacahua, Oaxaca (Ultimate Travel Guide)
And much more, check out all Mexico Travel Guides here!
---
PIN IT FOR LATER!