Bamford Edge is one of the best viewpoints in the whole Peak District. Its panoramic views over the surrounding hills and valleys from the 1 km long ridge line attract visitors all year round.
Yet, despite its high position and elevated overlook, you can reach the edge with just a short walk from the nearest parking places. This makes it suitable for even the most inexperienced countryside walker.
So, whether you're a photographer, hiker, rock climber or weekend adventurer, it's well worth visiting Bamford Edge Peak District. Plan your visit today with this complete guide including how to get there, where to park, facilities and the best time to visit (spoiler: it's at sunset)!
What is Bamford Edge?
Bamford Edge is a rocky overhang and ridge line, running for over 1 km along the southwestern edge of Bamford Moor. From the ridgeline, you'll have stunning views over the nearby hills and Ladybower Reservoir below.
The altitude of Bamford Edge is 400 metres above sea level, giving it over 200 metres of prominence from Ladybower below. This elevation does mean that it's fairly exposed, so definitely pack an extra layer for that crisp breeze.
With its sweeping views and almost vertical rock face, this is a popular spot with walkers and climbers. And even a good number of marriage proposals have happened on the rocky ledges!
All in all, it's a great place to visit – especially on a clear day – for some fresh air, panoramic views and a stretch of the legs. So, here's everything you need to know about visiting…
Where is Bamford Edge?
Located in the heart of the Peak District National Park, Bamford Edge is one of Derbyshire's great natural attractions. The village of Bamford lies approximately 1 mile south of the rocky prominence.
Bamford Edge is also surrounded by plenty of great Peak District attractions. These include Ladybower Reservoir, Derwent Edge, Alport Castles, Win Hill and Stanage Edge. Mam Tor, Winnat's Pass, Hope Valley and Castleton are also within a few miles as are Padley Gorge and Millstone Edge.
How to get to Bamford Edge Peak District
The Peak District doesn't have great public transport links, especially to some of the top countryside spots. But, luckily, Bamford Edge is reachable by bus and train. Although, driving is always going to be more convenient and quicker.
By Car
The easiest way to reach Bamford Edge is by car. It is conveniently located between two of the main roads that run through the Peak District.
The A57 Snake Road is just to the north, connecting Sheffield to Glossop and onto Manchester. While to the south, the road from Hathersage to Chapel-en-le-Frith provides a good link to towns like Buxton, Whaley Bridge, Macclesfield and Leek.
By Public Transport
Train
The nearest train station is Bamford, which is mainly served by the Northern Rail Manchester Piccadilly-Sheffield line. On this route, trains run in either direction approximately every hour.
The Liverpool Lime Street to Norwich via Nottingham trains also run along this line. But, unfortunately, they don't stop at Bamford. However, you can change at Sheffield for a local stopping service to Bamford.
The station is located about 2.5 miles and 45 minutes walk from the nearest walk start point to Bamford Edge. A better option is to catch the bus from the stop just up the road. The 256, 257 and 258 buses all go north towards Ladybower Reservoir, where you can get off at Heatherdene Car Park. From here, you can walk up to Bamford Edge.
Bus
The 256 and 257 are buses that run variations of the same route between Castleton and Bakewell to Sheffield Interchange, respectively. Additionally, on Sundays, the Bakewell-Sheffield bus operates with the number 258 instead. These buses run alongside Bamford Edge by Ladybower, you should get off at Heatherdene. You can check the latest timetables for these buses here.
Another option is the 271 and 272 buses, which run from Castleton to Sheffield via Hope, Bamford Station and Hathersage. However, these buses only go to Bamford Station, from there you'll need to catch another bus towards Heatherdene as described above to reach Bamford Edge Peak District. See the 271/272 timetable here.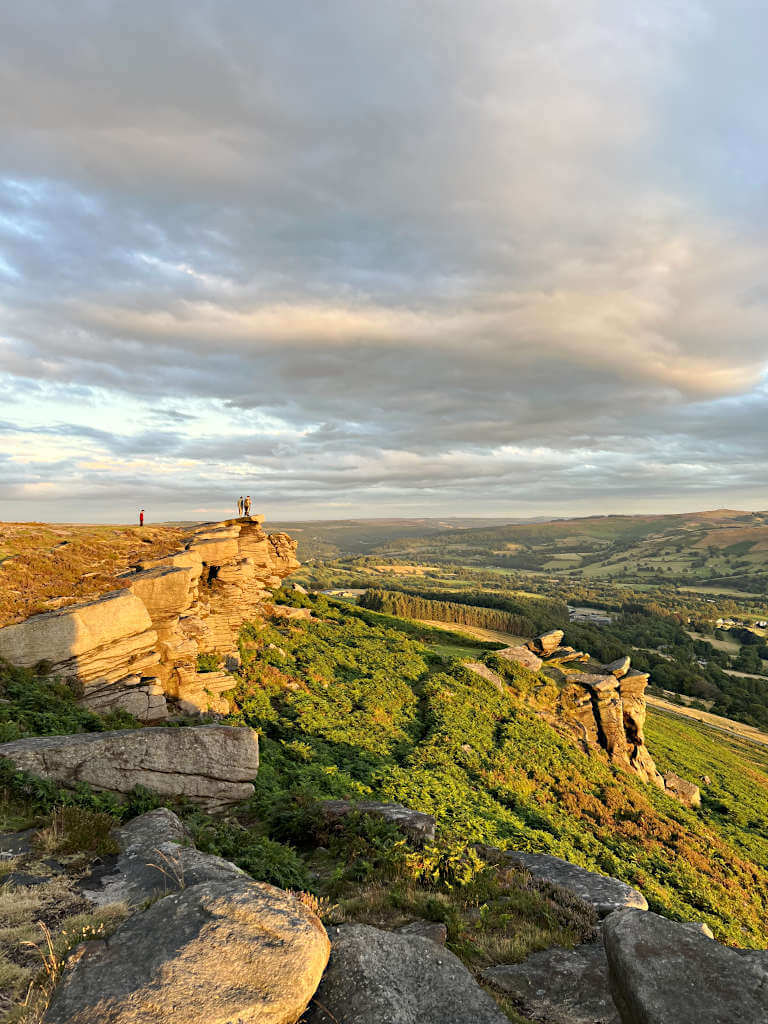 Bamford Edge Parking
Parking at Bamford Edge is pretty limited, but I don't think the situation is always as bad as people make out.
Your first and best option is the free roadside parking on New Road. An additional bonus is that parking here really reduces the amount of uphill walking you need to do to get to the top!
The next best option is Heatherdene Car Park on the side of Ladybower. There's a £3 all-day charge to park here. And, while it is more costly than on New Road, you'll be better parked to also enjoy a walk around Ladybower Reservoir and Dam if you wanted.
Alternative parking options do require extra walking, but if it's a sunny weekend or school holiday then you might need them. There is free roadside parking on the A57 Snake Road about 0.5 miles from Heatherdene before you cross the Ashopton Viaduct. Additionally, Dennis Knoll Car Park is about 1 mile from the parking places on New Road.
And finally, there is a really limited amount of on-street parking in Bamford village. Try Fiddlers Wheel, Joan Lane or Taggs Knoll. From there, you can walk along Bamford Clough for 800 metres to the footpath entrance on New Road.
Walking Routes
Unless you're looking for a much longer, full-day hike from further afield, most Bamford Edge walks start at the parking spot on New Road or Heatherdene Car Park. From which, you can reach the top in as little as 15 minutes.
Short Walks
From the parking spots on New Road, head onto the footpath and straight uphill. You'll reach the ridgeline after 400 metres, gaining about 70 metres in elevation. Turn to the left and continue along the rocky edge, taking photos and enjoying the view along the way. There's another 1+ km of pathway along the ridge, though you can turn back at any time and return to New Road.
Alternatively, from Heatherdene, head south out of the car park through the wooded area. When the path splits, turn right and head uphill as the path slowly turns back on itself. As you emerge from the trees 1.3 km from the car park, turn right onto the ridge line and take in the view! The best viewpoint is about 1 km further along the edge.
Circular Routes
Sadly, there aren't any obvious or easy Bamford Edge circular walks. While it is possible to loop around the moorland above, oftentimes the path becomes really hard to follow amongst the boggy terrain. As such, it can be easy to get completely lost and disorientated.
One option is to walk a circular route taking in Bamford, Bamford Mill and Ladybower Dam. Check out full details on this route in this detailed guide to walking routes to Bamford Edge.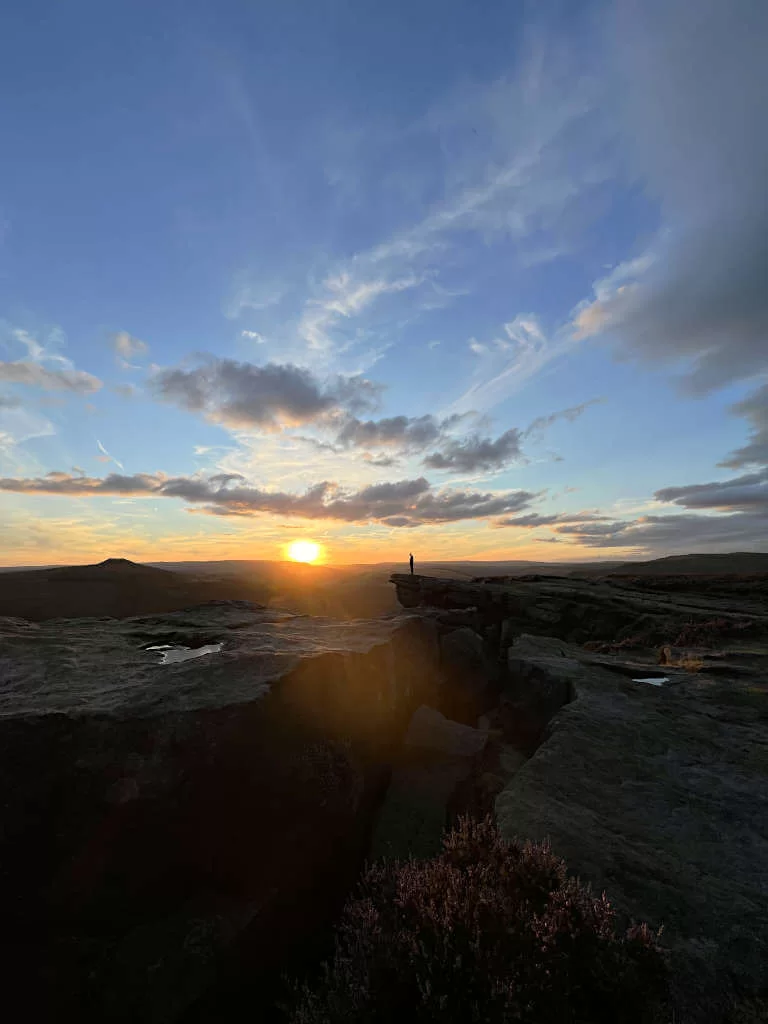 Bamford Edge Climbing
Perhaps not as popular as other nearby spots such as Stanage Edge, Bamford Edge is a great place for rock climbing. In fact, it's home to perhaps the most famous photo spot in the Peaks – Gargoyle Flake. Set your camera up at the right angle and you'll look like you're clinging (or standing on) the edge of a very high cliff top!
Experienced climbers with their own kit can visit independently. But, for beginners and learners, you'll need to contact a local club or qualified guide and organise an outing.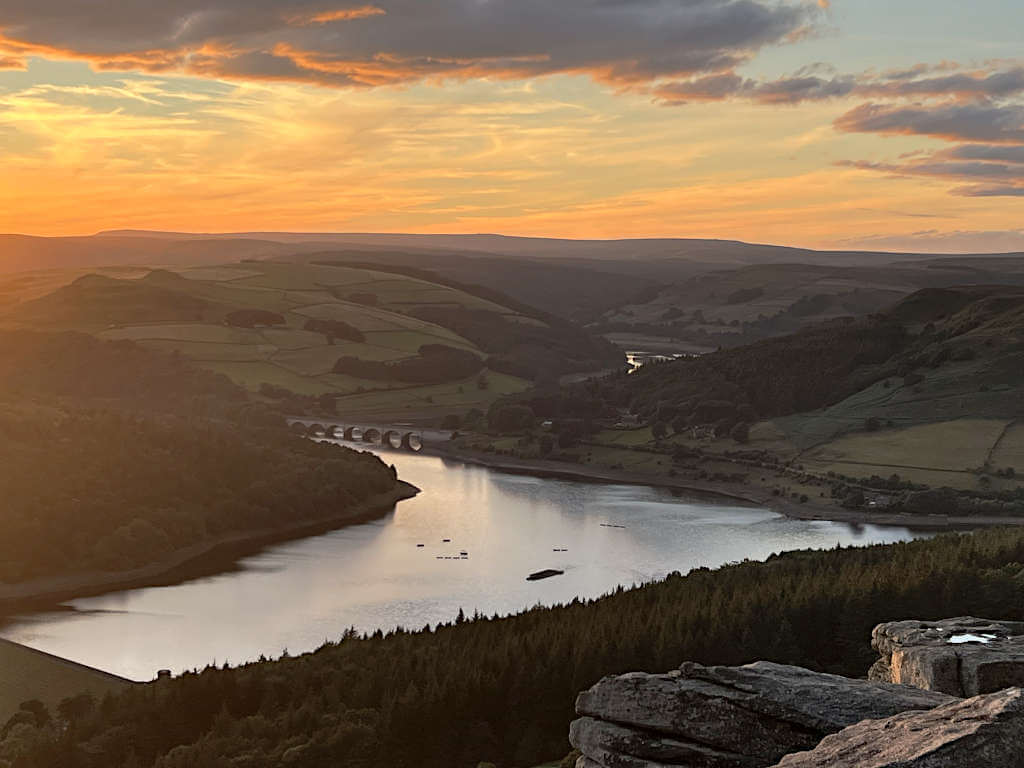 Bamford Edge Camping
A kind reminder that wild camping – when you stay on land outside of established campsites – is illegal in England and Wales without the landowner's permission.
That said, there are plenty of stories on the internet of people camping on Bamford Edge. Given its exposed position, you definitely need to make sure you have the right kit and pitch in a sensible place, out of the wind. Do expect roaming sheep and sunrise hikers.
Also, be sure to follow the two golden rules of wild camping: arrive late, leave early and leave no trace.
Alternatively, consider staying at nearby campsites such as Swallowholme Camping & Caravan Park and North Lees Campsite.
Best time to visit
Across the year, the best time to visit Bamford Edge Peak District is generally from late spring to early autumn. But, as you're probably well aware, the weather in the Peak District is far from predictable even in the height of summer.
As such, you'll want to plan your visit based on the weather forecast more than the current month. A crisp, clear winter's day is going to be better than an overcast, grey and scattered-showers day in the summer. Try to avoid days when low clouds or fog, high winds, rain, hail, storms and snow are forecast.
Within a day, the best time to visit is just before sunset. Looking west over Ladybower Reservoir and Win Hill, you'll get a stunning show from Mother Nature as the sky and clouds change colour and the light slips away. And, it's also surprisingly not that busy! I visited on a weekend evening in August and the only people I saw were one other couple and one group of 4 friends.
I'd recommend arriving at the lookout about 30 minutes before the sunset time for that day. This way you'll have plenty of time to get photos and enjoy the Bamford Edge sunset. To avoid walking in complete darkness, I'd leave the top no more than 10 or 15 minutes after the sun passes the horizon – sooner in winter.
Sunrise isn't as spectacular here as the sun rises over Bamford Moor and the view east doesn't have the sweeping panoramic views. And, if visiting during the day, try to be there in the morning as by lunchtime and in the afternoon, the car parks get pretty full and the number of people there increases.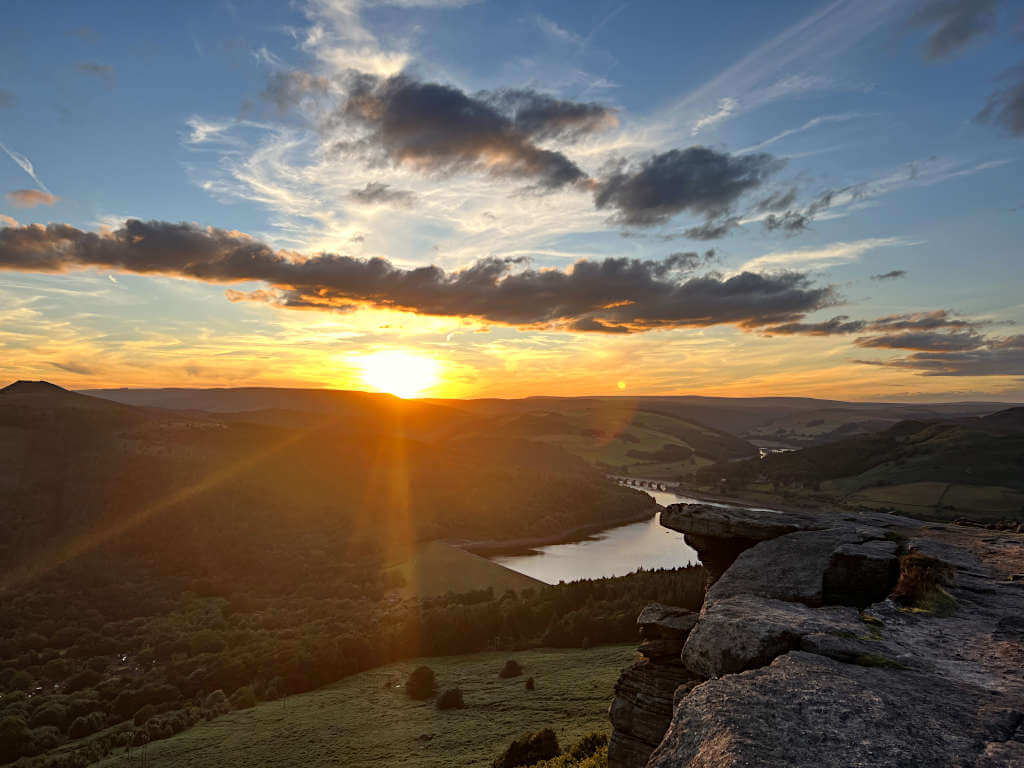 Facilities
It probably won't surprise you to find out that there are no facilities on Bamford Edge. Not even a single bench to sit on! Instead, here are the nearest facilities…
The nearest toilets are at Heatherdene Car Park and they're free to use. Additionally, free drinking water taps are located in the car park too.
The Yorkshire Bridge Inn and the Anglers Rest are the nearest pubs, both serve food and drinks throughout the day with outdoor and indoor seating. A Nisa Local convenience shop is located at the Texaco petrol station near Bamford Station.
Can dogs go on Bamford Edge Peak District?
No, dogs are currently not allowed. The land Bamford Edge is on is privately owned and is a grouse moor with no public rights of way. Because of this, the land owners can implement bans on dogs to protect the birds and their nests.
The current ban on dogs runs until November 2024 across Bamford, Derwent and Moscar Moors – see details here.
---
If you have any questions or want any more information drop a comment below and I'll get back to you!
Prices and offerings mentioned are correct as of September 2022 but are subject to change in future.
---
Other Peak District Walks…
THREE SHIRES HEAD: 4 Walking Route Options from Gradbach and Wildboarclough
LATHKILL DALE: 6-Mile Waterfall Walk
PADLEY GORGE: 4-Mile Walking Route Via Millstone Edge
MAM TOR: The Only 2 Routes You Need to Know (Straight & Circular)
LADYBOWER RESERVOIR: 6-Mile Circular Route including Derwent Dam Viewpoint
CHROME HILL: 3 Routes to the Spectacular Summit Views
---
PIN IT FOR LATER!