The best time to visit Uzbekistan? As soon as you get the chance.
Honestly, there's never been a better time to visit this Central Asian country. One full of architectural beauty, kind people and culinary delights.
Until just a few years ago, Uzbekistan was a difficult place to visit. Visas were tricky to get and the country's doors weren't exactly open for tourism.
But now, most people can get visa-free or eVisa access and the country's tourism industry is booming. A reliable train network through the Silk Road cities provides a convenient, cheap and efficient way to explore the country.
Marvel at the beauty of ancient cities, take an immersive trip into a new culture and treat your taste buds to a holiday of a lifetime. Find out the best time to go to Uzbekistan and why in this helpful, bitesize travel guide…
When is the best time to visit Uzbekistan?
For most people, the all-around best time to go to Uzbekistan will be in Spring or Autumn. April, May, September and October have mild weather and lower levels of tourism – perfect for sightseeing and exploring.
However, it really depends on what you want to do in the country.
If you're wanting to go skiing in the new $100 million Amirsoy Ski Resort, for example, then the winter months will be best. This is when there'll be the most snow on the slopes.
Or, if you want to go in the low season when there are the fewest tourists, aim for late November to early March. Prices will likely also be lower in these months.
The best month to visit Uzbekistan
The overall best month to visit Uzbekistan is May.
During this month, the weather will be pleasant but not too hot with little chance of rainfall. Tourism levels are starting to rise but are not at their peak. As such, you'll be able to meet fellow visitors but without the crowds at attractions.
Other strong contenders include April, June, September and October.
April has cooler temperatures and fewer visitors, but expect rainy days and grey skies fairly often.
June is much hotter, with temperatures often above 40 Celsius/104 Fahrenheit. Additionally, it is a busier month as tourists start to visit during the summer months.
September starts to cool down, but scorching temperatures can still be experienced early in the month. However, visitor numbers are lower than in June.
October is another month with cooler temperatures and the odd rainy day. Visitor numbers are generally quite low meaning plenty of hotel availability.
The winter months can be bitterly cold and snow showers can cover the whole country. So while this does make for pretty pictures, doesn't make for a great time spending hours outside sightseeing.
Best Season to visit Uzbekistan
All in all, the best season to visit Uzbekistan is late spring (mid-April to May), followed by early autumn (late September to October).
In these months, you'll get pleasant but not soaring temperatures. This will give you the freedom to explore all day long and not have to seek shelter from the blistering temperatures or wrap up in warm clothes.
The spring season typically receives more tourists than the autumn season. So you can pick based on whether you're hoping to meet other visitors or feel like you have a place to yourself.
If you want to ski, the best season to visit Uzbekistan is winter. Although, you can expect snow on the higher mountain slopes in early spring (March to early April).
What is peak season in Uzbekistan?
Despite the sweltering temperatures, June to August is the peak season in Uzbekistan. These months coincide with the typical vacation period in North America and Europe, where a lot of visitors are from.
During this time, temperatures regularly exceed 40 Celsius/104 Fahrenheit. If you visit in these months, plan to go out early to avoid the heat of the day. Then, come back to your air-conditioned hotel room in the middle of the day, before going out again once temperatures start to cool down around 4 pm.
These temperatures also make travelling by train a very sweaty and somewhat unpleasant experience, especially during the day. The trains have little ventilation and the windows do not open much, so there is little airflow resulting in high temperatures. The high-speed Afrosiyob train between Bukhara and Tashkent is the exception to this, providing an enjoyable and comfortable journey.
Best time to travel to Uzbekistan and Kyrgyzstan
For many people, a trip to Uzbekistan is coupled with visiting neighbouring Kyrgyzstan. While Uzbekistan is the cultural gem of Central Asia, Kyrgyzstan has natural beauty. Think snow-capped mountains, alpine lakes, yurt camps and miles of hiking trails.
Because it is an outdoor paradise, Kyrgyzstan has a distinct summer and peak season. This starts in July and continues until early September.
Between July and September, the mountain passes are open and the resorts fill with tourists. This is the best time to visit for hikes as the temperatures are not as warm as in Uzbekistan.
And, outside of this time, the mountain routes can be impassable with large amounts of snow still on the ground in higher areas. Hotels, restaurants and other attractions may be closed or have limited opening hours.
So when's the best time to visit Uzbekistan and Kyrgyzstan? I'd recommend visiting Uzbekistan in June and then Kyrgyzstan in July. Or visit Kyrgyzstan in August and Uzbekistan in September.
Crossing the border is simple by bus (Tashkent to Bishkek, taking a route via Kazakhstan) or train (from Tashkent to Andijan, and then cross by bus to Osh).
Importantly, Kyrgyzstan doesn't have as good transport infrastructure as Uzbekistan. Overland routes usually involve slow-going roads compared with the efficient train network in Uzbekistan. Consider adding a couple of extra days for travel into your Kyrgyzstan itinerary if you want to move around the country.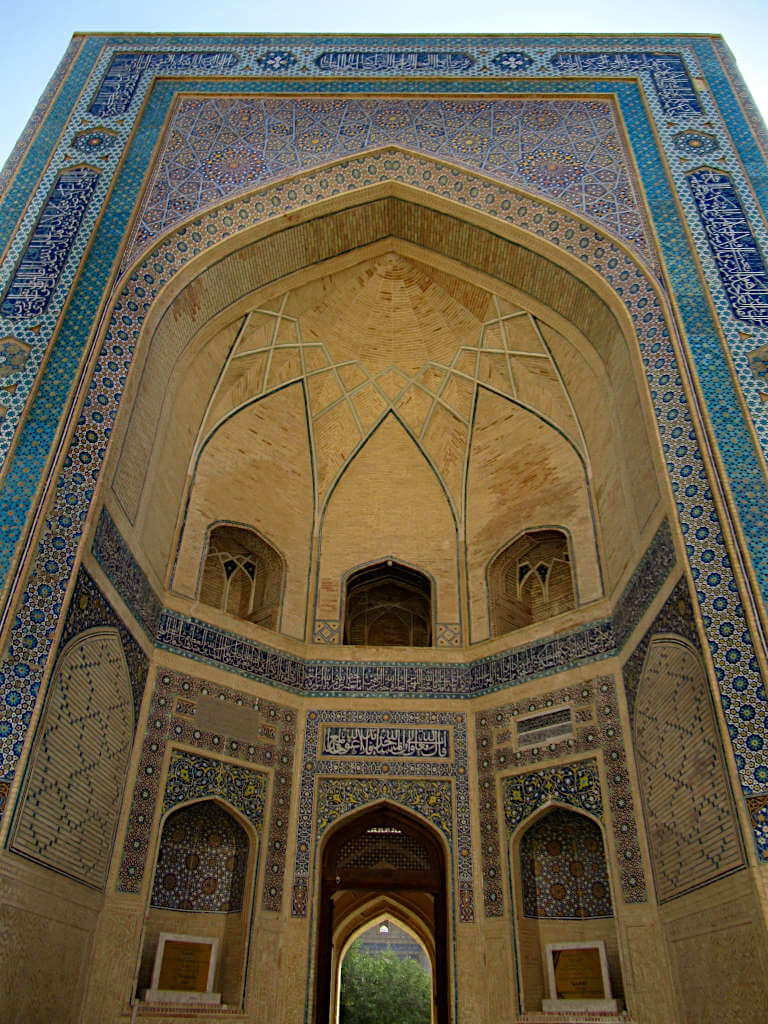 Is Uzbekistan a good place to travel?
Yes.
The country is rich in culture, architecture, cuisine, unique landscapes and history. Good infrastructure provides a cheap and easy way for tourists to move around the country.
Rapid inflation has led to a substantial drop in the value of the Uzbek Som. This has made the exchange rate very favourable to international visitors, particularly those from places with strong currencies.
Low prices by international standards are the norm across the country. Tours, transport, hotels, restaurants and gifts are all reasonably priced and excellent value for money.
However, let's address some concerns you might have…
As a former Soviet state, Uzbekistan was previously aligned with the USSR and modern-day Russia. But, in the modern day, it is distancing itself from the regime.
And, the shared border with Afghanistan may worry some visitors. This is a largely unproblematic border located off of the typical tourist path.
Protests in the west of the country in mid-2022 were short lasting, although violent. However, they were located in an area not typically visited by many international visitors.
It was a change of leadership in 2016 that led to many improvements and changes in the country. Under the new president, the country has opened up for tourism, improved visa access and reformed civil rights issues.
This opening has led to purposeful tourism in Uzbekistan. Investment in infrastructure such as the high-speed train as well as hotels and English signage makes the country accessible for visitors and easy to explore.
How many days do you need in Uzbekistan?
In short, a minimum of 7 days, while 10 days would allow you leisurely see the main cities. Fourteen days would be great if you're a slow traveller.
The main tourist route takes in Tashkent, Samarkand, Bukhara and Khiva. These are all connected by train for cheap and easy transport.
In 7 to 14 days you could visit all of these with at least one full day in each and time for travel.
Upwards of 10 days, you could consider adding other places to your itinerary. Less visited spots such as Muynak, the Aral Sea and the Fergana Valley are worth visiting.
---
Do you have any questions or want any more information on when to visit Uzbekistan? If so, drop a comment below and I'll get back to you!
Information is correct as of January 2023 but is subject to change in future.
---
RELATED POSTS…
CENTRAL ASIA: Best Time to Visit Kazakhstan (A Fusion of Cultures & Landscapes)
KYRGYZSTAN: Kol Tor Lake, Kyrgyzstan (A Tough But Beautiful Hike)
KYRGYZSTAN: Ala-Too Square, Bishkek (Everything You Need to Know)
---
PIN IT FOR LATER!