Considering a trip to Croatia? Want to visit beyond the popular tourist spots of Split and Dubrovnik? Or maybe you've seen cheap flights to Pula with Europe's budget airlines. If so, you might be wondering 'is Pula worth visiting?'.
But I am here to tell you that this beautiful city, in Croatia's coastal northwest, has lots to offer. If you're looking somewhere that offers sun, sea, great days out and places to explore, you're in the right place.
Here are just 9 reasons why Pula and Istria are worth visiting on your next summer getaway…
Some of the links below are affiliate links, meaning, at no additional cost to you, I may earn a small commission if you click through and make a qualifying purchase.
Last updated: March 2022. First published: October 2020.
1. Visit Roman Ruins and Historic Buildings
There are so many things to do in Pula itself before even considering venturing slightly outside the city limits. And although Pula isn't the largest city, it is full of ancient Roman historical sites. Get up close and personal with how the Romans used to live in these must-visit Pula attractions.
When in Rome Pula, live as the Romans do
The most famous and striking is Pula Arena (pictured above), an amphitheatre that is over 2000 years old! You can buy tickets to go inside the Arena, or you can walk all the way around the outside for free.
For a half-day activity, you can make your own self-guided tour of historic buildings as you wander around central Pula. The Temple of Augustus in Forum Square was built in 2 BC and is still standing in all its magnificence!
Also nearby is an amazingly preserved floor mosaic from a Roman house that was rediscovered after the bombing during World War 2 (search 'Floor mosaic The Punishment of Dirce' on Google Maps). Additionally, the Arch of the Sergii that stands at the entrance to the narrow pedestrian streets of central Pula and is a great photo spot.
Historic Pula
Hidden out the way, but in the very centre of Pula's Old Town is Fortress Kaštel. Built in the 1600s it offers panoramic views of the city and sea, but it is a bit more difficult to find. Use a maps app and follow the brown-coloured signs for tourist attractions on street corners.
You can buy tickets to go inside the Fortress, but you're able to walk around the outside for free and still have amazing views! Also at the Fortress are the remains of a Roman theatre – free to enter but it does still host events so check in advance.
Another quirky place to visit in Pula is a network of underground tunnels built as shelters during the Second World War. It's called Zerostrasse, and entry is cheap (15 Kuna/£1.70/2.20USD). Within the tunnels, there are also art exhibitions and information on the history of Zerostrasse.
You can also explore several abandoned forts along the coast. As they're abandoned they don't offer any form of history or guest facilities, but they do make for an interesting venture.
To the south of Pula, Forts Stoja & Ovine are in the Stoja area near Valvovine beach, while Fort Monsival is in the Verudela area. And to the north, Forts Grosso and Munida are in the Štinjan area. All in all, the opportunity to get up close to such well-preserved buildings makes Pula worth visiting in itself!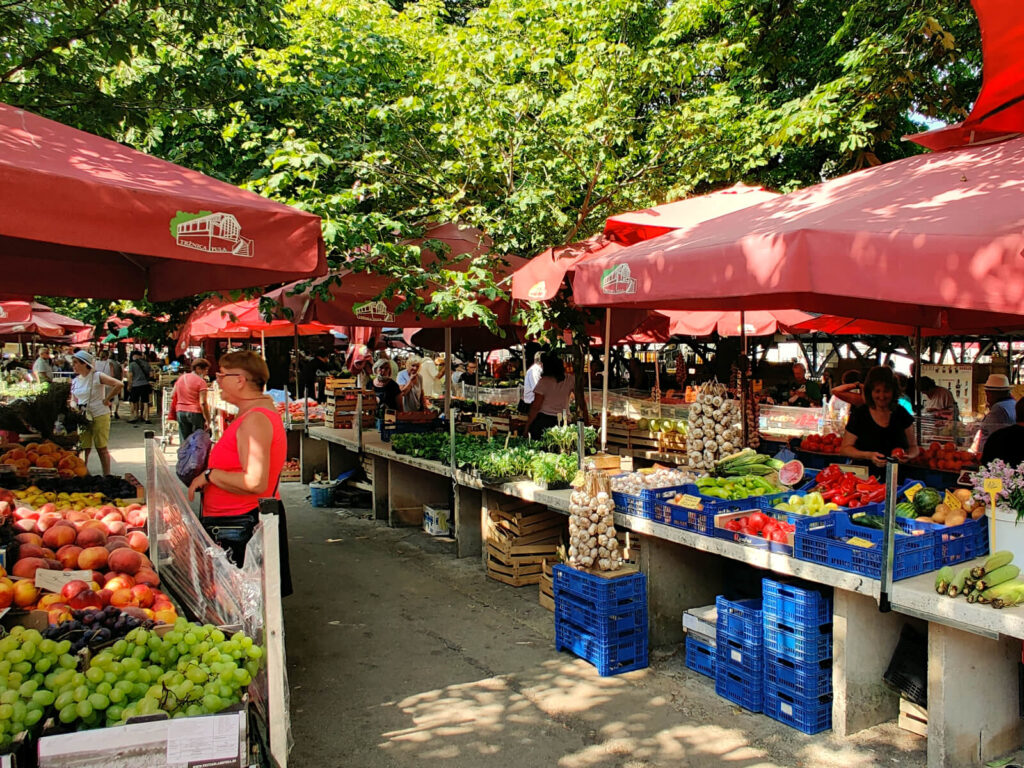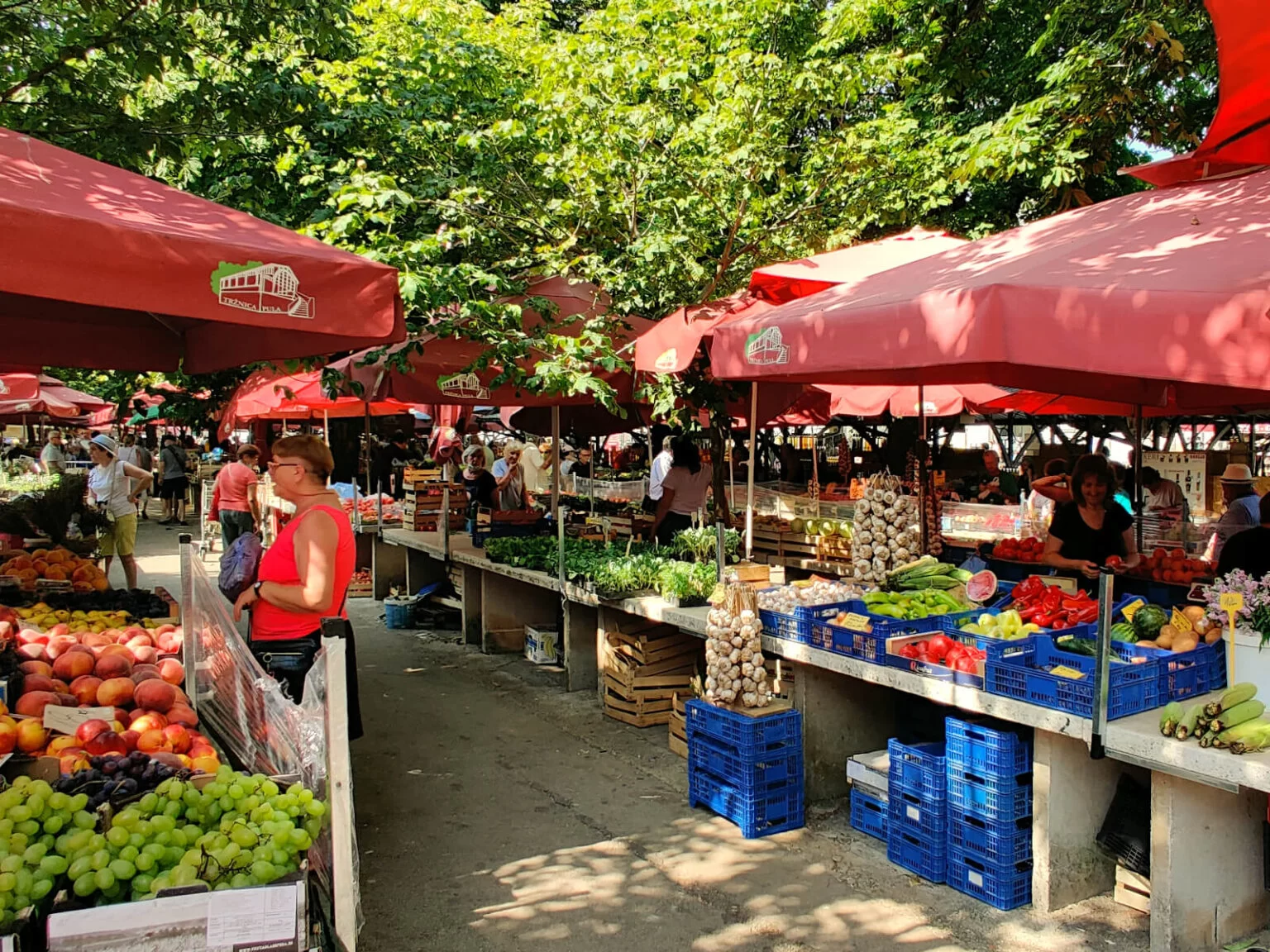 2. Enjoy Italian- and Balkan-inspired cuisine
Perhaps it's Croatia history of formerly being Yugoslavia that makes people associate it more with the Balkans than central Europe. But northwest Croatia, in particular, has so much Italian influence. And the food is the best of it all!
The Italian influence in Pula is quite strong but the food is not trying to imitate Italy, it is as much part of Istrian culture and history as it is Italian culture. As a result, there are lots of pizzerias and most restaurants serve pasta dishes. For the best pizza in Pula eat at Pizzeria Jupiter, plus they do wonderful wine as well!
A more Balkan dish is Cevapi (also known as Cevapcici). Generally, this is a minced beef dish, that is shaped like small sausages (without any casing/skin) and then grilled. However, in some other Balkan countries this dish may contain lamb and/or pork minced meat. Typically, cevapi will be served with chips or flatbreads, salad and minced red pepper. It's amazing – try it!
I could be here all day listing the incredible food in Croatia, but I'll finish with an ode to my favourite food group: carbohydrates. There are bakeries everywhere in Pula. The smell of fresh bread and pastries fills the air every morning…
Take a trip to a bakery, point at what you want (unless you speak Croatian), and enjoy! Bakeries tend to be very affordable in Pula, think Lidl bakery prices. And many have an outside seating area and also serve hot and cold drinks for the perfect breakfast. But do watch out for the pesky pigeons eyeing up your food!
So, is Pula worth visiting for the food? Abso-bloody-lutely! Particularly if you love carbs, pizza or pasta. Prefer wine? Keep reading…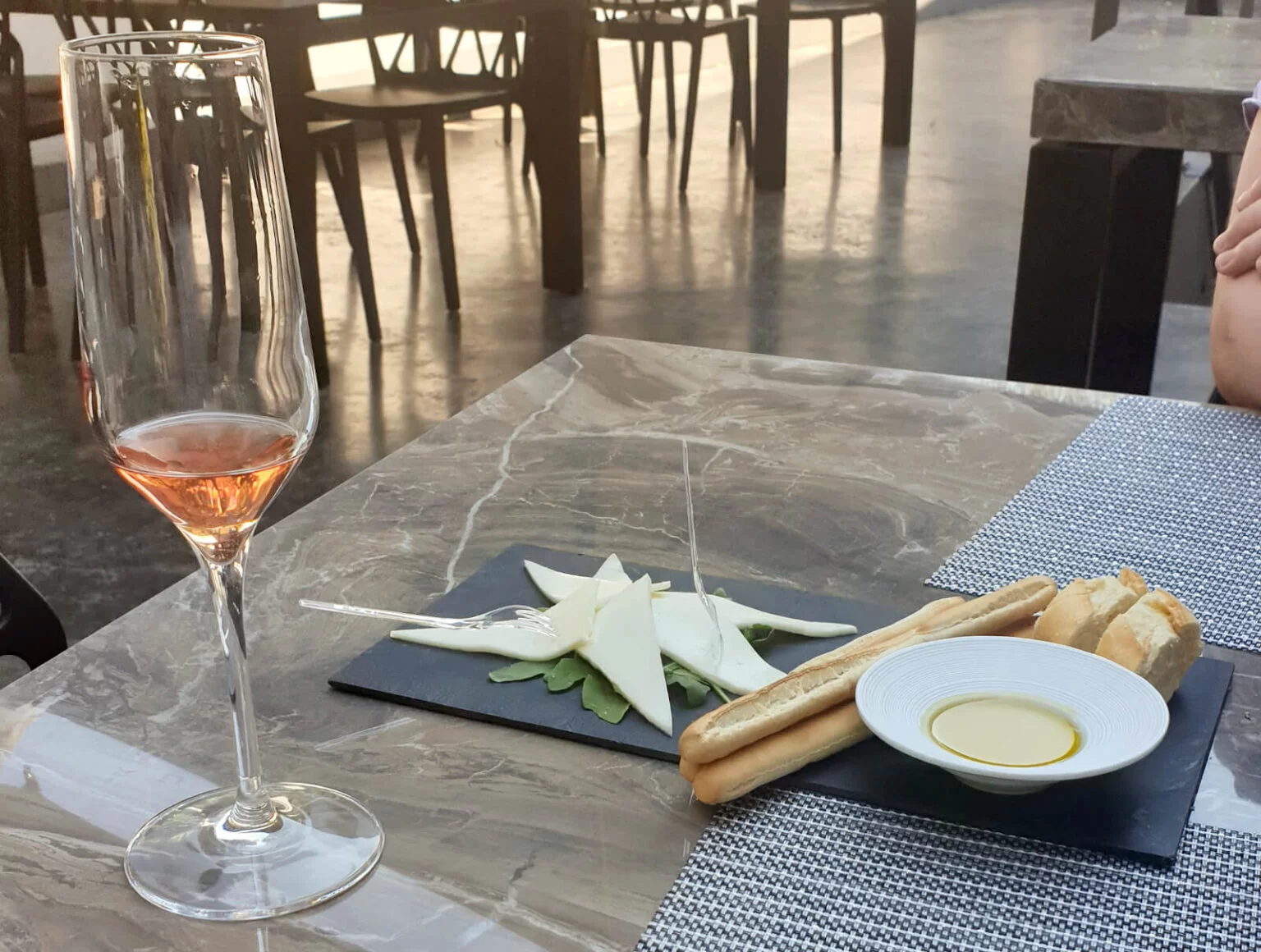 3. Sample Local Wines and Olive Oils
Istria is one of the oldest winemaking regions in the world, dating back to approximately 6 BC. The region has three different types of soil, and combined with the year-round mild climate, is perfect for grape growing.
Despite this, Istrian wine is consumed mostly domestically and very little reaches an international market. But, a plus side of this is that almost all hotels, restaurants, bars and shops have Istrian wine available!
In addition to wine, the region also produces exceptional olive oil. But again, this is rarely seen on the international market as it isn't produced on the same large scale. In fact, in Pula, there is even an Olive Oil Museum!
One of the best things to do in Pula is to go wine tasting. Several vineyards have tasting menus and sessions available. And surprisingly, this is a very affordable activity. Expect to pay around £10 per person for a tasting session of 5-6 wines and one olive oil, with breadsticks/meat platter on the side.
Vineyards in Istria/Pula worth visiting
There are plenty of vineyards in the region, the two I'd recommend are Medea and Vina Benazic. Medea is slightly further out in the small town on Vodnjan, whilst Vina Benazic is located in the surburbs of Pula.
RELATED POST: For more information on the best wineries in and around Pula and why you don't need to go on a tour, check out this total guide to wine tasting in Pula.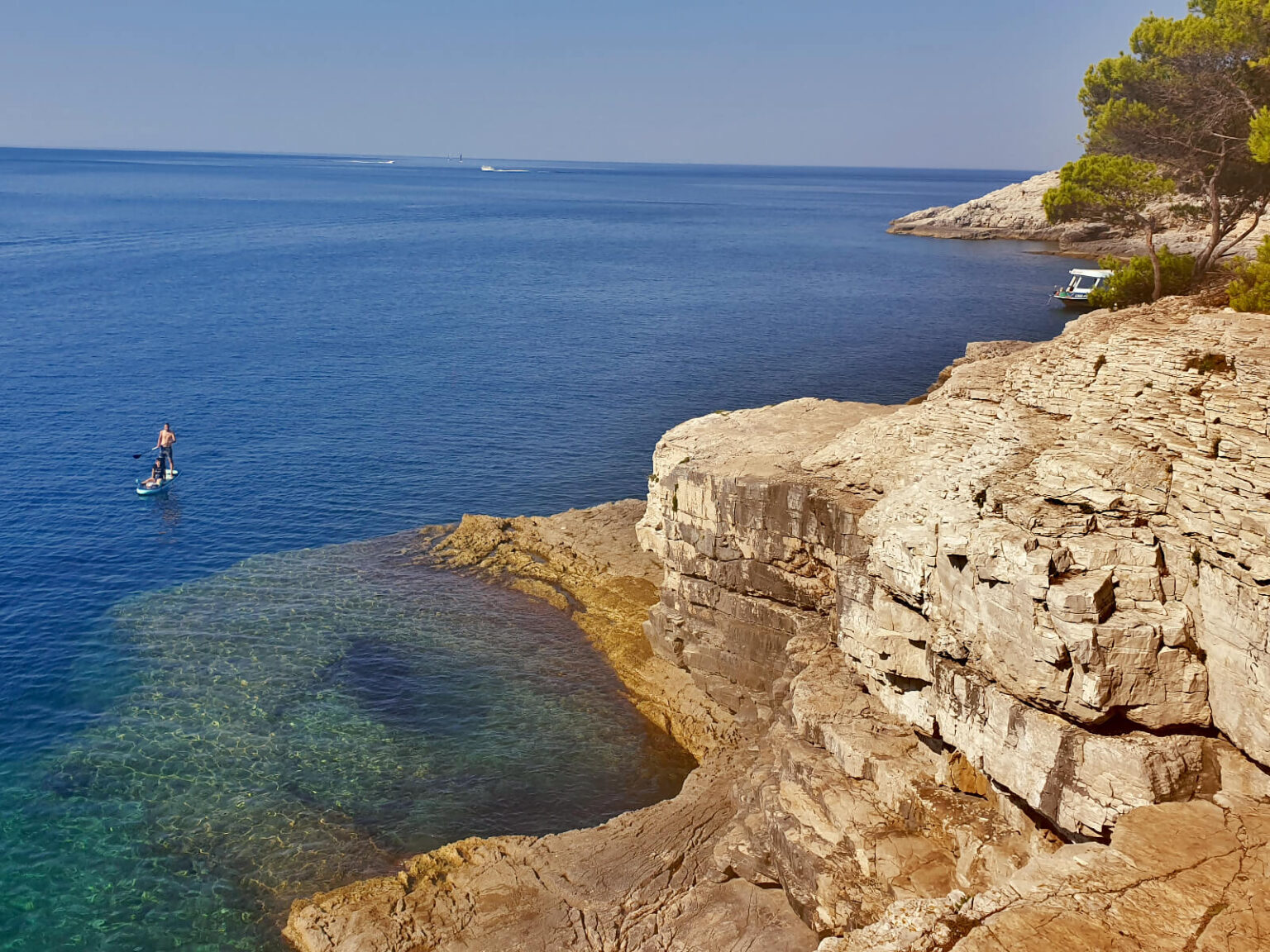 4. Take in the Stunning Coastlines and Crystal Clear Waters
If you're after white sand beaches then you'll be disappointed to know there aren't any in Pula. But don't stop reading just yet! Pula has some of the best coastlines in Europe…
Pula's coastline is full of coves, bays and peninsulas. If you head out to the areas of Stoja, Valovine or Verudela you'll find many small beaches as the land bends and curves into the sea. The beaches are pebble and this makes for crystal clear water as no sand is carried in the water! Just make sure you bring water shoes and you'll be fine on the pebbles…
The cliffs and rocks also make for great jumping spots and rock pools. And the clear visibility makes snorkelling a popular activity. Kayak hire and kayak group trips are also popular and can be booked locally. With both options, you can explore the cliff caves along the coastline in Pula.
Whether you just like to lay by the sea or if you like a mix of sunbathing, swimming and watersports then Pula is worth visiting! It has something for everyone in this respect, plus warm seas and barely any seaweed, yes, please!
RELATED POST: If you're looking for more information on the best places to swim, snorkel or sunbathe, then you'll want to read this post on the 11 best beaches in Pula. It's full of useful information and practical tips!
5. Make Use of the Excellent Transportation Links
Planes, trains and automobiles sum up Pula's transport offerings pretty well! For such a small city of fewer than 60,000 people, Pula is a great hub for exploring the whole Istrian peninsula as well as further afield into Croatia, Slovenia and Italy.
Air
Unlike some cities where the airports can be miles from the city, Pula airport is just a 10-minute drive from the centre. Direct flights to Pula from many major European cities operate daily, and there are also domestic links to cities such as Split and Dubrovnik.
Buses
From Pula bus station you can catch local buses to the beaches of Pula, as well as other towns in Istria such as Rovinj, Medulin and Premantura. Intercity bus services also operate from Pula bus station. Tickets can be bought from kiosks inside the station, on the bus, or, in some cases, through the individual bus service app.
Trains
Train services also run from Pula's end of the line station north of Pula Arena. Services run to Buzet and Lupoglav in northern Istria throughout the day, although the regularity of services varies. Tickets can be bought at the station at certain times of the day or on the train, but you'll need the correct cash for this.
Taxis
Finally, Uber is available in Pula. A perk here is that the price you are quoted when you request the ride is what you are charged, rather than it being dependent on the actual route taken. Although, there are not that many drivers, so at times it can be a slightly longer wait.
A good alternative to use in these cases is Cammeo – the Croatian version of Uber. Whilst you can pay with your card via the app, that didn't always work for me so I'd suggest having cash available.
The range of public transport links makes seeing the best places to visit in Pula and Istria much easier. Plus you can always consider car hire or bike hire if you prefer to do things by yourself!
6. Experience the Feeling of Venice in Rovinj
Rovinj is Istria's second city, and it is an absolute hidden gem of Europe! Cobbled streets, narrow walkways, and a marina full of superyachts and sailboats…
Rovinj has a heavy Venetian influence, and the similarities with the Italian city don't end at the architecture. Rovinj has incredible food offerings including pizza, pasta, fresh seafood and some of the best ice cream I've ever had!
Although much smaller than Venice and without the canals, Rovinj doesn't have mass tourism. You can wander the small streets and watch as the buildings drop into the sea without getting caught behind a tour group! And as a result, the prices are much more reasonable – it costs just 20 Kuna (£2.20/2.90 USD) to climb the bell tower of St Euphemia's church for panoramic views of Rovinj.
Although, you can always experience the feeling of Venice in Venice. Ferries run from Pula to Venice offering the chance to be in this magical city in just a few hours. See more below…
RELATED POST > > > Everything You Need To Know About A Day Trip From Pula To Rovinj
7. Tick off Slovenia and Italy with a Trip Over the Border
The region of Istria sits along the Slovenian border. And there is just 47km of Slovenian coastline before the Italian border to the north. So both Pula and Istria are perfectly located as a base for day trips to Slovenia and Italy.
If you've been inspired by the Italian feel of Rovinj, Venice itself is just a three-hour boat trip across the Adriatic Sea. Day trips are available through the ferry companies that operate out of Pula and Venice Ports.
Similarly, the city of Trieste is also a short, 90-minute drive away from Pula (through Slovenia). Trieste sits around 2 km away from the Slovenian border. And a perk of travelling within the European Union is a lack of hard borders, so you'll only know you've crossed into Italy by a sign on the roadside! You can get to Trieste by bus or hire a car in Istria and take the drive yourself. Be sure to check driving regulations for Slovenia before you do though!
If you're wanting to take a trip to Slovenia, the capital city of Ljubljana is just a 2-hour 15-minute drive away from Pula. Or take your pick of the many towns just across the border. Buses from Pula to Ljubljana require a transfer in Trieste or Rijeka and take around 4-6 hours so are suited to more overland travel than a day trip.
8. Enjoy the Warm Climate from May to October
Sat on the Adriatic sea, Pula has relatively mild weather all year round. Although temperatures through late autumn to early spring are not best suited to the typical tourist pursuits of enjoying the beach and sea!
From May to October, the average temperature high is at least 20 degrees Celsius. When I visited for a week in August, the temperature was at least 32 degrees every day! Being at the coast made this much more bearable than inland areas that were very humid.
Another plus of visiting in the summer months is the warm sea temperature, which can reach around 27 degrees between July and September. And during these months the lowest recorded sea temperature is still above 20 degrees! Perfect for swimming!
However, temperatures do get to single figures in the winter months but it doesn't often snow. Is Pula worth visiting in the winter months? Perhaps not so much unless you were only there for a day or two to see the city centre attractions. But is Pula worth visiting in the summer? Absolutely!
9. Visit the Many National/Nature Parks Including the World's Smallest Town
As well as food, drink, pretty towns and beautiful beaches, Istria has some stunning countryside. There are some national parks and natural parks that are protected areas and make for great days out exploring.
Brijuni National Park
Of the just 8 national parks in the whole of Croatia, one is located right on the doorstep of Pula. Brijuni National Park is spread across 14 islands off the coast of Pula, which can only be reached by boat. Many operators run day trips to some of the islands, often including unlimited drinks in the package. Although there are some hotels on the islands for a slighter longer stay.
Učka Nature Park
On the western side of Istria is the Učka Nature Park, which has many walking routes, hills, waterfalls and historic remains. Though this may be more of an option for the more active and adventurous of you! The park's website has a lot of downloadable guides, maps and routes to help you plan your visit.
Just outside of the Nature Park is the town of Hum, which claims to be the World's smallest town! With a population of just 30, there are often more visitors than residents. But this tiny town has cute cobbled streets, small shops and is surrounded by lush green hills. So, if you're nearby it's definitely worth ticking World's smallest town off your bucket list!
Cape Kamenjak Nature Park
Another option is the Cape Kamenjak Nature Park on the very southern tip of the Istrian Peninsula. The most popular option is to explore the area by bicycle, hired from the town of Premantura where the bus also stops. The park itself is full of beaches, coves, cliffs and wooded areas. So you can spend your day cycling from beach to beach, cliff jumping or hiring a kayak for an altogether different view from the sea!
RELATED POST: Wanting to know more about what there is to do in Pula? Read this guide on the 49 best things to do in Pula.
So, is Pula worth visiting?
After reading this, I hope your answer is yes! Before I visited, I'd never heard of Pula or Istria, yet I had the best time and was so surprised by how much it had to offer.
Far from being a typical European beach resort it still has gorgeous beaches, warm seas and beach bars. But it also offers history, culture, and divine food and drinks! And has the added benefit of fewer visitors and crowds than the tourist hotspots of Split, Dubrovnik and Hvar. Honestly, what's there not to love?!
---
If you have any questions or want any more information drop a comment below and I'll get back to you!
Currency conversions and offerings mentioned are correct as of March 2022 but are subject to change in future.
---
PIN IT FOR LATER!