Many people make the journey from Playa del Carmen to Tulum every day. And, it's easy to see why. Tulum continues to grow in popularity for its chilled vibe, Caribbean beaches and nearby natural attractions. Plus, this Riviera Maya town caters for everyone. From high-end luxury hotels to cheap party hostels, street food stalls to fancy, fine-dining restaurants, Tulum has it all.
So, if you're also needing to travel to Tulum, this ultimate guide to your transport options in 2022 is exactly what you need.
Last updated: January 2022. First published: November 2021.
Some of the links below are affiliate links, meaning, at no additional cost to you, I may earn a small commission if you click through and make a qualifying purchase.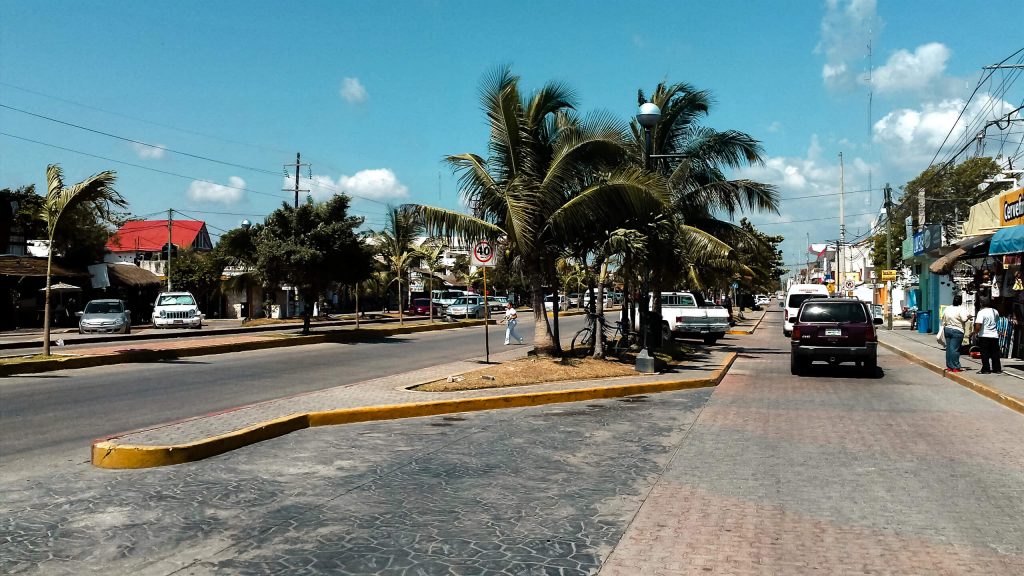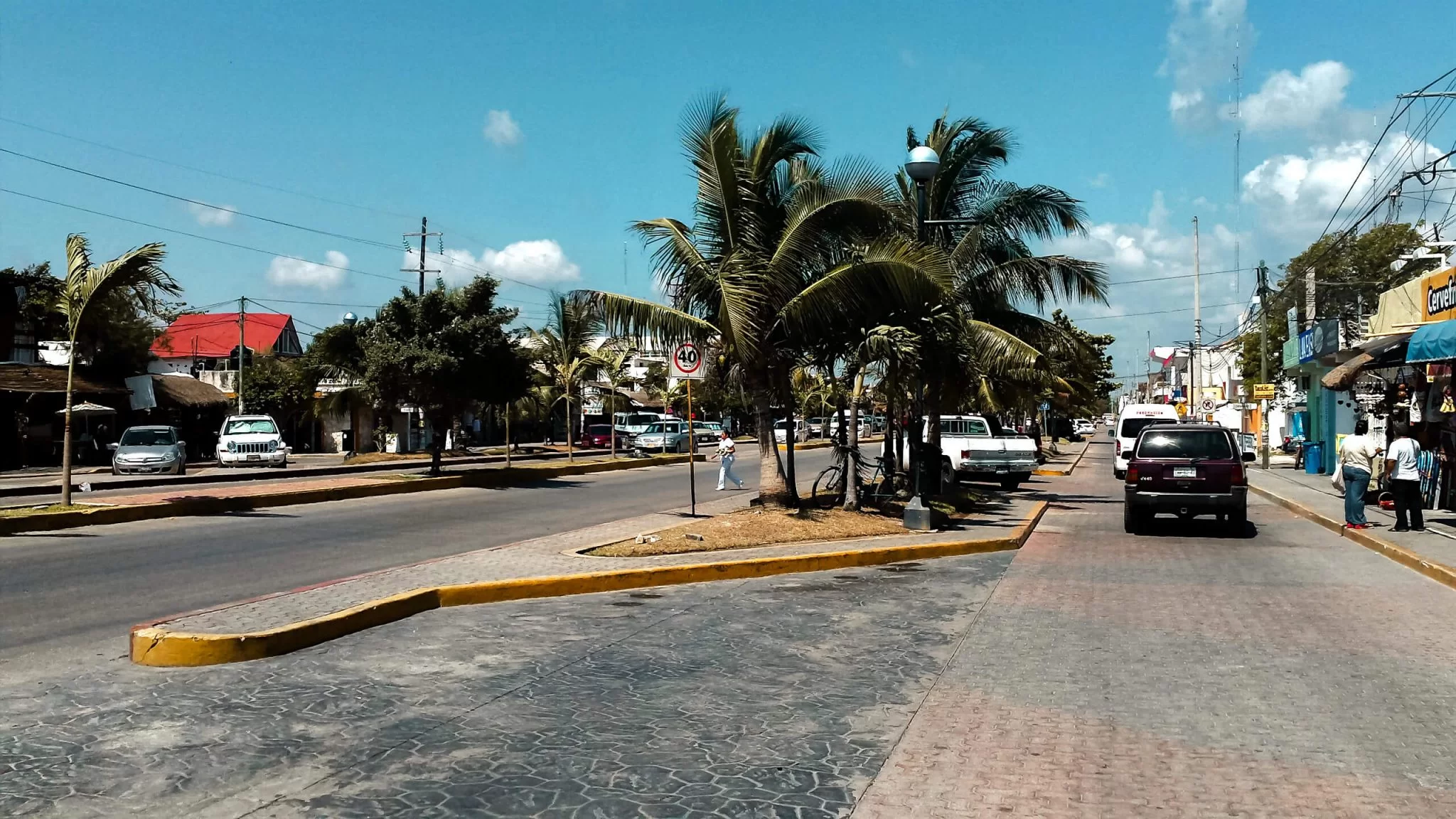 How to get from Playa del Carmen to Tulum
ADO Bus
Buses to and from Tulum run a couple of times an hour from around 6.30am to 10pm. As well as some in the early hours between midnight and 2am. This route has a journey time of little over 1 hour.
Schedules for the first-class ADO service can be checked online and you can also book tickets online or at the bus station. On the normal 44-seater ADO buses, tickets cost around 100 pesos. These services will have room for luggage as well as having air conditioning and a toilet on board. Smaller 16-seat services also run this route, costing around 50 pesos – but without much luggage room and no onboard facilities.
Another option is to take a second-class bus. These are still coaches but have less legroom and fewer onboard luxuries – which is fine for a short journey like this. Mayab – a company owned by ADO – is one example of these services. Their timetables, prices and tickets aren't available online but can be checked and booked at Playa del Carmen Bus Station.
Colectivo
A direct colectivo route operates between Playa del Carmen and Tulum. Hop in a colectivo under Highway 307 – the main road about 10 blocks back from the beach. The journey to Tulum costs around 40 pesos one way and will drop you off near the bus station in the central part of Tulum town. To travel back from Tulum to Playa del Carmen, simply navigate to the same place you are dropped off and repeat the process. Colectivos run between Playa and Tulum until about 11pm.
Getting to Tulum's Hotel Zone and the Tulum Beaches
If you take a bus or colectivo to Tulum, these will drop you off in Tulum town. Which, is a couple of kilometres from the beach and hotel zone. A popular option in Tulum is to cycle between the town and the beach or you can take a taxi.
Taxi
If you want to take a taxi from central Playa del Carmen to Tulum town, expect to pay around 600 to 650 pesos. More, if you want to go to the southern beaches or hotel zone.
However, the price will be dependent on your negotiation skills. The first price quoted to you will likely be very high – you need to negotiate. Don't be afraid to walk away if you feel like you're being taken advantage of. And, never get in the taxi until you've agreed on a fare. You'll have no bargaining power once you've already been driven for an hour to Tulum!
Tours to Tulum
It's unlikely you'll find a tour that just goes to Tulum for the day. But, some of the day trips that go to Tulum or Coba ruins – or the nearby cenotes – also include some free time in Tulum town.
If you do book a tour, make sure you know exactly what is and isn't included in the price. And, remember, that you can normally haggle on the price of a tour – just make sure you're clear about being in dollars or pesos. It can be confusing as both pesos and dollars use $. And, USD is often quoted for higher prices to make it seem less expensive (with a smaller number)
> > > RELATED POST: Travelling from Cancun to Tulum? You'll need this complete 2022 guide for all your transport options!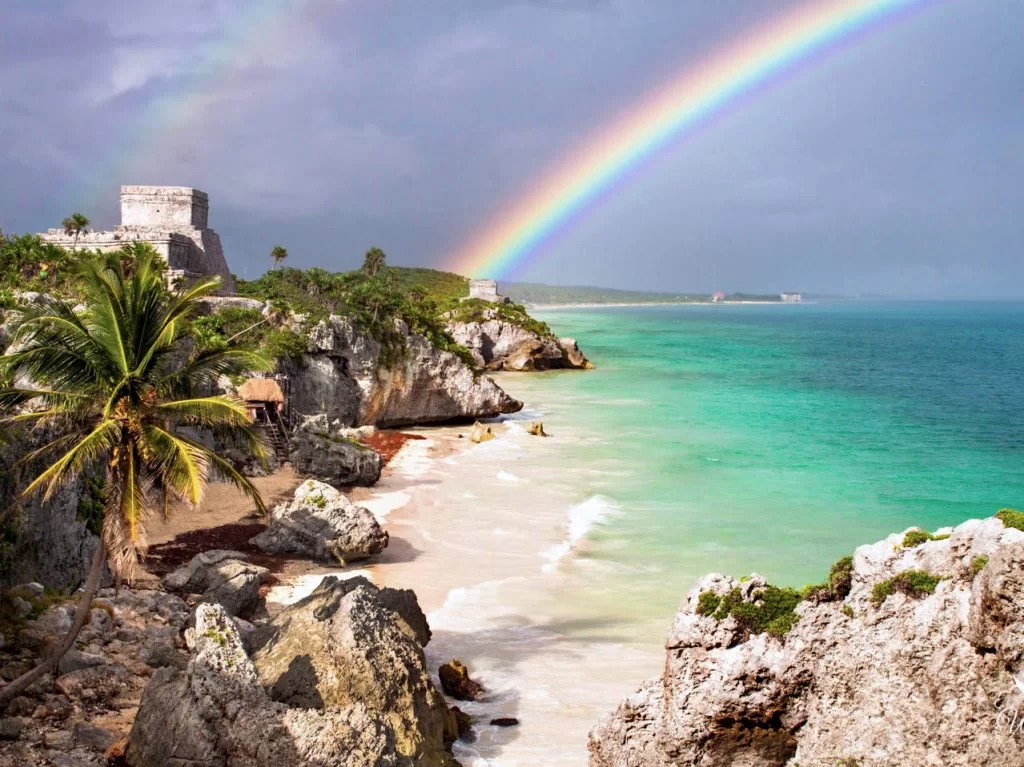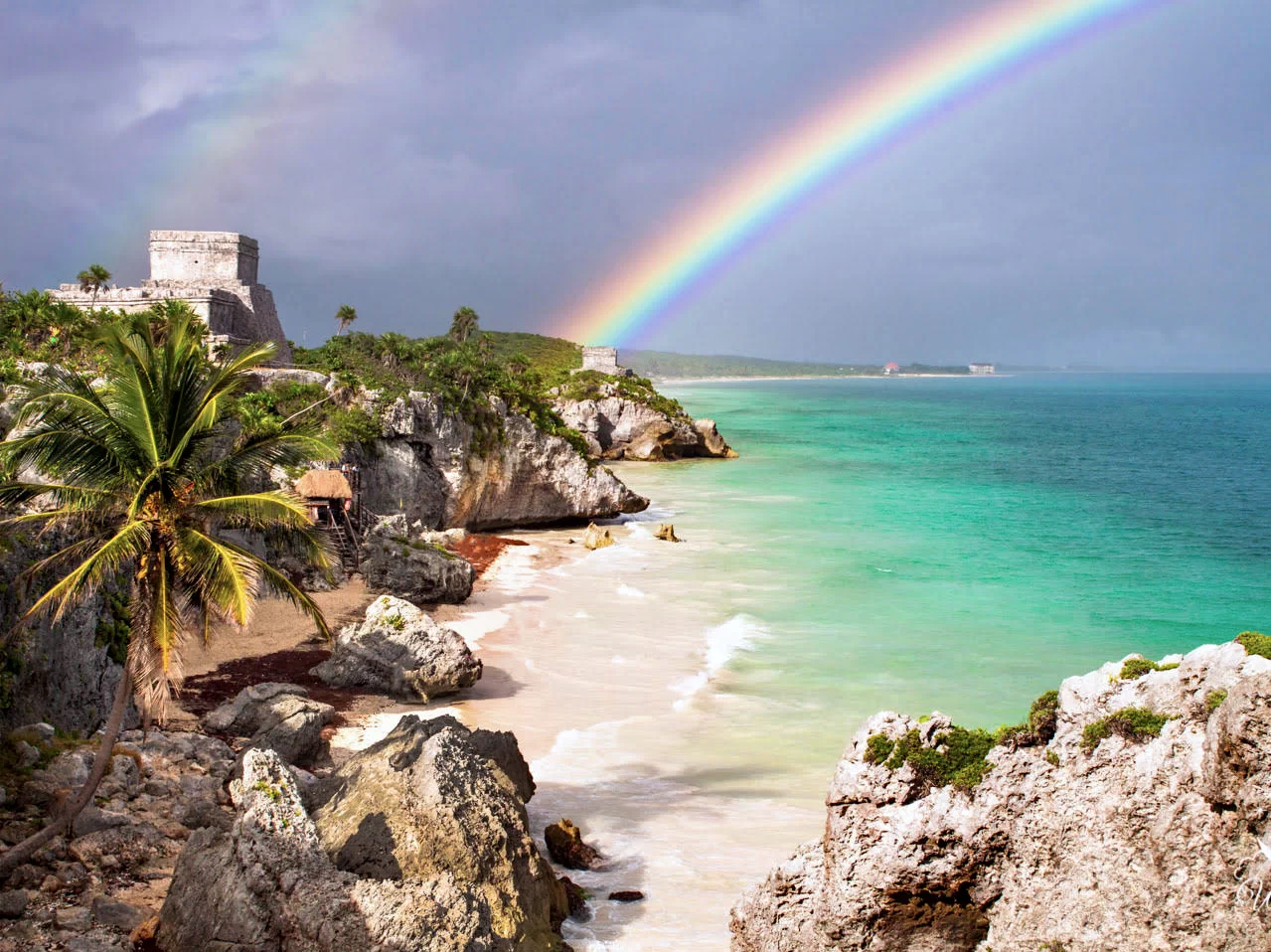 How to get from Playa del Carmen to Tulum Ruins (Zona Arqueológica de Tulum)
Tulum's archaeological site, full of Mayan ruins, is open every day from 9am to 3.30pm. Though not as impressive and grand as Chichen Itza and Uxmal, Tulum ruins are uniquely placed right next to the Caribbean Sea. The ruins can be easily reached from Playa del Carmen and are just one of a number of great things you can do in the Riviera Maya.
ADO Bus: Direct to Tulum Ruins
Buses run from Playa del Carmen to the archaeological site in Tulum a few times a day. How regular the buses run and the exact times change throughout the year. So, it's best to check in advance before turning up at the bus station.
The journey from Playa del Carmen to the ruins takes just over one hour. A ticket on an ADO bus costs around 100 pesos one-way. Sometimes, a smaller 16-seater bus is used for the services later in the day, costing around 50 pesos. However, this isn't always available.
For the return journey from Tulum's ruins to Playa del Carmen, there are only 2 buses a day. Currently, one is at 16.40 (16-seater) and the other is at 17.45 (large coach). Do note though, that the fares are not fixed – the more seats that are sold, the more expensive the tickets become.
While taking the bus is a cheap and easy option, the return times are not ideal unless you're planning on also spending some time at the beach. Playa Santa Fe and Playa Paraiso are both just a short walk from the ruins. If you don't want to wait for the late afternoon return buses, your other options are to travel to Tulum town and catch a bus from there. Or, you can take a taxi back up the Quintana Roo coast.
Additionally, if the outbound times don't work for you, there's always the option to take a bus to Tulum Bus Station and catch a taxi from there. Getting a bus to Tulum is described in a separate section above.
Colectivo + Taxi
Colectivos leave Playa del Carmen from underneath Highway 307 – at the junction by Chedraui/McDonalds. Search for 'Colectivo station – Playa Del Carmen to Tulum' on Google Maps for the exact location. The colectivo to Tulum costs around 40 pesos and the minibuses leave once they are full rather than on a schedule.
In Tulum, the final destination for the colectivos is near the ADO bus station. From here, it is easy to catch a taxi to the ruins. Make sure you agree on a price with the driver before getting in.
Although the colectivos don't run 24 hours, they do operate between 5am and 11pm, typically. As such, you shouldn't have any issues getting to the ruins or back to Playa del Carmen in a colectivo. In the early morning and later at night the colectivos will run less often due to lower demand meaning it takes longer before one becomes full enough to leave.
> > > RELATED POST: Looking to visit a few towns in Quintana Roo? Arriving into Cancun Airport and needing to get to Playa del Carmen? I have the answers to your transport dilemmas and questions in this complete travel guide for getting between Cancun and Playa del Carmen!
Taxi
A slightly more expensive option, but the most direct and quickest route to the ruins. From Playa del Carmen, a taxi to Tulum ruins will cost around 600 to 650 pesos – dependent on your negotiation skills. Expect the first quote to be much higher.
The driving time is around one hour. If you're wanting to head straight back to Playa del Carmen after your visit, you can pay your taxi driver to wait. Plus, of course, the return fare. Alternatively, taxis are easy to come by both at the ruins and along the nearby Tulum beaches.
If you're travelling as a small group, the cost can be split – although, taking a bus or colectivo is still more economic. To avoid paying tourist tax on your taxi, be sure to agree on the fare with the taxi driver before starting your journey.
Tours to Tulum Ruins
It won't be difficult to find a tour company in Playa del Carmen to take you to Tulum Ruins. Just walk down 5th Avenue and you'll get more offers than you can count.
While a tour may seem convenient, it does usually come with a pretty hefty price tag. Plus, expect a trip to Tulum Ruins to be combined with at least one other place. It's typical in Mexico for tours to popular places to include two or even three other places – sometimes that you don't really want to visit. Like, workshops, shops or small towns. Generally, in these places, the tour company will receive a commission for your purchases.
If you're just wanting to visit the ruins, then I'd recommend travelling there yourself by bus, colectivo or taxi. But, if you want a full day out to multiple places, with the ease of private transportation and a guide, then book a tour. Just expect prices to be quoted in US dollars – this is typical in Mexico for more expensive things (so it doesn't look so much!). For instance, 100 USD is over 2000 pesos.
---
If you have any questions or want any more information, drop a comment below and I'll get back to you!
Information is correct as of January 2022 but is subject to change in future.
---
Mexico Travel Guides
Quintana Roo: Getting from Cancun to Tulum and Tulum to Cancun (Transport Guide)
Quintana Roo: How to get from Cancun to Playa del Carmen (Transport Guide)
Central Oaxaca: San José del Pacifico, Oaxaca (Complete Travel Guide)
Quintana Roo: Punta Mosquito, Holbox: Ultimate Visitor's Guide
Quintana Roo: Travelling from Cancun to Holbox: All Transport Options
Guanajuato: Guanajuato Funicular: Everything You Need to Know [Travel Guide]
Chiapas: Visit El Arcotete Eco Park in San Cristobal, Chiapas [Complete Guide]
And much more, check out all Mexico Travel Guides here!
---
PIN IT FOR LATER!