Looking for all the information you need for a day trip from Pula to Rovinj? Or just how to get to Rovinj? Or, maybe, you're struggling to find up-to-date information in one place? I know I was when I was planning my time in Croatia.
So here, I'll cover how to get to Rovinj and the best places to visit when you're there. And as an added bonus I've even let you in on my recommendation for the best ice cream in the whole city!
Last updated: October 2021. First published: December 2020.
Some of the links below are affiliate links, meaning, at no additional cost to you, I may earn a small commission if you click through and make a qualifying purchase.
How far is it from Pula to Rovinj?
The distance from Pula to Rovinj (bus station to bus station) is about 35 km. To travel this distance by car or bus takes about 40 minutes through the peaceful Istrian countryside.
How do I get to Rovinj from Pula? And to Pula from Rovinj?
You have three options: bus, taxi, or car hire. Rovinj doesn't have a train station, so that isn't an option.
Bus from Pula to Rovinj and Rovinj to Pula
Several companies offer this Pula-Rovinj & Rovinj-Pula bus route. As a result, prices vary slightly between bus companies. Additionally, you may need (or want) to purchase two singles rather than a return if you want to travel back with a different bus company.
For a return trip between Rovinj and Pula, the ticket price is around 50 Kuna for adults in the off-season (and around 75 Kuna in peak season). Two single tickets may be slightly more. Importantly, you can pay by card at Pula bus station, but need cash to buy tickets from Rovinj bus station.
Be sure to check the bus times in advance as the bus times vary across the day. At times, departures are just 15 minutes apart and then there's none for 3 hours!
As such, I would highly recommend to book your return bus ticket in advance – ideally, as soon as you know what time bus you want. 'Bus' is a loose term in Croatia, our return journey was in an 8-seater car. I booked the return ticket an hour in advance. But, there had been people who had turned up to the bus terminal expecting a bus (without buying a ticket in advance) and then had to wait over an hour for the next bus.
Tickets can be purchased from 12go – a transport-specialist agency that sell tickets online. They also offer the option to pay via Google Pay and Paypal.
The Arriva Croatia website is helpful for checking the bus schedule and ticket prices. The fastest bus takes just 35 minutes to travel between Pula and Rovinj. Although, the longest is only 45 minutes as all the bus routes are direct, just stopping in Vodnjan en route. The quick speed also means you can only get on or off at Pula Bus Station or Rovinj Bus Station in these towns. There are no bus stops within either town if you were hoping to get off closer to your final destination.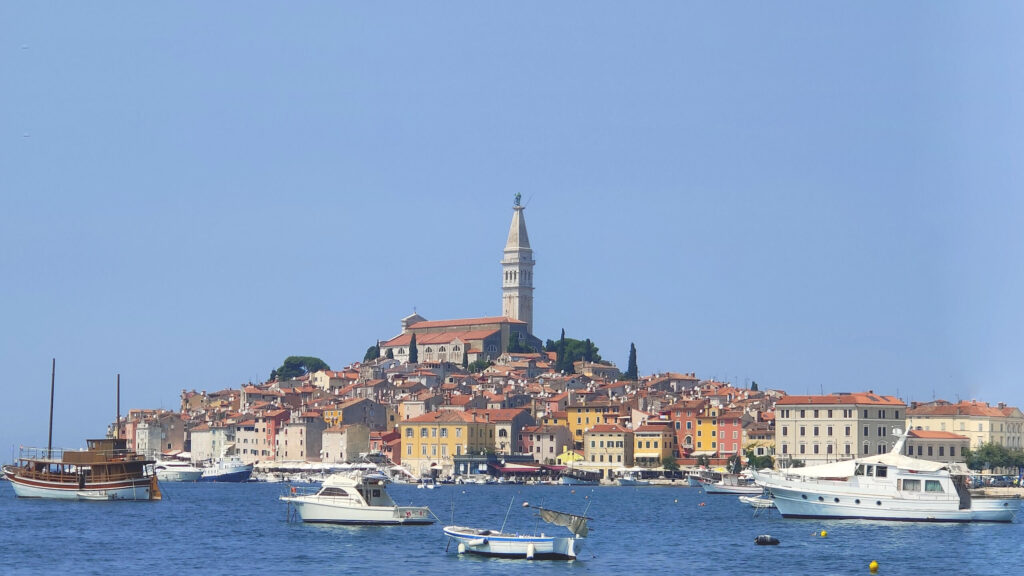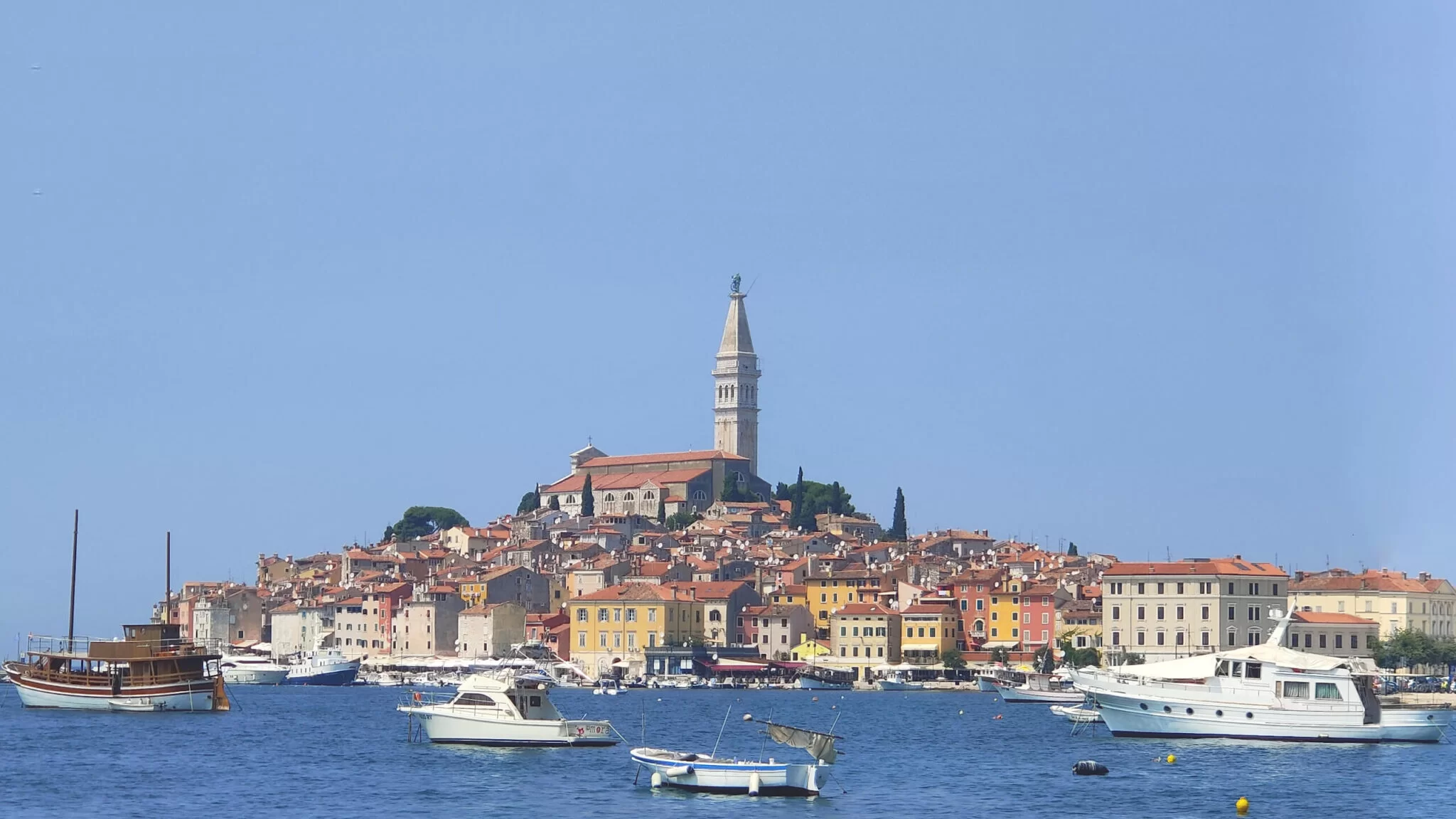 Taxi/Uber
Ubers are the cheapest taxis in Pula, followed by local-equivalent Cammeo. Getting between Rovinj and Pula in an Uber one-way costs around 250 Kuna (£28) without any surge pricing. In contrast, normal taxis cost around £40-50 each way. However, Uber only operate in Pula and not Rovinj. So you won't be able to find an available Uber for the return journey and you'll need to use a taxi or public transport.
Given the cost, Uber may be best if you're staying outside of Pula or far from the bus station. Additionally, taxis may be the best if you need to get to/from Rovinj very early or late in the day.
Car hire
I wouldn't recommend hiring a car just to visit Rovinj. But, if you already have a car (or are hiring one for multiple days) then this will be a good use of it. Given the relatively short and straight-line drive between the two towns, the cost of fuel won't be that much. However, parking in the centre of Rovinj might be a bit of a challenge.
The two largest car parks in Rovinj are Mala Valdibora and Velika Valdibora. You can find both on Google Maps (they're next to each other). The cost is 9 Kuna (£1.10) per hour. As such, this is an affordable option if you are just in Rovinj on a day trip from Pula (ie. 8-10 hours max). But less so if you are wanting to stay overnight.
Also, note that Rovinj can get exceptionally busy in the summer months with car parks full from the early hours. Therefore, you should search in advance for a few other parking spots should there not be space.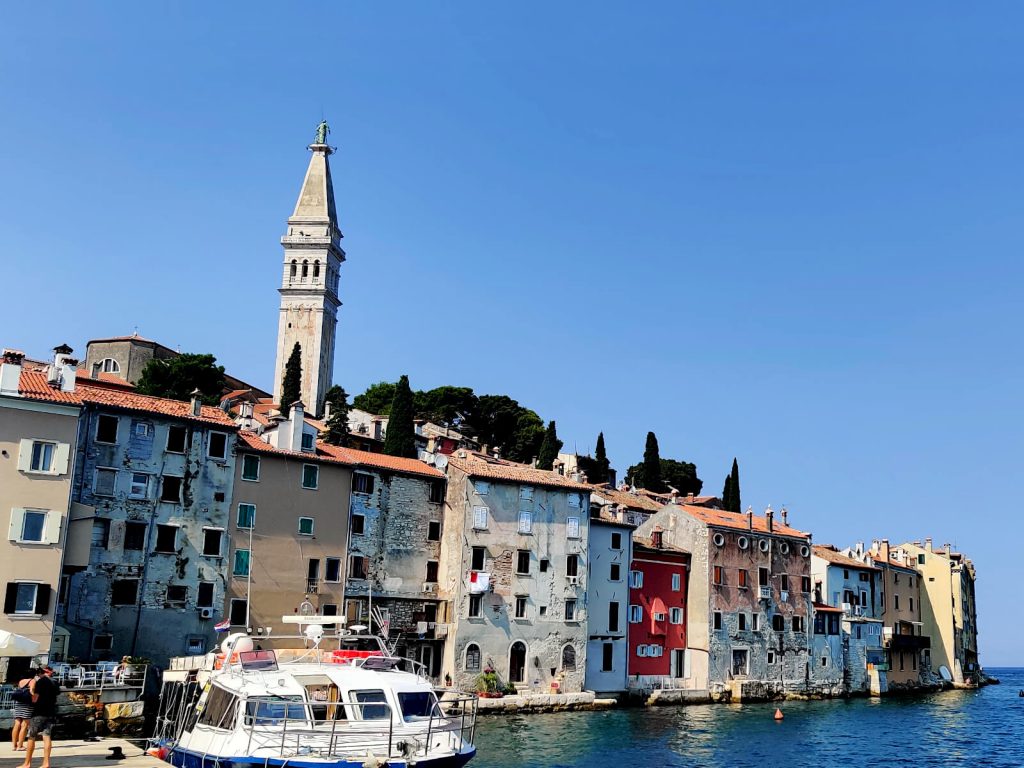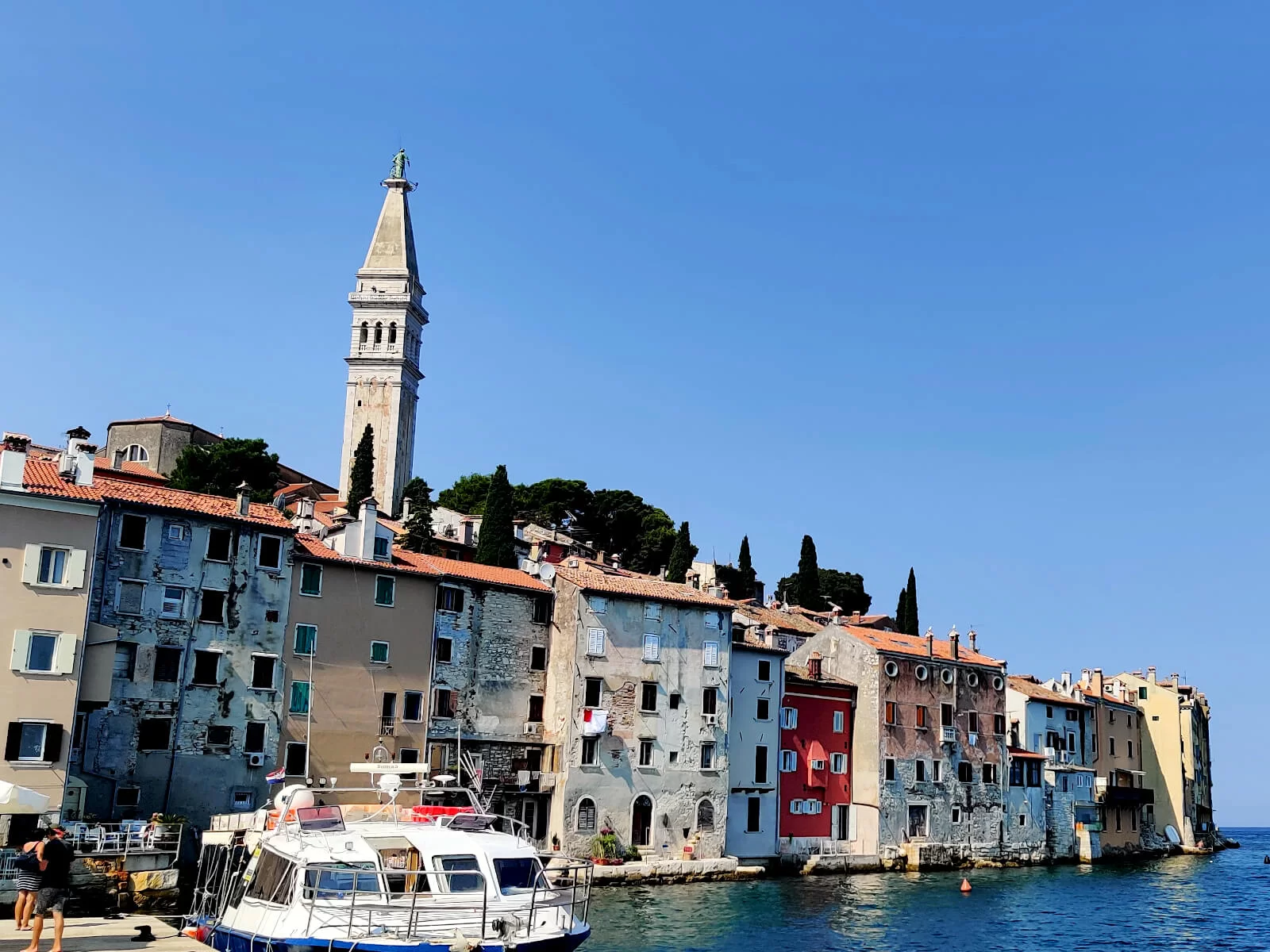 What is there to do in Rovinj, Croatia?
The Old Town of Rovinj is fairly small but nevertheless filled with plenty of things to see and do. This list is not meant to cover everything in Rovinj. But instead enough to fit in during a day trip to Rovinj.
All of the places listed below are pinned on a map at the end of the section.
RELATED POST: Looking for things to do in Pula including other day trips? Read this guide on the 49 best things to do in Pula.
Rovinj viewpoint
The viewpoint on the northern side of the Rovinj Old Town offers one of the most famous backdrops in Rovinj (pictured). Plus, it's only a 7-minute walk from Rovinj bus station, so it's the perfect place to start your explorations.
From this viewpoint, you can see the tall, narrow buildings as they drop into the sea. And the famous bell tower rises up behind from the top of the hill that makes up the old town of Rovinj. All of which makes for a very picture-perfect scene!
You can walk right along the path next to the sea here, and there are plenty of stalls for boat tours and other trips for Rovinj. Additionally, there is also a fairly small market that you can look around for souvenirs or snacks
Narrow streets and boutique shops
To feel like you've hopped across to Venice, take a slow walk through the narrows streets of Rovinj old town. These pedestrian streets are flanked by tall Venetian-style buildings – the type that open straight onto the street and have wooden window shutters that open outwards. And whilst many of these buildings are full of apartments, many have shops or cafés on the street level that will allow you to soak in the vibe of Rovinj.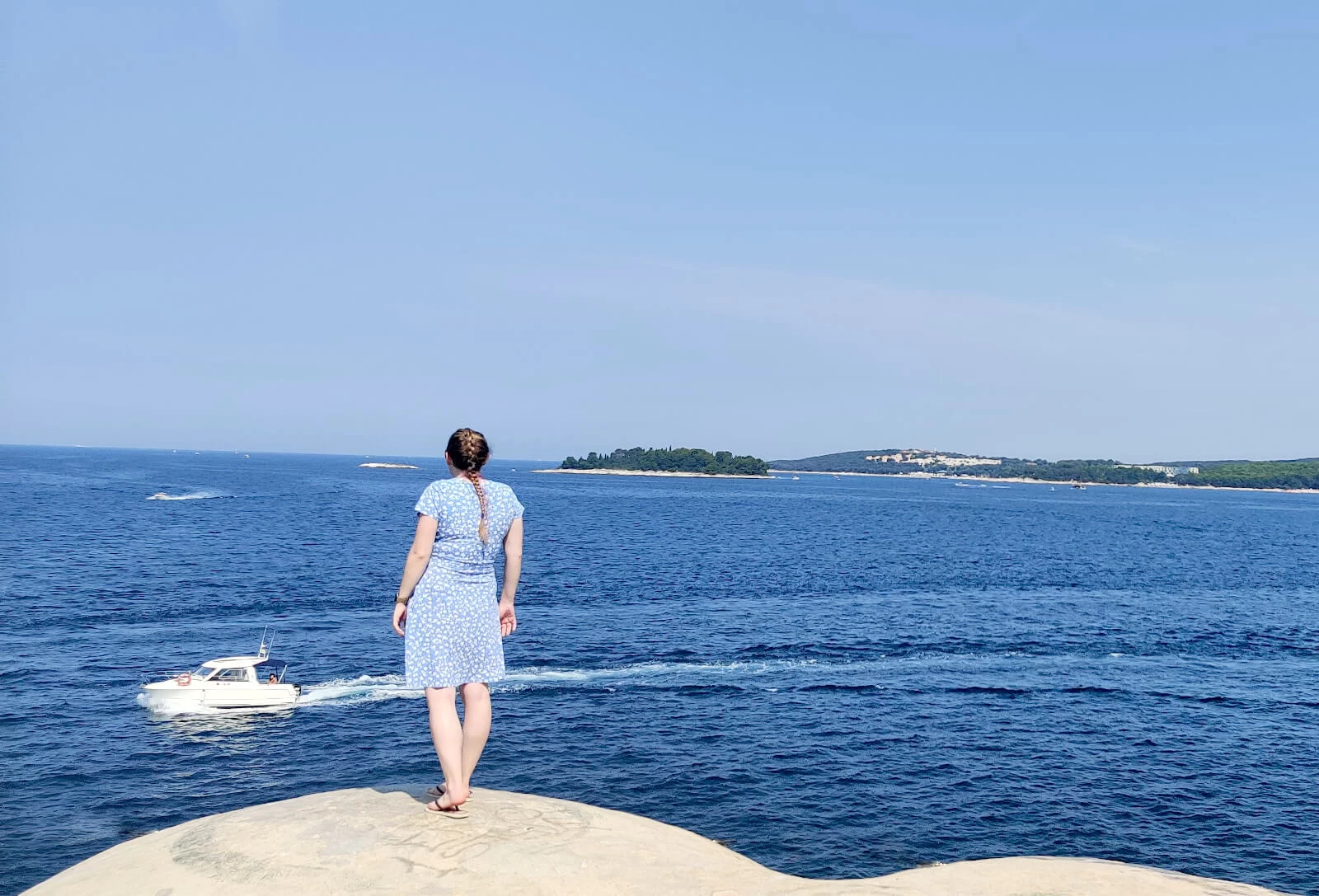 The bunker
The disused bunker on Rovinj's northwestern tip is a great spot for panoramic views looking out over the Adriatic Sea. Plus, you can also swim in the sea here in a specially cordoned area. Sadly, there isn't a sandy beach, but the rocks are fairly flat in places for sunbathing and drop nicely into the sea for paddling.
Have lunch overlooking the marina
Unsurprisingly, Rovinj has plenty of restaurants to choose from and many of these specialise in Italian and/or seafood – given the close proximity to both. The marina is surrounded by restaurants on all three sides to suit a range of budgets and tastes. And since many of the restaurants display their menu outside it's easy to browse the options available.
I ate at Copacabana on the northern side of the marina, and – oh gosh – the spaghetti carbonara was to die for! 10/10 would recommend! Overall, I did find the prices were slightly higher than in Pula, but generally what I'd expect for marina-side, town centre restaurants.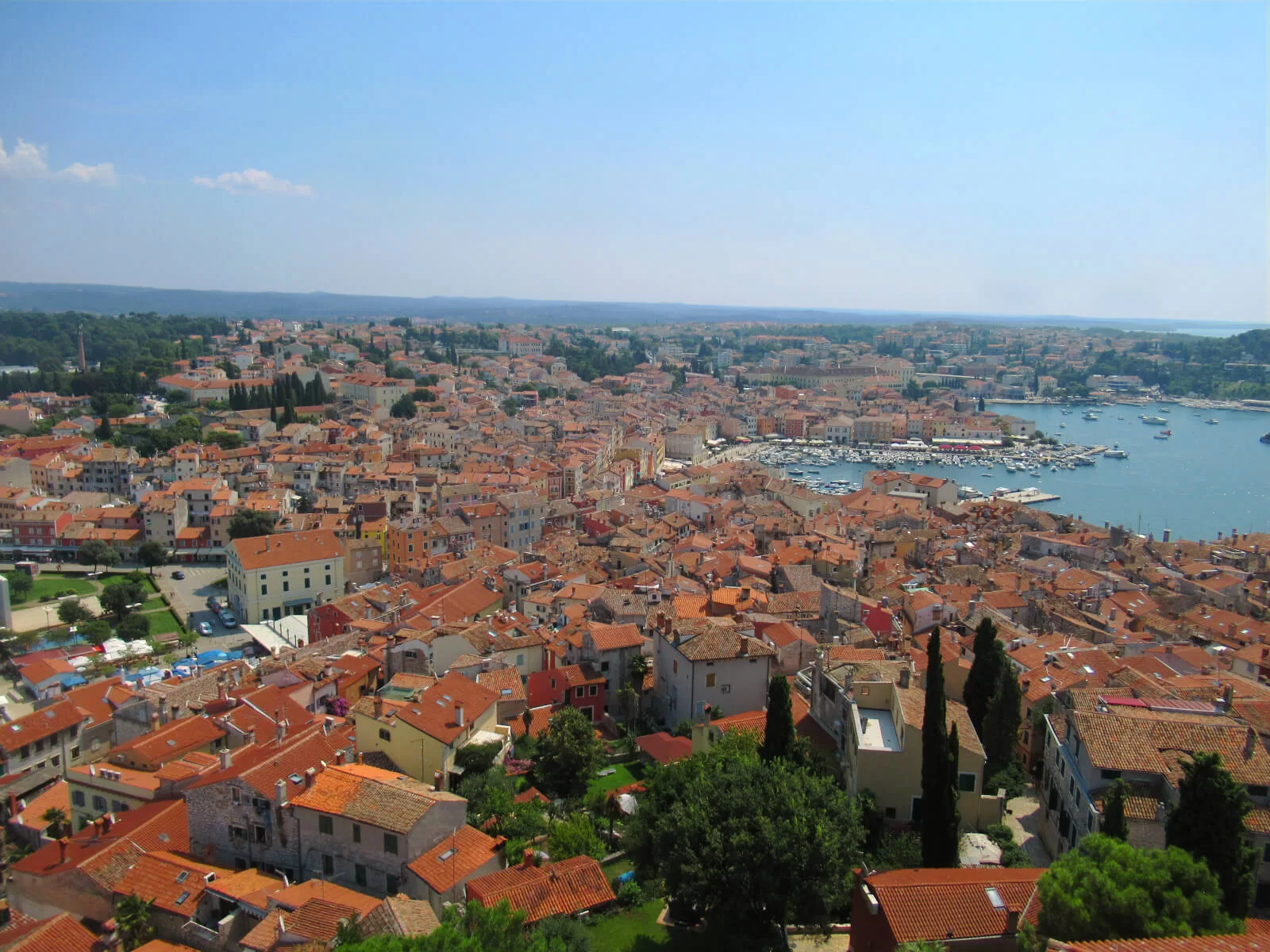 Church of St Euphemia and its famous bell tower
The Church of St Euphemia was built back in 1736 and is still open for services and prayers today. Sat at the top of the hill on the old town peninsula, there is also a bell tower offering a bird's eye view of all of Rovinj. As such, it is the icing on the cake to any trip to Rovinj.
However… this was both my favourite and least favourite experience during my whole time in Rovinj! To reach the top of the bell tower you have to climb 192 of the most uneven and unsteady wooden steps I have ever seen. And I was wearing flip flops – aka the least secure footwear in the history of footwear!
After abandoning my flip flops and facing the fear of rickety steps, the view at the top was even sweeter! After the 192 steps, there's just a small ladder to climb out onto the platform where you'll have the best views of Rovinj, Istria and the Adriatic Sea. I could have spent hours admiring the view (and putting off descending 192 steps)! Plus, if you're at the top on the hour you'll also get to be deafened by the bells ringing out just a few feet above your head!
Given the entrance fee of just 20 Kuna (£2.40) for the bell tower, this is one of the best value attractions in Rovinj. The bell tower is open from 10am to 8pm. Although, perhaps not for the faint of heart or those with mobility issues. The church itself is free to enter.
Take a dip in the sea just a stone's throw from the old town at Plaža Balota
Although you can swim in the sea at The Bunker, the shore at Plaža Balota is a great all-around choice. With stairs going down to both the rocky shore and into the sea, the access is very straightforward. Plus, the rocks and man-made shore areas are much flatter for comfier sitting and sunbathing.
This spot is also a great place to watch the sunset as it sits on Rovinj's western edge.
Relax on the beach
Mulini Beach is just a short walk outside of Rovinj's old town. And is a good option to escape the town for a few hours. Whilst you can swim in the sea in Rovinj's old town, Mulini Beach has much better facilities.
Here, there are showers, sun loungers and parasols available, along with lifeguards for reassurance of safety. There are steps going down into the sea and the water is fairly shallow. Slight further along the shore there is also a pebble beach for more direct access into the sea.
The Rovinj tourist attractions in the old town can easily be seen in a few hours. So, an afternoon at the beach relaxing, tanning and swimming is a great option. And, if you're travelling with someone that wants more chill than explore then this is a great compromise for your itinerary!
Enjoy Rovinj's best ice cream at Gelataria Italia
I read this as a recommendation on the bus on the morning that I visited Rovinj. Instantly I added it to my must-visit list and it did not disappoint! This little ice cream shop is just 150 metres from Rovinj bus station, so is a good place to end your time in the town.
Owned by an Italian family, Gelataria Italia offers a huge number of ice cream flavours as well as desserts and coffees. Two scoops of ice cream cost 20 Kuna (£2.40), but you can only pay with cash. Come prepared to avoid running around trying to find a cash machine 5 minutes before your bus leaves like I was!
Is Rovinj, Croatia worth visiting?
Absolutely! Rovinj, much like Pula, has something for everyone – food, drink, history, and beaches. A day trip to Rovinj is the perfect amount of time to see the town. But consider extending this to an overnight trip if you have time to enjoy the sunset and evening culture. This day trip was one of the highlights of my time in Croatia, so I'd highly recommend Rovinj to everyone.
RELATED POST: Still wondering whether Pula is worth visiting? Check out this post on 9 reasons to visit Pula and Istria.
How long to spend in Rovinj during a day trip from Pula?
I spent 6 hours in Rovinj. This was long enough to see the main attractions, have lunch, relax at the beach and get back to the bus on time. I'd recommend no less than 4 hours to explore the old town and not be rushing around. More if you want to have lunch and visit the beach. But, you could easily spend a full day or even two days if you wanted to explore Rovinj outside of the old town.
Is Rovinj expensive?
I found that food in restaurants was slightly more expensive than Pula. Overall, food in Pula is slightly cheaper than comparable restaurants in the UK. Whereas, Rovinj was more similar to UK prices. However, the restaurants in Rovinj are mostly right on the seafront so have great views.
Other than that, the only other things I paid for in Rovinj were: the bell tower entrance fee, Gelataria Italia ice cream, and snacks/drinks from the supermarket. All of which were similarly priced to Pula.
How do you pronounce Rovinj?
RO-VEEN. And yes, I had spent several days saying rov-inj (with a heavy J), which is absolutely not correct.
---
So now you're all ready to experience Rovinj! How to get there, places to visit in Rovinj, where to eat in Rovinj, and even the best ice cream in Rovinj. And even though getting from Pula to Rovinj takes just 40 minutes, it has a totally different atmosphere. So, it is absolutely worth visiting if you're in Istria!
If you have any questions or want any more information drop a comment below and I'll get back to you!
Currency conversions and offerings mentioned are correct as of October 2021 but are subject to change in future.
---
PIN IT FOR LATER!
Looking for more inspiration for things to do in Pula?