Are you planning a trip to the beautiful coastal city of Pula? Well, then you are probably wondering what the best things to do in Pula Croatia are. I know I was when I was planning my trip, especially with all the new restrictions and changes that 2020 brought us!
Pula Airport is serviced by cheap flights from across Europe on low-cost airlines making it a popular destination in the summer months. But, I was unsure whether they'd be enough for two slightly adventurous, easily bored twenty-something adults to do.
I'd scoured the internet, but most of the lists focused on seeing Pula's ancient landmarks. And, I knew that wouldn't fill up a week's holiday! But after lots of research and an incredible week on the Adriatic coast, I highly recommend Pula as a summer destination. It's the perfect mix of city and sand.
So, to save you else the same pain (and hours of scrolling), I've compiled this comprehensive list of what to do in Pula Croatia. It includes the top places to visit in Pula, the best day trips from Pula to surrounding towns and even some nearby countries you can travel to for a day or two. A perfect travel guide for families, couples or solo travellers!
Some of the links below are affiliate links, meaning, at no additional cost to you, I may earn a small commission if you click through and make a qualifying purchase.
Last updated: March 2022. First published: November 2020.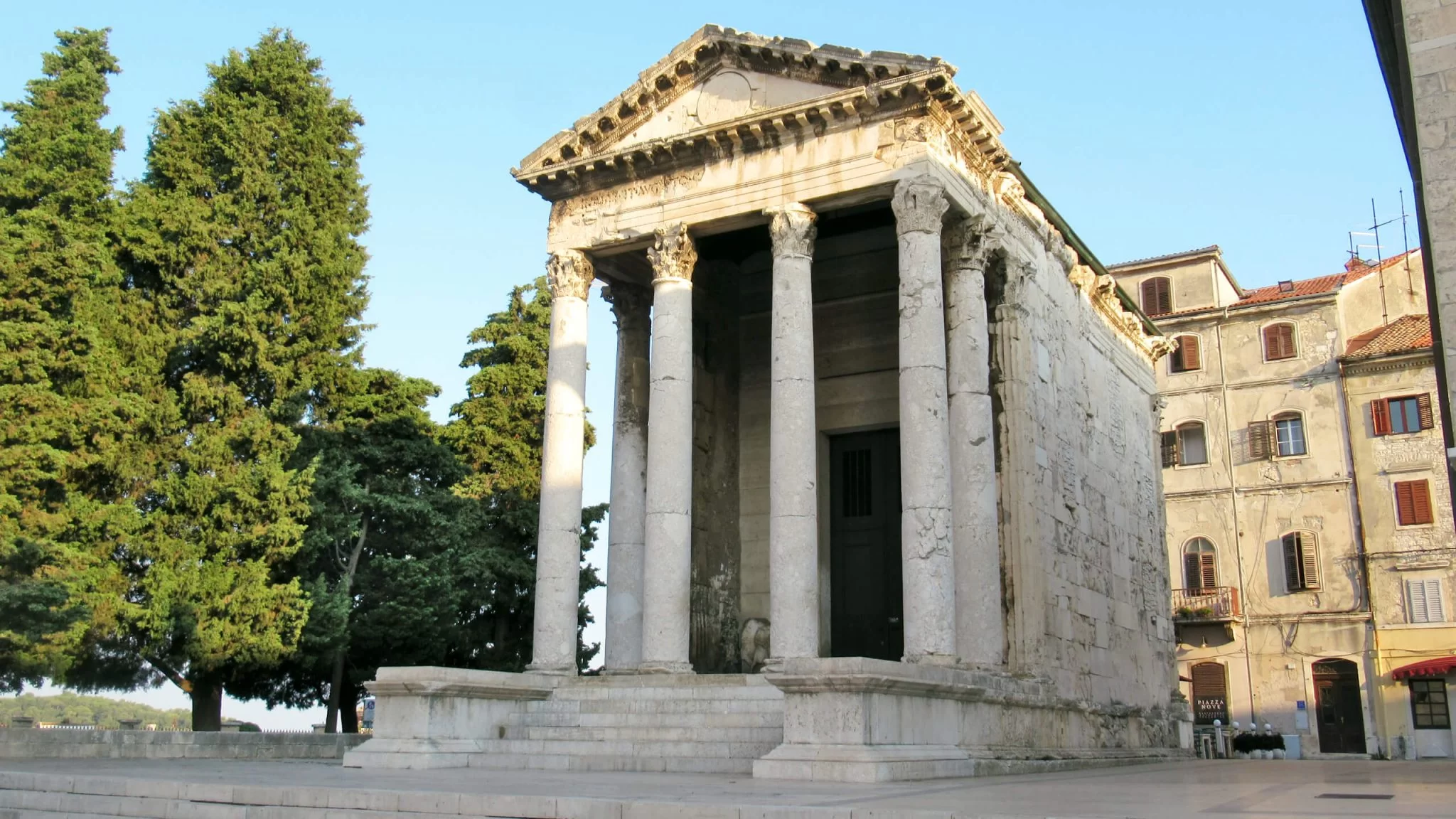 Best things to do in Pula Croatia: (History) Explore the ancient Roman ruins and historic buildings
The city is full of important historic buildings that make for absolute Pula must-sees. Many of the Ancient Roman buildings are over 2000 years old yet remain in almost perfect condition. As such, spending half a day or more walking through the city centre and visiting these top Pula attractions is essential for any trip here.
1. Pula Arena
Before I visited, I always wondered why Pula Arena was at the top of the lists of the best things to do in Pula Croatia. I wanted something to do, not just a building to see!
But Pula Arena is truly magnificent! With only minor restoration work in modern times, so much of the original building – which was completed in the 1st century AD – is still standing. It's one of the last preserved amphitheatres with all walls on all sides still intact. And when you stand next to it you can almost imagine yourself in a Roman amphitheatre 2000 years ago!
If you want to go inside, you can purchase tickets. Paid entrance includes access to an exhibition in the underground gladiator area. Perfect if you want to walk in the footsteps of Romans and imagine how those gladiator fights would've played out 2000 years ago!
However, there is a public footpath that loops all the way around the outside allowing you to see in through the arches and still see Pula Arena up close. There are also a couple of cafes on the top side that allows you to sit and enjoy a drink whilst overlooking Pula Arena.
Cost to visit inside: adults: 70 Kuna/8 GBP/11 USD, children/students: 35 Kuna, or free to walk around the outside. Sightseeing duration: at least 15 minutes including time for photos for the outside option, and longer if you purchase tickets.
Pula Arena is used for concerts and events so check in advance if you don't want your experience and pictures ruined by temporary staging and seating!
2. Roman Floor Mosaic
This really is a hidden gem – because it's so difficult to find! This ancient Roman artwork is tucked away at the back of a car park off the narrow streets of Pula!
Follow Google Maps to the rough location it's tagged as. And then you need to keep an eye out for a small brown sign on the top of a wall pointing you in the right direction!
After multiple loops around the car park, I was almost giving up hope! But the wait made it all the more worthwhile… The mosaic is thought to have been the floor of a house in Roman times and is almost perfectly preserved.
The tiles are arranged so intricately and precisely, and it's in such good condition for 2000 years old! More impressively, the floor lay buried for 100s of years until it was rediscovered after a bomb exploded in World War 2.
Free to visit. Sightseeing duration: 5 minutes or less.
3. Twin Gate
Yet more Roman architecture still standing strong today! The Twin Gate is worth stopping for a photo if you're on your way passed. Although there's nothing really to do here, you can marvel at the intricate design for a minute or two before resuming your day!
Free to see. Sightseeing duration: 1 minute or less
4. Hercules Gate
Similar to the Twin Gate, this isn't much of a thing to do in Pula but is still a cool thing to see. And, it makes for a good place to take a photo.
Compared with Twin Gate, it's slightly more out the way so is better for those self-timer photoshoots or shy Instagram boyfriends! Plus much safer, as it's away from the road!
Free to see. Sightseeing duration: long enough to get a good photo!
5. Arch of the Sergii
This impressive arch is located at the entrance to the narrow streets of Pula Old Town. However, the Arch of Sergii is less of a place to visit in Pula and more of something you'll see in passing. It's cool to see nonetheless! This triumphal arch was built during the Roman Empire way back in around 29 BC.
Free to see. Sightseeing duration: 1 minute or less.
6. Zerostrasse
If you're looking for a break from the summer sun, then this is the place to visit! Zerostrasse is a network of underground tunnels built during the First World War that span most of Pula. For a very reasonable entrance fee, you can enjoy exhibitions that are held in the tunnels and experience a unique historical site!
Cost: adults, 15 Kuna/1.70 GBP/2.30 USD, children: 5 Kuna, students: 10 Kuna. Sightseeing duration: around 20-30 minutes.
7. Temple of Augustus
Built back in the year 2 BC to honour the Roman God, Augustus, this temple is still standing strong today! Immaculately preserved, it is a wonderful example of Roman architecture and engineering. Inside, the remains of Roman statues and artwork offer a glimpse of life 2000 years ago! This is a real Pula must-see during your time in the city.
The square outside of the temple was a Roman Forum back in the times of the Empire. Throughout history, the forum has continued to be the main square in Pula even up to this day. Next door to the temple is also the Pula Communal Palace, which houses the local government.
Cost to visit inside the temple: adults: 10 Kuna/£1.20/1.50 USD, children/students: 5 Kuna. Sightseeing duration: less than 5 minutes (outside only) or at least 15 minutes (inside).
8. Pula Cathedral
This isn't going to be the most extravagant or grand cathedral you've ever seen, but it is a good addition to a DIY Pula sightseeing tour. Churches have been on the site since the 300s AD. And the first Pula cathedral was made by expanding these existing churches in the 1700s and 1800s.
Unfortunately, Pula cathedral suffered substantial damage from bombings during World War 2. However, renovations in the mid-1900s restored it to the cathedral you see today.
Free to visit. Sightseeing duration: 5 minutes to admire from the outside, or slightly longer for the inside. However, you can join services that are held in Croatian.
9. Fortress Kaštel
Despite being a fortress on top of the city, this is also not the easiest place to find! In fact, you can't even see it from nearby as the tall buildings and narrow streets built into the hill hide it away!
And whilst you don't get much of a view of the city, you do get panoramic views of the sea, coastline and suburbs of Pula. But it is one of the cheapest Pula attractions and is well worth a visit.
You can purchase tickets to see inside Fortress Kaštel and visit the Historical and Maritime Museum of Istria, but there is also a grassy footpath around the dried-up moat that makes this a free attraction!
Cost: adults: 20 Kuna/2.30 USD/3 USD, children: 5 Kuna, students: 10 Kuna, or free to walk the perimeter. Sightseeing duration: around 15 minutes for the perimeter, and longer if you purchase tickets as you'll get to see inside.
10. Roman Theatre
Adjacent to Fortress Kastel is the remains of a Roman theatre, so if you're already there you might as well add on another ancient site!
There's nothing quite like getting up close and personal with history. And you're free to explore the Roman Theatre remains in Pula whenever as there are no fences, gates or opening times.
Cost: Free. Sightseeing duration: around 10-15 minutes.
Fortress Kaštel and the Roman theatre remains are occasionally used for concerts and events, which may limit access to free footpaths. Check in advance to avoid any surprises!
11. Pula spomenik nacrt (Sculpture of city)
Located in Tito's Park between the old town and Pula Arena, this is a super cute sculpture of the city in miniature! Whilst it's not technically a thing to do in Pula, it gives you a good feel for the city and how all the narrow backstreets connect. If you're passing by, it's worth stopping to enjoy
Free to visit. Sightseeing duration: less than 5 minutes.
12. Lighting Giants
After dark, these dockyard cranes are illuminated to make a unique addition to the skyline. Because of the hills in Pula, the Lighting Giants aren't visible from everywhere.
But if you're along the marina front you can't miss them! So, if you're looking for things to see in Pula that make for great photos, this is one of them. Perfect just after sunset!
Free to see. Sightseeing duration: less than 5 minutes.
RELATED POST: Looking for some more reasons to visit Pula? Check out this post on 9 reasons to visit Pula and Istria.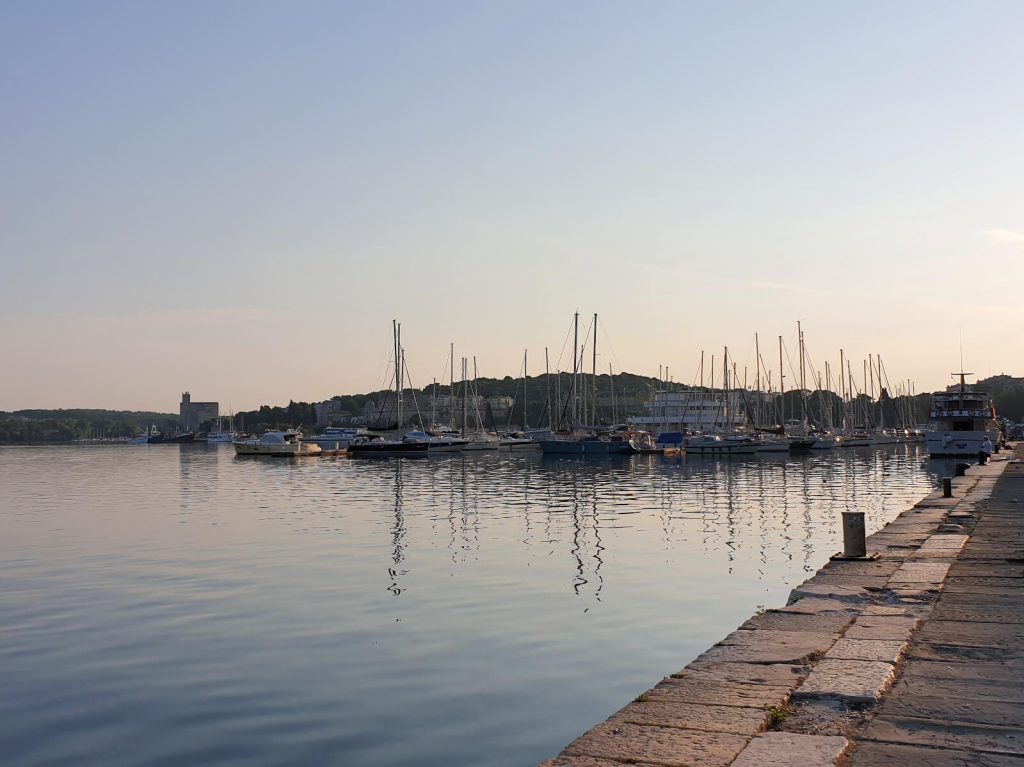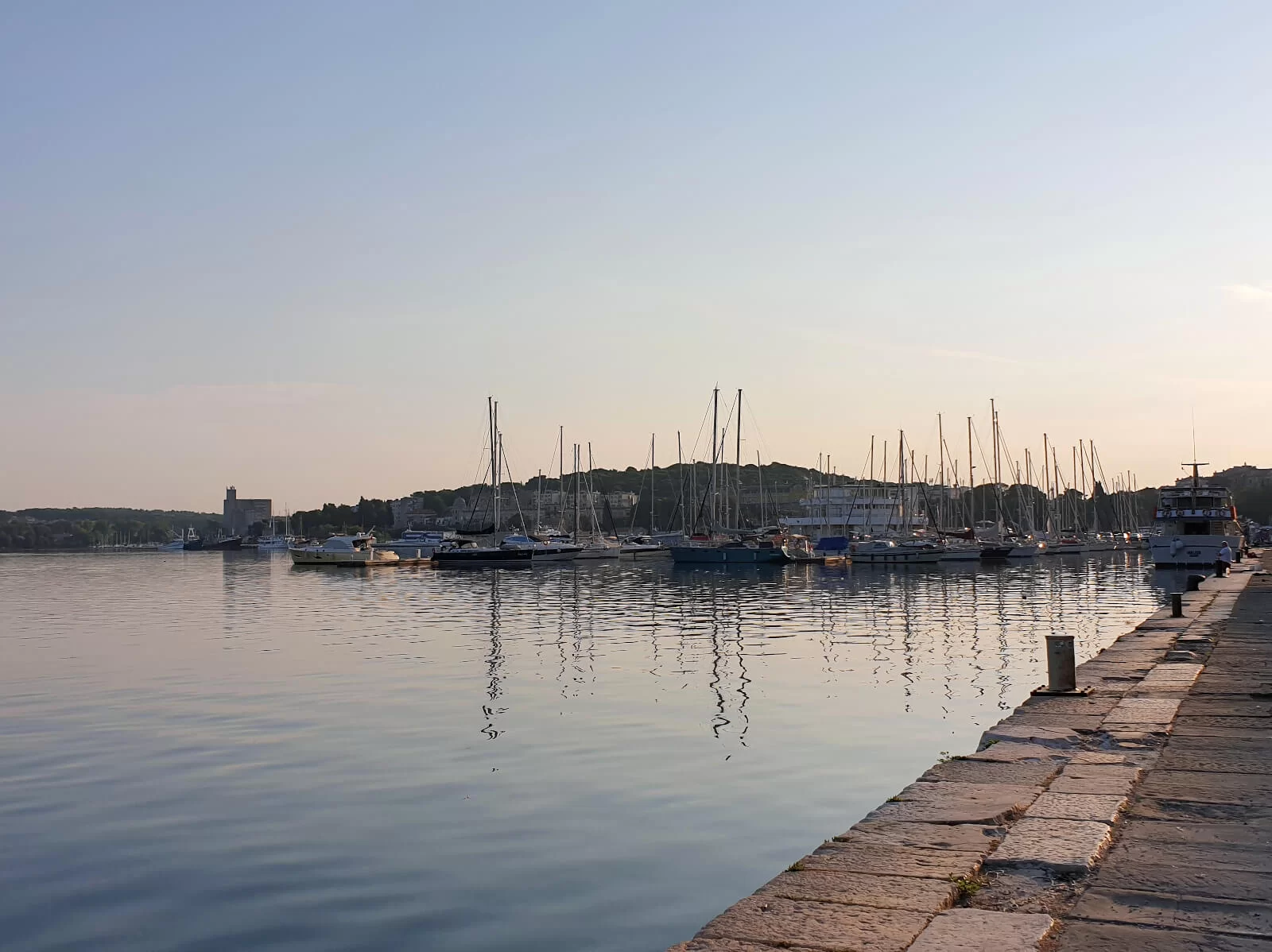 Best Places to Eat & Drink in Pula: Sample the best Pula has to offer
Finding amazing new food and drink is an essential part of any travel experience. And, Pula certainly delivers on this front. So, keep reading for the best places to visit in Pula for unique or amazing food and drink experiences.
13. Feel Pula's Italian Influence with Pizza at Jupiter Pizzeria
I love Pizza. Like a lot! And this place was so good I went twice in one week! The pizza from Jupiter Pizzeria easily ranks in the top 5 in my lifetime. Convinced?
Ok, I've finished gushing about this Pizza now. But, honestly, Jupiter Pizzeria has incredible pizza. And despite going in August 2020 during the midst of a pandemic it was full every night (in a socially distanced way, of course)!
There are so many pizzas to choose from, as well as pasta and sides. Plus the wine is very cheap and very tasty! The pizza is cooked in a fire oven near their outside seating area, and the service is super quick.
The prices are very reasonable, and despite clearly being the best pizza in all of Pula, not any more expensive than other similar restaurants. If you're a larger group, I'd recommend trying to book in advance otherwise you could be waiting a while.
Expect to pay around £10 for a pizza and drink.
14. Enjoy fresh seafood at Hook & Cook
Seafood meets street food at Hook & Cook in Pula's old town. Enjoy a varied fish menu from this counter-top store with outside seating. All the fish is caught locally supporting the town's fishing industry.
Expect to pay around £14 for a main course and a drink.
15. Sample the Balkan delicacy of Cevapi
Cevapi, or cevapcici as it is also known, is generally a beef and/or pork dish, although other meats can be used. The ground meat is seasoned and then shaped into sausages and grilled.
Generally, cevapi is also served with chips, salad and minced red pepper. And whilst it might not sound like the most exciting it really is very tasty – so much so I had it twice whilst in Pula! The dish is on the menu of plenty of restaurants across Pula. So, you won't have to go far to find it.
Expect to pay around £7-8 for the dish.
16. Taste test locally made olive oil
As well as wine, the region of Istria that Pula is in also produces a lot of olive oil. You'll find it in gift shops, restaurants and market stalls.
In fact, there is even a museum dedicated to olive oil! Here you can take part in guided olive oil tastings as well as learning about the manufacturing process and history.
Many of the vineyards around Pula also produce their own olive oil. And most offer olive oil tasting as part of their wine tasting menu – keep an eye out!
Prices for the olive oil museum start at 50 Kuna for adults (5.70 GBP/7.80 USD) and 25 Kuna for children.
17. Indulge in freshly baked bread and pastries from the many bakeries
Walk the streets of Pula in the morning and you'll be drooling at the smell of freshly baked bread that fills the air!
There is a mix of chain and independent bakeries across Pula. And most offer a selection of pastries, rolls and loaves. Whilst some will also serve drinks and have seating areas to eat in.
I tried out two different bakeries, one large chain (Mlinar) and one small chain (Brionka). Both were great and their bakery products were very good value! However, some of the outdoor seating areas are also popular with the local pigeons, so it's not always an entirely peaceful atmosphere!
You can get 2-3 pastries for less than £1!
18. Enjoy Croatian beer
You might not have heard of Croatian beer, but Croats are some of the biggest beer drinkers in the world. In fact, 90% of all beer consumed in Croatia is produced domestically, meaning this country knows a lot about brewing beer!
Ožujsko and Karlovačko are the two most popular brands of beer and are available all across Croatia. However, there are also many independent breweries and local beers to try from shops and bars.
My favourite bar in Pula was Old City Bar, located in the old town. This place serves food, has a big beer (and cocktail) menu, and even shows live sports! All of which can be enjoyed in their large outside seating area – which is a rarity for anywhere located in the narrow, winding streets of Pula's old town!
19. Try wine tasting at Vina Benazic
Tucked away in the Pula suburbs, Vina Benazic is a little gem of a place with a wine cellar, a small food menu and wine tasting options.
For under £9 (75 Kuna) you can enjoy taster glasses of 5 different wines, some cheese and breadsticks and one olive oil tasting. The wine is exceptional! Plus I bought a bottle of my favourite wine as we were leaving, and it cost around £5!
RELATED POST: For more information on the best wineries in Pula and why you don't need to go on a tour, check out this total guide to wine tasting in Pula.
20. Enjoy a drink along Pula's marina front
Away from the busier Pula old town, the marina offers scenic views and a quieter vibe. Although Pula's marina is not particularly large, its location in the bay offers a backdrop of a wooded shoreline.
The road alongside the marina is perhaps confusingly named 'Riva' but there are a small number of bars along here offering reasonably priced drinks and a lovely view. A lovely sunset activity!
21. Explore Pula's market for fresh food and produce
Made up of indoor and outdoor parts, Pula Market is a great place for fresh fruit, vegetables, seafood, olive oils and flowers.
Inside the Pula Market building, which is split over two floors, there are also some cafes and restaurants. It's a great spot for lunch near the city centre, the weekly essentials or getting gifts to take home!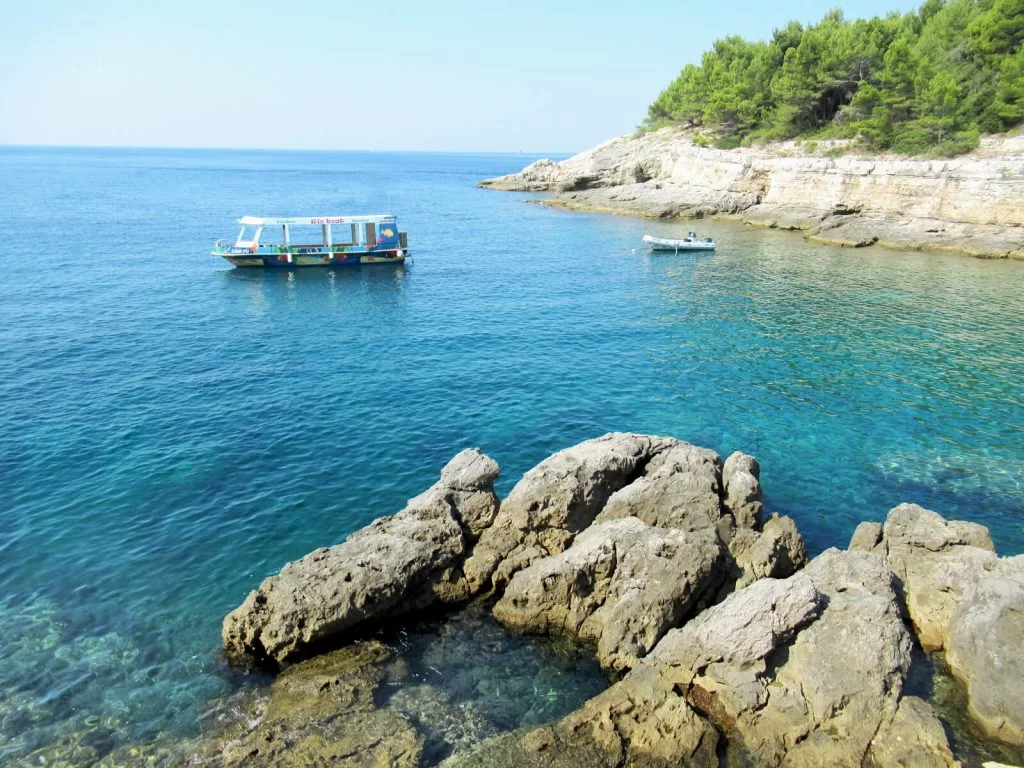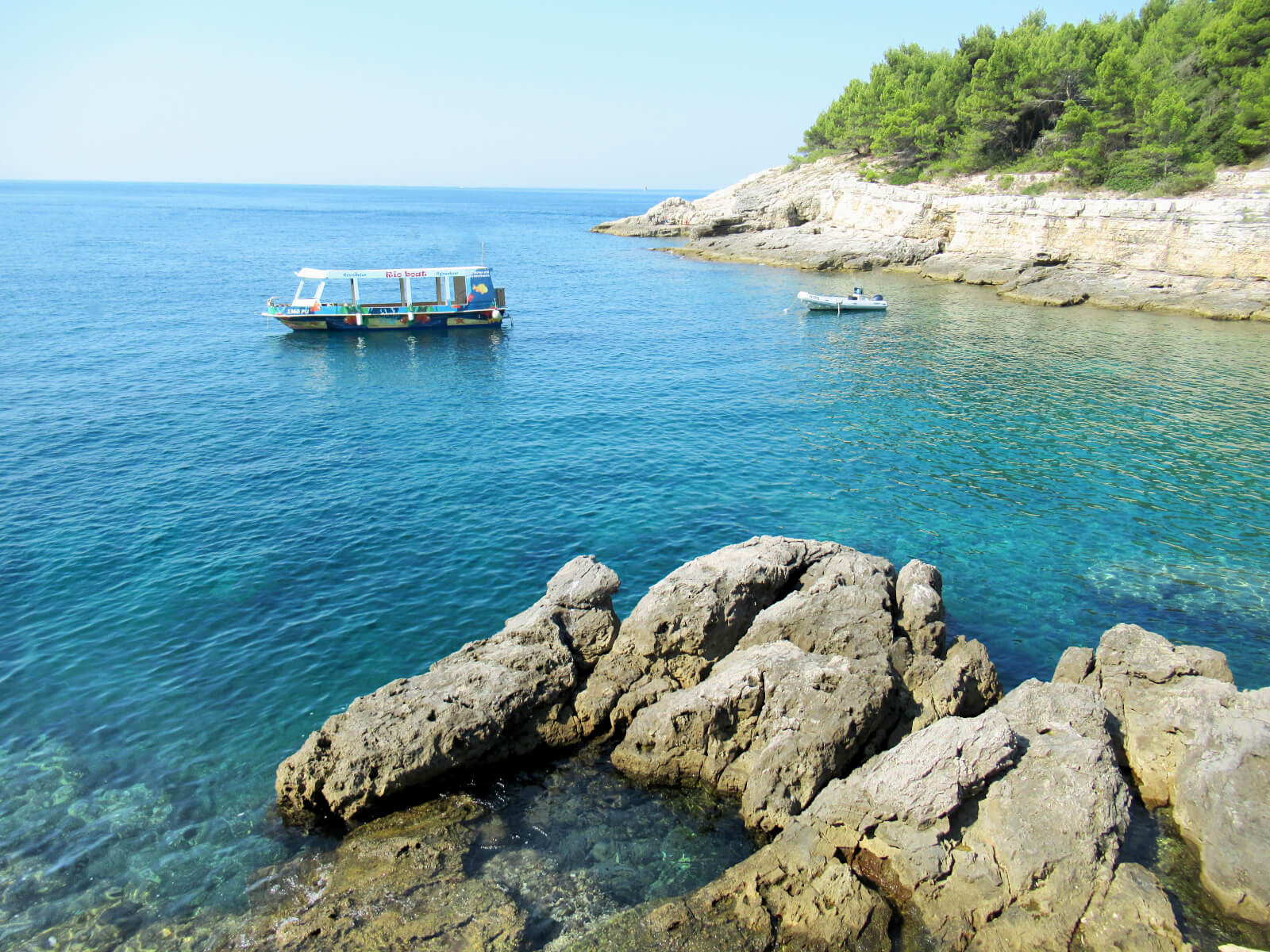 Pula Must See: Beaches – Relax On the beaches along the stunning coastline
Just a few miles from the Ancient Roman Pula attractions are the next best things to see in Pula. The beaches. With its coastal location, there's no shortage of Pula beaches. Take your pick of which to visit first…
22. Valovine Beach
Located to the west of Pula in the area of Stoja, Valovine Beach is tucked away in a bay with warm waters and calm seas. It runs the length of the bay, and there's also an overwater bar about 50 metres out from the beach! Plus, there is also a wakeboarding rig, which the more adventurous can try out, and the less adventurous can people watch!
The water is clear and the seabed of pebbles is not particularly mossy. It's one of the best Pula beaches for walking out and seeing fish.
The bus from Pula stops right at the roundabout at the eastern end of the beach. Or, you can get a taxi from central Pula in less than 10 minutes and for less than £5.
23. Cyclone Beach
Also in the area of Stoja, Cyclone Beach is one of the more off the beaten path Pula beaches. And, let's be honest, it's not really a beach – although there is a very small pebble beach area. But, it definitely is a hidden gem in Pula.
Cyclone Beach is a rocky area that slowly lowers into the sea. As a result, where the land meets the sea plenty of shallow rock pools form, but there are also some steeper drops into the water.
The beach is also very near Seagull's Rocks, a picturesque rocky bay with clear water and crashing waves. This spot is popular for cliff jumping and exploring the caves – either by swimming or in a kayak.
To reach Cyclone Beach from Valovine Beach, keep following the road until it becomes a dirt track. Continue through the small settlement in the trees, past the abandoned fort and then look out for concrete steps going down towards the sea/rocks. It's around a 5-minute walk, so you can easily visit both beaches!
24. Croatia Beach (and Zeppelin Beach Bar)
Located on the Verudela peninsula, Croatia Beach is a great little spot for some water activities! Hire kayaks or pedalos, or have a go on the inflatable obstacle course over the water. Plus there are also some astroturf football pitches if you fancy a kickabout.
But one of the best parts of Croatia Beach is Zeppelin Beach Bar, which can be found just above the beach. Pula doesn't have much of a beach bar scene, but this place is great for cocktails, pints and interesting shots.
25. Ambrela Beach (for sunset)
Just a few hundred metres along the coastline from Croatia Beach is Ambrela Beach. This little beach even has outdoor showers and changing areas – nothing luxurious, but privacy nonetheless.
Ambrela Beach is nestled between wooded areas on each side with a bar and restaurant just off the beach. Plus, Ambrela Bistro & Beach Bar has a first-floor outside terrace that offers fantastic views of the sunset over the Adriatic!
26. Histria Beach
Less than 500 metres away from Ambrela Beach, and on the opposite side of the Verudela peninsula, is Histria Beach. With the pebbled shore and clear water that is common to so many Pula beaches, Histria Beach is a great spot for sunbathing and swimming. As the seabed is rocky there is plenty of sea life to see under the water, so it's also great for some snorkelling!
Histria Beach also has sunbeds and parasols available to hire, as well a small bar on the beach for cold drinks – both soft and alcoholic! Plus there is another inflatable obstacle course on the water here for a little bit of adventure, as well as kayaks and pedalos.
Another perk of visiting Histria Beach is that it is right next to Pula Aquarium. This indoor attraction is great if you need a break from the sun or if there's a short daytime downpour. Aquarium tickets for adults are 120 Kuna (13.50 GBP/18.70 USD), for children 3 to 7 years are 70 Kuna, and for children aged 7 to 18, students and pensioners are 90 Kuna.
27. Lost beach
Located northwest of central Pula, Lost Beach is another great spot for swimming or paddling in clear waters. And if you get bored of sunbathing on this quiet beach, there are a few more hidden gems just along the coast…
Both the Punta Christo Fort and Lighthouse are just a few hundred metres away from Lost Beach. The Punta Christo Lighthouse is home to a few Instagram-worthy rope bridges. And while there have been rumours that the bridges have been removed to prevent injury, damage and crowds, recent pictures seem to indicate they're still there.
Nevertheless, the striking blue waters and rocky cliffs haven't gone anywhere and are picture perfect! If you're looking for unique places to visit in Pula, the beach and lighthouse are certainly some of them.
28. Hidrobaza Beach
Transformed from a former military station, Hidrobaza Beach is now a thriving area northwest of Pula. Complete with beach bars, kayak/bike hire, play areas, a volleyball court and showers, this beach even has ramp access to the beach and into the sea.
Plus, the beach is made up of much smaller pebbles than those listed above. So this is as close as you may get to feeling the sand between your toes in Pula!
29. Hire a kayak or stand-up paddleboard to explore sea caves
Pula has lots of small beaches on the different peninsulas, and many are like little coves surrounded by forest on three sides. Because of this, hiring a kayak or stand-up paddleboard is a great way to hop from beach to beach. But, it also offers you the chance to get up close with the natural Pula attractions of rocky cliffs and sea caves along the coastline.
Kayaks and stand-up paddleboards are available to rent by the hour from many of the beaches around Pula. And most will also offer dry bags for an additional fee if you don't have your own. Another option is to join a kayak or stand-up paddleboard group or private tour and have a guide show you the best sights. There are even sunset or moonlight tours for an extra special experience!
RELATED POST: If you're a beach person then you'll definitely want to read this post on the 11 Best Pula Beaches for even more information and useful advice.
A Day Trip from Pula: The Best Things to do in Rovinj
One of the best things to do around Pula is visiting the beautiful town of Rovinj. Just an hour or so north of Pula, there are plenty of things to do and places to visit here. Culture, food, picturesque streets and beaches. Here are the best things to do in Rovinj on a day trip from Pula.
30. Walk the narrow streets of Rovinj's Old Town
Rovinj is a beautiful town located 30 km north along the coast of the Istrian Peninsula from Pula. And its narrow streets in the Old Town will leave you feeling like you've been transported to Venice! The pedestrian walkways, the three- or four-storey houses, and the alleyway steps dropping into the sea are a reflection of the time Istria was part of the Kingdom of Italy.
Spend some time navigating the streets of the Old Town and admiring the architecture and design. Or enjoy a drink at one of the cafes tucked away in the maze of streets and jump between the many small, locally-owned shops offering a variety of unique products.
31. Panoramic pictures at the Bunker
This abandoned bunker on the western side of Rovinj's Old Town offers spectacular panoramic views of the sea, islands and northern coastline. Plus this rocky area also has a roped-off swimming area if you fancy a little dip to cool down. Or you can sit back and watch the boats as they come and go between ports.
32. Visit the Church of St. Euphemia and climb the bell tower
Sitting looking over all of Rovinj is the Church of St. Euphemia, which was built almost 300 years ago. The church itself is free to enter and many do so for quiet prayer or to join a service, as well as to admire the internal decor and architecture.
However, the best part of this church is its famous bell tower, which provides 360-degree views across the town and sea. Entry is just 20 Kuna (2.30 USD/3.10 USD). But, I'll add as a disclaimer now, this is not for the faint-hearted!
To reach the top of the bell tower, you need to climb 192 of the most uneven, wobbly and scary wooden steps I have ever seen! But, once you're at the top you'll be treated to the most amazing views! Plus, if you're at the top on the hour you'll also experience the deafening sound of the bells ringing out just a couple of metres above your head!
33. Have lunch overlooking Rovinj's marina
If you're needing to recover after the stress of climbing up and down 192 crocked steps, lunch overlooking Rovinj's marina will be the perfect anecdote.
Take your pick from the various local restaurants, as they display their menu outside. And choose between fresh seafood, incredible pizza and pasta, and traditional Croatian cuisine.
34. Spend time at the beach
This might not be your typical activity for a trip to a town, but Rovinj has a few great swimming spots. Within the Old Town, there are several places such as at the bunker and Plaza Balota where you can hop straight from the town into the sea with just a few rocks for dry land. Because of the closeness of the marina and port, swimming is restricted to within roped areas – so be sure to stay within these.
Slightly further afield, Rovinj has two great beaches within a 20-minute walk of the centre of the Town. To the south, Mulini Beach is a man-made spot with concreted areas for sun loungers and sunbathing, with steps going down into the water. And to the north, Plaza Biondi offers great views of the town and a more gentle entrance to the water with a pebble beach. So remember to pack your towels and swimwear when heading to Rovinj!
35. Stop for ice cream at Gelateria Italia
Stop for THE BEST ice cream EVER at Gelateria Italia, that should read! Honestly, I'd read a lot of good reviews of this place before visiting Rovinj, but I've had a lot of good ice cream and wondered how good it really was. Well, it's up there as some of the best ice cream ever!
This is authentic Italian ice cream with very reasonable prices. But, like much of Istria, they do not take card payments.
RELATED POST: If you want to visit Rovinj, you'll want to read this post on everything you need to know about a day trip from Pula to Rovinj!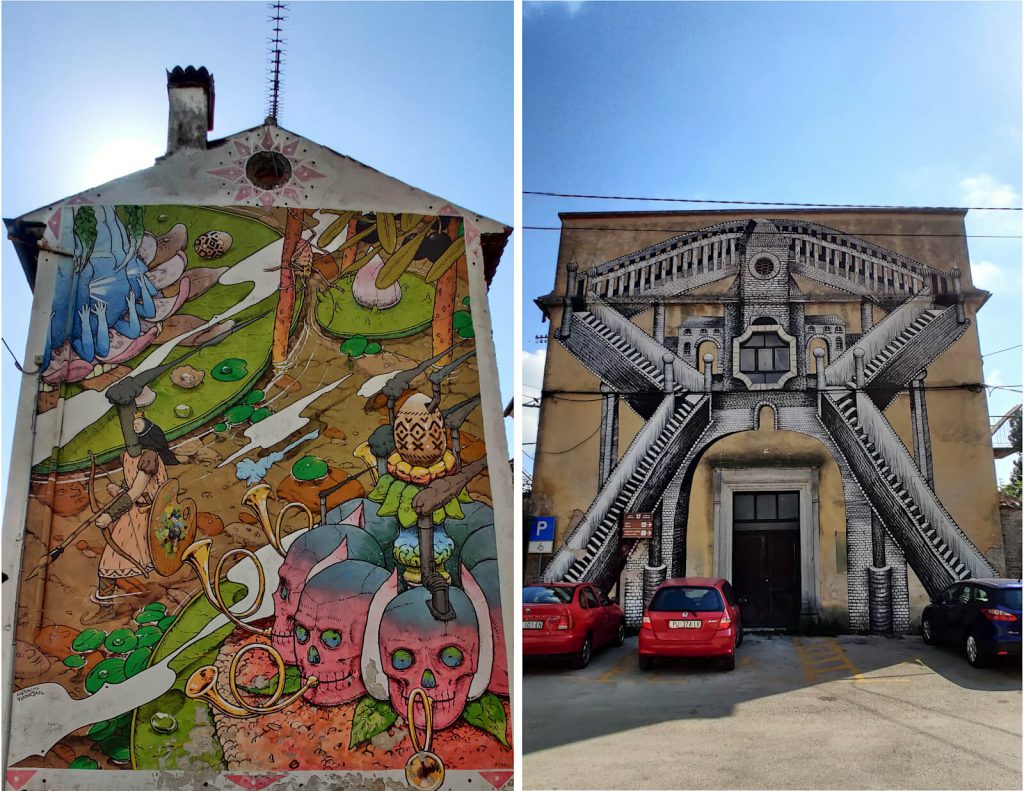 Things to Do Around Pula: (More of Istria) Spend some time in the surrounding towns
While there are plenty of things to do in Pula, time out of the city is good for everyone. And, you might as well make the most of your time in this region by visiting some new towns. Pula is located in the region of Istria, which makes up the northwest of Croatia. It's full of small towns with natural beauty and a slow pace of life. Perfect for exploring on holiday.
36. Take a bus or train to Vodjnan and the Medea Winery for wine tasting
Vodnjan is a small town 10 km to the north of Pula and is home to the Medea Winery. Perfectly located opposite the small Vodnjan Train Station, this is a great place for wine tasting.
You can check out the wine tasting menu to see the choices available, I opted for the 100 Kuna (£12/15.70 USD) per person option. This includes 6 different types of wine, an olive oil, and a selection of cheeses, breads and sausages to snack on throughout the tasting.
37. Explore Vodnjan's street art
From the Medea Winery, the Vodnjan town centre is just a few hundred metres walk away. As you walk the quiet streets of Vodnjan, enjoy the street art that spans some of the buildings. Although some might be a bit more hidden than others!
38. Visit Medulin
South-east of Pula lies the small town of Medulin, famous for its beautiful beaches, clear seas and chilled out vibe. Easily reachable by bus or taxi from Pula, Medulin is also where you can find a real sand beach!
Spend a chilled out day on the sandy Beach Bijeca, which stretches for a kilometre along the top of the bay. The warm and shallow water is perfect for a quick cool down from the heat of the day! For a more secluded adventure, head out along the peninsula to see abandoned bunkers and small, isolated beaches.
39. Travel to Premantura and cycle out to Cape Kamenjak
The small town of Premantura is located around 10 km southeast of Pula and is the gateway to the Cape Kamenjak Nature Park. With over 30 km of coastline, there are dozens of beaches and coves to explore in this beautiful headland.
And a bicycle is the perfect way of moving around between areas, especially in the heat of the summer! Plus, a handful of beach bars and restaurants are located around Cape Kamenjak allowing you to spend all day exploring!
40. Brijuni National Park
Brijuni National Park, a collection of islands located just off the north-western coast of Pula, can be reached via various boat operators. A regular public transport boat service runs from the town of Fazana, with a journey time of around 20 minutes.
Once on the islands, you can visit the remains of a Roman villa, a 1600-year old olive tree, and 100s of dinosaur footprints. Additionally, there are hotels on the island if you want to extend your stay beyond a day trip.
Another option is to use a private boat operator that runs day tours to Brijuni National Park. These day trips from Pula can include visiting multiple islands, lunch on board, unlimited drinks or times where the boat is anchored to allow for swimming in the sea. As such, these boat operators are the perfect option for a more catered and guided day out.
Take A Pula Road Trip: Hire a car and drive to Učka National Park
If the Plitvice Lakes – one of Croatia's top attractions – are too far for you. Then the Učka National Park is a fantastic alternative. While you will need a car to get here, you'll be rewarded with a collection of great things to do just a short drive from Pula.
41. Venture along to waterfalls just outside Lovranska Draga
The small village of Lovranska Draga sits quietly in the hills of the Ucka National Park, with a history of fruit and vegetable production. From here, you can venture along the footpath to reach the waterfalls. The walking route takes around half an hour each way, and more information can be found on the National Park website.
To note, water will only flow over the waterfall during or shortly after rainfall. Therefore, if you are visiting in the summer months there may not be a waterfall to see!
42. Voda Josipa II (The water fountain of Joseph II)
Located in the village of Vela Ucka, this freshwater spring has special importance to the local area. Not only was it important for the village's residents (humans and animals) who worked on the land, but it also contains an inscription in honour of Joseph II.
43. Walk in the shadows of rocky towers at Vela Draga
With its impressive limestone rock formations, Vela Draga is a great place to explore for lovers of the outdoors! The Vela Draga trail weaves its way around the magnificent limestone towers, standing at up to 90 metres tall.
As a result, this place is also very popular with climbers. This signposted trail offers fantastic views of the canyon and national park, and is not to be missed if you're nearby!
44. Climb the highest peak in the Učka National Park, Vojak
At 1400 m above sea level, Vojak is roughly the same as Ben Nevis – the UK's highest mountain. But since it's in Croatia and not Scotland, you don't have to worry about snow, fog or other treacherous conditions quite so much!
Plus, it offers scenic views of Croatia, Slovenia, and on a clear day, Italy too. At the top, you can find a stone tower containing a gift shop, visitor information and an observation deck – perfect for a break before starting your descent!
There are a few routes to the top of Vojak, and this guide from the National Park might help you choose the best one for you!
45. Visit the world's smallest town, Hum
Sitting just outside of the National Park is the town of Hum, which claims to be the World's smallest town! Home to just 30 people, visitors typically outnumber residents.
Even though this town is just 100 metres long it is full of cute cobbled streets, small shops, medieval buildings and is surrounded by lush green hills. For a longer visit, consider walking the Glagolitic Alley – a 3 km path linking Hum with Roč and containing many sculptures.
46. See stunning waterfalls at Kotli
Located just an hour's walk from the town of Hum is Kotli, a small village with beautiful waterfalls! Naturally, the waterfalls are fastest-flowing when it has rained.
But even in the summer months, pools of water form in the water cascade – perfect for taking a dip and playing in the water. The slow slope of the rocks makes for staggered waterfalls, but also means you can get right next to them.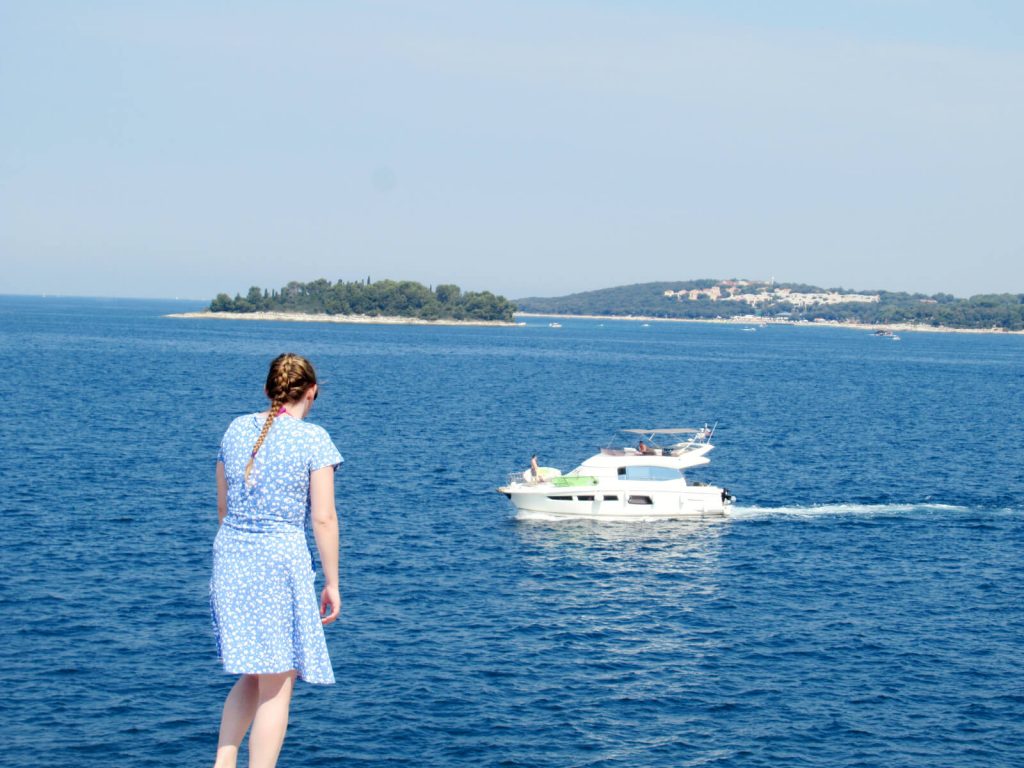 What to Do in Pula Croatia: (Country hop) Take a trip to Italy or Slovenia
Everyone loves to maximise their travel time, annual leave and vacation periods. And, what better way to do that than to add on an extra country or two to your Croatia travels. Both Italy and Slovenia are just a short distance away and make for excellent things to do around Pula.
47. Take a ferry to Venice
Ferries between Pula and Venice have a sailing time of just over 3 hours and operate during the high season. Ferries departing Pula typically leave around 7.30 am, and return ferries from Venice leave around 5pm.
Therefore, this is a great option for a day trip, as you should have around 6 hours to explore beautiful Venice! Or, if you have time you could stay a night in Venice to see much more of this magical city. Check out this 2-day itinerary from KaliTravel for inspiration.
Tickets cost £60 each way and you should book in advance, particularly in the peak summer seasons. Although this might not be the most budget-friendly option, it's a great way to see Venice and is still much cheaper than travelling directly there from the UK or elsewhere and needing a hotel/transport from the airport etc.
48. Travel overland to Trieste
The Italian border city of Trieste is just a 90-minute drive from Pula, through 25 km of Slovenia's coastal region. This port town is full of ancient and medieval history, castles, churches and caves. Or take a stroll along the seafront for wonderful views of the town climbing up into hills!
If you don't want to hire a car, direct buses between Pula and Trieste take around 2 hrs 30 mins each way. Trieste also offers direct and high-speed train links to many cities in Slovenia and Italy.
49. Experience coastal Slovenia
Slovenia has 47 km of coastline waiting to be explored. So, if a trip all the way to Trieste and Italy isn't for you, a day exploring Slovenia might be. The small town of Izola might be your best bet for combining things to do and beaches to have fun on. Or the slightly larger town of Koper will suit better for exploring historical sites and sampling food and drink over the small marina.
Be sure to check driving regulations for Slovenia before departing Croatia as there are some different rules. Car hire places should be able to help you understand these, for example, you need a toll sticker (called a 'vignette') to drive on motorways.
---
If you have any questions or want any more information drop a comment below and I'll get back to you!
Currency conversions and offerings mentioned are correct as of March 2022 but are subject to change in future.
---
PIN IT FOR LATER!