Shanghai is a bucket list destination for many. And, that's not surprising given the spectacular skyline, incredible food and important history. Deciding on what to do as part of a Shanghai 5-day itinerary is hard enough given the staggering size of the city and the number of attractions. But, getting information on Shanghai can also be difficult due to a lack of up-to-date information in English. As such, this itinerary and guide is full of practical advice and recommendations for spending 5 days in Shanghai… All based on my experience in this incredible city!
Some of the links below are affiliate links, meaning, at no additional cost to you, I may earn a small commission if you click through and make a qualifying purchase.
What You Need to Know Before Visiting Shanghai
Summers in Shanghai are scorching hot. In July and August, temperatures are often in the high 30s. And, when combined with smoggy or humid days can be really insufferable. If you have a trip planned in the summer, you'll want to minimise walking and time outdoors. Consider afternoon naps!
You'll need to find a maps app that isn't Google. I used Maps.me, which worked perfectly and had all the functionality of Google Maps. This includes being able to star/favourite places and offline maps.
Shanghai still operates a predominantly cash-based society. Withdraw cash from banks or ATMs in the city as you'll need cash for restaurants and tourist attractions. The currency is the Renminbi, which uses units of Yuan (think of it like Renminbi = Sterling and Yuan = Pounds).
Expect to feel cut off from the outside world! Pretty much all western news sites are banned in China as well as all western social media networks. The ban on Google also means Android users can't use Google Pay, Google Drive etc. I used

NordVPN

to keep an eye on the news and do research about where I wanted to go in Shanghai, it was a godsend!
Did you know you can spend up to 6 days in China, without needing to apply for a visa in advance, if you're visiting during a layover? Find out more in this China Transit Visa Complete Guide.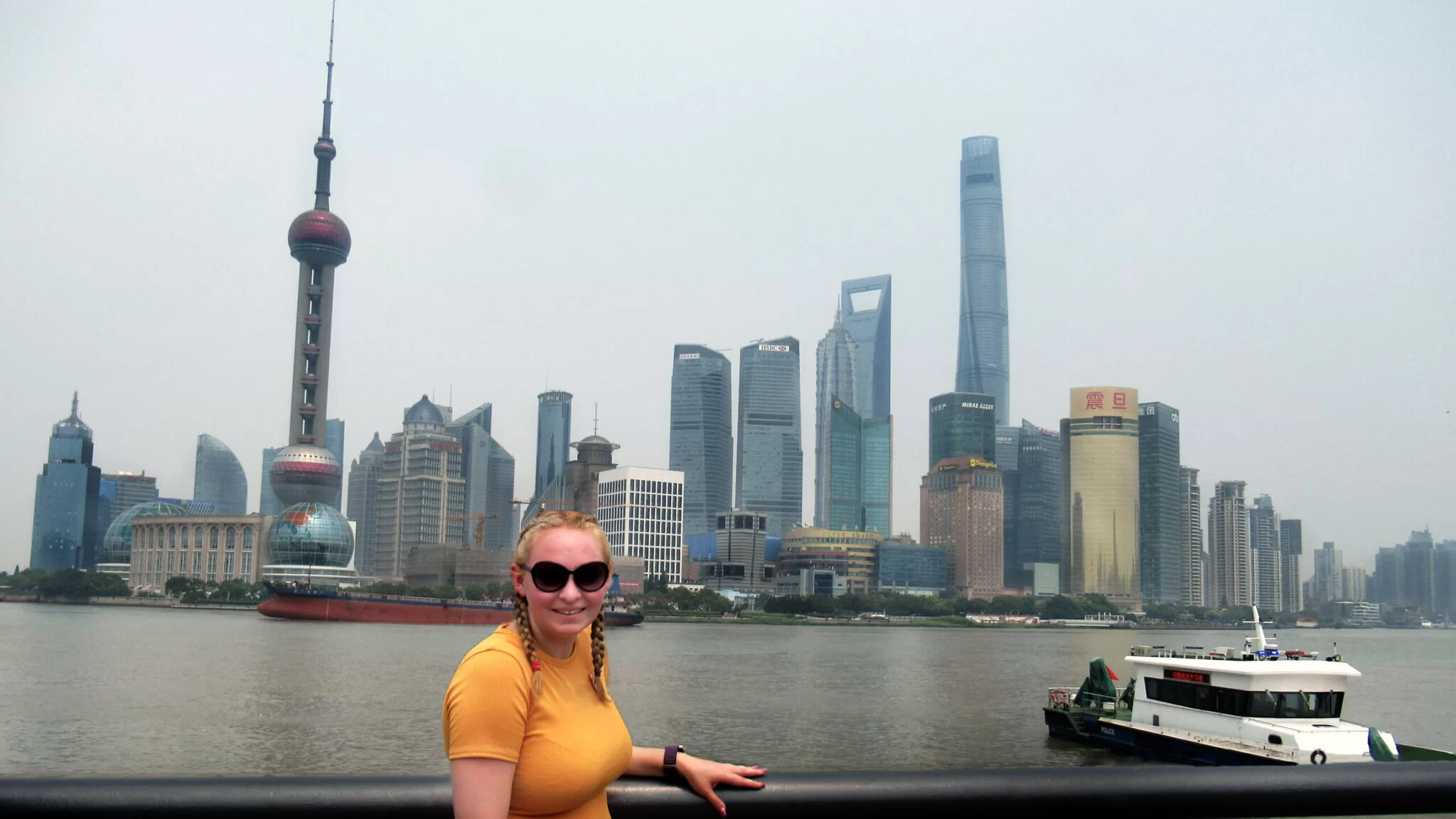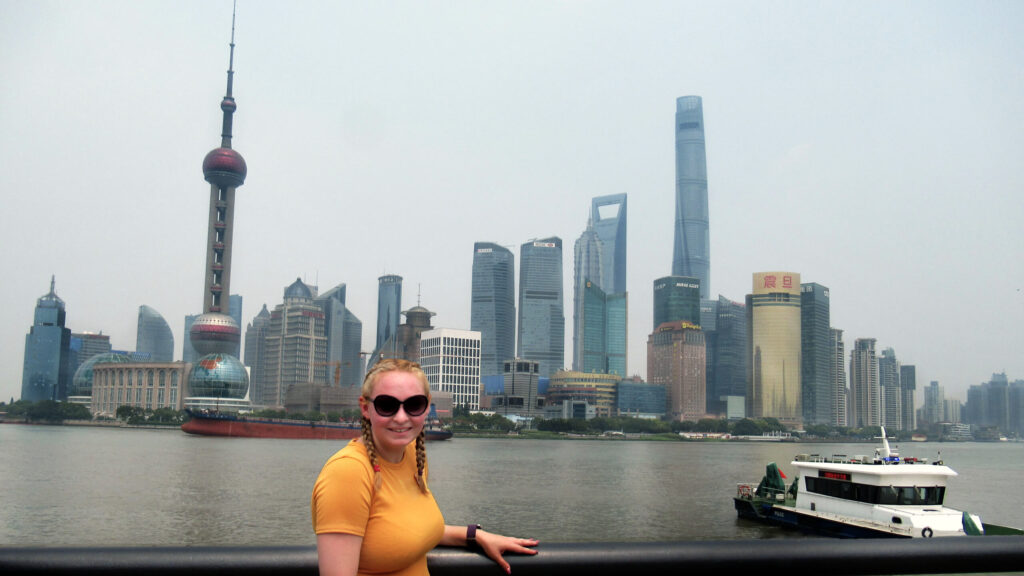 Common Shanghai Myths: Debunked
Myth: You'll have to use squat toilets in Shanghai
Reality: Not true, I found normal, seated toilets in every public toilet block. Hotel bathrooms always had seated toilets. And, while some public toilets did have a mix of both, you can simply choose what you are comfortable with. Importantly, and in my experience, accessible toilets offer the best chance of finding a seated toilet. However, public toilets never provided toilet roll – so make sure to bring your own (or tissues).
Myth: The language barrier will be huge and will affect your experience in Shanghai
Reality: Shanghai is the Chinese city with the most foreign expats. As a result, if something is going to be translated into a second language, then that will be English. The airports, Metro, museums and tourist attractions are very foreign-tourist friendly. For local restaurants, the availability of an English menu was hit and miss and most of the time the staff didn't speak English. You can either learn the names of foods, use translation apps, or just eat somewhere else.
Myth: All the food is (very) spicy
Reality: Incorrect. I think this misconception often comes from people who try to find western food in China, as often this is spicier than what you'd find at home. But, this is because the restaurants are targeting Chinese people who want to eat western food rather than westerners themselves, and as such have catered to local palates. Having said that, not all Chinese food is spicy. And, compared to western eateries, a greater proportion of food is freshly prepared to order so you can ask for less/no spice if you would prefer.
Myth: China is dirty
This is also really far from the truth. Having visited China back in 2010, and then twice in two weeks in 2019, I have only ever found it to be a clean country, overall. The streets and Metro of Shanghai were free from litter and all the tourist spots were clearly regularly cleaned. Historically, spitting was common in China – in public, private, indoor and outdoor places. But, in recent years the Chinese government have been running marketing campaigns to reduce spitting. With this, they hope to increase the appeal of China to western tourists and also make Chinese tourists more sanitary visitors to foreign countries.
Myth: Everywhere is overcrowded
Shanghai is the largest city in the world. Estimates of the city's population range between 24 to 27 million – rising up to 34 million people when you consider the wider metropolitan area. Shanghai is also a popular domestic tourist destination, attracting citizens from all across the most populated country on Earth. So, if you're expecting to have The Bund to yourself even by going at 6am, then I'm going to have to disappoint you.
However… Whilst Shanghai is busy, it is not overcrowded. Unless you are visiting on national holidays then you can still enjoy everything on this Shanghai 5-day itinerary without feeling claustrophobic.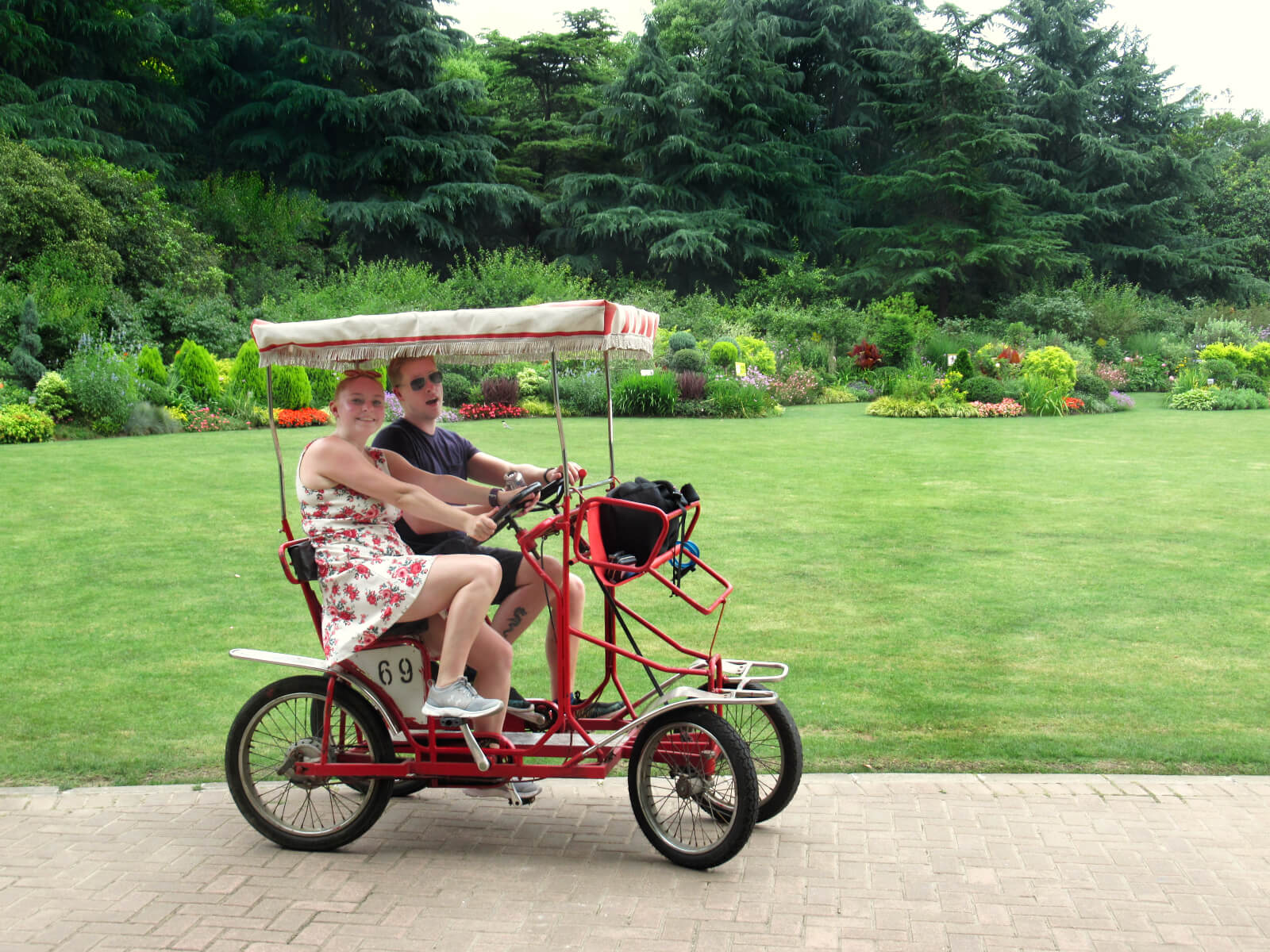 How to get around in Shanghai
The Metro system is going to be your best friend for the 5 days you're in Shanghai. It's cheap, quick and requires absolutely no knowledge of Mandarin! Think of it as a cleaner, cooler and cheaper version of the London Underground.
Ticket prices are based on the distance covered, with fares ranging from 3 (£0.33) to 15 Yuan (£1.65). Given that the 15 Yuan fare is for distances of over 116 km, it's impressively cheap! That's pretty much the distance between London and Southampton or New York and Philadelphia! Additionally, one-day tickets are available for 18 Yuan (£2), with a three-day ticket costing 45 Yuan (£5). Tickets can be bought from self-service machines that can be changed to a language that suits you. Signs on trains, platforms and in the station are also in English as well as Mandarin.
Since the 17 Metro lines cover most of the city, it's unlikely you'll need to use taxis or buses during your 5 days in Shanghai. Taxi prices start at 14 Yuan increasing by 2.5 Yuan for each kilometre and are higher at night. To avoid confusion, anxiety and unintentional city tours – having a screenshot or printed version of the place you are going in Mandarin is good to show the taxi driver.
Where to Stay in Shanghai
Pretty much all of the best things to do in Shanghai are located in the centre of the city. As such, to avoid having to add a commute from your hotel, I recommend staying as central as possible. Generally speaking, staying near a Metro Line 2 station is best as this line links pretty much everywhere you'll want to go.
Like all cities, Shanghai has a full range of options from budget to luxury accommodation for your 5 days in Shanghai.
Budget
If you're looking for cheap and cheerful or a more social atmosphere, consider the highly rated Phoenix Hostel Shanghai-LaoShan. Located just 500 metres from the People's Square Metro station and 100 metres from Dashijie Metro station (Line 8), this hostel has all the amenities you could need. Prices start at around £30 per night for a double room (for two people) or £8 for a single bed in a dorm room.
Mid-range
Shanghai is full of mid-range options and a lot of them have pretty good facilities. One such option is the Radisson Blu Hotel Shanghai New World, situated on the northern side of People's Park. This hotel is centrally located just metres from the metro and Shanghai's famous shopping street. Prices start at around £50 per night and all stays com with free use of the fitness centre and indoor swimming pool! Additionally, if that wasn't enough, it also has a revolving restaurant on the 45th floor!
Luxury
If money is no object or you just fancy treating yourself to a night of luxury, you'll want to check out The Ritz-Carlton Shanghai, Pudong. Located among the skyscrapers in Pudong, this hotel is a slice of luxury. This hotel features an indoor swimming pool with panoramic views of the city (free use as a hotel guest). Plus, all rooms have city views. And, even the cheapest room has a standalone bathtub, an extra-large bed, floor-to-ceiling windows and over 500 square foot of space! Prices start from £230 per night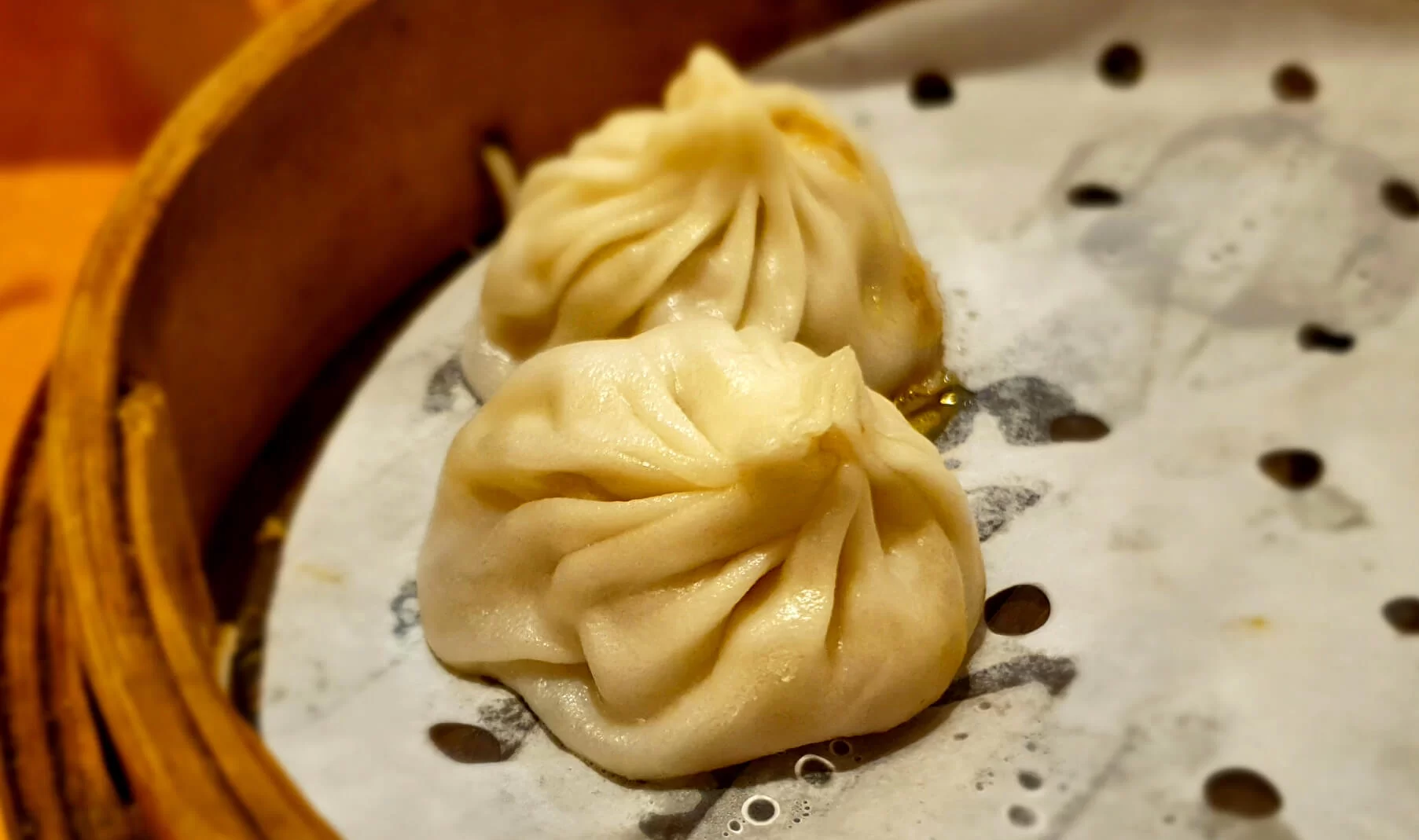 What to Eat in Shanghai
Shanghai is full of amazing restaurants and street food stalls. And, there are a few foods that you have to try! All of these can be found all across Shanghai, so when you're in a restaurant keep an eye out for these.
Xiaolongbao are soup dumplings made with pork and/or crab meat most commonly. The soup is made in advance and then refrigerated to turn into a jelly, in this state it can then be wrapped in the outer shell. Xiaolongbao are steamed and the jelly melts back to soup inside! Be careful when you eat them though as you don't want to burn the inside of your mouth!
Jian Bing are, in essence, crepes that come with a variety of toppings, normally including egg, spring onions, spicy sauce and a rice cake/cracker. Additional sweet and savoury options also vary depending on the seller. These are commonly sold in small, hole in the wall food outlets on the streets of Shanghai.
Cong You Bing are a popular savoury snack across much of China. These scallion (spring onion) pancakes are available in restaurants and street-side stalls. Cheap and tasty!
Shengjianbao are fried pork buns, with a much thicker and doughier outside than xiaolongbao. Yang's Dumplings restaurants are commonplace in Shanghai and are a perfect place to try these bao buns.
Shanghai 5-Day Itinerary: Day 1
Day 1 of your Shanghai 5-day itinerary should be spent exploring the heart of the city! Use this time to get your bearings in this vast city and it'll make your next 4 days in Shanghai much easier. Consider taking a walking tour for a guided view of the city, but you can do it all yourself.
Start your day in People's Square and People's Park. This is a popular meeting spot for locals in Shanghai and you'll find yourself immersed in the Shanghainese culture pretty quickly. Hence, this is the perfect first stop for your first day in Shanghai.
Next, you'll want to visit the Nanjing Road shopping street, which starts at the north-east corner of People's Park. Full of national and international brand shops and restaurants. On a warm day, you'll want to stop for ice cream along this street – or perhaps a hot drink in winter. Nanjing Road runs all the way from People's Square to the next stop and is an absolute must-do in Shanghai…
The Bund – home of the most famous viewpoint in all of Shanghai! This long, riverside promenade offers spectacular views of the Lujiazui skyscrapers. Once you've finished at the city's most popular photo spot (it'll be hard to drag yourself away from the mesmerising view), head south to the next stop. Make sure you also visit the Bund after dark, the lit-up skyline is one of the best things to see in Shanghai – simply spectacular!
Just a 20-minute walk south along The Bund is the popular and beautiful Yu Gardens. The small entrance fee (30/40 Yuan [off-peak/peak]) is well worth it to see the 5 acres of gardens, water features and traditional Chinese-style architecture.
The gardens are located in the heart of Shanghai Old City, a great place for exploring. From the city wall to temples, streets full of local sellers and shops, it's a very different experience from central Shanghai.
Finally, finish off Day 1 of this Shanghai 5-day itinerary with a food tour. Guided tours are good as they allow you to visit local eateries and be introduced to local cuisines without the language barrier. I went on a tour with Free Tour Asia, although there are other operators available at a range of costs.
> > > RELATED POST: If you only have one day in Shanghai, I recommend following this Shanghai one-day itinerary to see the best of the city!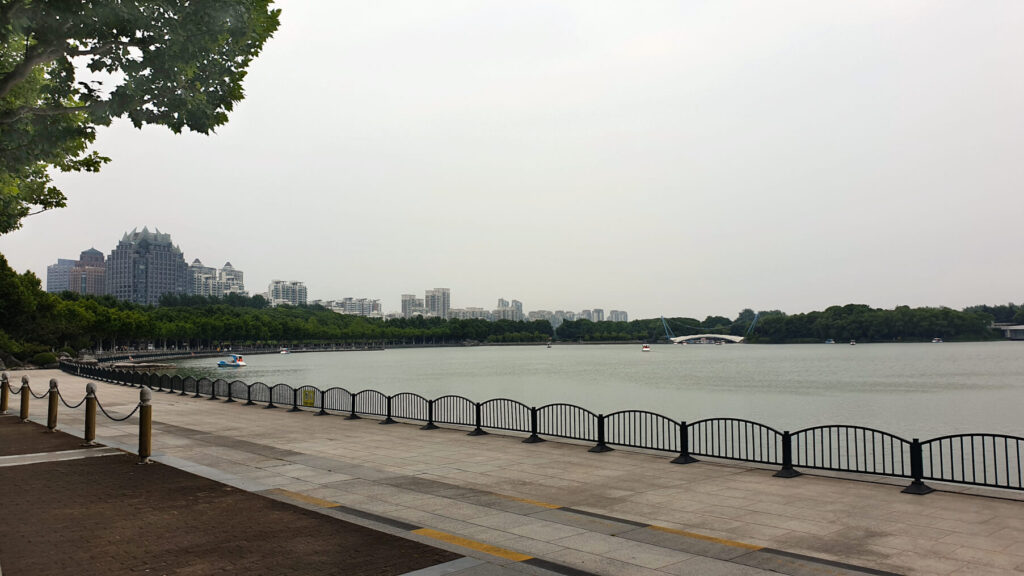 Shanghai 5-Day Itinerary: Day 2
Day 2 of 5 in Shanghai explores the Lujiazui area of the city and some of the most popular Shanghai tourist attractions. Known for it's soaring skyscrapers, the architecture and engineering in Lujiazui will leave you in awe!
Put your head in the clouds and journey to the top of some of the tallest buildings in the world. The Shanghai Oriental Pearl TV Tower provides the full visitor experience with a 360-degree transparent Skydeck at 259 metres up as well as an observation deck at 351 metres.

Or, there's the Shanghai World Financial Center, affectionately known by locals as 'the bottle opener' for its distinctive look. The building has three observation floors – including a transparent floor deck on the 100th floor, 474 metres up! Unfortunately, as the observation floor is located along the top rim of the 'gap' at the top of the building, underneath isn't a freefall down to the ground, unlike the TV tower.
Yet, dwarfing every other building in the city is the Shanghai Tower – the second tallest building in the world at 623 metres high! The observation floors are located around 550 metres above the ground – for stunning views of Shanghai (or the clouds). Given this, choose a clear day to ascend the Shanghai Tower for the best views.
I'd recommend choosing one of these towers to scale, the entry fees aren't cheap – but the views from all of them are incredible and it's an absolute must-do in Shanghai!
Next up, is the Shanghai Science and Technology Museum, three stops along on the Shanghai Metro. This vast museum covers all areas of science from pre-historic animals to space exploration. There's something for everyone here and you can easily spend a couple of hours seeing all the exhibitions.
Located just a stone's throw from the science museum is Century Park. This huge, inner-city park is a world away from the skyscrapers and of earlier today. In the park, you can hire bicycles or pedalos, you can visit the small funfair, or you can just explore the many gardens and lakes. The perfect slice of nature in a busy metropolitan city!
If you exit the park through Exit 7 on the south side then you'll pass the Century Mart on your way to Century Park Metro station. Is it really a trip abroad without a trip to a local supermarket for unique snacks and drinks? NO! Did I buy several bottles of salted caramel flavour Pepsi? Absolutely, yes! Was it sickeningly nice? Also, yes!
Shanghai 5-Day Itinerary: Day 3
For the mid-point of this Shanghai 5-day itinerary, it's time for a day trip to Hangzhou! This beautiful city is one of the best day trips from Shanghai and is located just less than 200 kilometres south-west of Shanghai. But, thanks to the high-speed train network, the journey time is just 1 hour!
The high-speed trains run from Hongqiao Railway Station, hop on Line 2 westbound (it's the last but one stop). You can buy a ticket from the station – but don't expect staff to speak any English. Trains run several times an hour from 6 am to 9.30 pm. Alternatively, you can book your train tickets in advance and online using 12go.asia – a specialist transport agency. Remember to pack your passport, as this is required to travel on trains in China.
Arriving into Hangzhou East Railway Station (Hangzhoudong), you'll need to take the Metro (Line 1) 5 stops to Fengqi Road. From here, it's just a 10-minute walk to West Lake – the absolute jewel of Hangzhou.
West Lake is the hub of the best things to see in Hangzhou. There are many attractions, viewpoints and photo spots on the shores. With stops for attractions, photos and breaks, it'll take you most of the day to walk the perimeter of the lake. But, rest assured, this is the best place to be in Hangzhou.
Starting in the north-east corner, there is the Feng Bo Ting pavilion offering your first view of the lake. Also, there are the Duanqiao Canxue and Jindai bridges connecting the mainland from the causeway and island – perfect for a long stroll. While, on the island itself, there are many pavilions and scenic points. However, if you're looking for more of a vantage point, consider walking up to Hama Peak for views over the lake and city.
In the north-west corner, Kuahong Bridge joins the mainland to the walkable causeway that runs along the whole western side of the lake. Although, taking this causeway route does mean you'll bypass many of the attractions in this area. On the western shores, you'll find Friendly Park, lotus gardens, the Guozhuang scenic spot and then Huagang Park.
Along the southern shoreline, you'll find the West Lake Pleasure Boat service – for cheap trips around the lake. The Leifeng Pagoda also stands tall over the lake and makes for a wonderful photograph!
By early evening, you'll want to be back on the eastern side of the lake to watch the sunset in the west. This is a popular activity at West Lake, so you won't be alone, but that won't detract from a magical sunset. Give yourself enough time to navigate the Metro back to Hangzhou Station and get your train back to Shanghai. Given everything that we've covered so far, you're only 60% of the way through this Shanghai 5-day itinerary! Two more action-packed days to come!
> > > RELATED POST: Only got 3 days in Shanghai? This Shanghai 3-Day Itinerary makes sure you get to visit the best the city has to offer in just a few days!
Shanghai 5-Day Itinerary: Day 4
Day 4 and we're back exploring the big ol' Shanghai – it's what we came for after all! Today's itinerary is rather cultured as we visit a host of temples and museums.
First up is the equally beautiful Jing'an Temple, which is served by a Metro stop aptly named 'Jing'an Temple' on Lines 2 and 7. Surrounded by skyscrapers and modern-day buildings, this temple complex is just shy of 2000 years old! Although, there have been more recent reconstructions and restorations.
Next up, is the Huxi Mosque Muslim Food Market, which runs every Friday from 10 am until 3 pm. Here, you can sample many delicacies of the Uyghur people such as lamb skewers and freshly baked bread. The market is located on Changde Road, just a short walk from the Changshou Road Metro Station which is two stops north of Jing'an Temple on Line 7.
A 20-minute walk away from Huxi Mosque is the Jade Buddha Temple, home to a giant jade green Buddha statue. This impressive temple complex is a great place to learn more about Buddhism and you can easily spend at least an hour here exploring the many parts.
From the Jade Buddha Temple, you should head two Metro stops away to the Shanghai Natural History Museum (Line 13). This tourist-friendly museum is a great place to escape the outside weather for a couple of hours while learning a thing or two. Although, there are a large number of stuffed (preserved) animals, which do look quite creepy and perhaps aren't as accepted in western culture these days.
A 30-minute walk from the history museum will bring you to the Shanghai Urban Planning Museum. While this isn't the biggest of museums in Shanghai, the pièce de résistance is a complete model version of the city of Shanghai. Featuring every building and every road, to scale! The museum also showcases the rapid development of Shanghai into today's status as the world's most populated city!
If you're not completely sick of museums of this point, then just across the road is Shanghai Museum. This free museum contains 1000s of artefacts and artworks providing a snapshot into China's history and culture.
Shanghai 5-Day Itinerary: Day 5
For the final day in Shanghai, I'd recommend a slightly easier day (i.e not visiting 5+ attractions in one day!)… Two potential options are Disneyland Shanghai or Zhujiajiao water town!
Disneyland Shanghai

, like all Disney parks around the world, is a truly magical place and fun for all the family! If you book tickets at least 7 days in advance online then you get a discount and avoid queuing on the day. Ticket prices are divided into Regular (339 Yuan [£37.50]), Regular Plus (424 Yuan [£47]) and Peak (509 Yuan [£56.50]). Generally, weekends are peak times and weekdays are regular prices. Despite the high prices, entrance to the park is much cheaper than for other Disney parks around the world (including Hong Kong).

Disneyland Shanghai is the last stop on the eastern end of Line 11 of the Metro. From People's Square Station, you'll need to take Line 8 nine stops south to Oriental Sports Center. Then, you'll need to change to Line 11 for the eight stops to Disneyland.
Zhujiajiao is located to the west of the city and is an ancient water town – much like it's more famous counterpart, Venice. The town makes for a great day trip from Shanghai as you can explore the canals, old streets, bridges and take gondola rides. As the town is a dedicated tourist area, it can get very busy on weekends and public holidays, so I recommend visiting during the week if possible.

You can reach Zhujiajiao via the Metro. You'll need to take Line 2 all the way to Hongqiao Railway Station stop, then change to Line 17. After the 11 stops, you'll arrive at Zhujiajiao Metro station, which is a 15-minute walk from the water town.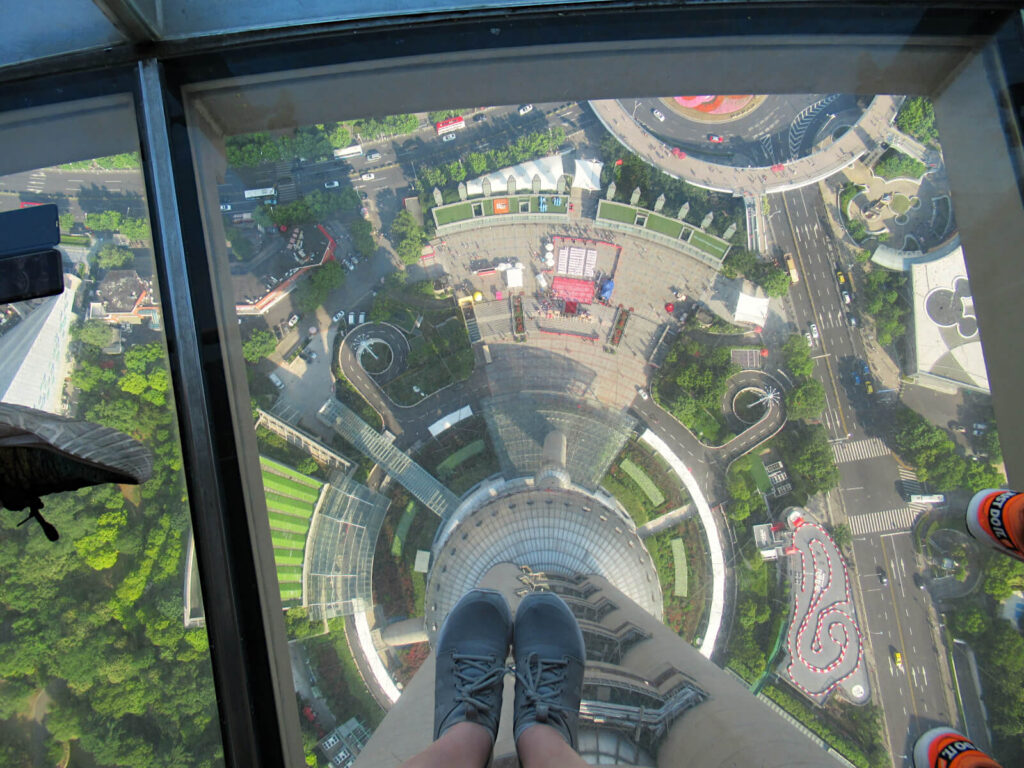 Is Shanghai Safe for Tourists?
Assuming you apply the usual rules of common sense, then yes, Shanghai is a safe city for visitors.
ATMs are usually inside banks or buildings that have 24-hour access – and even have individual cubicles for total protection. The availability of ATMs in Shanghai means you don't need to carry large amounts of cash on you. Find a bank account that offers a 0% transaction fee on foreign withdrawals – then make small, regular withdrawals.
Like anywhere that is popular with tourists, exercise reasonable caution about pickpockets. Avoid putting your phone or wallet in your back (or visible) pockets and make use of hotel safes for valuable items. Additionally, visitors to China are required by law to carry their passport on them at all times. As such, I recommend finding a safe internal pocket within your bag for this.
Is Shanghai an Expensive City?
Shanghai seems to have a reputation as an expensive city, but, quite frankly, it is not. Both food, travel and accommodation are fairly cheap. Meaning, that you can make the rest of your trip as cheap or expensive as you want.
For those on a budget, choose from the many free activities, take the metro and eat locally. But if you want to spend more money there are plenty of tours, western restaurants and international brand shops. And, for most people visiting Shanghai, they'll be somewhere in the middle. So, you can choose which experiences are important enough to you, to spend money on.
---
Five days is a good amount of time to see the best Shanghai has to offer, without having to rush around like mad! From food to history to culture, the city has something for everyone. Let me know if you followed or found inspiration from this Shanghai 5-day itinerary? What was your favourite thing about Shanghai? Let me know in the comments below!
If you have any questions or want any more information drop a comment below and I'll get back to you!
Prices and offerings mentioned are correct as of March 2021 but are subject to change in future.
---
RELATED POSTS
SHANGHAI: 3-Day Itinerary (Perfect for a Shanghai Stopover)
SHANGHAI: One Day Itinerary for Daytime Layovers in Shanghai
LAYOVER DESTINATION: 7 Reasons You Should Book a Long Layover in Shanghai
VISA GUIDE: The China Transit Visa: Everything You Need to Know
---
PIN IT FOR LATER!