Shanghai. A city where skyscrapers stand next to colonial buildings. A city popular with both domestic and international tourists. And, a city that acts as a gateway to Asia from many North American and European cities. As such, an extended stopover in Shanghai is the perfect opportunity to see the best the city has to offer. And, this Shanghai 3-day itinerary is packed full of the top attractions, sights and experiences as well as my best recommendations!
Some of the links below are affiliate links, meaning, at no additional cost to you, I may earn a small commission if you click through and make a qualifying purchase.
Where to stay in Shanghai
Shanghai sometimes has a reputation for being an expensive city but, to be honest, it has a complete mix of both budget and high-end accommodation options.
My number one recommendation would be to find somewhere that is close to a Line 2 Metro station. This is the main line that connects all of the best places to visit in Shanghai. And, after a long day of walking and sightseeing, the last thing you'll want is to spend ages getting a Metro to the outskirts.
I stayed at the Hao Du Hotel, close to People's Square. For 3 nights, it was comfortable and spacious enough, costing £44 per night (in 2019). Many international hotel chains operate in Shanghai and there's no shortage of accommodation as long as you're not travelling on national holidays. So, you'll definitely find something that meets your needs! I recommend using Booking.com to get an overview of what's available in Shanghai on your travel dates.
Shanghai 3-Day Itinerary: Day 1
Shanghai Museum | People's Square & People's Park | Lunch of Xiaolongbao | The Bund | French Concession | Yu Gardens | Old City of Shanghai | The Bund at Night
The first day of this Shanghai 3-day itinerary focuses on the central area of Shanghai between People's Park and The Bund. It's jam-packed with the best things to do in Shanghai! One way to see most of these sights is to join a walking tour – such as the free one offered by Free Tour Asia. However, you can quite easily visit all of these places yourself, at your own pace.
RELATED POST: Find out more about whether you and your travel itinerary are eligible for the China Transit Visa, with this complete guide.
Shanghai Museum
Start your day by visiting the expansive Shanghai Museum, located in the heart of the city by People's Square. This huge museum has over 100,000 art pieces displayed across multiple galleries and exhibition halls. Here, you can immerse yourself in Chinese art and history for an insight into the making of modern-day Shanghai culture.
The museum is free to visit – tickets are limited to 8000 per day in usual times. Arriving early in the day is recommended as queues form quickly to get hold of a free ticket. Although, the limit is currently reduced to 6000 with advanced online booking required. The museum is open from 9am to 5pm, Tuesday to Sunday. Use Exit 1 from People's Square Metro Station.
People's Square & People's Park
Next, take some time to enjoy People's Square – located right in front of the Shanghai Museum – and People's Park – right across the road. The park in particular is a popular spot with the locals for mingling and practising Tai Chi. Indeed, it's as close to fresh air as you're going to get in central Shanghai!
If you visit on a Saturday, then you'll get to visit the marriage market. Which, is exactly as described. The park becomes full of parents and grandparents upselling their child's attributes and successes on an advert affixed to an umbrella! Their target audience is more the parents of other unmarried (adult) children than the eligible bachelors and bachelorettes themselves. It's not something that should be missed!
Lunch of the Shanghai Delicacy of Xiaolongbao
I'm pretty sure every Shanghai post I write will feature xiaolongbao – but it is bloody amazing! Popular with locals and tourists alike, there are plenty of places that serve xiaolongbao, which generally contains pork or crab meat.
My absolute top recommendation is to enjoy the culinary experience of xiaolongbao at Jia Jia Tang Bao. Located just north of People's Park, this restaurant is very popular with locals. The xiaolongbao are made in the restaurant daily and it closes when they're sold out – so don't leave it too late in the day. Equally as important to note, is that they do have an English menu so you can point as the staff don't speak English. Also, as it's a small restaurant, all the seats are used, so expect to be sat at the same table as others.
There is, however, a method of eating xiaolongbao to avoid burning your mouth:
Use your chopsticks to pick up a xiaolongbao and lift it onto the wide spoon provided. Then, you need to bite a small hole in the top to allow the steam to escape
Dip your xiaolongbao in the vinegar-ginger sauce (or have already added this to your spoon) – remember you only need a small amount
Eat whole and enjoy the soupy goodness!
The Bund
From Jia Jia Tang Bao and People's Park, The Bund is just a 30-minute walk away. One route to take is along the busy Nanjing Road – the most famous shopping street in Shanghai (we'll visit this on Day 3 of this itinerary). However, this street does get crowded and whilst it is pedestrianised, for the most part, street trains run to shuttle people up and down. Another option is to walk along one of the many roads that run parallel to Nanjing Road, such as Jiujiang Road or Hankou Road. These are less busy but aren't pedestrianised.
When you're at The Bund – and you'll know because of the incredible cityscape in front of your eyes – take time to enjoy the view. A long (1.5 km) promenade runs alongside the river giving you various vantage points to see the Pudong area. nd, honestly, it is one of the best things to see in Shanghai! Highlights of the view from The Bund include the Shanghai Tower, Shanghai World Financial Center and the Jin Mao Tower.
At the northern end of The Bund is a small park and monument. While the southern end of The Bund meets with the former French Concession – which is where this Shanghai itinerary is heading next…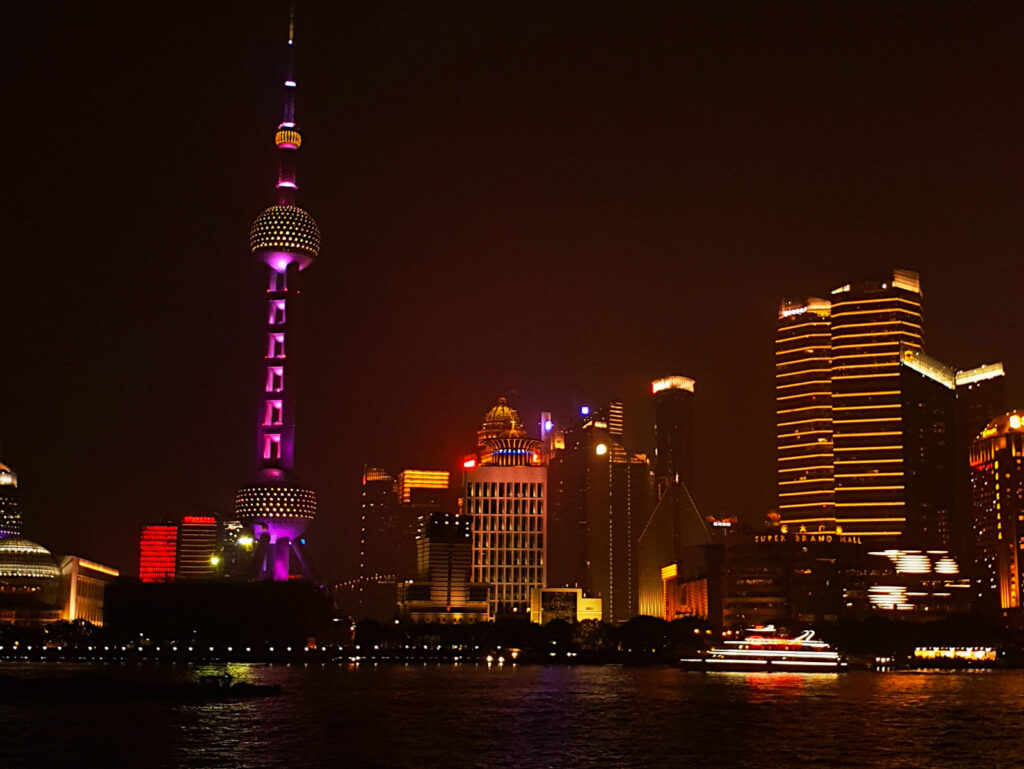 French Concession
Contrary to popular belief, the French Concession of Shanghai covers quite a large area. 123 full-size football pitches in size to be precise. So, quite simply, you cannot explore it in a couple of hours.
Nevertheless, following this route around central Shanghai, you will cross the eastern edge of the French Concession. You may not expect to associate Shanghai with British and French colonialism. But, like much of the world, it did not escape the world-invading escapades of the 16th to 20th century Europeans.
The streets, cafes and boutiques will transport you to Paris. Additionally, on the way from The Bund to Yu Gardens, you'll pass St Joseph's Church built back in 1862. This catholic church and the leafy streets provide a stark contrast to the skyscrapers of Pudong.
Yu Gardens
Yu Gardens is located in the picturesque Shanghai Old City and provide a welcome respite from the concrete skyline. These popular and picture-perfect gardens are full of pagodas, ponds, bridges and rockeries. Spend some time amongst the mesmerising design and architecture of more traditional Chinese-style buildings.
Tickets cost 30 Yuan (£3.40) in off-peak months and 40 Yuan (£4.50) in peak months – more details are on the official website.
Old City of Shanghai
Once you've finished exploring Yu Gardens, I recommend taking some time to explore Shanghai Old City. Both the Yuyuan Old Street and Shanghai Old Street are full of shops, food stalls and restaurants. Although, while they are called Old Streets due to architecture there are still McDonald's, Starbucks and the like inside the traditional building facades!
Of course, if you're more into sights than shopping, you can also visit the City God Temple of Shanghai – located right next to Yu Gardens. Plus, there's also the Shanghai Ancient City Wall and Dajing Ge Pavilion. But, to be honest, the whole area is quirky and cool. You could wander for a couple of hours and still not have seen it all.
By this time, you'll probably be tired and your feet will be aching! Personally, I would treat myself to a little late afternoon lay down followed by dinner close to the hotel.
The Bund at Night
If you've not had enough of walking for one day, then I highly recommend – no, I insist – you take another walk to The Bund. Yes, it's spectacular by day, but by night… Oh, boy, it's another level incredible! Making it the perfect final stop of Day 1 of this Shanghai itinerary.
Since the view is so amazing, you won't even notice how busy the promenade still is. If you're feeling fancy you could even stop for a drink at one of the riverside bars. But, don't leave it too late – the lights on the buildings go off at 11pm in the summer and 10pm in the winter.
RELATED POST: If you have a really short layover in Shanghai, you'll want to read this Shanghai in one day itinerary!
Shanghai 3-Day Itinerary: Day 2
Shanghai Oriental Pearl TV Tower | Shanghai Science and Technology Museum | Fake Markets | Century Park | Food Tour
The second day of this Shanghai 3-day itinerary sees you exploring some of the best places to visit in Shanghai. In particular in the Pudong area of the city. This is the area east of the Huangpu river, featuring countless skyscrapers. Seeing the best of the city during your Shanghai stopover means covering a lot of miles, so get those walking shoes on!
Shanghai Oriental Pearl TV Tower
No Shanghai stopover is complete without a trip to the top of one of the city's many skyscrapers. And, while the Shanghai TV Tower may not be the tallest – it is possibly the coolest. I definitely think it is up there as one of the best things to do in Shanghai.
The tower itself is a whopping 468 metres tall – just shy of 5 Big Ben's stacked on top of each other. Although, the top floor is located at (just!) 351 metres due to the spire on top accounting for much of the additional height. But, tickets are not cheap by Shanghai standards. Personally, I think for what you get I think it's absolutely worth it and a complete essential for any Shanghai 3-day itinerary!
For 220 Yuan (£24.50), you've bagged yourself a ticket to the Space Module (351 metres), sightseeing floor (263 metres), glass-bottom Skydeck (259 metres) and Space City (90 metres). Get those cameras ready, because the views are incredible from all the levels! Overall, you'll probably spend around 2 hours queuing for, enjoying and going between different floors.
Shanghai Science and Technology Museum
From the TV tower, you'll want to take the metro 3 stops (from Lujiazui) to Shanghai Science and Technology Museum. Yes, that's the name of the metro station! You can't miss the museum itself, it's a large glass building with an unmistakable glass sphere in the centre.
Inside, the museum houses 14 different exhibitions covering everything from space to spiders and robots to rainbows. Additionally, the museum has two different IMAX cinemas as well as a space theatre. Although, these do cost an extra 20-40 Yuan (£2.20-£4.50) on top of the 60 Yuan (£6.70) entrance fee. Importantly, the museum is closed on Mondays.
Shanghai's Fake Markets
Fake Markets, I hear you ask… Honestly, their name should be Markets of Fakes. But, that doesn't roll off the tongue so well. Shanghai has many fake markets and these are simply markets made up of many stallholders that sell fake versions of everything you could ever want. From suitcases to shirts and Gucci to GoPros.
There is a fake market located right between the Shanghai Science and Technology Museum and its metro station. With its convenient indoor location, spend some time wandering the aisles of a budget shopper's dreams. Of course, if you want something you'll have to bargain hard. But, even if you don't want to buy anything it's still one of the most quirky things to do in Shanghai.
As a word of warning, however, do remember that none of these items come with warranties or return policies. Indeed, if you are buying electronic items be sure to check voltage, plugs and international compatibility.
Century Park
This huge park is located right next to the Shanghai Science and Technology Museum and the fake market, it's the perfect next stop. Entrance to the park is just 10 Yuan (£1.10) and you could spend hours wandering the different parts. The calmness compared with the city centre will be a welcome break during your 3 days in Shanghai.
Given the many gardens and lakes to explore, one of the best ways to get around in the summer heat is to hire a four-wheeled bike. Like the ones the Chuckle Brothers used to have – more technically known as a quadricycle! In the park, you can hire these bikes for 50 Yuan (£5.50) for an hour with a refundable 50 Yuan deposit. The bike centre is located on the southern side of the park by entrance number 7.
Being able to whizz around the park makes it much easier to see the different parts in a short amount of time. Honestly, the park is huge and to walk it all would take a couple of hours at least. Plus, it's such a fun mode of transport!
Food tour
One of the best parts of travelling is the different food around the world. And, Shanghai is certainly up there in places with amazing food! For this reason, a food tour is an absolute must during a Shanghai stopover – particularly given the language barrier.
However, one of my biggest grievances when visiting Shanghai was how much some companies charged for food tours! Some were upwards of £100 per person – yet food is quite cheap in Shanghai by western standards. Luckily, I found that Free Tour Asia ran a free food tour – you just tip your guide at the end and pay for any food you eat directly from the restaurant! You'll get to visit the best places to eat in Shanghai (so you can come back again and again) – it'll be the highlight of your 3 days in Shanghai!
In truth, I wasn't that keen in the run-up – as someone who is not particularly adventurous with food I wasn't sure I would like anything. And, honestly, it was one of the best experiences of all my time in Shanghai. We visited 7 different places, a mix of street food and local restaurants. A lot of good food was eaten – and none of it was the stereotypical Chinese food you find in England. Lamb kebabs, pork pancakes, dumplings – all amazing.
Shanghai 3-Day Itinerary: Day 3
Jing'an Temple | Jade Buddha Temple | Shanghai Natural History Museum | Nanjing Road
The third and final day of this Shanghai 3-day itinerary explores the western side of central Shanghai. Having seen the new and old sides of Shanghai on days 1 and 2, day 3 in Shanghai brings you up close to more cultural parts of the city.
Jing'an Temple
Located right next to its namesake Metro station on Line 2, this large temple complex is a must-visit during a longer Shanghai stopover. With its iconic gold roof, intricate architecture and imposing statues, the temple is popular with both domestic and international tourists alike.
The entrance fee for Jing'an Temple is 50 Yuan (£5.50), with which you can explore the 3 main halls. Additionally, although there are no specifications for such, as this is a temple, you should dress (and act) appropriately.
Before hopping back on the metro to your next stop, you can spend some time wandering around the small Jing'an Park. Located just across the road from the temple, this park features traditional Chinese landscaping and features.
Jade Buddha Temple
From Jing'an Temple, you'll need to take the Metro one stop eastbound on Line 2 and then 3 stops north/westbound on Line 13 to reach Jiangning Road. The Jade Buddha Temple is a short, 500-metre walk from the Metro station.
Now, as the name may suggest, this temple is home to a very large Buddha statue made out of Jade. But, rest assured, the giant green Buddha isn't the only statue to see, there are also many other gold and stone statues to admire. The striking yellow walls and different areas make it completely worth the 20 Yuan (£2.20) entrance fee.
Shanghai Natural History Museum
You'll need to take Line 13 of the Metro back 3 stops (south/eastbound) to reach the Shanghai Natural History Museum. From here, take Exit 1 of the metro station and you'll be right outside the museum.
Entrance to this large museum is 30 Yuan (£3.30), which will give you access to the thousands of exhibits – all with signs translated to English. So, whether it's dinosaurs or mummies, birds or butterflies, there's something for everyone across the museum's 3 floors. And, while you could spend many hours in the museum, you might have to limit yourself to a couple – this Shanghai 3-day itinerary is action-packed, don't you know?!
Once you're finished in the museum, you can also enjoy the Jing'an Sculpture Park. It's located right next door and you'll be passing through it on your way to the next stop anyway.
Shopping on Nanjing Road
From the museum and sculpture park, it's a 20-minute walk to the pedestrianised Nanjing Road. Known as being the most popular shopping street in Shanghai, Nanjing Road has all the shops you could wish for. Featuring both international and Chinese brands and products as well as a whole mix of food options. Now is your chance to stock up on Sephora, sweets and Shanghai souvenirs!
Given that the pedestrian part of Nanjing Road is over 1 km long, you can easily spend all day here. Especially when you consider all the side streets that reveal the real gems of Shanghai with local convenience stores, independent retailers and street food vendors. But, this is your chance to take advantage of the comparatively cheaper cost of goods in Shanghai versus western standards.
RELATED POST: Staying in Shanghai for longer? This Shanghai 5-day itinerary is essential reading for you to make sure you see the best of Shanghai!
Getting to and from Shanghai's Airports
Both of Shanghai's international airports (Pudong and Hongqiao) are located on Line 2 of the metro. This is super handy as this is the line that runs right through central Shanghai. Meaning you can get to the best locations such as People's Park and the TV tower with one direct train. Perfect for if you land early in the morning or have a late evening flight back and want to make the most of your Shanghai stopover.
The metro takes about 1 hour to/from Pudong Airport and 30 minutes to/from Hongqiao Airport from central Shanghai. With trains running around every 10 minutes. Another option for those with flights in or out of Pudong Airport is to take the high-speed Maglev Train. Reaching speeds of over 400 km/hour, this train takes you from Longyang Road (also line 2 on the metro, just a few stops outside the city centre) to the airport in less than 10 minutes.
The metro costs 5-7 Yuan one-way (£0.60-0.80) while the Maglev train costs 50 Yuan (£5.50) one-way (40 Yuan [£4.50] if you have a same-day air ticket). Taxis are much more expensive and take at least the same time due to the traffic in this huge city!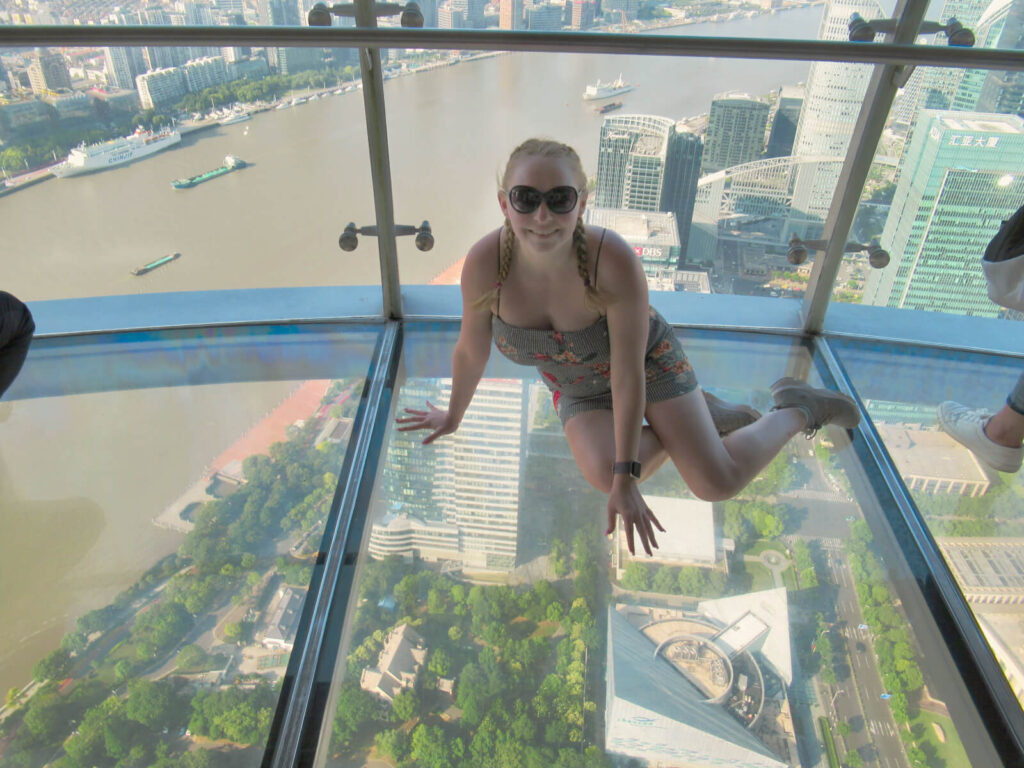 ---
While 3 days in Shanghai is enough to see many of the best sights, you'll have barely scratched the surface of this metropolis. But, hopefully, I have convinced you that Shanghai is well worth visiting even if you have just a few days! Did you follow this Shanghai 3-day itinerary? What were your experiences? Let me know in the comments below!
If you have any questions or want any more information drop a comment below and I'll get back to you!
Prices and offerings mentioned are correct as of February 2021 but are subject to change in future.
---
RELATED POSTS
SHANGHAI: One Day Itinerary for Daytime Layovers in Shanghai
SHANGHAI: 5-Day Itinerary (The Best of Shanghai)
LAYOVER DESTINATION: 7 Reasons You Should Book a Long Layover in Shanghai
VISA GUIDE: The China Transit Visa: Everything You Need to Know
---
PIN IT FOR LATER!