Shanghai is a fascinating city. A perfect blend of east and west, skyscrapers and historic buildings, colonial history and modern-day China. Serviced by two international airports, many airlines offer layovers in the city – particularly for those travelling between North America or Europe and Asia. So, if you don't fancy spending all day sat in an airport, get out of the airport and see Shanghai in one day!
For honesty from the start, one day in Shanghai is not enough to really experience the city! But, I am an advocate of utilising layovers to see new places, so if you only have one day in Shanghai, then this is the guide for you! But, if you do have the opportunity to extend your layover in Shanghai to a few days, then definitely take it!
This post was last updated in September 2021. China is currently closed to international travellers but the information is as up-to-date as possible for domestic tourists and visitors.
Some of the links below are affiliate links, meaning, at no additional cost to you, I may earn a small commission if you click through and make a qualifying purchase.
Shanghai in One Day: Itinerary at a glance
Travel from the airport to central Shanghai (up to 2 hours)
Shanghai Museum & People's Square/Park (around 2 hours)
Lunch in a spot popular with the locals (30 minutes)
Nanjing Road (1 to 1.5 hours)
The Bund (30 minutes)
Take a ferry crossing and explore Pudong (30 minutes to 1 hour)
Shanghai Oriental Pearl TV Tower (2.5 hours)
Travel back to the airport (1 hour)
Of course, if your layover is shorter or longer than this you can adapt to suit you. I've included some possible substitutions/additions towards the bottom of the post. But, in essence this is a DIY Shanghai one-day tour taking you to the best Shanghai tourist attractions and must sees.
Getting to Shanghai from the airports
Allow at least 1.5 hours from landing for disembarking, getting through passport control and getting the metro to the city centre. If you have not visited China before you'll need to scan your fingerprints on a machine before passport control.
Additionally, if you need to obtain a transit visa for your layover in Shanghai (also known as transit without visa) then allow time to complete the form and queue for this.
Both of Shanghai's airports are located on the outskirts of the city. However, both have metro stops that allow you to get a direct train to the city centre. The metro/train is the best transfer option as private transfers and taxis can take just as long with the traffic and cost substantially more.
From Shanghai Pudong International Airport
Follow signs for the train station from within the terminal building.
The cheapest option is to take the direct metro train to the centre of Shanghai. Pudong International Airport is the end of the line, so there's no danger of getting a train in the wrong direction!
Metro trains start running at around 6am and take around 1 hour to get to People's Square in the heart of the city. Tickets cost 7 Yuan (£0.80) one-way and can be purchased from the ticket machines in the concourse (English option available).
The quicker but slightly more expensive option is to combine the Maglev high-speed train with the Metro. The Maglev train reaches speeds of up to 431 km/h and runs from Pudong International Airport to Longyang Road. Here, you can get the metro (Line 2) to People's Square.
The total journey time with this route option is about 25 minutes, with the Maglev covering 30 km in less than 8 minutes! Tickets for the Maglev are 40 Yuan one-way (£4.50; when presenting a same-day airline ticket) or 80 Yuan return (£9). The Metro from Longyang Road to People's Square costs 4 Yuan one-way (£0.45).
Both options are feasible for a trip into the city if you just have one day in Shanghai, but the quicker option with the Maglev will allow you to fit a little bit more in!
From Shanghai Hongqiao Airport
Travelling from Hongqiao Airport to central Shanghai only has one option – the Metro. The station is located in Terminal 2 of the airport. From here, you can take a Metro train on Line 2 (the only line that serves that station) to People's Square. The journey time is about 30 minutes and the cost is 5 Yuan (£0.60).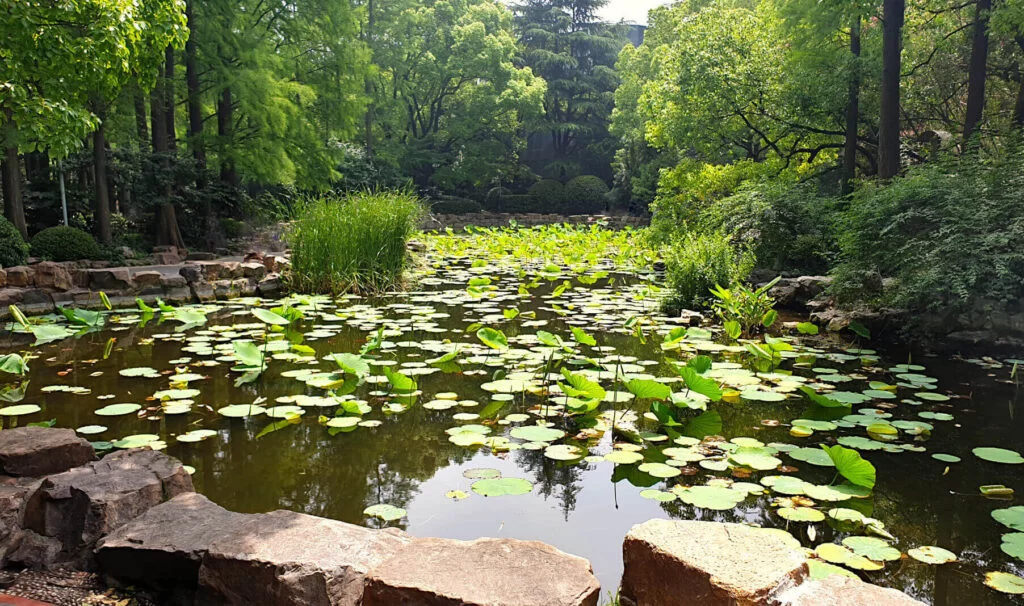 Shanghai Museum & People's Square/Park
During colonial times following British invasion, what is today People's Square used to be a horse-racing track. Now, this large green space in the heart of the city is home to the Shanghai government and a few museums. As a place to learn about Chinese history – and also people watch in the park – this is a great place to start seeing Shanghai in 1 day.
You'll need to get to People's Square Metro station, but be warned, it is HUGE. In fact, the station has 20 different exits! Each of the exits are numbered, and the closest exit to Shanghai Museum is Exit 1.
Shanghai museum is free to visit and is located on the southern side of the park. This large museum contains over 140,000 individual paintings, sculptures and relics. You'll want to arrive here as early as possible (opens at 9am; closed on Mondays) to avoid having to spend time queueing. However, the museum is currently only accepting reservations made online in advance with a maximum of 6000 people per day.
Although you could spend all day in Shanghai Museum, I'd recommend limiting your stay to 1 to 1.5 hours. This way you'll still have time to see a lot more of the city without rushing. Once you're out of the museum, spend a little time walking the shaded pathways of People's Park.
In People's Park, you'll see many people chatting on benches and practising Tai Chi in the park. While a large, metropolitan city like Shanghai can seem quite westernised, a short walk in People's Square will bring you up and close to the lives of many Chinese people who spend their time relaxing here.
A Quick Stop for Lunch
Undoubtedly, one of the best things about travelling is different food around the world. And, Shanghai certainly has some amazing food. My absolute favourite Shanghai dish is called xiaolongbao – steamed soup dumplings. Typically, the filling is either pork or crab meat in a dumpling-style bun.
One of the best places to visit in Shanghai to experience authentic xiaolongbao is Jia Jia Tang Bao, which is very popular with the locals. Located just north of People's Square, it's the perfect place for brunch or lunch!
You order at the door and are then seated – 12 xiaolongbao cost around 30 Yuan (£3.40; price dependent on filling). You'll need to pay in cash but they do have an English translated menu for you to point at. The service is speedy too – perfect for a seeing as much as possible of Shanghai in one day.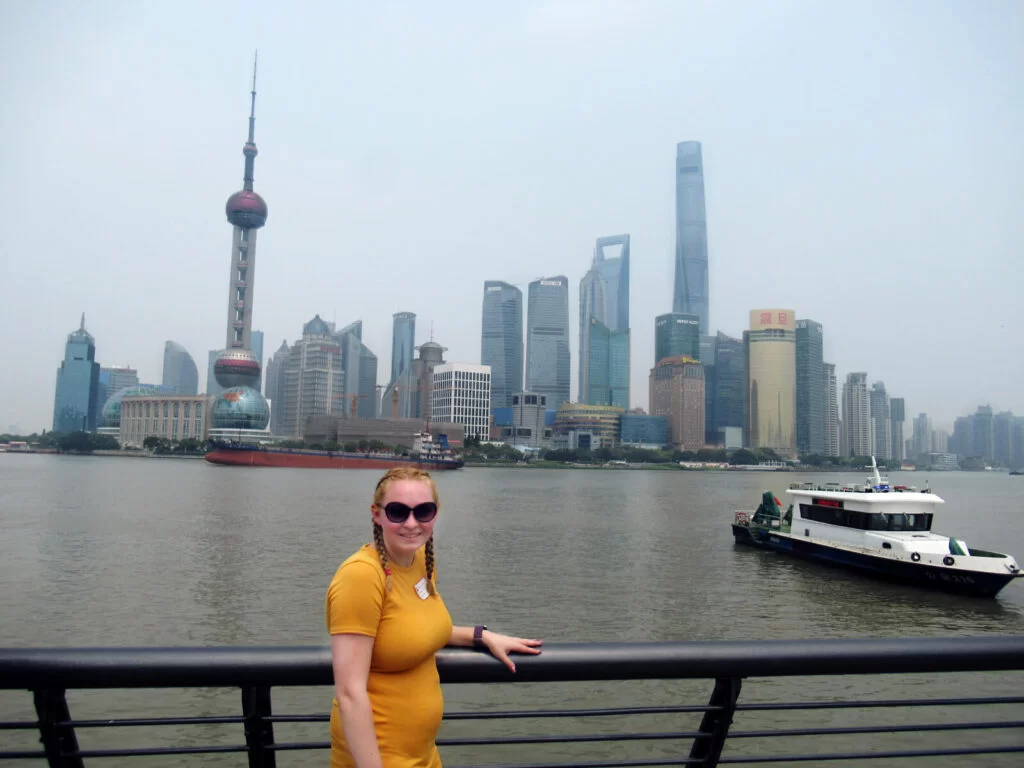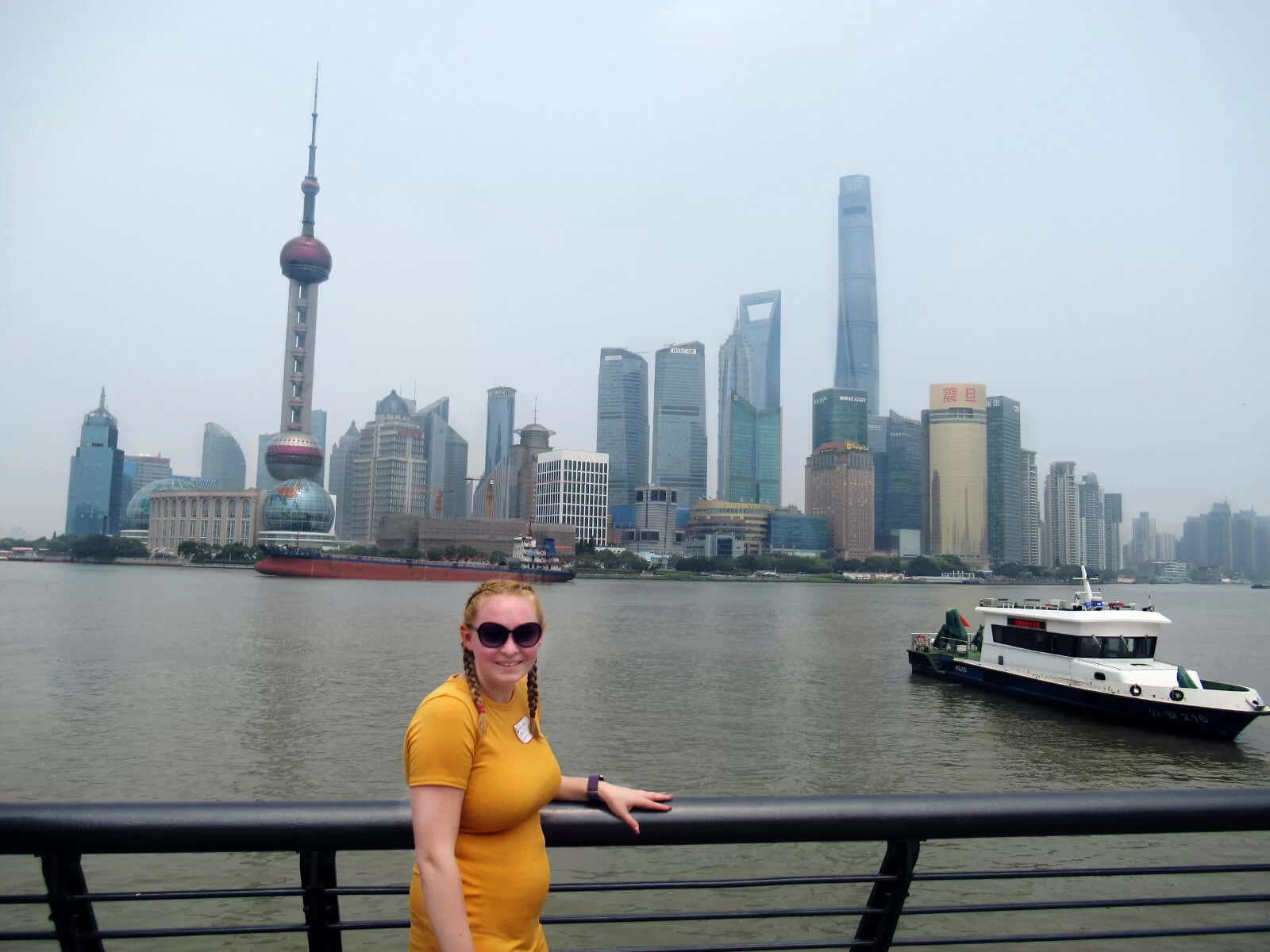 Nanjing Road East
Nanjing East Road is Shanghai's answer to Oxford Street or Rodeo Drive. This pedestrianised street has so many shops, shopping centres and food outlets you won't know where to start! From Sephora to Starbucks, local and international, high end and high street, Nanjing Road has it all. And, on the many side roads you can find street food stalls and local convenience stores.
Running from the northern corner of People's Square in the west to the Huangpu River in the east, Nanjing Road is over 1.5 km long. Take some time to explore one of Shanghai's most popular areas as you work your way toward the next location. Indulge yourself at department stores, stock up on local snacks, enjoy a middle of the day ice cream, test make-up items in Sephora…
The Bund
Get your camera ready because you'll want to capture this skyline! The Bund is a riverside walkway that offers the most famous viewpoint of Shanghai's skyscrapers in the Huangpu District. This is one of the absolute must sees in Shanghai and is an essential for any itinerary. And, it might be the most breathtaking moment of your day in Shanghai.
Although this is one of the most visited spots in all of Shanghai, the walkway stretches for almost 1 km alongside the river. As a result, you should easily be able to find a quieter spot to take photos without people right beside you. But, be warned, you may find that random strangers just take photos of you!
Spend some time enjoying the sights from The Bund before working your way to the southern end of the promenade. Here, you can take the Jinling East Road Ferry across the river. Tickets cost 2 Yuan (£0.23) per person and the ferries run roughly every 10 minutes. In addition to being a cost-effective option, the ferry also offers a unique viewpoint of Shanghai's stunning skyscrapers.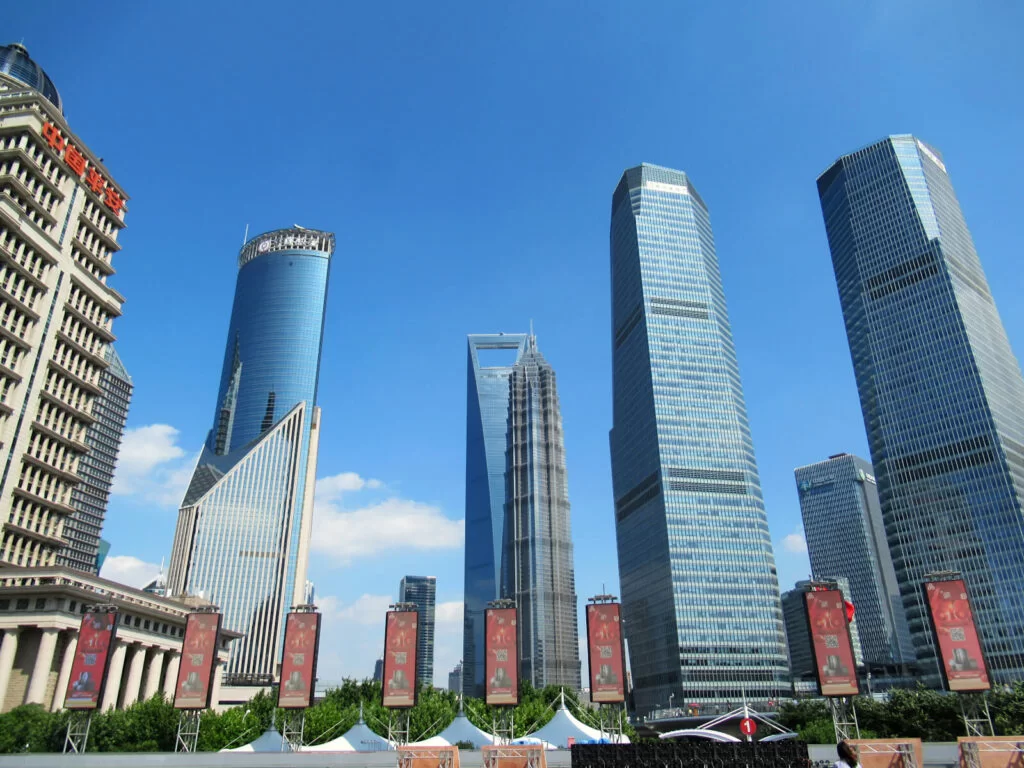 Walk among skyscrapers
Once you've got off the ferry, you'll want to head toward the next stop of the Shanghai TV tower. It's just a short, 20-minute walk, but you'll feel like you're walking in the shadows of giants between the many skyscrapers. Take a slow stroll through this part of the city and admire the impressive architecture and engineering of the buildings.
For instance, the Shanghai Tower is the second-tallest building in the world – 632 metres! And, it's home to the world's highest observation deck at a vertigo-inducing 552 metres up. But, if that wasn't making your stomach go enough, the Shanghai Tower also has the world's second-fastest lifts. They reach speeds of 46 mph, which translates to over 20 metres per second! Not for the faint-hearted!
While the Shanghai World Financial Center is figuratively and literally overshadowed by the Shanghai Tower, it is still the world's 12th highest-building! Affectionately known as the 'bottle opener', for obvious reasons, this tower has a bar on the 92nd floor with spectacular views. If only you had more time during your daytime layover in Shanghai!
Shanghai Oriental Pearl TV Tower
The Shanghai TV Tower – or the Shanghai Oriental Pearl TV Tower, to give it it's full name – is instantly recognisable! With the three shiny spheres making up the three main sections of the TV Tower.
Towards the top of the tower is the Space Capsule Sightseeing Floor, located at a stomach-wrenching 351 metres above the ground. In the middle sphere are the observation deck (at 263 metres) and the Skydeck with a glass floor (at 259 metres)! Then, in the lowest sphere is the multimedia show and outside deck (at 78 metres). Plus, at the base of the tower is the museum.
For anyone wanting to see Shanghai from up above, there are 3 types of ticket:
Space Capsule (351m) + sightseeing floor and Skydeck (263/259m) + multimedia show (78m) + museum = 220 Yuan (£25)
Sightseeing floor and Skydeck (263/259m) + multimedia show (78m) + museum = 190 Yuan (£21.50)
Sightseeing floor and Skydeck + museum = 160 Yuan (£18)
Tickets can be purchased directly from the Oriental Pearl Tower for these prices and card payments are accepted. There is no need to book using third-party websites as these charge much more!
Review and Recommendation for Shanghai TV Tower
The views from the TV tower were incredible, even when I visited on a slightly smoggy day. And, I totally think it was worth the admission cost. I opted for the 220 Yuan ticket to access all the floors and it took around 2 hours in total to see everything. Absolutely one of the must sees in Shanghai!
That being said, the views from the Space Capsule at 351 metres aren't that much more incredible than those lower down as you're already so far above most other buildings. Additionally, you don't get panoramic views from the Space Capsule as the windows are smaller rather than being floor-to-ceiling.
As such, unless you want to be able to say you've been up to 351 metres, then I'd recommend getting the 160 Yuan ticket that gives you access to the sightseeing floor and Skydeck. This really is the best part!
The sightseeing deck is much like many observation decks around the world. With floor-to-ceiling windows on all sides, you slowly work your way around the perimeter admiring all the different viewpoints. But, the Skydeck is the coolest part – a glass floor walkway at 259 metres above the ground! Look around and you'll see everyone tiptoeing onto the glass… But it makes for a pretty cool experience and even cooler photos! In fact, it's the world's only 360-degree, all-transparent observation deck!
I'd allow around 2.5 hours for your visit to include time to buy the tickets and take photos from the outside.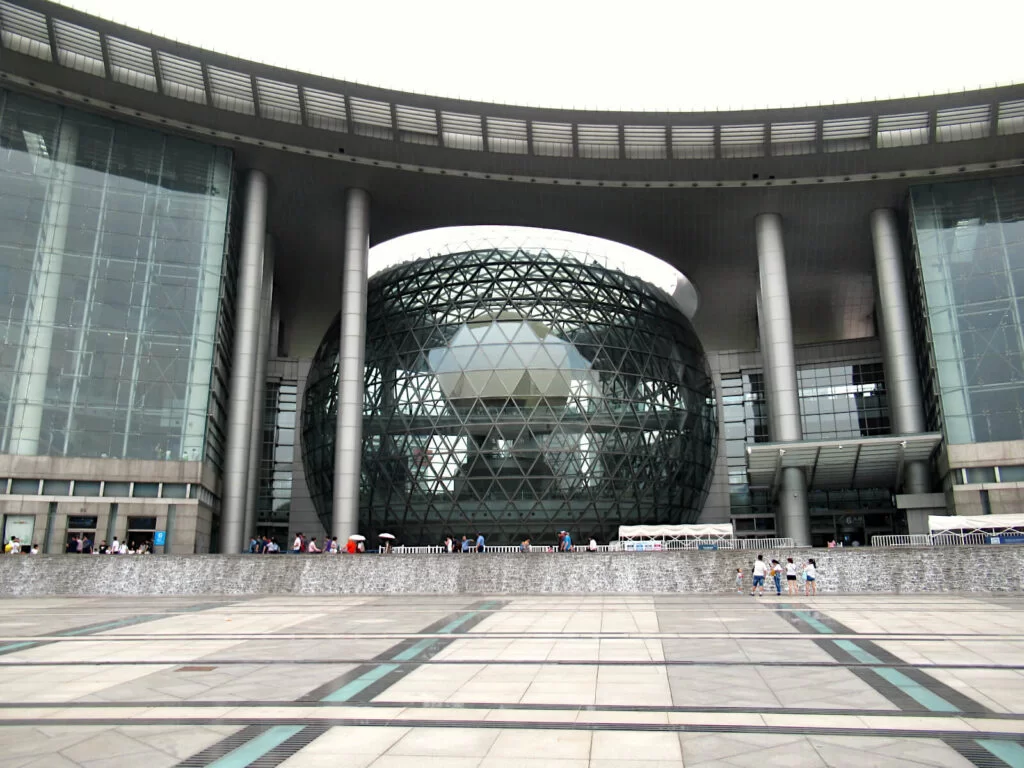 Return to the airport and catch your flight
The Shanghai Oriental Pearl TV Tower is conveniently located right next to Lujiazui station. Which is on Line 2, meaning you can get direct Metro trains back to either Pudong or Hongqiao airports.
For Shanghai Pudong airport, if you have a return ticket or just fancy a quicker return, you'll need to go 5 stops eastbound to Longyang Road. Here, you can change for the Maglev services that run every 10 minutes or so. I'd recommend allowing around an hour between leaving the TV tower to arriving at Pudong airport.
Don't make your layover in Shanghai become an extended one by missing your flight! Plan to arrive back at the airport two hours before your flight. You'll need to queue to go through customs as you exit China and have your passport stamped out.
What else could you trade into your Shanghai in One-Day itinerary during a daytime layover?
While it can be tempting to squeeze as much in as possible to maximise your daytime layover in Shanghai, you don't want to end up missing your flight! This Shanghai one-day itinerary has been designed for daytime layovers of around 12 hours. Plus, the sequence in the tour of Shanghai follows the same direction, this is to minimise time spent travelling between places. So, unless you have at least a couple of hours more than this, you'll need to make trades rather than additions. And, I'd also recommend not trying to zig-zag across the city.
For instance, rather than the Shanghai Museum, you could visit the Shanghai Urban Planning Exhibition Center. This museum costs 30 Yuan (£3.40) to enter and showcases the development of Shanghai over the years – including a huge model of the city. It's also located in People's Square – use Exit 2 or 3 of the Metro station to access it.
Or, if the Shanghai TV Tower isn't your thing, you could visit the Shanghai Science and Technology Museum or Century Park. Both can be reached from Century Square Metro station – which is just two stops eastbound from the TV tower. Entry to the Science Museum is 60 Yuan (£6.80) and for Century Park it's 10 Yuan (£1.10). In the more extremes of weather (very hot or wet) then the Science Museum is a good option. But, if it's time outdoors you're after then the large Century Park is the place for you.
Other popular Shanghai tourist attractions that are visit-worthy include Yuyuan Garden (a short walk from the Bund and Nanjing Road), the tree-lined streets of the Former French Concession, the Shanghai old city walls or the fake markets.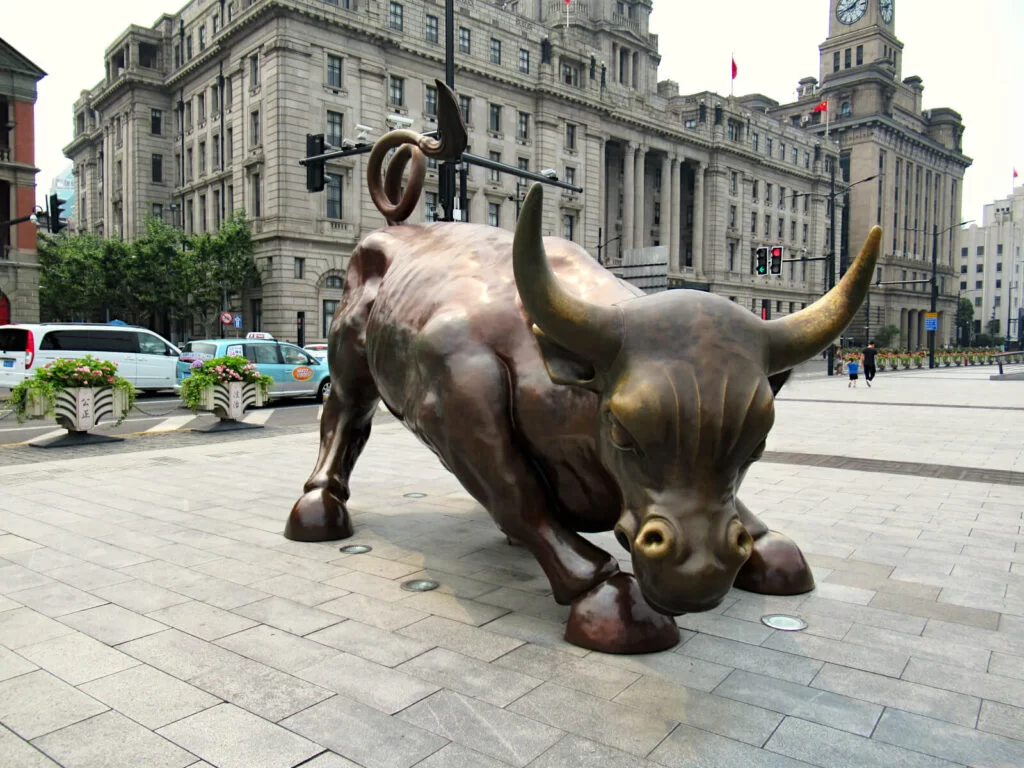 Shanghai Travel Essentials & Helpful Tips
Notepad ready? You're going to want to remember this. Zoe's absolute essential must-knows for visiting China!
Google doesn't work
I'm sure you're thinking 'Zoe, everyone knows that…' And, you'd be right. But it's not as simple as not being able to Google things. You also can't use Google Maps (including offline maps), Google Pay, Google Drive, etc etc. (iPhone functionality including Apple Pay and Maps do work fine if you have data/wifi). And, this is all in addition to social networks such as Instagram, Twitter, Youtube, etc not working.
Maps.me is a fantastic alternative to Google Maps. Download the app ahead of time from the Play Store. You can also download offline maps and GPS will continue to work even if you don't have roaming data on.
To access the forbidden land (aka social media or western news sites), you'll want to have access to a Virtual Private Network or VPN for short. VPNs have two main benefits. Firstly, they make your connection secure and private, which is particularly important when using public wifi. Additionally, VPNs allow your device to appear as though you're in different countries. In turn, this allows you to bypass geographical restrictions such as those placed in China on social media, or just to watch American Netflix from the UK.
Practical things for one day in Shanghai
Some are obvious, others less so. But put these on your packing list!
Battery pack – if you're spending all day navigating and taking photos you're going to need a battery pack. Especially, if you've just got off a flight and are about to get another one after your layover in Shanghai!
Cash – It's good to have a small amount for smaller shops and metro when you arrive. Try to get smaller notes (20 Yuan or less) as Metro machines don't accept more than this. Order a small amount in your home country and then you can withdraw cash from most major banks in central Shanghai.
Tissue/toilet roll – Public toilets in Shanghai mostly do not have toilet paper. Bring or buy tissues in advance. Or regret it. Also, many public toilets in Shanghai are squatting-style holes in the ground. If you don't fancy leg day, use the disabled cubicle/toilet as these generally have seated-style toilets.
Don't buy a nice lighter – So, China has this thing where you're not allowed to take lighters into a lot of places. For instance, before entering the TV Tower or before clearing security at the airport you have to throw your lighter away.
Prepare for the weather – Shanghai might not seem like a summer sun kind of destination. But, in July and August the average temperature is over 30 degrees Celsius with very high humidity. As a result, this is not a good time of year to be out exploring and walking in Shanghai for prolonged periods. Check the weather in advance and bring appropriate clothes, particularly if the weather in Shanghai will be quite different to anywhere else you're visiting!
---
As a huge and sprawling city you've barely scrapped the surface of this unique city with just a one day tour of Shanghai. But, hopefully, by following this Shanghai 1-day itinerary you'll be able to see the best bits and it'll leave you wanting to come back for more!
If you have any questions or want any more information drop a comment below and I'll get back to you!
Prices and offerings mentioned are correct as of September 2021 but are subject to change in future.
---
RELATED POSTS
VISA GUIDE: The China Transit Visa: Everything You Need to Know
SHANGHAI: 3-Day Itinerary (Perfect for a Shanghai Stopover)
SHANGHAI: 5-Day Itinerary (The Best of Shanghai)
LAYOVER DESTINATION: 7 Reasons You Should Book a Long Layover in Shanghai
---
PIN IT FOR LATER!