Have you always thought of layovers as an inconvenience? Prefer to fly direct to save time? Then you might be missing out on the benefits of visiting places for no additional flight cost during layovers! A long layover in Shanghai is the perfect option when travelling to or from Asia.
This post will give you all the reasons you need to book that longer layover if you get the opportunity!
Last updated: October 2021. First published: June 2020.
---
To leave the airport, the minimum amount of time you need is an 8-hour layover. This is the time required to get a transit visa. Plus, it's also the shortest amount of time possible that you'd need to clear security, travel into the city, sightsee, and then get back to the airport. (Skip to point number 5 to read all about how you can enter China without a visa on a layover!)
However, to really get a feel for the city I'd recommend seeing if you can book a multi-city trip or long layover. This way you'll be able to enjoy at least 3 days in Shanghai and be able to see a lot more! But, if you still need convincing, here are my 7 reasons why you should book that long layover…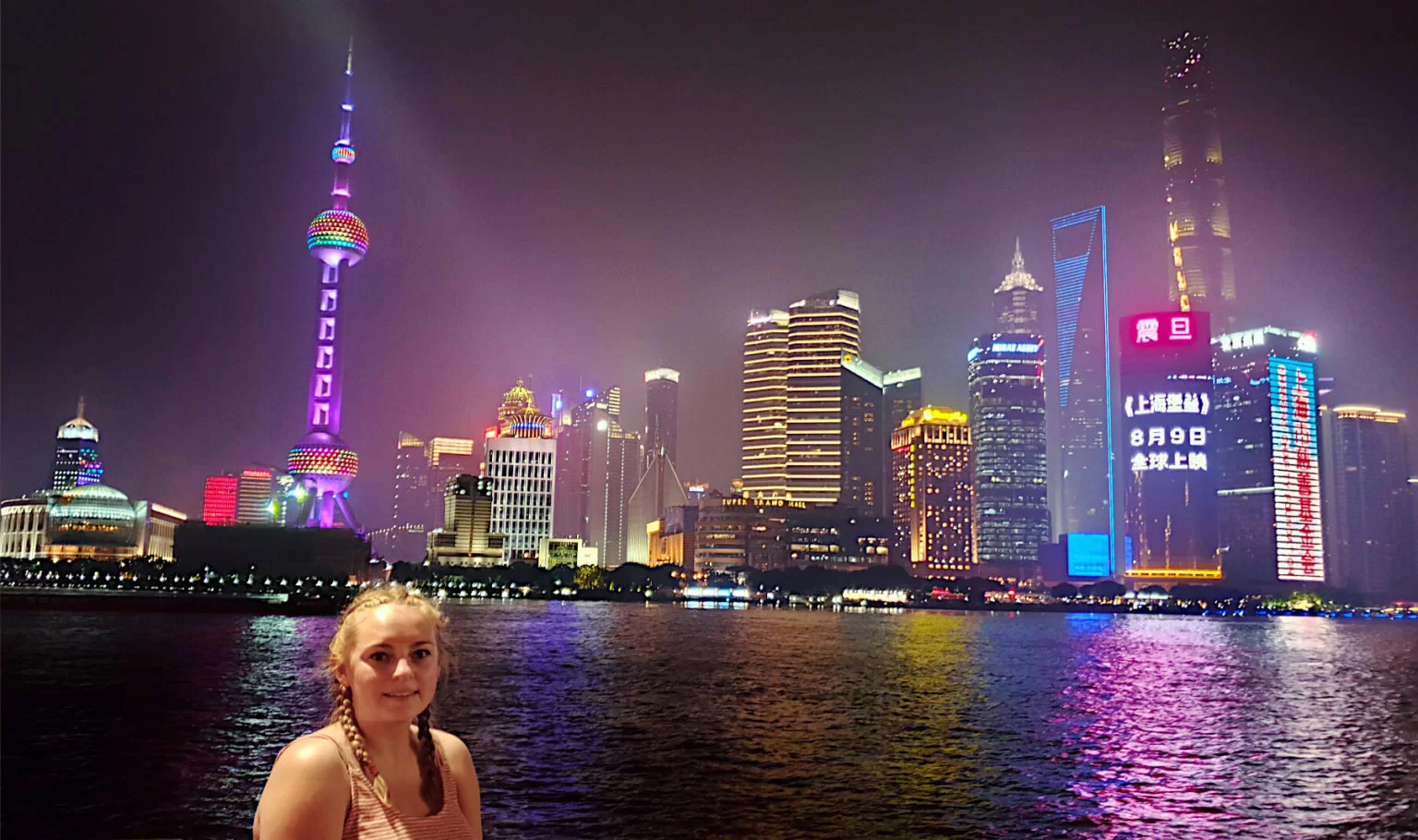 1. Shanghai is Picture Perfect
Shanghai is a city that has it all! Skyscrapers in the Lujiazui district, local markets, historic and colonial architecture and even the Zhujiajiao water town. And, to top it all off the city typically enjoys beautiful weather for much of the year!
As such, Shanghai is a dream for any photographer, professional or holiday snapper. But also perfect for travellers who want to see a bit of everything, and experience a varied and diverse culture.
Walk along The Bund and look across the Huangpu River to see the magnificent skyscrapers that dominate the skyline. My personal favourites include the Oriental Pearl TV Tower and the Shanghai World Financial Center. By day they're impressive, but even more so by night. The buildings are illuminated until around 10 to 10.30pm, so don't leave it too late or you'll miss out! The best metro stop for The Bund is East Nanjing Road (line 2). Consider taking a local riverboat from one side to the other (2-3 Yuan), or a dinner cruise lasting 2-3 hours if you want something fancier.
Century Park is another beautiful spot in the centre of Shanghai, with lakes, bridges, play areas, cafes etc. From here you can also walk towards the city along Century Avenue. Where, you'll be able to admire the famous skyline in the distance. For Century Park, travel on the metro to either Century Park station or Shanghai Science and Technology Museum station (both line 2). Line 2 runs between Shanghai's two airports. So, both Century Park and The Bund are great for visiting on a layover in Shanghai. Especially, if you don't have much time!
Other incredibly beautiful places include the Shanghai Natural History Museum, Shanghai Science and Technology Museum, Lujiazui Central Green Space, Jing'an Sculpture Park, Yuyuan Garden, and People's Square. Zhujiajiao water town is another unique place to experience, but is a bit further outside of the city centre – great to visit on a longer Shanghai layover!
2. Refuelling During a Long Layover in Shanghai: The Food is Incredible
I will say it loud enough for those at the back… The best thing about Shanghai is the food!
There is food for everyone! And, I say this as a relatively fussy person when it comes to food. I'm not a massive fan of Chinese food from restaurants and takeaways in the UK, but it's not even comparable to food in China!
Xiaolongbao
Xiaolongbao is my absolute favourite Shanghai dish; pronounced pretty phonetically as xiao-long-bao. With the 'bao' part like bow (as in 'take a bow' or bao buns, not bow as with ribbons). Got to love the English language as I try to explain the difference between bow and bow!
But, I digress… Xiaolongbao are dumplings filled with pork or crab soup. They are served fresh from being steamed in the dumpling basket (see picture above). And can be eaten with either chopsticks or the large flat spoon provided.
The general xiaolongbao etiquette is to bite a small hole at the top, allow the steam out, and then eat whole. With this method, you get the pop in your mouth sensation but avoid burning your tongue! The dipping sauce is optional but tasty.
Jia Jia Tang Bao is the place to go for the best xiaolongbao, located just north of People's Park. All available seats get filled, so expect to be seated with locals. Plus, they shut once they're sold out for the day. For the best chance of being seated and fed, visit before midday or on weekdays. It's just the perfect place to eat during a layover before heading back to Shanghai airport.
At Jia Jia Tang Bao they have an English menu where you can point to what you want (they don't speak English). And, expect to need to pay in cash. Twelve pork xiaolongbao cost just over 20 Yuan (£2.30), with the crab or mixed selection options costing slightly more.
Jian Bing
The best savoury pancake you will ever eat. Although not specific to Shanghai, they come in at number two on my list of top dishes. Personally, I only ever normally eat pancakes with chocolate spread. So, it's quite something that a savoury pancake makes the list!
These pancakes can be customised – if you don't speak Mandarin pointing and/or nodding/shaking your head at things works best. The general ingredients are a crepe-style pancake, egg (spread across), spring onions, slightly spicy sauce, and a fried cracker. Other toppings such as churros or trimmed pork vary by store.
The Jian Bing is made right in front of you and the shops are generally very recognisable by the spinning hot plate. Expect to pay between 10 and 20 Yuan (£1 to £2.50) per pancake.
Other worthy mentions
I love trying Western food variants in foreign countries, and can sadly confess to having had McDonald's in at least 10 different countries. (14 at the time of updating this in October 2021!). But I can honestly say they vary so much, shrimp in Georgia, chicken wings and cheesy fries in China…
You should also, most definitely, take a food tour if you have time. There are way too many that charge you upwards of £70, and I tell you now, this is too much. Even for a guide and the food!
We took a free food walking tour with Free Tour Asia. During the tour, we paid for all our own food and drink, and didn't spend more than 100 Yuan (around £12) each, even though we visited 7 different eateries. At the end you can (optionally) tip your guide the value you think the tour and their helpfulness/expertise was worth.
Note: tours are currently suspended due to the ongoing coronavirus pandemic, but should be resumed in the future.
3. Learn About Colonial History during your Long Layover in Shanghai
Shanghai has a big British and French influence in architecture and style from the colonisation of the city in the 19th and 20th centuries. In just a few hours, you can immerse yourself in the city's history and explore the legacy remaining today.
In the French Concession area of Shanghai, you can experience a more European vibe. Think cafes, boutiques and leafy streets.
For the best French Concession shops explore the streets around South Shaanxi Rd metro station (Lines 1, 10, and 12). Or an alternative is the trendy but authentic Tianzifang, near the Dapuqiao metro station (Line 9), which offers cafes, bars, art galleries and more!
To the north of the French Concession was the British and American Concessions, which became known as the International Settlement. In this area around The Bund, there are many colonial-era buildings in stark contrast to the skyscrapers on the other side of the river!
To experience the history of the city during your visit, a group walking tour is your best option. In a short amount of time, you'll be able to learn a lot from an experienced guide and visit the best places.
4. Shanghai Can Be a Low-Cost Destination For a Layover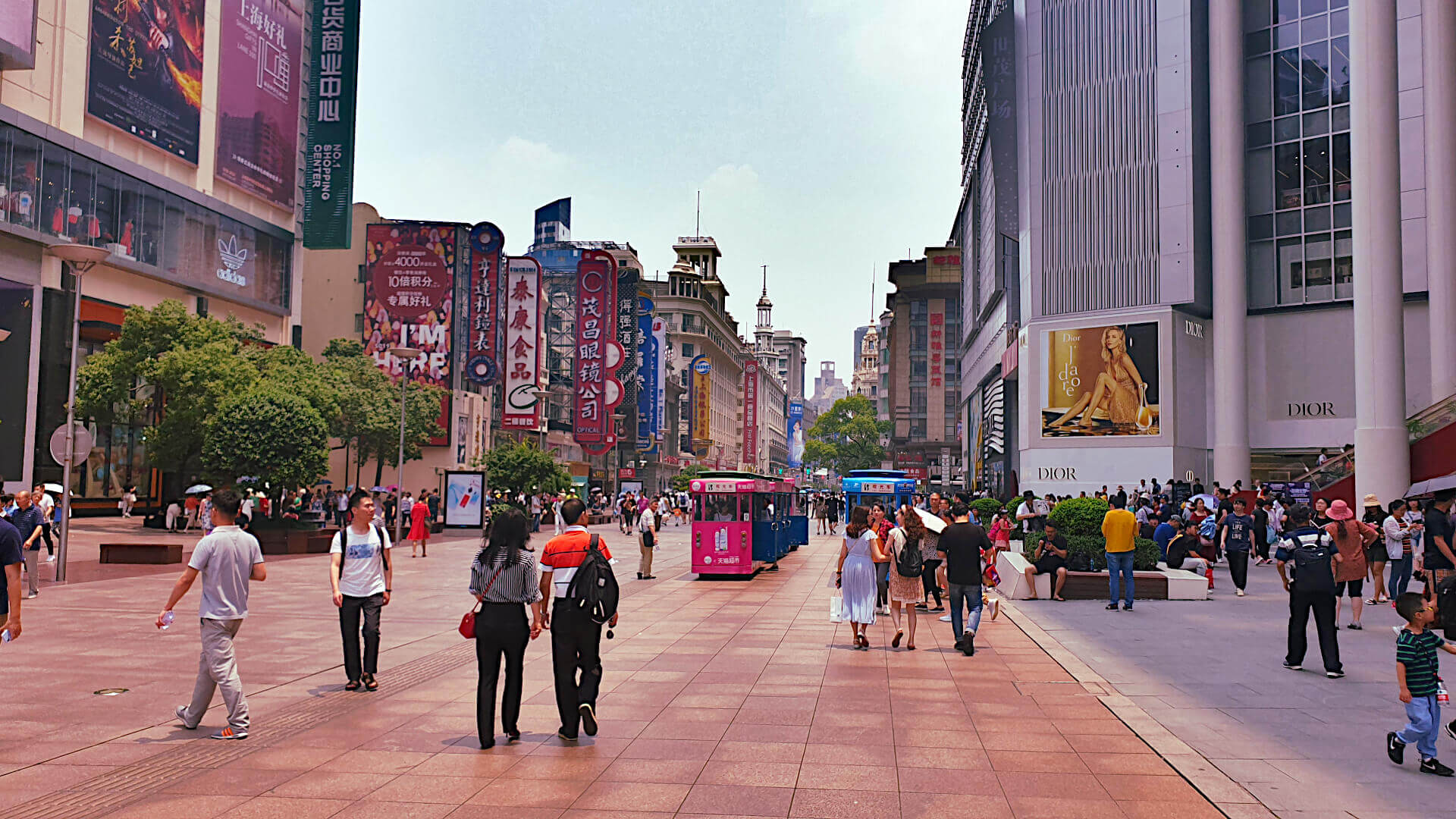 When you're coming from North America, Europe or Australia and New Zealand, prices in China are going to seem amazing!
Prices have been slowly rising in China for years, as the Yuan becomes stronger against Western currencies, and China grows as a superpower. And, although it's not as cheap as countries in South-East Asia, it's still cheap by Western standards.
Nanjing Road
It's very much east meet west on Nanjing Road. Shanghai is home to plenty of Western brands, offering better prices than those found elsewhere in the world. Nanjing Road is THE shopping street in Shanghai for department stores, outlets, food courts, and more local brands.
There are more Starbucks than I could count. But, there are also street food stalls for a more authentic Chinese food experience. It's also home to some American brands that haven't reached the UK yet (Hello Sephora!). Which, is great if you want to stock up on your favourites.
The Nanjing Road shops are perfect for treating yourself during a stopover in Shanghai. As well as buying presents for friends and family at home. Oh and snacks for your next flight… All the snacks!
For the western end of Nanjing Road, travel to People's Square metro station and navigate to Exit 19. For the eastern end, you can travel to East Nanjing Road station (Exits 2 and 7). And at the far eastern end of Nanjing Road is The Bund.
The street's pedestrianisation means it's easy to go back and forth between shops. Although, watch out for the land train, like the ones you get on British seafronts. If you've shopped until you dropped, and need to get to the station, this is for you!
Booking layovers in Shanghai? If you just have a daytime layover, check out this one-day itinerary for seeing the best of Shanghai.

Or, if you've got longer, you'll want to read this Shanghai 3-day itinerary and this Shanghai 5-day itinerary is for you – jam-packed full of Shanghai highlights!
Shanghai's Fake Markets
If you have expensive taste but tight purse strings, then the Fake Markets of Shanghai are the place for you! These are markets and traders that specialise in fake branded goods.
Shanghai A.P. Xinyang Fashion & Gifts Market is next to the science museum, under the Shanghai Science and Technology Metro station (Line 2). This indoor market is huge and you can find everything from belts, electronics, football shirts, handbags, and shoes. However, if you want to buy anything, haggling is a MUST. Pretty much all the traders speak English very well, so do not fear the language barrier!
Shopkeepers will start with very high prices, probably similar to the real version of the product you're interested in! If you don't want to be ripped off you need to go in low and then slowly raise your offer. Or, if you still haven't got the price you wanted, be prepared to walk away… The shopkeeper will likely chase after you, more willing to meet your demand.
Just remember that products will not have a warranty, their quality is likely far less than the real thing, and electronics may not be compatible with plugs and voltage systems in other countries.
5. Visa-free Transit is Free and Easy For a Layover in Many Chinese Cities including Shanghai
No one yet knows when tourist visas and transit visas will be reinstated – but, it isn't looking likely before 2022. But, we can plan for future trips! Adding an extended stopover in Shanghai is perfect when reaching destinations in South East Asia from Europe or North America.
The China Transit Visa (also known as visa-free transit) allows layovers in Shanghai, and many other cities, for up to 144 hours. That is, as long as you are travelling from and onwards to 2 different countries. For example, London to Shanghai to Bali. And, that you have a passport from one of 53 countries.
A shorter 24-hour transit visa is available to citizens of most countries, however.
All durations of transit visas are free and issued on arrival. You don't need an embassy visit or application in advance! This makes it a convenient option for both holidaying tourists and long-term travellers.
RELATED POST: Find out more about whether you and your travel itinerary are eligible for the China Transit Visa, with this step-by-step guide.
6. Spend Time Exploring the Province During Your Stopover in Shanghai
You could easily spend months in Shanghai and still have plenty to see. There is lots to do for all ages, budgets, weather scenarios, and moods.
Even at the highest vantage points, the city continues into the horizon for as far as the eye can see. But beyond the city centre are some gems of places well worth visiting during your stay.
Disneyland Shanghai
Disneyland Shanghai is conveniently located on the metro (Disney Resort Station, end of line 11).
The park is also very close to Shanghai Pudong International Airport. To go directly from the airport to Disney, take a taxi (approximately 30 minutes). There are no direct metro lines from the airport to Disney. Meaning, you'd have to go all the way into the city centre and then back out (taking at least 2 hours!)
Full-day and half-day (entry after 2pm) tickets are available for purchase online for 499 yuan (£57) and 329 yuan (£37), respectively.
Short trips to Jiangsu or Zhejiang provinces
For slightly further afield options, you can consider taking a day trip or overnight trip to Nanjing or Hangzhou (more information below). Because of the high-speed train network, both cities are now easily accessible. Journey times are as little as 1 hour for Nanjing and 50 minutes for Hangzhou.
Importantly, in China, you need to produce your passport to book a train ticket (and carry it when you travel). Therefore, I'd advise that if possible you book your ticket the day before from the station.
If you don't speak Mandarin, it may be best to screenshot online translations for the following:
Train type (high speed/bullet, also called G trains)
Ticket type (business/first/second class)
Train time (departure/return and duration)
Destination station
Number of tickets you need
If you accidentally book a slow train your journey could take up to 5.5 hours one way! Second class seats and carriages on high-speed trains are generally similar to standard class in the UK. Therefore, they should be comfy enough for an hour's journey. Or, just splurge on first class – I'm not here to tell you what to do!
Nanjing
Nanjing, the former capital of China before Beijing, is home to 8 million people (the same as London)! Top places to visit in Nanjing include the Nanjing City Wall, Purple Mountain Park, and Xuanwu Lake.
At Xuanwu Lake, a collection of 5 islands linked by bridges, you can also visit the city wall. There are plenty of temples and gardens to explore here. And, it's reachable from Central Nanjing via the Metro which has signs in English.
Purple Mountain Park is located next to Xuanwu Lake and is a forest-filled location perfect for seeking shade. Dr Sun Yat-sen's Mausoleum towers above the trees offering spectacular views. While temples, cable cars and gardens are other options to fill your time.
To reach Nanjing, you can catch trains from either Hongqiao Station or Shanghai Railway Station (metro lines 1, 3 and 4). Second-class ticket prices range between approximately 130-200 Yuan (£15-23) one way between Shanghai and Nanjing on a high-speed train.
Hangzhou
In Hangzhou, you can spend all day (or more) taking in the sights and offerings of West Lake and the surrounding areas. Think forested hills filled with pagodas to watch the sunset, boats on the lake, and temples galore. But it also has an amazing food and bar scene, perfect for the evening after a busy day sightseeing!
To reach Hangzhou, you are best to navigate to Shanghai Hongqiao Station (metro line 2). This station has the greatest daily availability of high-speed trains. Second-class, high-speed train ticket prices range between 70-100 Yuan (£8-12) for a one-way trip from Shanghai and Hangzhou.
Trips to Nanjing and Hangzhou are best suited to at least 3- or 4-day layovers in Shanghai. That way you'll still have time to see the best of what the city of Shanghai has to offer.
7. Transportation is Cheap and Easy to Use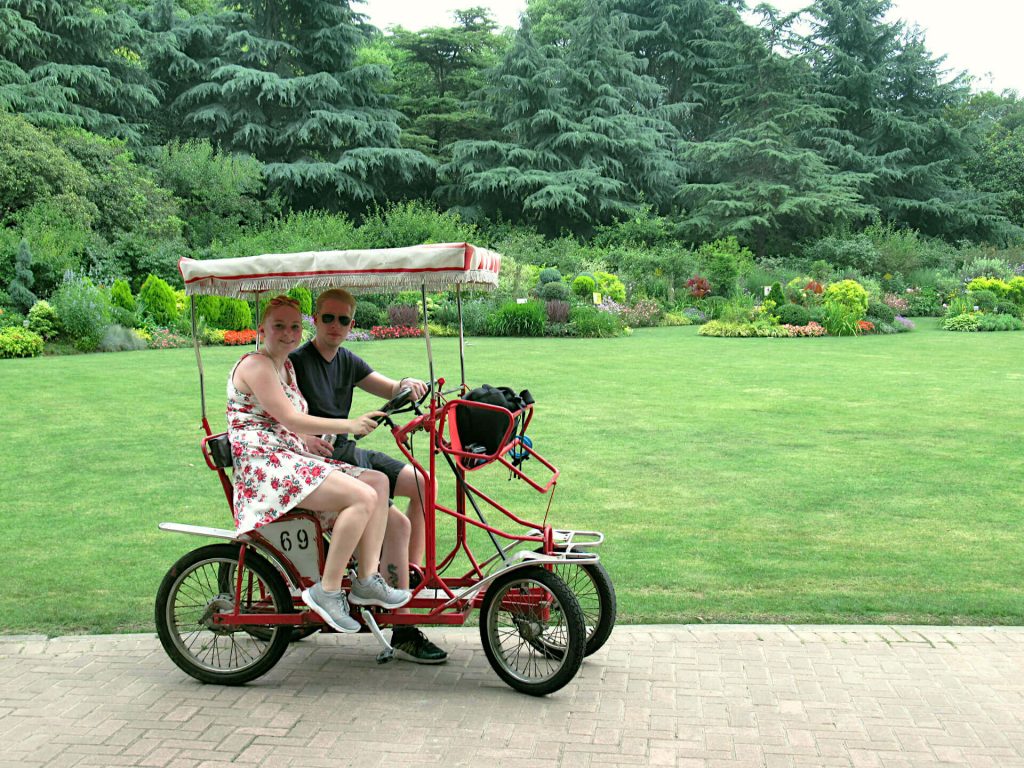 Shanghai Metro
Getting around Shanghai is so easy on the metro! Plus it's probably the cheapest and quickest mode of transport in the city.
All the trains and the stations have English translations on the signs and electronic boards. Plus you can purchase tickets from self-service machines, which you can switch to English language.
One-way journeys cost between 3 and 15 Yuan (£0.35 – £1.70 [ish]), dependent on the distance travelled. Additionally, you can buy tickets for unlimited journeys for 1 day (18 Yuan/£2) and 3 days (45 Yuan/£5) – perfect for layovers in Shanghai!
Maglev high-speed train
For the quickest (and coolest) way to travel between Pudong Airport and central Shanghai, take the Maglev train. Because who doesn't want to travel at 430 km/hour?
Yes, that's right, 430 km per hour! Maglev comes from magnetic levitation – the repelling and attracting of magnets propel the train. The magnets also lift the train up (the levitation part), so the train is literally floating above the tracks!
The train only goes from Shanghai Pudong Airport to Longyang Road (Metro lines 2, 7, and 16), a distance of under 20 miles. As such, the journey time on this incredible train is just over 7 minutes!
Standard class is more than comfortable for a 7-minute journey. So, pick up a one-way ticket for 50 Yuan (£5.70) or a return (valid for 7 days) for 80 Yuan (£9.20). With a same-day airline ticket, then a one-way ticket is just 40 Yuan, no discount on a return ticket though. Then sit back and relax, and expect the view outside of the window to fly by!
---
So there we have it, 7 (very detailed) reasons to book a long layover in Shanghai. Layovers are a great way to see a new city or country. So don't just sit inside an airport, get that passport stamped and get exploring!
If you have any questions or want any more information drop a comment below and I'll get back to you!
Prices mentioned and conversions from Yuan to GBP are correct as of October 2021 but are subject to change in future.
---
RELATED POSTS…
The China Transit Visa: Everything You Need to Know
One Day in Shanghai (Itinerary for Daytime Layovers in Shanghai)
Shanghai 3-Day Itinerary (Perfect for a Shanghai Stopover)
Shanghai 5-Day Itinerary (The Best of Shanghai)
---
PIN IT FOR LATER!