Koko King is a beach club located on the Caye Caulker's lesser-visited and more rustic north island. Also home to the We'Yu Boutique Hotel, the beach club is popular with both hotel guests and day visitors from the main part of the island. Koko King Caye Caulker is the perfect place for a relaxing day in the sun, beachfront cocktails, sunset watching and swimming in the calm seas.
There's nowhere else quite like it in Caye Caulker. So, whether you just want a cool place for a drink or to spend the day here with your family, this is the place for you. And, this complete guide has everything you need to know to plan your visit today.
Northside Beach Club (formerly Koko King) closed its doors for good in October 2022. Posts on social media suggest the resort was up for sale. As such, I will leave this post as is and update in future, if and when new owners take over.

Check out the beach club's Instagram or Facebook for updates.
Where is Koko King?
The beach club is located on the northern part of Caye Caulker. The island is famously divided into two parts by The Split – a narrow channel of water created by a hurricane in the 1960s. Here's the exact location on Google Maps.
Caye Caulker itself is a small sandbank island in the Caribbean Sea off the coast of Belize. The island is a short boat ride away from both Belize City and San Pedro on Ambergris Caye.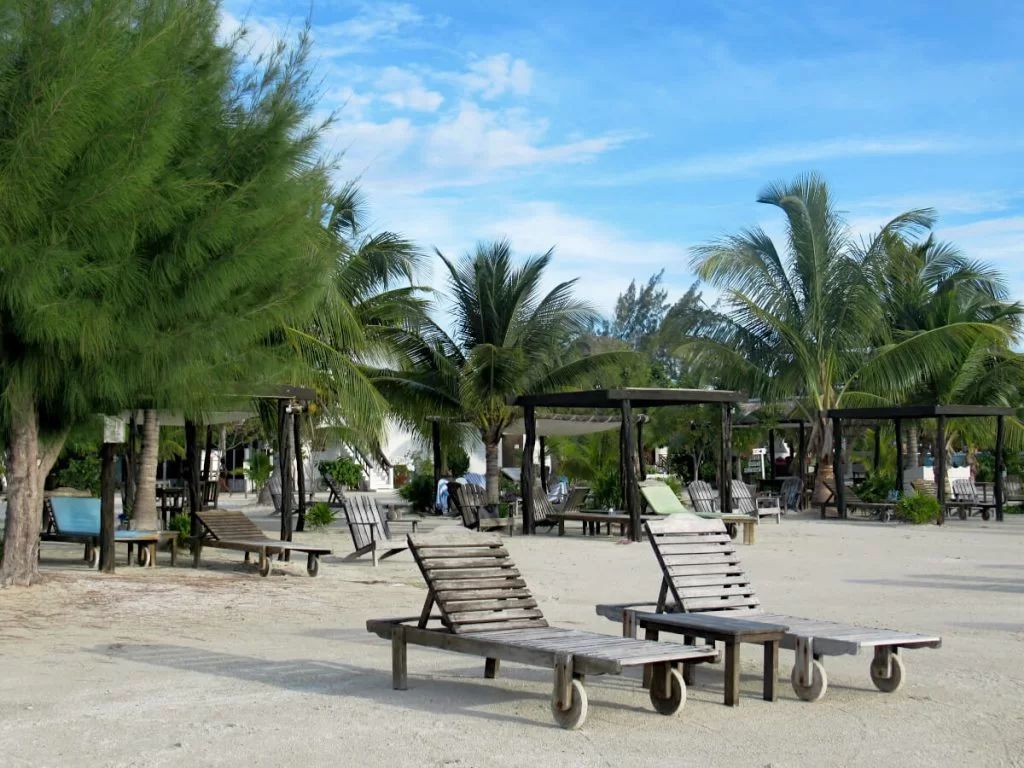 All About Koko King Caye Caulker (Northside Beach Club)
Koko King is a beach club on the western shores of Caye Caulker, Belize. The beach club is still well-known as Koko King across the island. However, it has been renamed as Northside Beach Club.
The beach club is part of We'Yu Boutique Hotel and is open to the public all year round. With its sandy beaches and calm seas, Northside Beach Club is the perfect place to relax for a day.
You can sip on cocktails as you dip your toes in the water or enjoy freshly grilled seafood from the comfort of your sun lounger. Make sure you pack your sunscreen though, as shade is hard to come by at the beach club.
Children are welcome at Koko King Caye Caulker.
Facilities
Over-water restaurant, bar and dining area (food and drink at cost)
Wooden sun loungers and chairs
Designated swimming area in the sea
Rubber rings, kayaks and paddleboards
Volleyball court
Additionally, a pool for hotel guest use only is located on the beach. Also to note, several of the palapas and the sun loungers under them are marked for VIP use. To avoid extra charges, keep an eye out for any additional signage.
Entry fee, cover charge or minimum spend
There's no entry fee or cover charge to enter Northside Beach Club. However, sometimes a minimum spend applies to get the boat back without being charged extra.
Check the board next to the overwater bar/restaurant to see if a minimum spend is in operation. If you want to check before getting the boat from Caye Caulker, you'll have to ask the boat staff. The minimum spend can be any amount, but in the past has been around 20 to 30 BZD (10 to 15 USD).
Full Moon Parties
Once a month, the beach club hosts a full-moon party with DJs, dancing, bonfires, bright lights and party games. Of course, you'll need to check the calendar for the next full moon and as such, the full moon party! Or, you could just ask around on the island – the locals and backpackers have an ear for parties!
How to get to Koko King, Caye Caulker
A water taxi operates between the more popular and inhabited central part of Caye Caulker and the beach club. You can find the water taxi station on Google Maps by searching for 'Koko King Water Taxi'.
The boat trip takes just a few minutes and operates every 15 to 30 minutes or so between 6.45am and midnight.
The boat trip is free on the understanding that you will spend money at Koko King Caye Caulker. Sometimes there is a set minimum spend, sometimes there is not.
Is Koko King (NorthSide Beach Club) Worth Visiting? (Review)
I had a great day here! The water taxi was an easy and quick way to get over to the north island and I only waited around 15 minutes for it to leave.
The beach club itself is spacious and didn't feel crowded at all – and I visited the week of thanksgiving. There were more than enough sun loungers to go around although there wasn't much shade on the beach. There are wooden structures with canopy covers but these were all marked for VIP use only. Instead, we moved a couple of seats into the shallows of the water and sat there to cool off.
As I only had drinks at Koko King Resort, I can't talk to restaurant prices or quality. But, the drinks were tasty and the sizes fair. Happy hour runs from 2pm to 6pm. And, I took advantage of this by getting a cocktail pitched for 40 BZD (20 USD/15 GBP). The prices can look really high at first. But, once you remember that the Belizean Dollar is fixed at 2 to 1 to USD, suddenly everything looks much more affordable.
And, of course, a beach club perk is easy sea access. Which, I certainly made the most of by bobbing around in the tubes provided, looking for fish and swimming in the designated area. The sea was clear, calm and clean – just perfect.
Overall, Northside Beach Club isn't a budget destination, but you do get a lot for your money. Especially once you consider free use of the sun loungers, inflatables and water taxi. The whole place felt clean, well maintained and I would definitely visit again!
---
Staying at We'yu Boutique Hotel
The northern part of Caye Caulker doesn't have much to offer. So, it's only fitting that the resort hotels here have everything you'd need during your stay. And, Koko King resort is no exception.
We'Yu Boutique – as it's now known – is a gold standard hotel. The gold standard certification is important as tourists visiting Belize must stay in this category of hotel for the duration of their stay in the country.
As a high-end option, it's perfect for those looking to treat themselves during a visit to Caye Caulker and Belize.
The hotel isn't listed on any large booking sites such as Booking.com and Hotels.com. Instead, you'll need to book directly on the hotel's own website.
Prices include breakfast but for other meals, you'll need to eat at the Koko King restaurant or travel to the main part of Caye Caulker.
Travelling to Belize and Caye Caulker in 2022
Belize's air, land and sea borders are now all open again. Tourist numbers are still down on pre-2020 levels but this makes for a great time to visit Belize. Support locally owned businesses and enjoy this Caribbean coast gem without the crowds.
All pandemic-related entry requirements have been dropped at all ports of entry. But, this could of course change in future. For the most up-to-date information check out Belizing.com/coronavirus.
---
If you have any questions or want any more information, drop a comment below and I'll get back to you!
Information is correct as of October 2022 but is subject to change in future.
---
More Central America Travel Guides…
CAYE CAULKER: Snorkeling in an Underwater Paradise (All You Need to Know)
GUATEMALA: Hobbitenango (Antigua): Worth Every Penny! [Complete Guide]
GUATEMALA: El Paredon: Ultimate Travel Guide
MEXICO: Punta Mosquito, Holbox: Ultimate Visitor's Guide
GUATEMALA: Acatenango Hike: Complete Guide to this Volcano Trek
HONDURAS: Pulhapanzak Waterfalls, Honduras: Complete Guide To Visiting
---
PIN IT FOR LATER!