Kutaisi Botanical Garden is a corner of calm and quiet in the otherwise busy, industrial city of Kutaisi, Georgia. And since most people only visit Kutaisi for a few days, you may be trying to decide which places are worth visiting.
In this post, I'll explain the reasons why you should visit the botanical gardens as well as provide all the information you need to plan your visit.
Last updated: March 2022. First published: January 2021.
Some of the links below are affiliate links, meaning, at no additional cost to you, I may earn a small commission if you click through and make a qualifying purchase.
Getting to Kutaisi Botanical Garden
Kutaisi Botanical Garden is located just north of the city centre. Just a 20-minute walk from central Kutaisi (about 1.5 km) across chain bridge and then along the flat and fairly straight David and Constantine Mkheidze Street.
Also, the gardens are just a 13-minute, downhill walk from Bagrati Cathedral – perfect if you want to combine visiting the two. See the exact location on Google Maps here.
Entrance Fee and Opening Hours
For just 1 GEL (23 pence), you can enjoy the beauty and serenity of Kutaisi Botanical Garden. What a bargain! I do not believe that card payments are accepted; plus, the ticket office is small and has limited amounts of change. So, make sure you bring the correct amount in coins or small notes.
The gardens are open from 10 am to 6 pm, 7 days a week. If you're visiting during national holiday periods, consider checking in advance any changes to opening times/days. And remember, Georgia celebrates Orthodox Christmas in early January rather than late December.
Inside The Gardens
On the roadside, the entrance is striking. Large white pillars and columns greet you.
The gardens date back to the 1800s and, today, are home to over 700 different types of trees and plants. Many of the plants and trees have labels with their Latin names. And you can walk amongst these and along the many winding paths.
As well as the trees, plants and greenery, the gardens also feature several other features. Perhaps the two most famous are the wedding carriage and the chapel inside a tree!
The metal wedding carriage comes complete with two benches inside, as well as one on the front for those who want to pretend to be coachmen. It's a great photo spot, particularly surrounded by the all-season red flowers.
Another must-visit is a small shrine inside a tree trunk. It's marked on Google Maps as 'Kapliczka w drzewie', which translates from Polish to 'a shrine in a tree'! The inside of the tree trunk has been hollowed out and a chapel – large enough to fit one person – has been created. Filled with drawings of Jesus inside, outside people light candles and hang notes.
As well as those stand-out features, the gardens are home to a fairly large amphitheatre. Plus, there are some wooden sculptures, ponds, fountains and wells to add to the natural ambience. There is also have no shortage of seating areas, with bamboo benches, shelters and swinging seats located across the gardens.
An Honest Review of Kutaisi Botanical Garden
If you're looking to escape the hustle and bustle of Kutaisi city centre for a couple of hours, then this is just the place. You can easily spend an hour wandering the many paths, stopping for photos and finding the unique spots of the gardens.
However, let's be real, this is no Kew Gardens. There aren't any fancy greenhouses or stunning landscaping. But, despite this, Kutaisi Botanical Gardens fit the feel of Kutaisi: dated but with some underlying charm. Don't be expecting any grandeur and accept it for what it is.
The negatives
Once inside the gardens, the paths around the gardens start splitting off and there doesn't seem to be one path you follow to see everything. This layout is good because you feel more like you're exploring. However, it can make it hard to know if you've seen everything or missed any sections.
Another drawback is the lack of visitor facilities: no shop, toilets (that I could see), or information desk. Given that you won't be spending that long in the gardens, none are that important, but they would definitely make it more visitor-friendly.
The positives
But, when you consider the bargain entrance fee of 1 GEL (£0.24), then it is absolutely worth a couple of hours of your time! You can't complain about that price and also shouldn't be expecting the spectacular.
Also, the gardens can be visited and enjoyed all year round. They may be most enjoyed in the spring or summer though when the plants are in bloom. But, when I visited in mid-winter there was still plenty of greenery and plants to see.
The fun and quirky sculptures and features add to the character of the gardens. And these parts of the gardens are worth the entrance fee alone to experience. They also make great photo spots and travel tales. Like, how many people can say they've sat in a 1-person chapel inside a tree trunk?
RELATED POST: Want more information on Kutaisi? Check out this post on what to do in Kutaisi, a complete guide for first-time visitors.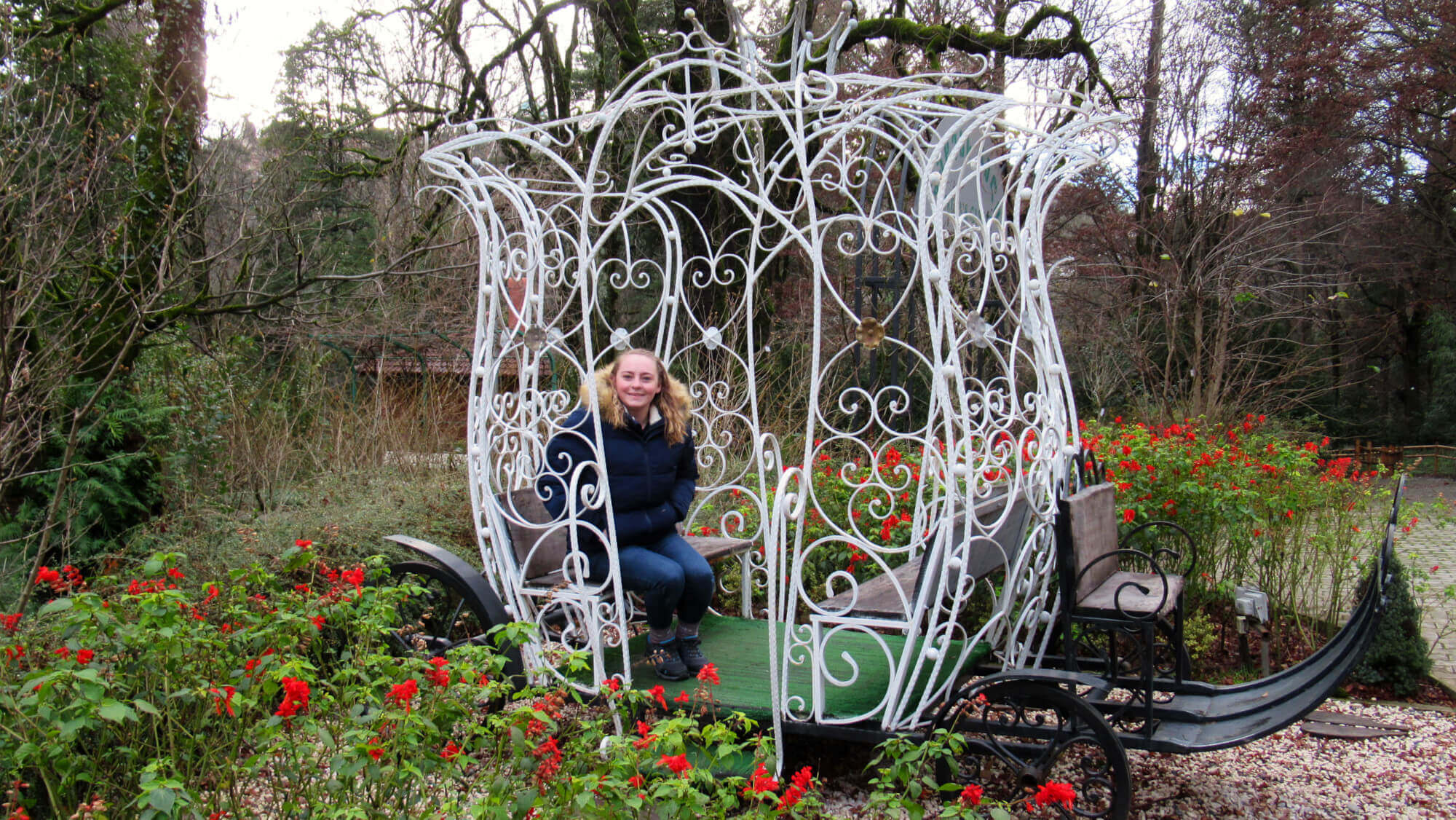 ---
Overall, the gardens are well worth a visit if you are in the city. It's a place of calm and quiet in an industrial city that can be a little overwhelming at first. And considering the bargain entrance price, this is absolutely a great-value attraction in Kutaisi.
If you have any questions or want any more information drop a comment below and I'll get back to you!
Currency conversions and offerings mentioned are correct as of March 2022 but are subject to change in future. Please remember to travel safely and responsibly.
---
PIN IT FOR LATER!